Tunisian Ons Jabeur showed that it is sometimes better to float like a butterfly than sting like a bee as her wily artistry overcame the brutal hitting of Belarusian Aryna Sabalenka to reach her second Wimbledon final with a 6-7(5) 6-4 6-3 victory on Thursday. Jabeur, who was beaten in last year's final, looked destined to suffer more heartbreak on Centre Court when she lost the opening set, but her delicate stroke play and clever angles eventually subdued the relentless power of Sabalenka. The victory set up a final between the Tunisian sixth seed and unseeded Czech Marketa Vondrousova, the former French Open finalist who ended the hopes of Ukrainian Elina Svitolina earlier on Thursday. Jabeur, who also finished runner-up at last year's U.S. Open, lost a tense first set tiebreak and fell 4-2 down in the second, but roared back with two breaks to level the contest. She then got a decisive break to move 4-2 up in the third set and while the Tunisian passed up four match points, she finally got over the line with an ace. The Associated Press has the story:
Ons Jabeur reaches 2nd WBML Final in a row
Newslooks- WIMBLEDON, England (AP)
Ons Jabeur came back from a set and a break down to defeat Aryna Sabalenka 6-7 (5), 6-4, 6-3 on Thursday and reach the Wimbledon final for the second consecutive year.
This will be the third title match in the past five Grand Slam tournaments for Jabeur. The 25-year-old from Tunisia already was the only Arab woman and only North African woman to get to a major final.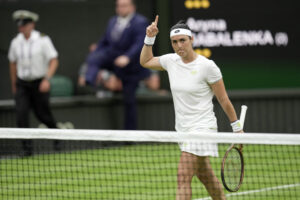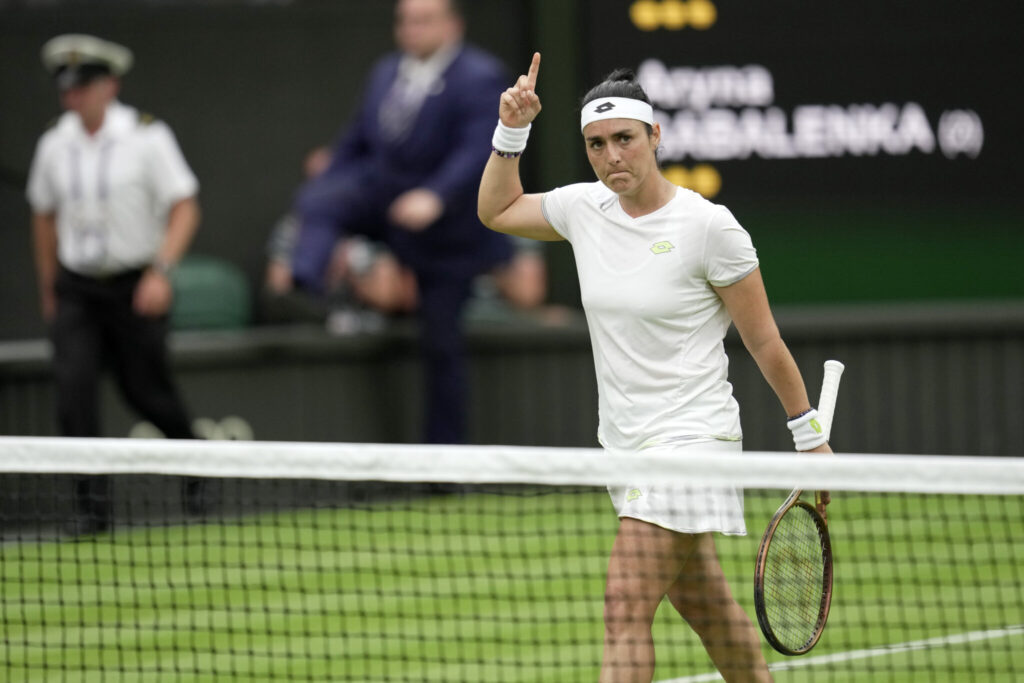 So far, she is 0-2 at that stage after losing to Elena Rybakina at the All England Club last July and to Iga Swiatek at the U.S. Open last September.
The sixth-seeded Jabeur's victory Thursday, which came by collecting 10 of the last 13 games, prevented the second-seeded Sabalenka from replacing Swiatek at No. 1 in the rankings. Sabalenka came into the match with a 17-1 record at majors in 2023, including a trophy at the Australian Open.
Jabeur's opponent for the championship on Saturday will be Marketa Vondrousova.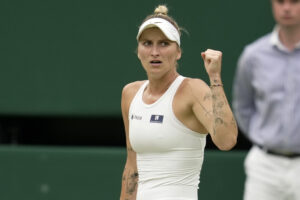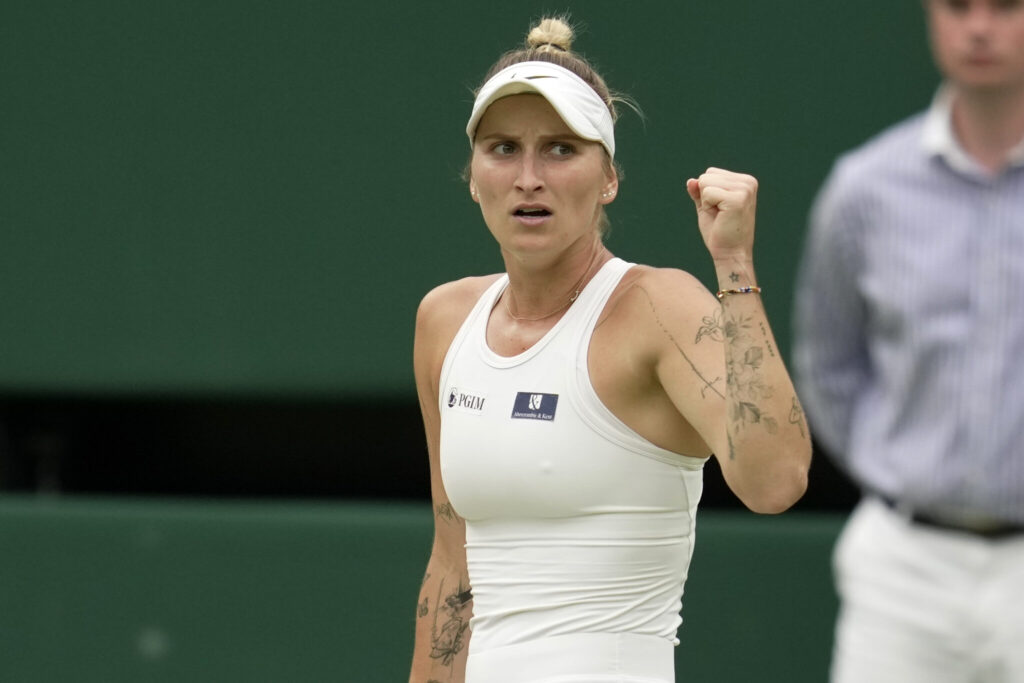 Vondrousova became the first unseeded women's finalist at Wimbledon since Billie Jean King in 1963 by eliminating Elina Svitolina 6-3, 6-3 earlier Thursday.
Jabeur trailed 4-2 in the second set when she began to turn things around. But not before Sabalenka came within a point from leading 5-3 after Jabeur put a forehand into the net and fell onto her back on the grass of Centre Court.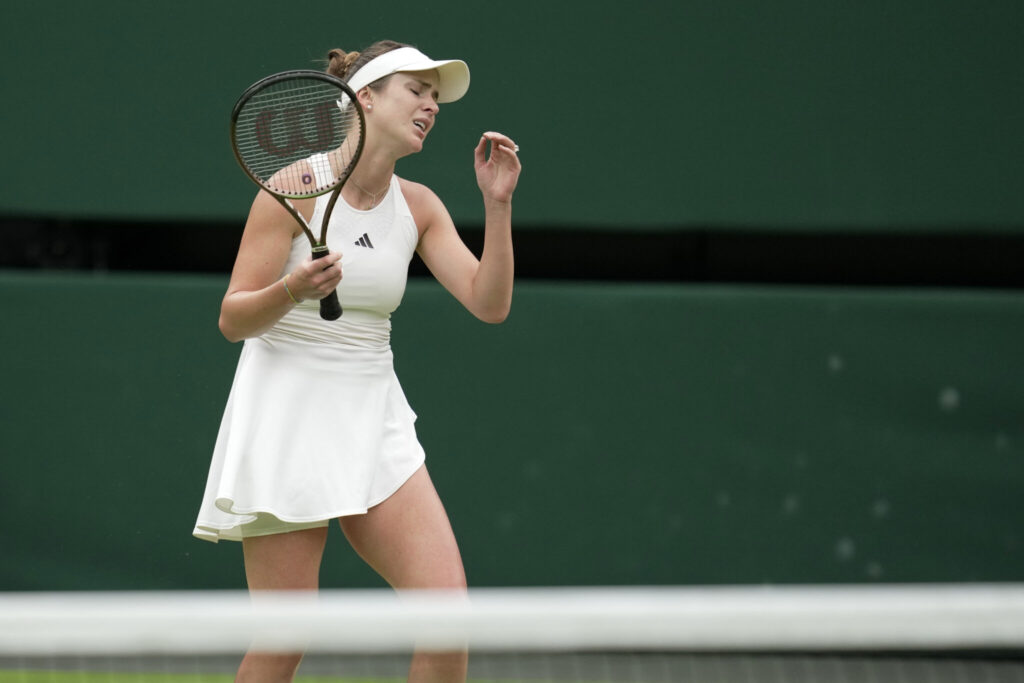 She dusted herself off and broke to take that game and begin her big comeback. When she delivered a backhand return winner to force the match to a third set, Jabeur held her right index finger to her ear, then raised it and wagged it as she strutted to the changeover.
Sabalenka's shots missed the mark repeatedly down the stretch: She finished with 45 unforced errors to 14 for Jabeur.
A break put Jabeur up 4-2 but there was still some work to be done. Sabalenka, as powerful a ball-striker as there is on tour, erased four match points before Jabeur converted her fifth with a 103 mph ace.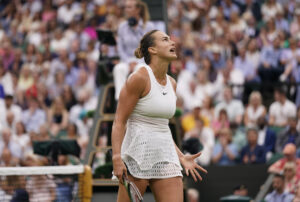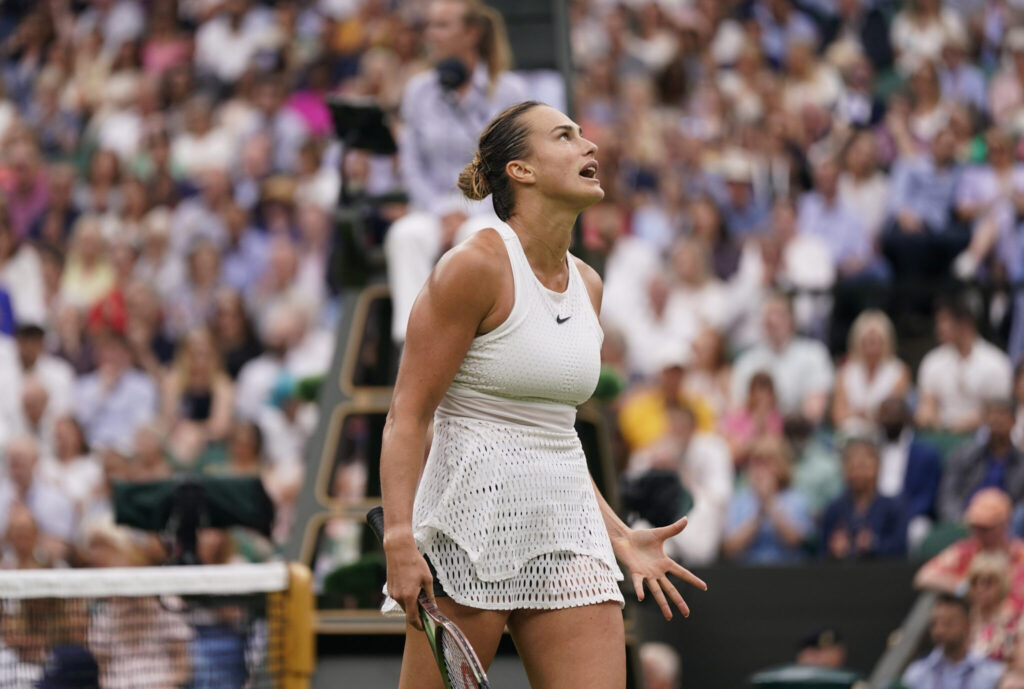 In the first semifinal, Vondrousova reeled off seven consecutive games in one stretch. She is ranked 43rd and reached the second Grand Slam final of her career after getting that far as a teenager at the 2019 French Open.
"I was crazy nervous," said Vondrousova, who bowed her head and knelt at the baseline when the match was over. "I was nervous, actually, the whole match."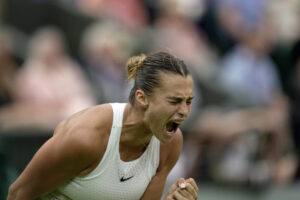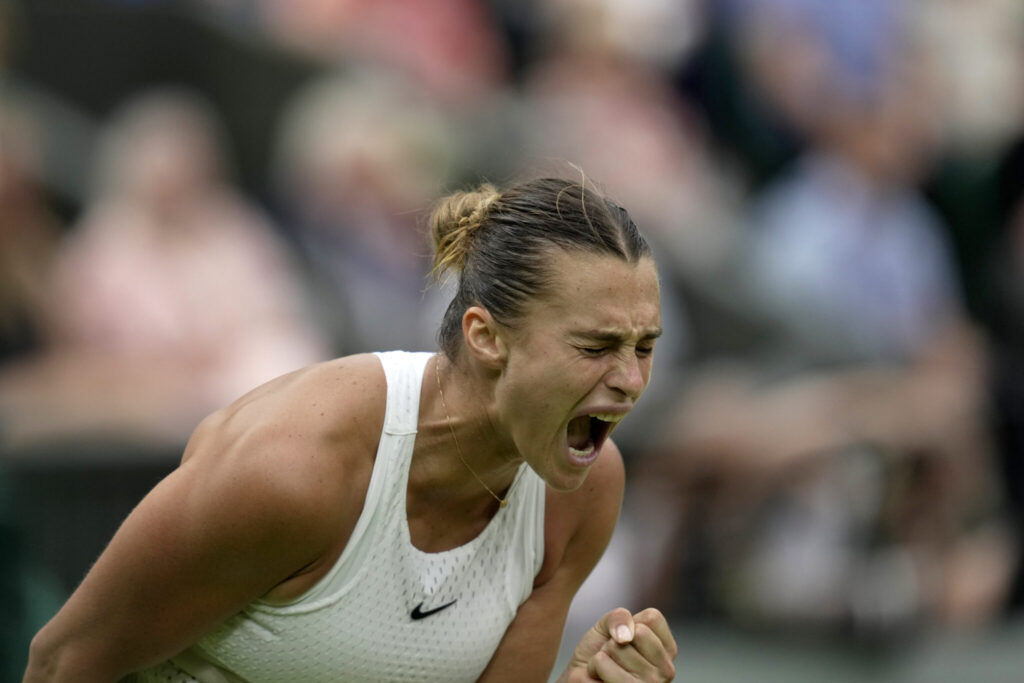 Ranked No. 76 and an unseeded wild-card recipient, Svitolina returned to the tour from maternity leave just three months ago. After surprisingly beating Swiatek in the quarterfinals, she was trying to become the first woman from Ukraine to make it to the title match at a major tennis tournament and received loud support from thousands in the crowd, the applause and yells echoing off the closed Centre Court roof.
"She's such a fighter," said Vondrousova, who compiled a 22-9 edge in total winners, "and she's also such a great person."
Svitolina has said that she is playing more freely and more calmly nowadays, something she attributed to having the dual motivations of playing for her baby daughter, who was born in October, and of trying to bring happiness to people in her home country, where an ongoing war began with Russia's invasion in February 2022.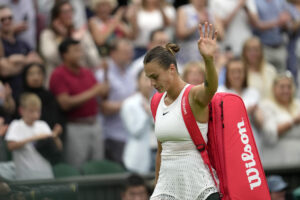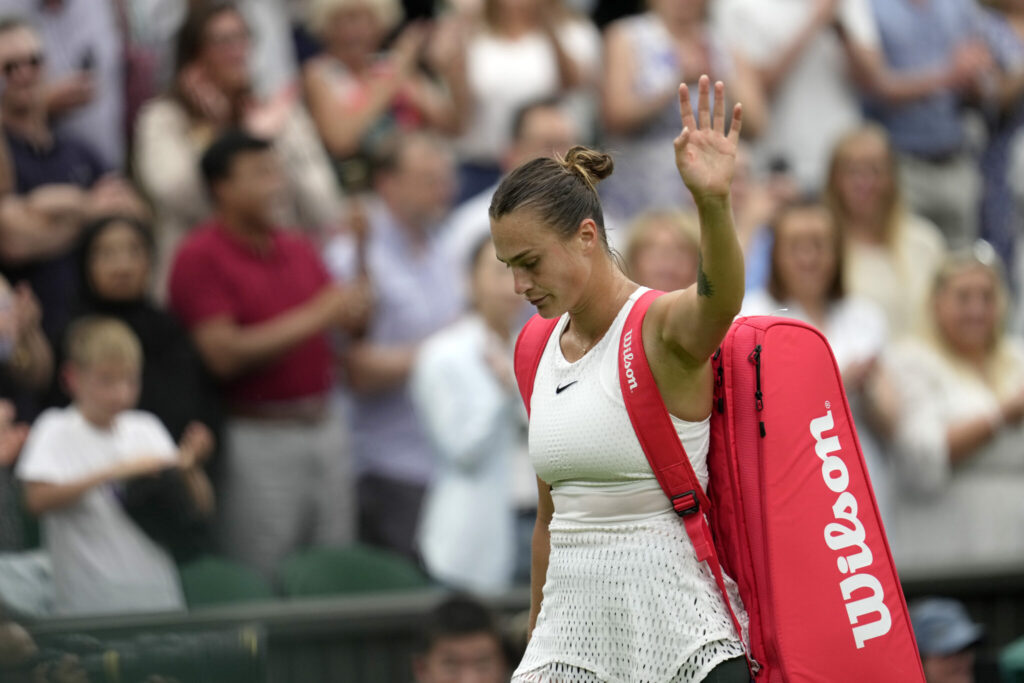 From 3-all in the opening set Thursday, Svitolina's level began to dip, while Vondrousova's rose. Over the ensuing half-hour, Vondrousova was in complete control, so much so that she took that set and pulled ahead 4-0 in the next.
And then came something of a course correction. At 4-0, 40-love, Vondrousova was a point from being up 5-0. Indeed, she wound up with five opportunities to take one point for that huge margin. But she couldn't quite do it, and Svitolina suddenly surged to get within 4-3.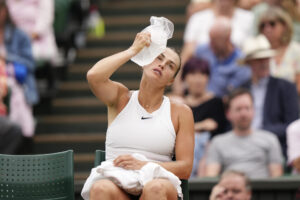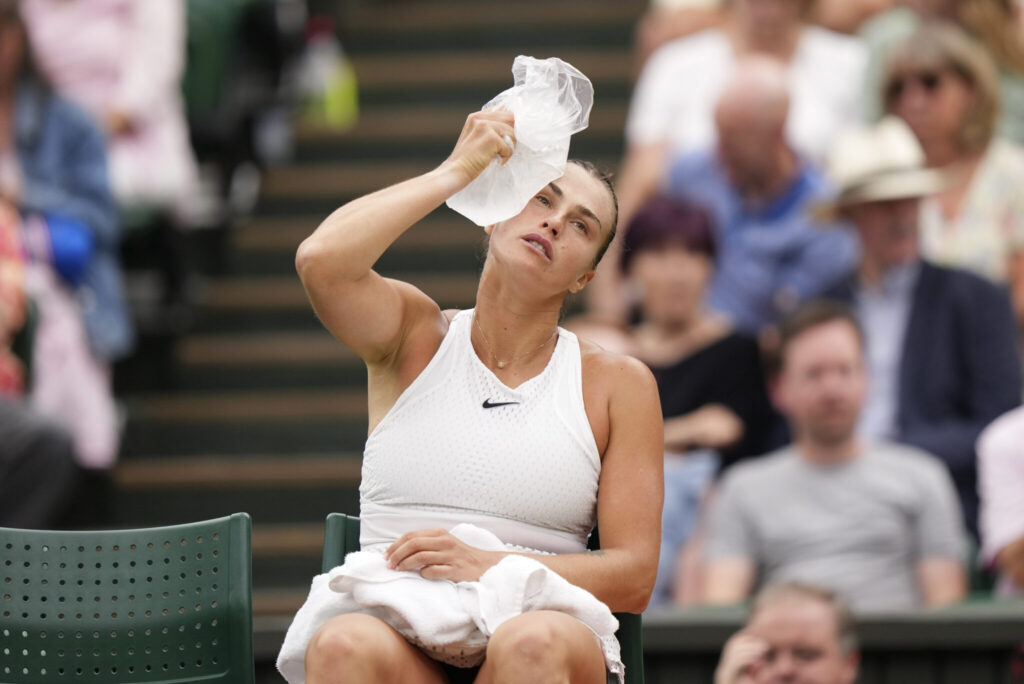 Vondrousova righted herself, though, and put an end to that mini-streak, collecting the last two games to move on to the final. She missed much of last season because of two operations on her left wrist, but she is now back at the height of her powers and back in the spotlight of a Grand Slam final.
A year ago, she came to England with a cast on that arm to enjoy London as a tourist and to watch her best friend and doubles partner, Miriam Kolodziejova, play in the qualifying rounds at Wimbledon.
"I didn't play for six months last year. You never know if you can be at that level again," Vondrousova said. "And I'm just so grateful to be here and to be healthy. To play tennis again."
Asked during her on-court interview how she plans to prepare for Saturday, Vondrousova laughed.
"I'm just going to chill now," she replied.