At least 68 people were killed on Sunday when a domestic flight crashed in Pokhara in Nepal, the country's Civil Aviation Authority said, in the worst air crash in three decades in the small Himalayan nation. Hundreds of rescue workers were scouring the hillside where the Yeti Airlines flight, carrying 72 people from the capital Kathmandu, went down. The Associated Press has the story:
68 dead after plane crashes in Nepal resort town
Newslooks- KATHMANDU, Nepal (AP)
Authorities in Nepal said 68 people have been confirmed dead after a regional passenger plane with 72 aboard crashed into a gorge while landing at a newly opened airport in the resort town of Pokhara. It's the country's deadliest airplane accident in three decades.
The country's Civil Aviation Authority posted the announcement to Twitter Sunday, while rescuers were scouring the crash site near the Seti River, about 1.6 kilometers (nearly a mile) away from Pokhara International Airport.
At the crash site, rescuers used ropes to pull out bodies from the wreckage, parts of which were hanging over the edge of the gorge. Some bodies, burned beyond recognition, were carried by firefighters to hospitals, where grief-stricken relatives had assembled.
It was not immediately clear what caused the plane to crash.
A witness to the crash said he saw the aircraft spinning violently in the air after it began to attempt a landing, watching from the terrace of his house. Gaurav Gurung said the plane fell nose-first towards its left and then crashed into the gorge.
"The plane caught fire after the crash. There was smoke everywhere," Gurung said.
The aviation authority said the aircraft last made contact with the airport from near Seti Gorge at 10:50 a.m. before crashing.
The twin-engine ATR 72 aircraft, operated by Nepal's Yeti Airlines, was flying from the capital, Kathmandu, to Pokhara, a 27-minute flight. It was carrying 68 passengers including 15 foreign nationals, as well as four crew members, Nepal's Civil Aviation Authority said in a statement. The foreigners included five Indians, four Russians, two South Koreans, and one each from Ireland, Australia, Argentina and France.
Tek Bahadur K. C., a senior administrative officer in the Kaski district, said he expected rescue workers to find more bodies at the bottom of the gorge.
Images and videos shared on Twitter showed plumes of smoke billowing from the crash site as rescue workers, Nepali soldiers, and crowds of people gathered around the wreckage of the aircraft to find survivors. The aircraft's fuselage was split into multiple parts that were scattered down the gorge.
Prime Minister Pushpa Kamal Dahal, who rushed to the airport after the crash, set up a panel to investigate the accident.
"The incident was tragic. The full force of the Nepali army, police has been deployed for rescue," he said.
South Korea's Foreign Ministry said in a statement that it's still trying to confirm the fate of two South Korean passengers and has sent staff to the scene.
The type of plane involved, the ATR 72, has been used by several airlines around the world for short regional flights. Introduced in the late 1980s by a French and Italian partnership, the aircraft model has been involved in several deadly accidents over the years. In 2018, an ATR 72 operated by Iran's Aseman Airlines crashed in a foggy, mountainous region, killing all 65 aboard.
ATR identified the plane involved in Sunday's crash as an ATR 72-500 in a tweet. According to plane tracking data from flightradar24.com, the aircraft was 15 years old and "equipped with an old transponder with unreliable data." It was previously flown by India's Kingfisher Airlines and Thailand's Nok Air before Yeti took it over in 2019, according to records on Airfleets.net. Yeti Airlines has a fleet of six ATR72-500 planes, company spokesperson Sudarshan Bartaula said.
Pokhara, located 200 kilometers (125 miles) west of Kathmandu, is the gateway to the Annapurna Circuit, a popular hiking trail in the Himalayas.
Pokhara International Airport began operations only two weeks ago. It was built with Chinese construction and financial support. The Chinese ambassador to Nepal, Chen Song, said in a tweet he was "very shocked" to learn of the accident.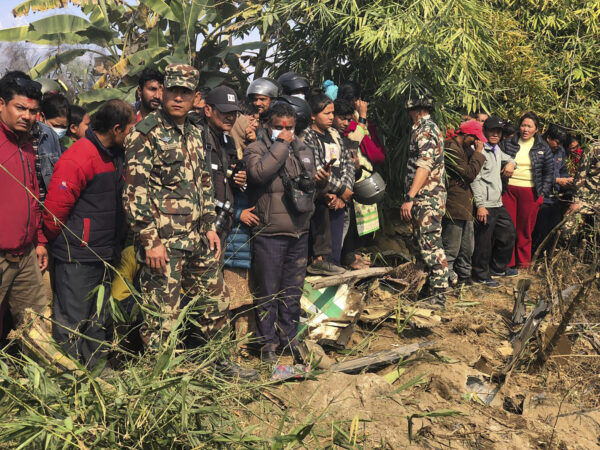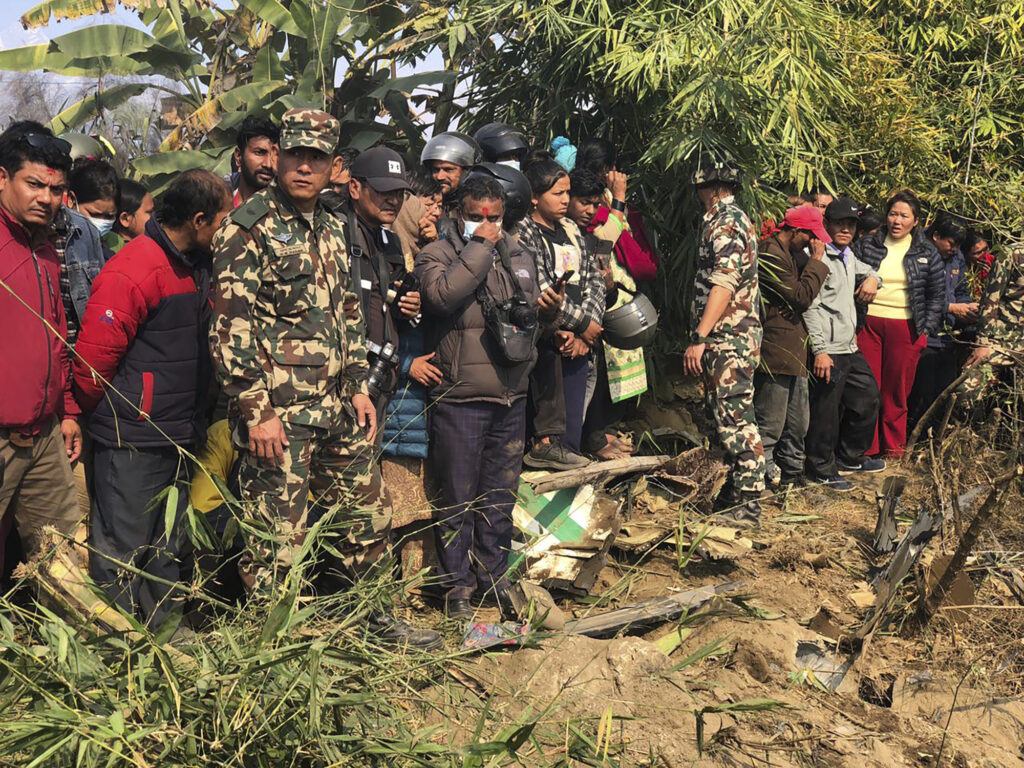 "At this difficult time, our thoughts are with Nepali people. I would like to express my deep condolences to the victims, and sincere sympathies to the bereaved families," he wrote.
Sunday's crash is Nepal's deadliest since 1992, when all 167 people aboard a Pakistan International Airlines plane were killed when it plowed into a hill as it tried to land in Kathmandu.
Nepal, home to eight of the world's 14 highest mountains, including Mount Everest, has a history of air crashes. According to the Flight Safety Foundation's Aviation Safety database, there have been 42 fatal plane crashes in Nepal since 1946.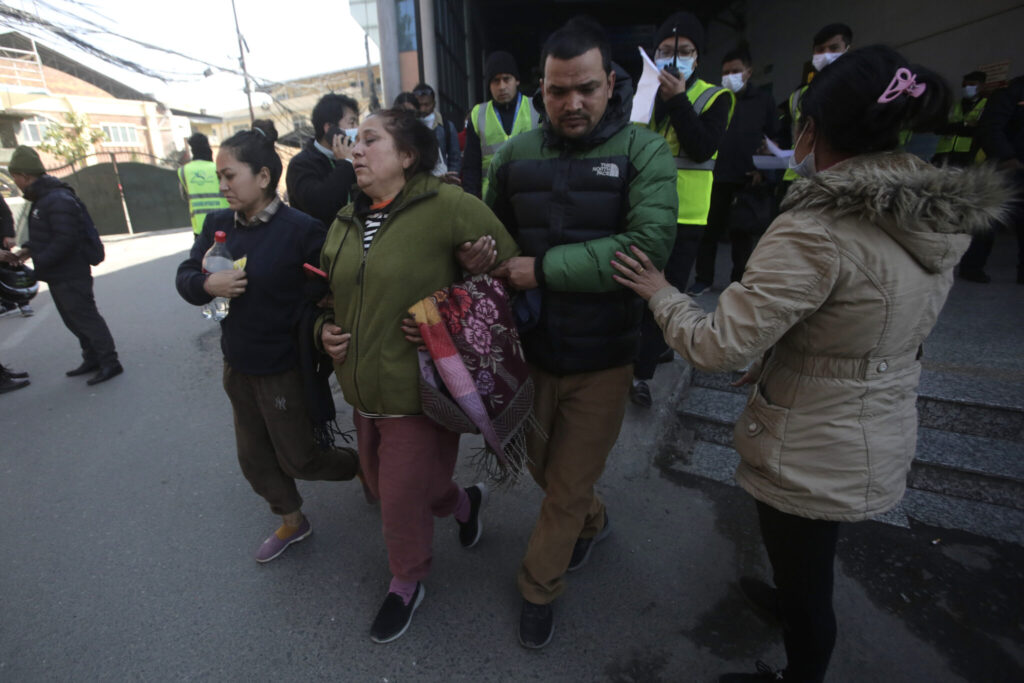 Last year, 22 people died when a plane crashed on a mountainside in Nepal. In 2016, a Tara Air Twin Otter flying from Pokhara to Kathmandu crashed after takeoff, killing all 23 people aboard.
In 2012, an Agni Air plane flying from Pokhara to Jomsom crashed, killing 15 people. Six people survived. In 2014, a Nepal Airlines plane flying from Pokhara to Jumla crashed, killing all 18 on board.
In 1992, all 167 people aboard a Pakistan International Airlines plane were killed when it plowed into a hill as it tried to land in Kathmandu.