During his official visit to Morocco , U.S. Secretary of State Antony Blinken visited the U.S. Embassy in Rabat, expressing his pleasure of visiting an important American ally. David Greene, serving as Charge d'Affaires at the U.S. Mission to Morocco, spoke of "the shared history that we have and its importance." The State Department issued a transcript of the event:
U.S. Secretary of State drops by the US Mission to Morocco
MR GREENE: Of course, it is terrific to see everybody face to face. We haven't had that many gatherings like this, so I want to welcome everyone here who is here in person, both from Embassy Rabat and from Consulate General Casablanca, including Consul General Lawrence Randolph, who is somewhere in the crowd, with the actual celebrity of the day, Zoe Randolph. Yes, I'm pandering. And welcome to everybody. I think there are some members of the team that are joining us remotely, so thanks everybody who's with us and couldn't be here in person.
And of course, welcome to Secretary Blinken and his senior team that have come with him.
Just a few weeks ago, we were at the height of the Omicron wave, and we were pretty much – air space was closed again and we were feeling very cut off and very isolated. And boy did that change over the last few weeks. It's been a very busy time, and that reflects the importance of this relationship and how much we do together bilaterally and regionally. The African Lion final planning event just finished last week. We had a fabulous visit by the Special Advisor for International Disability Rights, Sara Minkara, who met with government officials and advocates, and I think was laying out a path for a lot of things we can do together. And of course two weeks ago we had the visit of Deputy Secretary Wendy Sherman, which was a terrific exchange between the government and also with civil society, and a lot of conversations about how we can advance together strategically.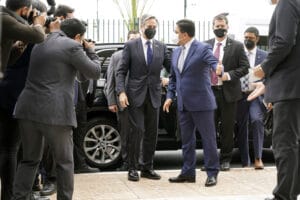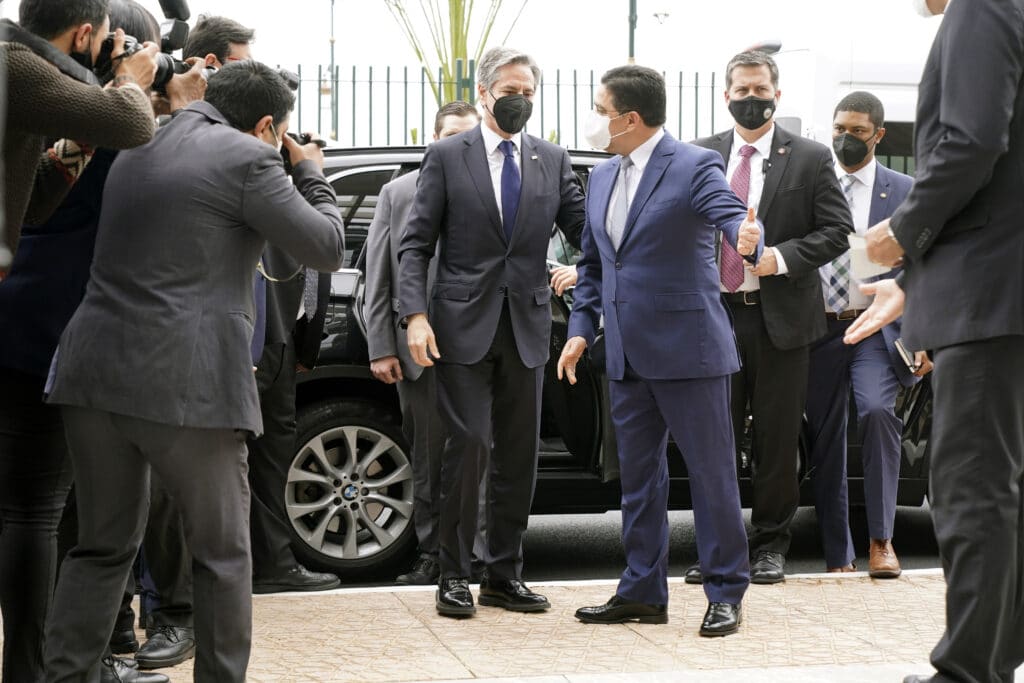 Of course, we have a long history of illustrious deputy secretaries of state visiting. In 2016, Secretary Blinken visited at that time, and he had a chance to visit this embassy, had a chance to go up to Tangier, visit the Legation, of course which we're very proud of. We celebrated the 200th anniversary of the Legation last year; it was a tremendous event, and it really allowed us to highlight the kinds of – the shared history that we have and its importance.
And I think you'll see during your time here, Mr. Secretary, this mission is working very hard – here and in Casablanca, and all around the country – to advance our national security priorities. We are trying to protect American citizens better here. We are advancing economic prosperity for both of our countries, including through the free trade agreement, which also celebrated its 15th anniversary last year. We're ensuring that our security partnership remains strong and defends both of our countries. We're advancing human rights. And of course, we're doing our best to keep this mission safe and keep morale high, keep everybody well supported.
And so with that, I simply just want to say thank you again, welcome to Morocco, welcome back to Morocco. We're very eager to hear your thoughts on the state of the world and your responses to some of the questions from our large and diverse mission community. We know that you and your senior team are very focused on and concerned about our welfare, our ability to get our work done, about the workforce, about our families, and we appreciate that. And again, we know you're going to be able to share some of your thoughts with us on all of that.
Of course, we also know the real reason you're back in Morocco is you got a taste of the food, and you couldn't stay away. (Laughter.) Anyway, Secretary Blinken, thank you so much for being here.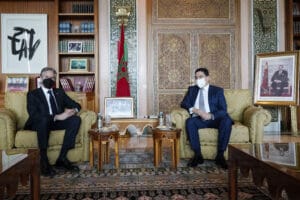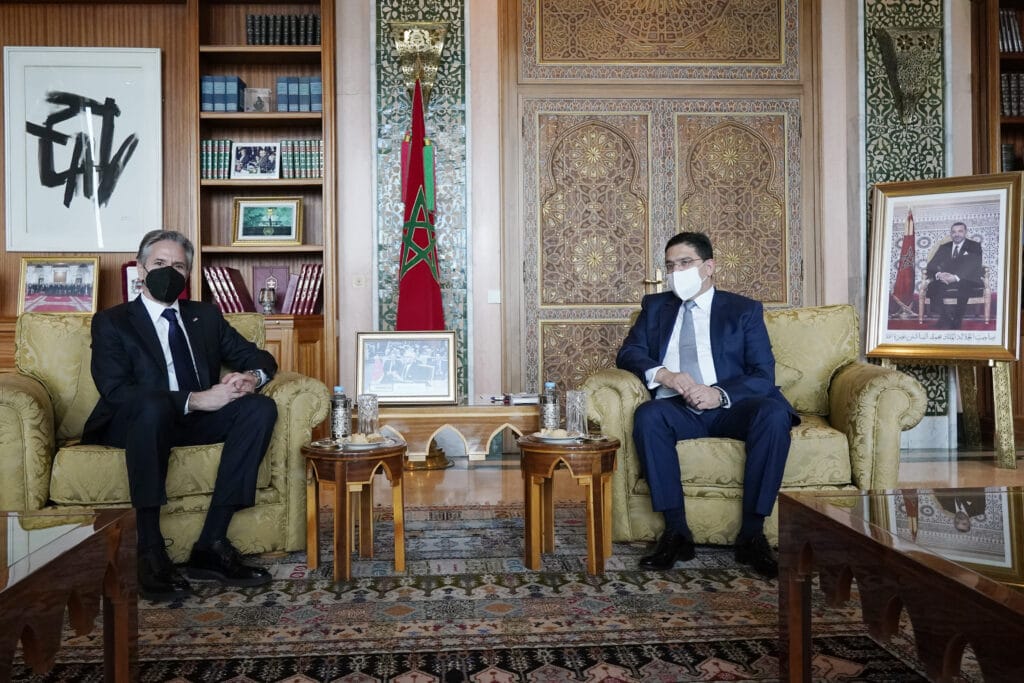 SECRETARY BLINKEN: Thank you. (Applause.)
Thank you. Woah. Let's see how that settles down.
Good morning, everyone.
AUDIENCE: Good morning.
SECRETARY BLINKEN: I wish I could say sit down, but that might be a little problematic. (Laughter.) And to our very special guest behind David, I'm really glad to see you. Hi, sweetie. (Laughter.) Good morning.
I'd like to say that we brought a little bit of rain with us, so if that's the case, I think that's a very good thing, and I'm happy if we were able to do that. It is wonderful to be back here. I have great memories of the trip in 2016 that David referred to, and I am really grateful for the opportunity to pursue so much of the work that's been going on for a number of years this week.
As you know, we're coming most immediately from Israel and from the Negev, where, with Foreign Minister Bourita and colleagues from Egypt, from the UAE, and Bahrain, and Israel, we met together in what was I think a collective that few people would have imagined seeing just a few years ago. And that speaks to so much of the work that you in this mission are doing to really try to focus our energies, our efforts, on dealing with the challenges that are actually having an impact on the lives of our people – whether it's here in Morocco, back home in the United States, or in the countries that were represented in the Negev, things like dealing with energy security, things like dealing with climate change, global health, something I'll come back to in a minute, making the kinds of investments that lead to job opportunities and growth, the kind of positive agenda the people are really looking for even as we work to make sure that we are maintaining our security against any challenges and threats that come our way.
But it was a powerful moment, and Morocco, of course, has been for many years a leader in trying to bring people and bring faiths together, and that's a very powerful thing in this day and age.
David, I want to thank you for your tremendous leadership here at a time of real challenge. This embassy, this mission across Morocco, like so many other of our missions around the world, have had to deal with COVID-19. And you've had to deal with it on a professional level – it's made the job a lot tougher – and also on a personal level. I know many people have suffered, suffered losses, had friends, family, loved ones who have been affected by this. And I'm just grateful to all of you for the work that you've done just to keep the mission going, to carry it forward, and to do it by looking out for each other at the same time. It makes a big difference.
And you've also kept the work going of this mission in a really powerful way. As I was looking over so much of the agenda that we've seen here, a number of things stand out. The fact that we now have the Millennium Challenge Corporation – I don't know if we have colleagues here from the MCC, but – funding construction of 15 vocational training centers for industrial jobs. That's making a powerful difference in people's lives. It's exactly the kind of thing that we should be doing, we are doing around the world.
As I mentioned, the ties between Israel and Morocco, the fact that we're building on the agreement to normalize relations, and doing it in a powerful way, not just between the two countries but with other countries in the region.
And I want to just mention a couple of people as I go along who played a particularly important role in a number of these initiatives. I don't know if Scott Simpson is here today; Scott, are you here? Anywhere? Scott? Thank you. Thank you for the work that you do to help Israel establish a diplomatic presence. These things make a big difference. Thank you.
The consular section in Casablanca processed more immigrant visas last year than before COVID-19. That's remarkable work. And if there's anyone here from the consular section, thank you. I'm grateful for that.
So many of you as well stepped up at a time of great need during the evacuation from Afghanistan. There are a few people I want to mention, if they're here. Scott Moore, Amanda Zeiden, Dan Mehring helped evacuation efforts at the Emirates Humanitarian City. Are any of you here today? Thank you. Thank you for what you did. (Applause.) Shawn Tenbrink, Nitza Sola-Rotger – supporting ten Afghan women going to college in Morocco by putting them and their families forward for P1 visas so that they could stay together and eventually come to the United States. These and so many other efforts – and I've seen this across the entire State Department enterprise – at a time of real need, people stepping up, raising their hands, and making a real difference.
I mentioned the challenge of COVID-19 and the effect it's had on so many of our missions. What you've done here with making sure that you were preserving a strong mission culture has made a real difference, and you've done that, again, through this very difficult time. I know a number of you have volunteered at orphanages in Rabat and Casablanca, playing games, donating toys, donating clothes, making a difference in young people's lives. Volunteering that I know was organized by Rhonda Brown, the Marines, the Community Liaison Office, the Federal Women's Program – thank you to each and every one of you for the work that you've done.
I also know that there is an embassy rock band, which I'm very interested in. Jazz, Latin, rock, country; it includes folks from direct hires, it includes family members, it includes locally employed staff. I'm even told there's a saxophone player from the Morocco Philharmonic in that band. So next time I come back, I hope I actually get a real demonstration. By the way, I appreciated the soundtrack coming it, Layla and Other Assorted Love Songs; it's one of my favorites. So thank you for that.
I also want to say to the folks on the medical team here: thank you, thank you, thank you for everything you did during this time to keep our people safe. It made a real difference.
And finally, let me say as well to the folks in Rabat: I understand you brought a surprise snow machine in for the kids' holiday party so they could play in a little bit of a winter wonderland of their own.
Each and every one of these things in and of themselves are important. Taken together, they really speak to the culture of this mission and the spirit that you're trying to bring to everything that you do. As David said, we have a diplomatic relationship that is now more than 200 years old. Morocco was one of the first, of course, to recognize the United States, in 1777, and Tangier the first – one of the first diplomatic missions that the Marines were sent to protect in 1949. And can I say to our colleagues from the Marine Corps who are here: We have a special bond with you. Every single embassy an American goes to anyplace in the world, the first person they're likely to see is a U.S. Marine. We could not do our jobs without you; we're grateful for everything you do for us every day. Thank you. (Applause.)
Finally, finally, every place I go, one of the things that is so striking is the impact and the role that our locally employed staff play in our missions around the world. You are truly the lifeblood of everything we do. The connections that you enable us to make in the countries that we're working in are irreplaceable, invaluable. And what I see time and time again are partnerships, relationships with locally employed staff that go on for years, even for decades. So in that spirit, I just want to recognize a couple of people because of their extraordinary service to the United States and with the United States.
El Houssaine Sabri, are you here anywhere? Well, 41 years of service. (Applause.)
Khalid El Khoumrani, 37 years of service. (Applause.)
And plus, as we went down the list, there are 12 locally employed staff here who have served for more than 30 years, six staff 25 years or more. That is remarkable. I can't tell you how grateful I am. And whether you've just started or whether you've been here for 41 years, thank you, thank you, thank you. (Applause.)
We've got a new consulate under construction in Casablanca, and we're aiming to get that up and running by 2024. And I think as you've probably seen, the President announced his intent to nominate a new ambassador, Puneet Talwar. When Puneet is confirmed by the Senate, you will have a remarkable leader here. Puneet is long-time colleague of mine, friend of mine, someone with incredible judgment, leadership, and he is going to do extremely well by you and he's going to do extremely well by the relationship between the United States and Morocco. So we're looking forward to getting him here.
But to each and every one of you, whether you are locally employed staff, whether you're a direct hire, whether you're a contractor, whether you're a family member, whether you're here from one of the many other partner agencies that we're blessed to work with, I really just wanted to drop by with two simple words: Thank you. Thank you for your service. We're grateful for it. (Applause.)