U.S. President Joe Biden and British Prime Minister Rishi Sunak on Thursday agreed to deepen close economic ties between their countries, pledging to accelerate the clean energy transition and strengthen critical mineral supply chains. The two leaders also discussed their "unwavering support for the people in Ukraine," Biden told reporters at a joint news conference with Sunak, an opportunity not afforded to every world leader who visits the White House. Biden and the British prime minister released the "Atlantic Declaration," which Sunak described as a first-of-its-kind economic partnership on issues like artificial intelligence, climate change and protecting technologies that would help shape the future. The Associated Press has the story:
Biden and Sunak vow to deepen cooperation
Newslooks- WASHINGTON (AP)
President Joe Biden and British Prime Minister Rishi Sunak on Thursday reiterated their commitment to help Ukraine repel Russia's ongoing invasion, while agreeing to step up cooperation on clean energy and emerging technologies like artificial intelligence.
The leaders said they came to agreement on a new "Atlantic Declaration" to serve as a framework for bolstering cooperation between the two countries on clean energy transition, development of emerging technologies, and protecting technology that is critical to national security.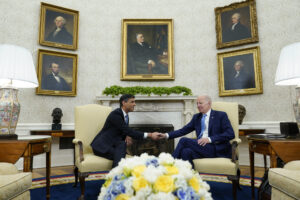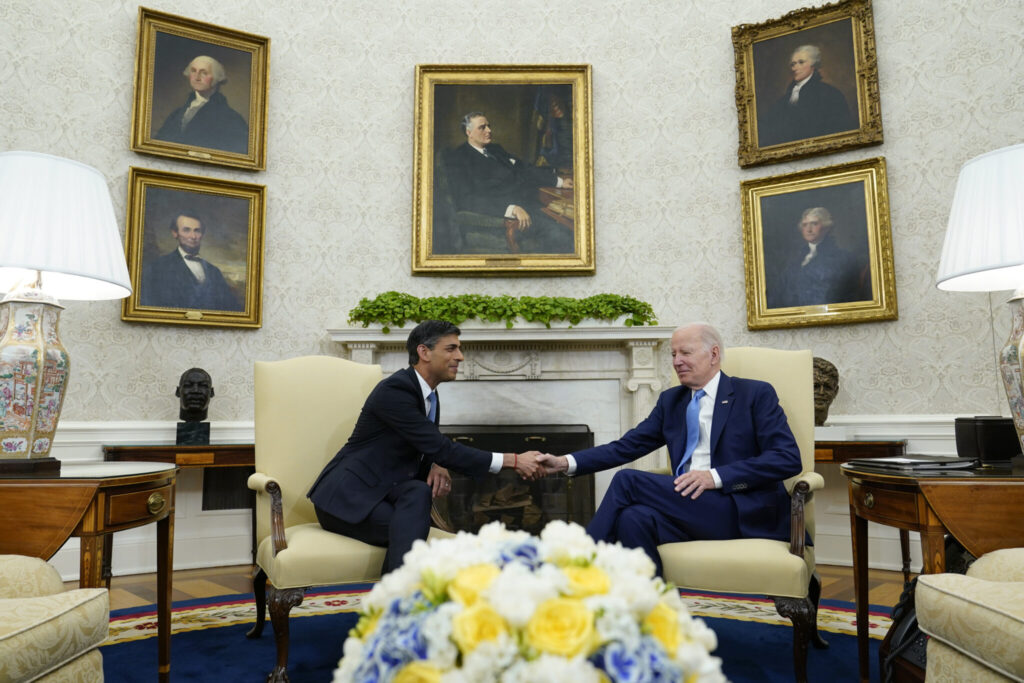 The leaders' wide-ranging talks at the White House also covered China, economic security, and more. Biden and Sunak have already had four face-to-face meetings since Sunak became prime minister in October, but the talks in Washington offered the two leaders a chance for their most sustained interaction to date.
"We will put our values front and center," Biden said as the two leaders sat down for talks in the Oval Office. The U.S. president later added at a joint news conference that there was no issue where "our nations are not leading together."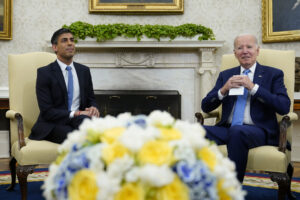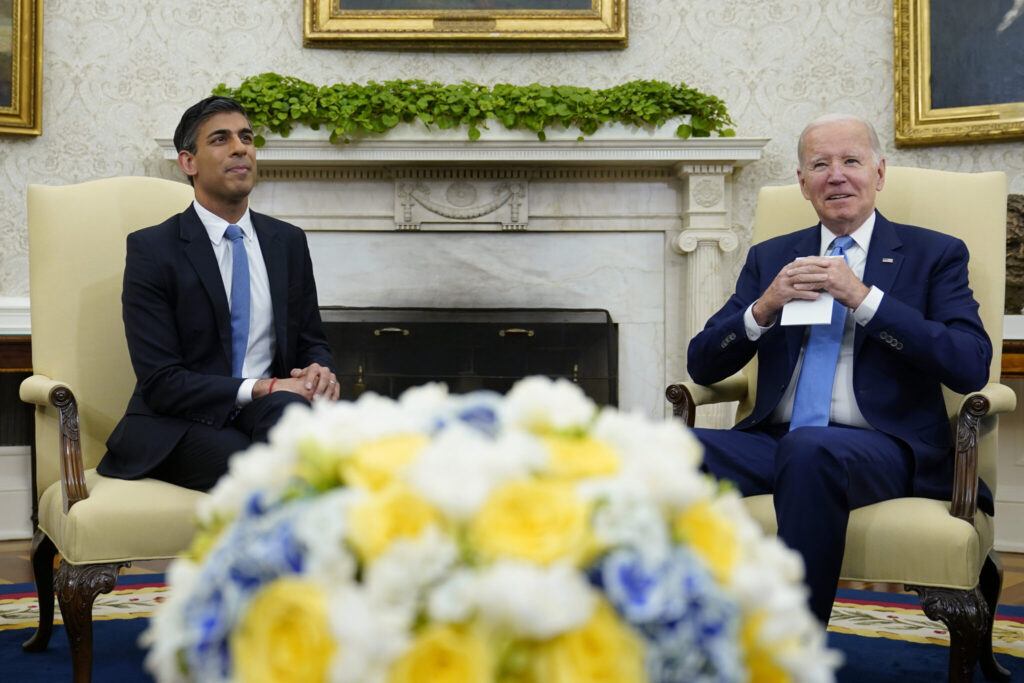 "We discussed how we can continue to adapt and upgrade our partnership to ensure our countries remain on the cutting edge of a rapidly changing world," Biden said.
As part of the declaration announced Thursday, the two sides will kick off negotiations on the use of minerals from the U.K. that are critical in the production of electric vehicles that are eligible for U.S. tax credits. The administration has also opened talks with the European Union and forged a deal with Japan that allow certain critical raw materials for EVs to be treated as if they were sourced in the United States.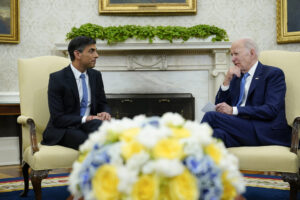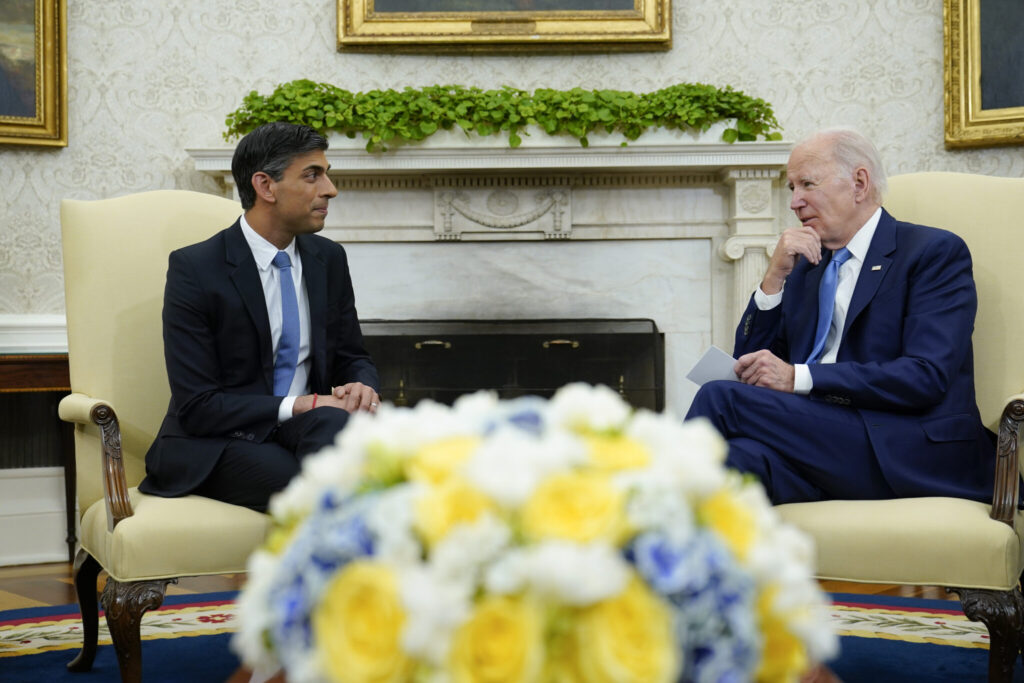 Allies have raised concerns about incentives in the Inflation Reduction Act favoring the North American auto industry. The legislation — one of Biden's key policy victories — invests some $375 billion to transition the United States to cleaner cars and energy sources.
Sunak reflected on the significant conversations their respective predecessors have had over the years in the Oval Office and acknowledged that both he and Biden were facing their own daunting moment. The visit to Washington is Sunak's first since becoming Britain's prime minister in October.
"Our economies are seeing perhaps the biggest transformation since the Industrial Revolution as new technologies provide incredible opportunities, but also give our adversaries more tools," Sunak said.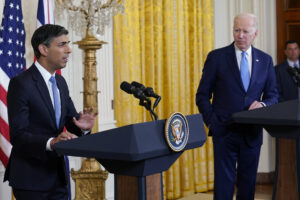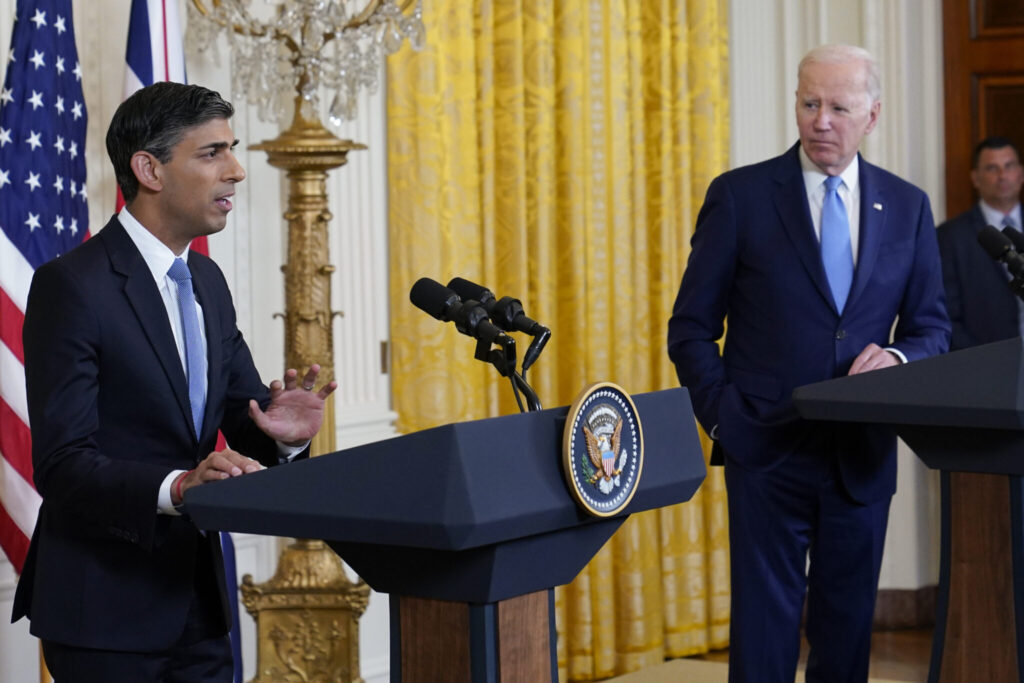 The 15-month-old Russian invasion of Ukraine was high on the agenda. The U.S. and U.K. are the two biggest donors to the Ukraine war effort and play a central role in a long-term effort announced last month to train, and eventually equip, Ukrainian pilots on F-16 fighter jets.
Biden reiterated confidence that Congress would continue to provide Ukraine funding as needed despite some hesitation among Republican leaders at the growing cost of the war for American taxpayers.
"The U.S. and the U.K. have stood together to support Ukraine," Biden said at the start of their meeting.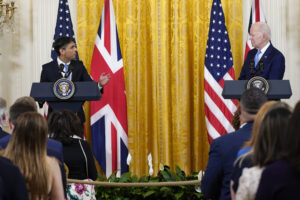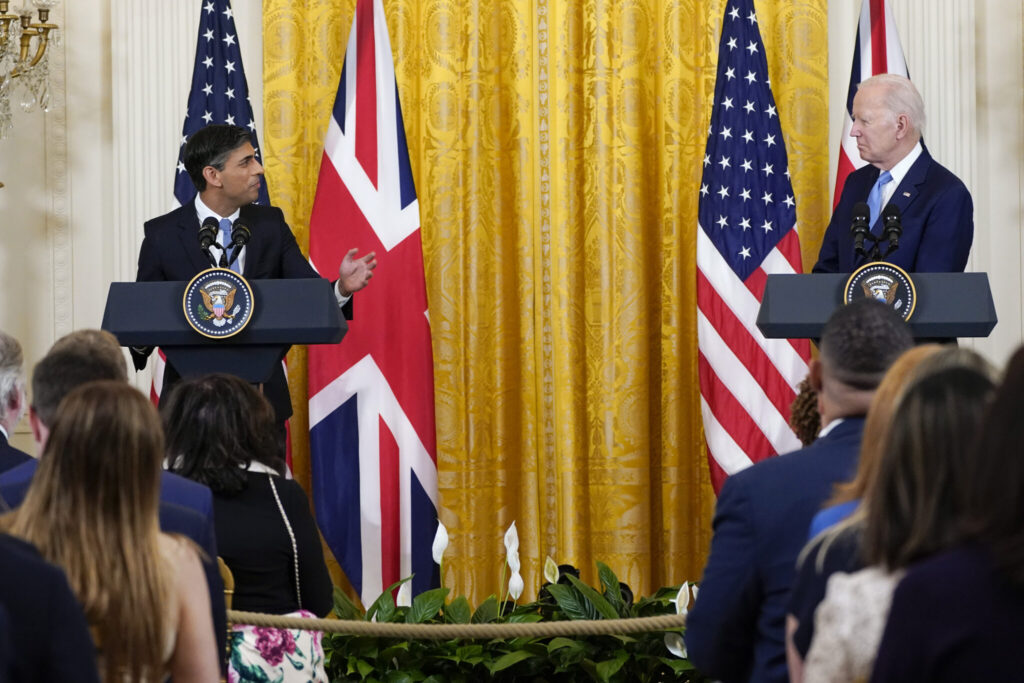 Sunak also is looking to make the case to Biden for U.K. Defense Minister Ben Wallace to succeed outgoing NATO Secretary-General Jens Stoltenberg, who is set to end his term leading the 31-member alliance in September. Stoltenberg is slated to meet with Biden in Washington on Monday, and leaders from the alliance are set to gather in Lithuania on July 11-12 for their annual summit.
Asked if it was time for a U.K. leader for NATO, Biden said "it may be" but "that remains to be seen."
"We're going to have to get a consensus within NATO," he said.
Biden also reflected that the two countries have worked through some of the toughest moments in modern history side-by-side, recalling the meetings that Prime Minister Winston Churchill and Franklin D. Roosevelt held in the White House.
"You know Prime Minister Churchill and Roosevelt met here a little over 70 years ago and they asserted that the strength of the partnership between Great Britain and the United States was strength of the free world," Biden told Sunak. "I still think there's truth to that assertion."
Sunak is keen to make the U.K. a key player in artificial intelligence, and announced that his government will gather politicians, scientists and tech executives for a summit on AI safety in the fall.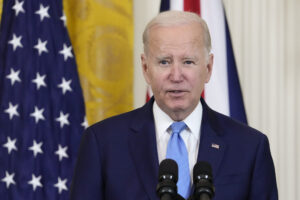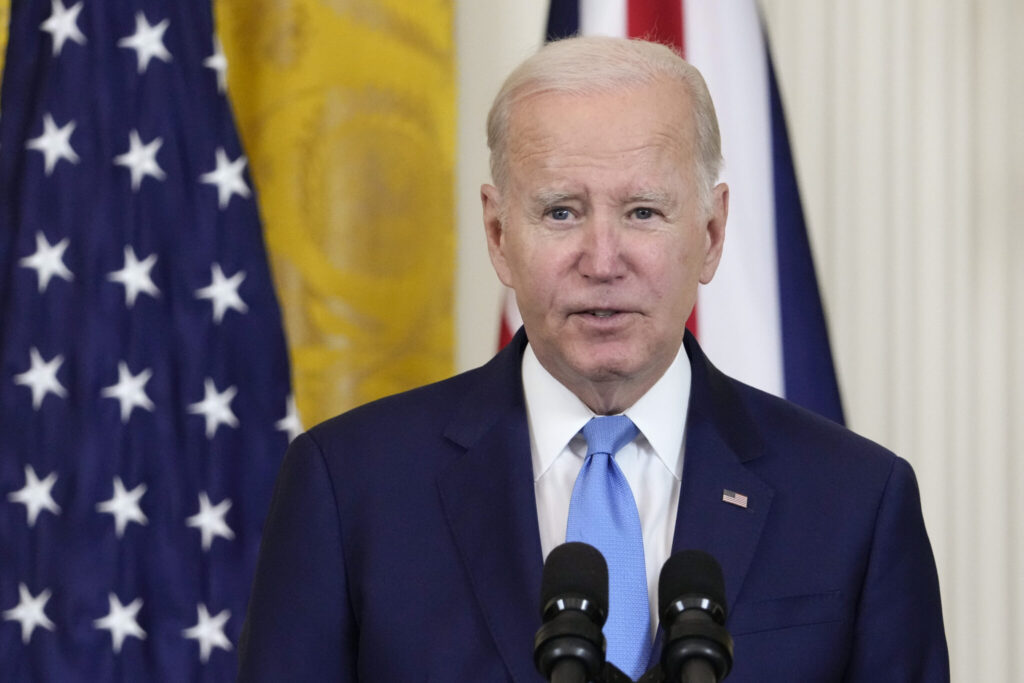 He said it was vital to ensure that "paradigm-shifting new technologies" are harnessed for the good of humanity.
"No one country can do this alone," Sunak said Wednesday. "This is going to take a global effort."
Biden said the challenges that comes with the advancement of AI technology are "staggering."
"It is a limitless capacity and possibility but we have to do it with great care," said Biden, who added that he welcomed the U.K.'s leadership on the issue.
Sunak's visit comes as U.S. and British intelligence officials are still trying to sort out blame for the breaching of a major dam in southern Ukraine, which sent floodwaters gushing through towns and over farmland. Neither Washington nor London has officially accused Russia of blowing up the Kakhovka hydroelectric dam.
Sunak said Wednesday that U.K. intelligence services are still assessing the evidence, but "if it does prove to be intentional, it will represent a new low … an appalling barbarism on Russia's part."
"Russia throughout this war has used as a deliberate active strategy to target civilian infrastructure," he told broadcaster ITV in Washington.
The two sides looked to demonstrate that the U.S.-U.K. relationship remains as strong as ever despite recent political and economic upheaval in the U.K. Sunak is one of three British prime ministers Biden has dealt with since taking office in 2021, and the administrations have had differences over Brexit and its impact on Northern Ireland.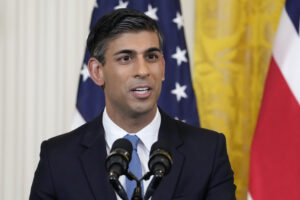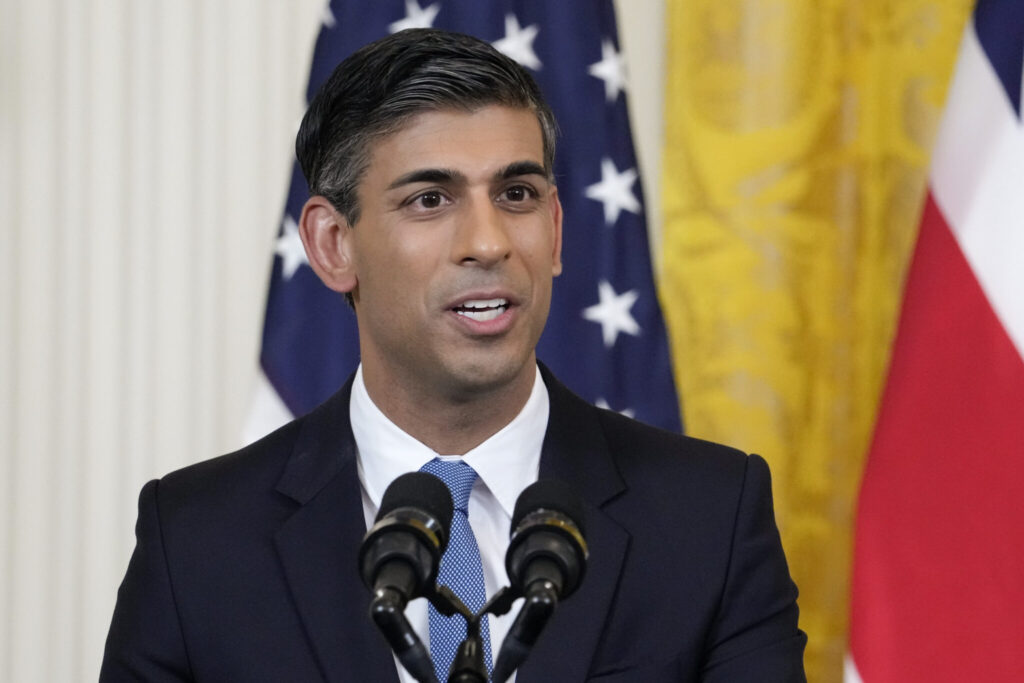 Nonetheless, there's a sense in the Biden administration that the U.S.-U.K. relationship is back on more stable footing after the sometimes choppy tenure of Boris Johnson and the 45-day premiership of Liz Truss.
"I think there's a sense of relief to some degree, not just in the White House, but throughout Washington, that the Sunak government has been very pragmatic and maintained the U.K.'s robust commitment to Ukraine and to increasing defense spending," said Max Bergmann, director of the Europe, Russia and Eurasia program at the Center for Strategic and International Studies. He added that with Sunak, there's also been "somewhat of a return to pragmatism" on economic issues and relations with the European Union post-Brexit.
Sunak at the press conference sought to hammer home that the U.K. remains "as reliable an ally as ever."
"I know some people have wondered what kind of partner Britain would be after we left the EU," Sunak said. "I'd say judge us by our actions."
Biden invited Sunak to stay at Blair House, the official presidential guest residence on Lafayette Square. Before the U.S. government purchased Blair House in 1942, foreign leaders visiting the president often stayed at the White House.
In a lighter moment, the president began telling the story of how in the pre-Blair House days Churchill wandered toward the president's family quarters in the wee hours to rouse the sleeping Roosevelt for conversation. First lady Eleanor Roosevelt was said to have cut off Churchill before he could make it to the president.
"Don't worry," Sunak interjected. "You won't see me bothering you and the first lady."