Former British Prime Minister Boris Johnson abruptly quit as a member of parliament on Friday in a furious protest against lawmakers investigating his conduct, reopening divisions in the ruling Conservative Party ahead of national elections expected next year. Johnson had been under investigation by a parliamentary inquiry looking into whether he misled the House of Commons about lockdown-breaking parties in Downing Street during the COVID-19 pandemic. The Associated Press has the story:
Boris Johnson steps down from UK Parliament
Newslooks LONDON (AP)
Former U.K. Prime Minister Boris Johnson shocked Britain on Friday by quitting as a lawmaker after being told he will be sanctioned for misleading Parliament. He departed with a ferocious tirade at his political opponents — and at his successor, Rishi Sunak — that could blast open tensions within the governing Conservative Party.
Johnson resigned after receiving the results of an investigation by lawmakers into misleading statements he made to Parliament about "partygate," a series of rule-breaking government parties during the COVID-19 pandemic.
In a lengthy resignation statement, Johnson accused opponents of trying to drive him out — and hinted that his rollercoaster political career might not be over yet.
"It is very sad to be leaving Parliament — at least for now," he said.
Johnson, 58, said he had "received a letter from the Privileges Committee making it clear — much to my amazement — that they are determined to use the proceedings against me to drive me out of Parliament."
He called the committee investigating him — which has members from both government and opposition parties — a "kangaroo court."
"Their purpose from the beginning has been to find me guilty, regardless of the facts," Johnson said.
The resignation will trigger a special election to replace Johnson as a lawmaker for a suburban London seat in the House of Commons.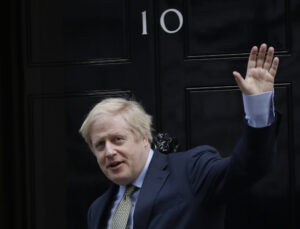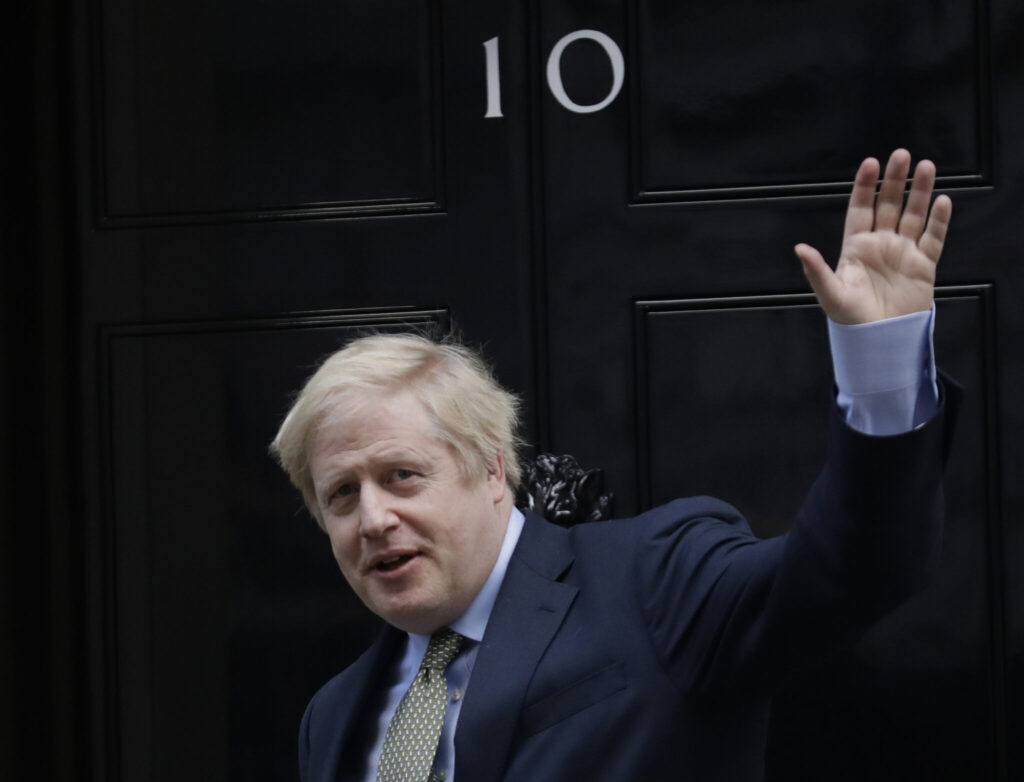 Johnson, whose career has seen a series of scandals and comebacks, led the Conservatives to a landslide victory in 2019 but was forced out by his own party less than three years later.
He had been awaiting the outcome of an investigation by a House of Commons standards committee over misleading statements he made to Parliament about a slew of gatherings in government buildings in 2020 and 2021 that breached pandemic lockdown rules.
Police eventually issued 126 fines over the late-night soirees, boozy parties and "wine time Fridays," including one to Johnson, and the scandal helped hasten the end of his premiership.
Johnson has acknowledged misleading Parliament when he assured lawmakers that no rules had been broken, but he said he didn't do so deliberately.
He told the committee he "honestly believed" the five events he attended, including a send-off for a staffer and his own surprise birthday party, were "lawful work gatherings" intended to boost morale among overworked staff members coping with a deadly pandemic.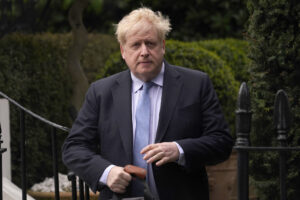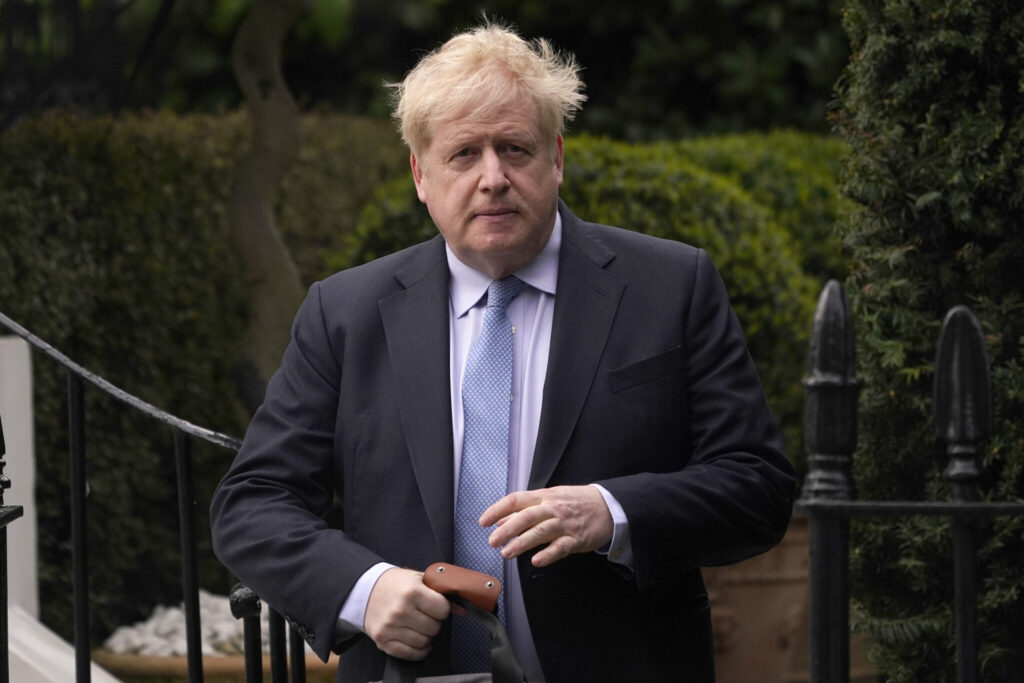 The committee had been expected to publish its report in the next few weeks, and Johnson could have faced suspension from the House of Commons if he was found to have lied deliberately.
By quitting, he avoids a suspension that could have seen him ousted from his Commons seat by his constituents, leaving him free to run for Parliament again in future. His resignation statement suggested he was mulling that option. It was highly critical of Sunak, who served as Treasury chief in Johnson's government before jumping ship with many other colleagues in July 2022 — resignations that forced Johnson out.
Johnson took aim at Sunak, who was chosen by the Conservatives in October to steady the government after the terms of Johnson and his briefly serving successor Liz Truss, who stepped down after six weeks when her tax-slashing policies caused financial turmoil.
Johnson claimed that "when I left office last year the government was only a handful of points behind in the polls. That gap has now massively widened."
Conservative poll ratings went into decline during the turbulent final months of Johnson's term and have not recovered. Opinion polls regularly put the opposition Labour Party 20 points or more ahead. A national election must be held by the end of 2024.
"Just a few years after winning the biggest majority in almost half a century, that majority is now clearly at risk," Johnson said. "Our party needs urgently to recapture its sense of momentum and its belief in what this country can do."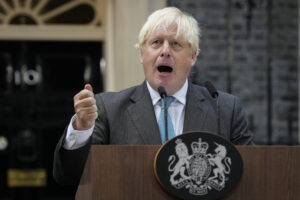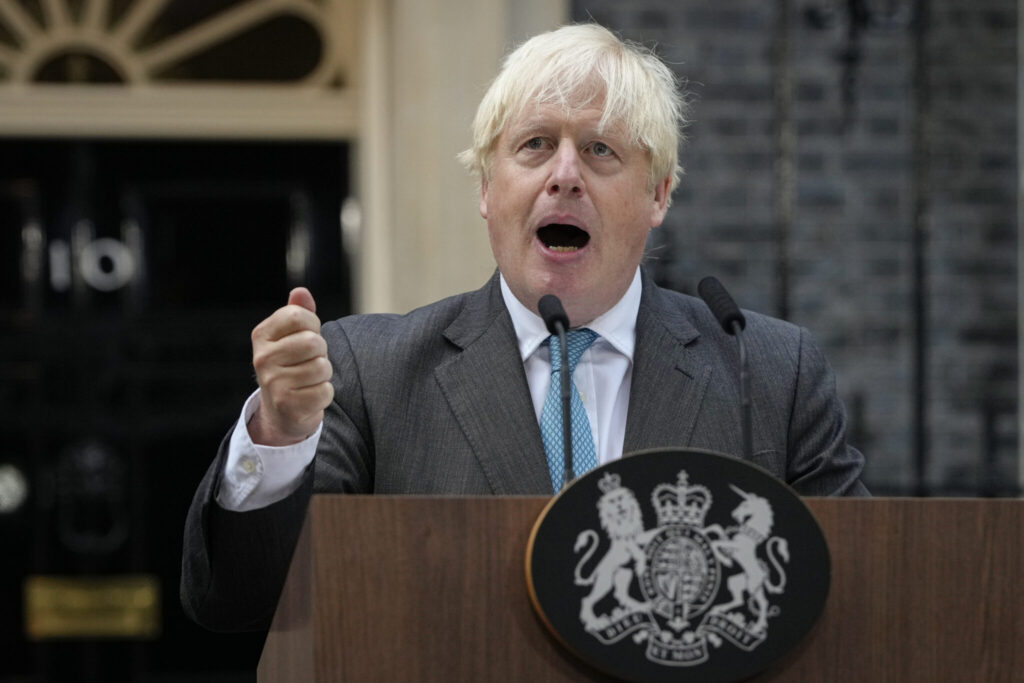 Johnson resigned hours after King Charles III rewarded dozens of his loyal aides and allies with knighthoods and other honors, a political tradition for former prime ministers that drew cries of cronyism from opponents of the ousted leader.
Johnson's dramatic exit is the latest — but maybe not the last — chapter in a career of extremes. The rumpled, Latin-spouting populist with a mop of blond hair had held major offices, including London mayor, but also spent periods on the political sidelines before Britain's exit from the European Union propelled him to the top.
Johnson's bullish boosterism helped persuade 52% of Britons to vote to leave the EU, and he was elected prime minister in 2019 on a vow to "get Brexit done."
He was less suited to the hard work of governing, and the pandemic — which landed Johnson in intensive care with COVID-19 — was a major challenge. Johnson's government won plaudits for its rapid vaccine rollout, but the U.K. also had one of the highest coronavirus death tolls in Europe, and some of the longest lockdowns.
The final straw came when details emerged of parties held in Johnson's Downing Street office and home while the country was in lockdown. "Partygate" caused outrage and finally pushed the Conservative Party to oust its election-winning but erratic leader.
Angela Rayner, deputy leader of the opposition Labour Party, responded to Johnson's resignation with: "enough is enough."
"The British public are sick to the back teeth of this never ending Tory soap opera played out at their expense," she said.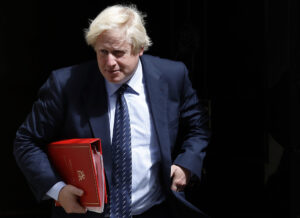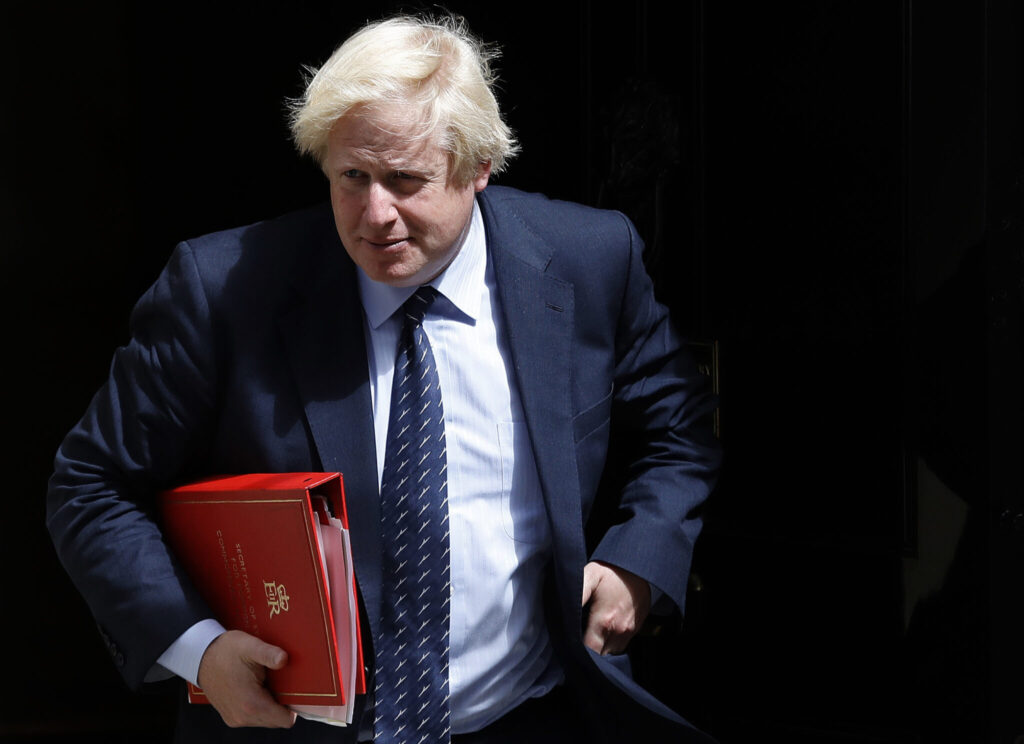 He was the mayor who reveled in the glory of hosting the 2012 London Olympics, and the man who led the Conservatives to a whopping election victory on the back of his mission to "get Brexit done."
But Boris Johnson's time as prime minister was marred by his handling of the coronavirus pandemic and a steady stream of ethics allegations, from alcohol-fueled government parties that broke lockdown rules.
Here is a timeline of events relating to Johnson's political career:
2001-2008: Serves as a member of Parliament in the House of Commons representing the constituency of Henley.
2008-2016: Serves as London mayor, overseeing 2012 London Olympics.
2016: Co-leader of the campaign to take Britain out of the European Union, in opposition to then-Prime Minister David Cameron, a fellow Conservative. Cameron resigns after voters approve Brexit in a national referendum on June 23, 2016.
2016-2018: Serves as Foreign Secretary under Cameron's successor, Prime Minister Theresa May. Johnson resigns in July 2018 in opposition to May's strategy for a "soft" Brexit that would maintain close ties with the EU.
June 7, 2019: Theresa May resigns as Conservative Party leader over her failure to persuade Parliament to back the Brexit agreement she negotiated with the EU. The party is split between those who back May and hard-liners, led by Johnson, who are willing to risk a no-deal Brexit in order to wring concessions from the EU.
July 23, 2019: Johnson is elected Conservative Party leader in a vote by party members. He takes office as prime minister the next day, inheriting a minority government that relies on votes from Northern Ireland's Democratic Unionist Party to pass legislation. Johnson insists Britain will leave the EU on Oct. 31, with or without a deal.
Aug. 28, 2019: Johnson announces he will shut down Parliament until mid-October, giving opponents less time to thwart a no-deal Brexit.
Sept. 3, 2019: Twenty-one rebel Conservative Party lawmakers support legislation requiring the government to seek an extension of Brexit negotiations if it can't negotiate an agreement with the EU. The measure passes and the rebels are expelled from the party.
Sept. 5, 2019: Johnson asserts he would rather be "dead in a ditch" than ask the EU for another extension.
Sept. 24, 2019: U.K. Supreme Court rules government's suspension of Parliament was unlawful.
Oct. 19, 2019: Johnson asks the EU to delay Brexit again. New deadline set for Jan. 31.
Nov. 6, 2019: Parliament is dissolved and early elections are set for mid-December as Johnson seeks a mandate for his Brexit strategy.
Dec. 12, 2019: Johnson wins an 80-seat majority in the general election, giving him the backing to push through Brexit legislation. The victory makes Johnson the most electorally successful Conservative leader since Margaret Thatcher.
Jan. 23, 2020: The Brexit deal becomes law after approval by U.K. Parliament. European Parliament approves the deal six days later.
March 23, 2020: Johnson places U.K. in first lockdown due to COVID-19.
April 5, 2020: Johnson hospitalized and later moved to intensive care with COVID-19. He is released from the hospital on April 12, thanking the nurses who sat with him through the night to make sure he kept breathing.
Nov. 3-4, 2021: Johnson's government orders Conservative lawmakers to support a change in ethics rules to delay the suspension of Owen Paterson, a Johnson supporter who had been censured for breaching lobbying rules. The measure passes. A day later, facing an angry backlash from lawmakers of all parties, Johnson reverses course and allows lawmakers to vote on Paterson's suspension. Paterson resigns.
Nov. 30, 2021: Allegations surface that government officials attended parties in government offices during November and December 2020 in violation of COVID-19 lockdown rules. The scandal grows to reports of more than a dozen parties. Johnson denies the allegations, but opposition leaders criticize the government for breaking the law as people across the country made sacrifices to combat the pandemic.
Dec. 8, 2021: Johnson authorizes investigation into the scandal, dubbed "Partygate." Pressure builds for a leadership challenge, but fizzles.
Feb. 3, 2022: Johnson's longtime aide, Munira Mirza, quits Downing Street, followed by three other top aides.
March 23: The government announces a mid-year spending plan that's criticized for doing too little to help people struggling with the soaring cost of living. Then-Treasury chief Rishi Sunak refuses to delay a planned income tax increase or impose a windfall profits tax on oil and gas companies benefiting from rising energy prices.
April 9: Johnson meets Ukrainian President Volodymyr Zelenskyy in Kyiv, pledging a new package of military and economic support. The move helps bolster Johnson and his supporters, who argue the government should not focus on domestic political squabbles.
April 12: Johnson is fined 50 pounds ($63) for attending one of the lockdown parties. Opposition parties characterize him as the first U.K. prime minister in history shown to have broken the law while in office. Johnson apologizes but insists he didn't know he was breaking the rules.
May 22,: Findings of the "Partygate" investigation are published, detailing 16 gatherings at Johnson's home and office and other government offices between May 2020 and April 2021. The report details excessive drinking among some of Johnson's staff, at a time when millions of people were unable to see friends and family.
May 26: The government reverses course on its tax decision on oil and gas companies and announces plans for a 25% windfall profits levy.
June 6: Johnson narrowly wins a vote of no confidence, with Conservative lawmakers voting 211—148 to back him. But the scale of the revolt — some 41% voted against him — shakes his grip on power.
June 15: Christopher Geidt quits as ethics adviser to Johnson, accusing the Conservative government of planning to flout conduct rules.
June 24: Johnson's Conservatives lose two former strongholds to opposition parties in special elections.
June 29: Parliament's cross-party Privileges Committee issues a call for evidence for a probe into whether Johnson misled Parliament over lockdown parties.
June 30: Chris Pincher resigns as Conservative deputy chief whip amid allegations he assaulted two guests at a private members' club in London. Previous sexual misconduct allegations emerge about Pincher. Questions swirl about whether Johnson knew about the claims when Pincher was given the job.
July 5: Johnson apologizes for his handling of the Pincher scandal and says he had forgotten about being told of the allegations. Two of Johnson's most senior Cabinet ministers, Sunak and Health Secretary Sajid Javid, quit the government.
July 6: Some three dozen junior ministers resign from the government, attacking Johnson's leadership.
July 7: Johnson resigns as Conservative Party leader, but plans to remain as prime minister while the leadership contest is held.
November 2022: Johnson begins stepping up speaking engagements that take him around the world from India to Nigeria to Singapore to the United States. During the current parliamentary term, he reports 2.7 million pounds ($3.4 million) for speaking engagements.
March 3, 2023: A U.K. parliamentary committee says evidence suggests Johnson repeatedly misled Parliament about his knowledge of lockdown-breaking parties at his Downing Street office.
March 22: Johnson insists "hand on heart" that he never lied to lawmakers about rule-breaking government parties, mounting a robust defense at a hearing that could damage or even end his tumultuous political career.
June 9, 2023: Johnson resigns his parliamentary seat after receiving report on lockdown plans.