More than 70 progressive US and Brazilian lawmakers have condemned the collaboration between the Bolsonaro family and Trumpists in the US aimed at overturning elections in both countries, and called for those involved to be held to account. "As lawmakers in Brazil and the United States, we stand united against the efforts by authoritarian, anti-democratic far right actors to overturn legitimate election results and overthrow our democracies," said the joint statement, led by Democratic congresswoman Ilhan Omar. The Associated Press has the story:
Brazil 'MEGA-protest' fizzles amid authorities' concern
Newslooks- BRASILIA, Brasil (AP)
Skittish Brazilian authorities on Wednesday spared no effort to boost security in the face of a social media flyer promoting a "MEGA-protest to retake power" in two dozen cities. Whether because of preventative measures adopted or not, the supposed uprising was a dud.
Less than 10 protesters showed along Rio de Janeiro's Copacabana beach; there were more journalists in attendance, plus 29 police vehicles. On Brasilia's esplanade surrounded by federal government buildings, authorities had designated an area for protest and surrounded it with police and national guard troops. Just one couple showed, dressed in the same Brazil soccer jerseys that thousands of rioters wore four days earlier.
"We were surprised to be the only ones here today," said Eunice Carvalho, a 58-year-old housewife joined by her husband. "People got scared after the imprisonments, which were excessive."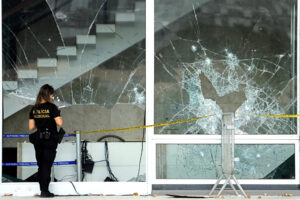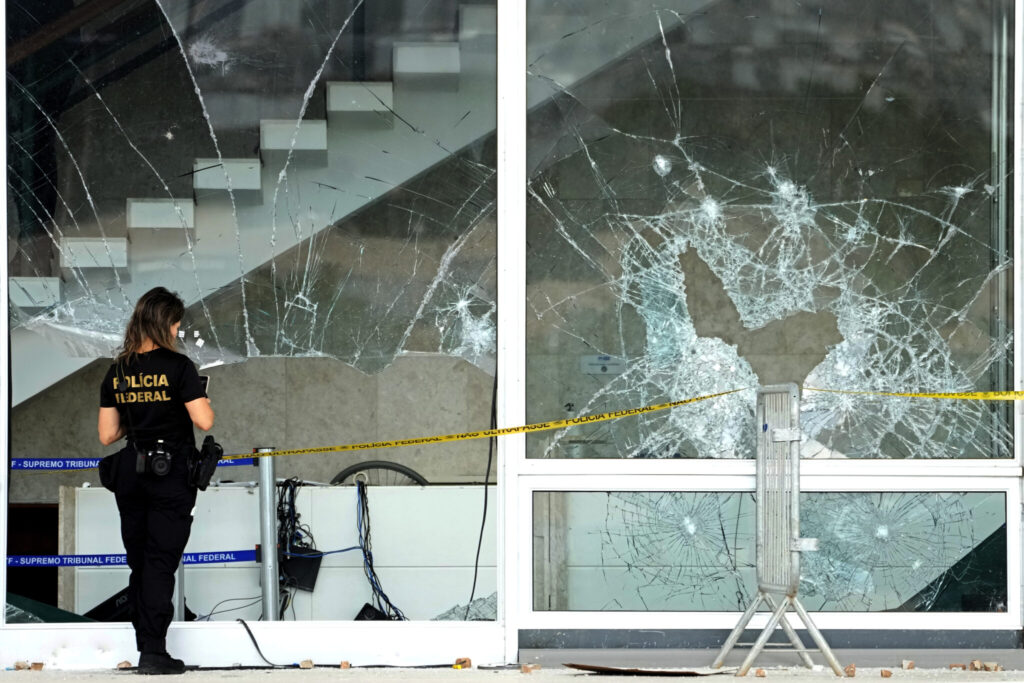 Speaking to journalists in Brasilia earlier, the federal appointee who has assumed control of the capital's security said police were shutting down the main avenue to traffic, limiting pedestrian access with barricades and blocking all access to the square that was the site of Sunday's mayhem.
"The right to protest freely will always be respected and cannot be confused with terrorism," said the official, Ricarado Cappelli.
Citing the call to protest, a Supreme Court justice ordered local authorities in cities across Brazil to prevent protesters from blocking roads or occupying public spaces and buildings. Justice Alexandre de Moraes also ordered arrests and fines for people and companies who participate or help with logistics and funding.
The all-hands response — and the subsequent tranquility — underscored just how jumpy authorities remain after supporters of former President Jair Bolsonaro rampaged through Congress, the Supreme Court and the presidential palace on Sunday, laying ruin to the government's three most important buildings. Officials arrested or detained some 1,500 people by the following morning, hundreds of whom were sent to prison.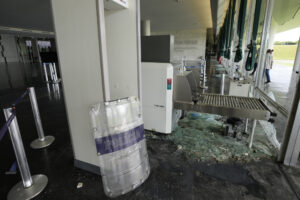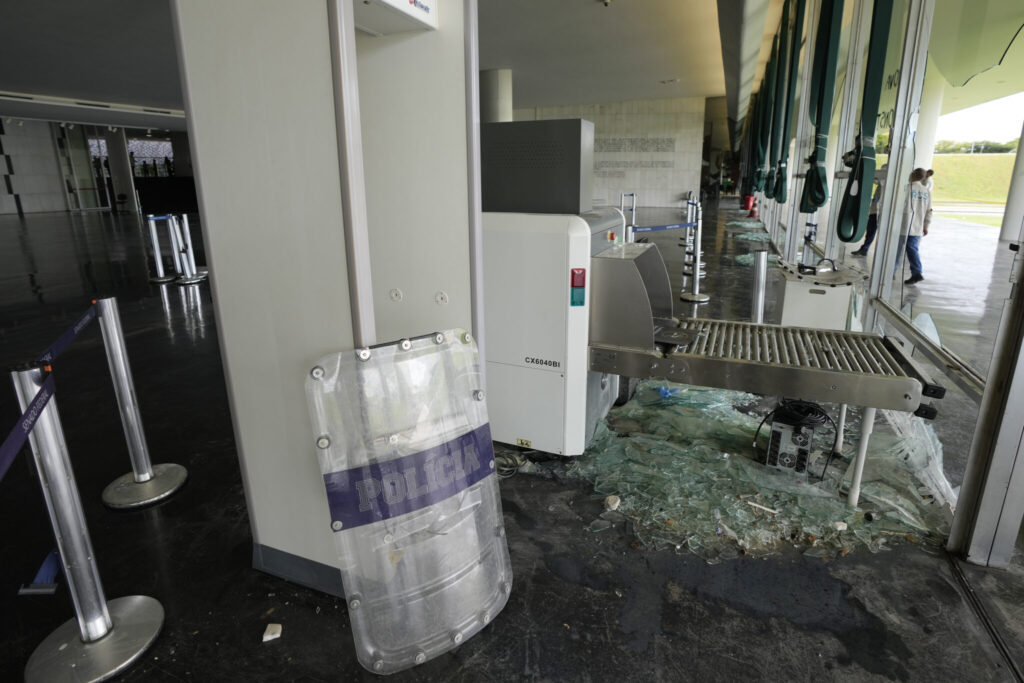 Though there is no evidence of fraud in the Oct. 30 presidential election, the protesters have claimed the true winner was far-right Bolsonaro. He has fired up his base about the vulnerability of electronic voting machines despite independent experts' assurances they are closely scrutinized. Bolsonaro also has warned his supporters that the election's leftist victor, Luiz Inácio Lula da Silva, would impose communism.
The call for a fresh uprising Wednesday sparked concern that the crackdown hadn't damped the will of radicals. Among those who vow to continue struggling is Daniel Bressan, 35, who traveled some 300 miles from the interior of Parana state to join Sunday's protest in Brasilia. He was detained by police the next morning, though he denies participating in any of the vandalism.
"A lot of people are going to be afraid to go to the streets and be arrested — I myself fear persecution by the legal system — but I'm not going to stop fighting and I'm not going to get discouraged," Bressan said by phone from the federal police's temporary holding center. "I'm ready for everything. Our freedom is worth more than our lives."
Jailing rioters represents only part of the government's effort to hold people responsible, with authorities also seeking to track down those who enabled the uprising. That includes organizers who summoned protesters to the capital and paid their way as well as local security personnel accused of either standing by and allowing the destruction to occur, or even cooperating.
Justice Minister Flávio Dino told local press this week that authorities have identified some of the protest's financiers. He said they are based in the south and center-west regions that Bolsonaro carried in the election. Without identifying individuals, he said they are members of the agribusiness sector, local business owners and people registered to own firearms.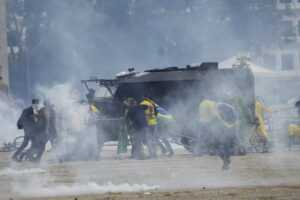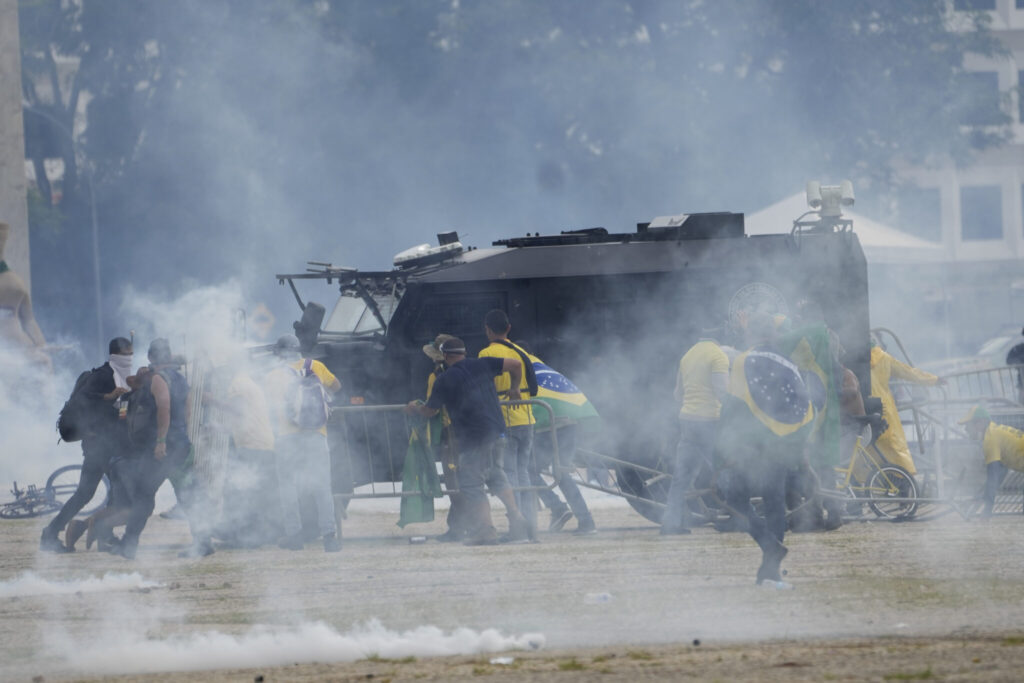 Dino previously said the riot was apparently intended to spark a domino effect around the country. He has referred to the encampments that had been set up by Bolsonaro supporters outside military buildings to call on the armed forces to overturn election results as "incubators of terrorists." Authorities cleared away the camps in Brasilia and other cities after the rioting.
In November, the Supreme Court froze 43 bank accounts of people accused of having financed roadblocks that disrupted highway traffic in the wake of Lula's victory. At least 30 were in the center-west state of Mato Grosso, Brazil's top soybean producer.
De Moraes, the Supreme Court justice, also ordered preventative detention for the men who were serving Sunday as head of the federal district's security and military police chief, as well as searches of their residences. Both men have been fired since the rioting.
"Absolutely NOTHING justifies the omission and collusion of the security secretary and the military police commander," de Moraes wrote in his decision, which was made public late Tuesday.
The justice also denounced the protest encampments sponsored by diverse financiers.
"There are strong indications that the conduct of criminal terrorists could only have occurred with the willful participation or omission — which will be determined in these investigations — of the aforementioned public authorities," de Moraes wrote.
Brazil rioters plotted openly online, pitched huge 'party'
Newslooks- MIAMI (AP)
The map was called "Beach Trip" and was blasted out to more than 18,000 members of a public Telegram channel called, in Portuguese, "Hunting and Fishing."
But instead of outdoor recreation tips, the 43 pins spread across the map of Brazil pointed to cities where bus transportation to the capital could be found for what promoters promised would a huge "party" on Jan. 8.
"Children and the elderly aren't invited," according to the post circulated on the Telegram channel, which has since been removed. "Only adults willing to participate in all the games, including target shooting of police and robbers, musical chairs, indigenous dancing, tag, and others."
The post was one of several thinly coded messages circulating on social media ahead of Sunday's violent attack on the capital by supporters of former President Jair Bolsonaro looking to restore the far-right leader to power.
It's also now a potentially vital lead in a fledgling criminal investigation about how the rampage was organized and how officials missed clues to a conspiracy that, like the Jan. 6 attack on the U.S. Capitol two years ago, appears to have been organized and carried out in plain view.
More than 70 progressive US and Brazilian lawmakers have condemned the collaboration between the Bolsonaro family and Trumpists in the US aimed at overturning elections in both countries, and called for those involved to be held to account. "As lawmakers in Brazil and the United States, we stand united against the efforts by authoritarian, anti-democratic far right actors to overturn legitimate election results and overthrow our democracies," said the joint statement, led by Democratic congresswoman Ilhan Omar.
And like the attack in the U.S., the Brazilian riots demonstrate how social media makes it easier than ever for anti-democratic groups to recruit followers and transform online rhetoric into offline action.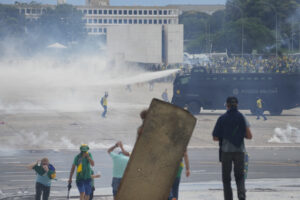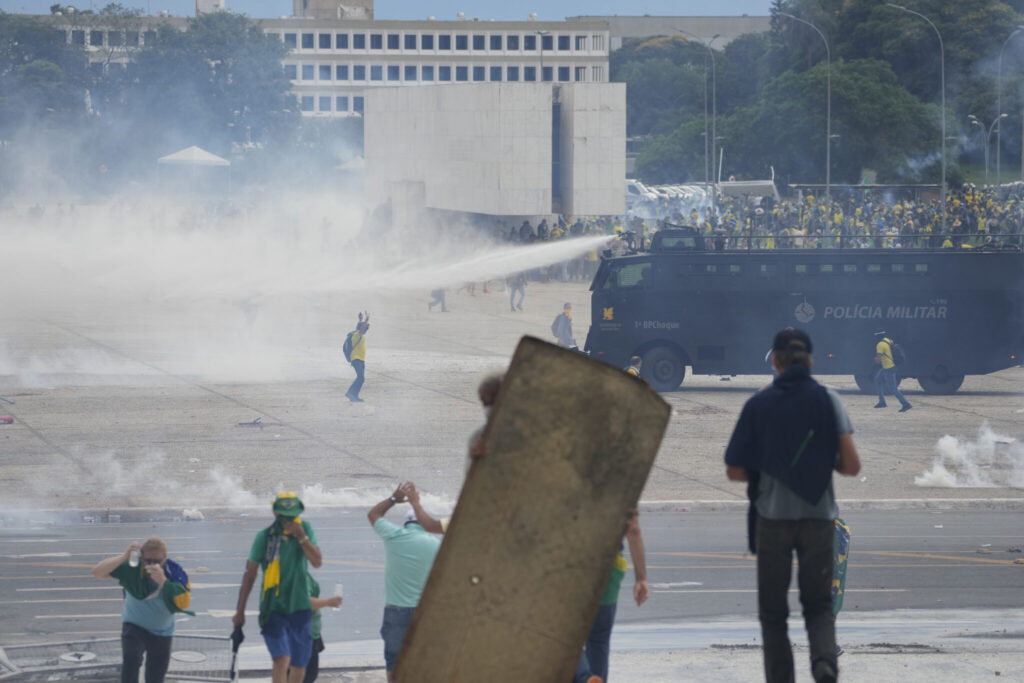 On YouTube, rioters livestreaming the mayhem racked up hundreds of thousands of views before a Brazilian judge ordered social media platforms to remove such content. Misleading claims about the election and the uprising also could be found on Twitter, Facebook and other platforms.
But even before Sunday's riot, social media and private messaging networks in Brazil were being flooded with calls for one final push to overturn the October election of Luiz Inacio Lula da Silva — something authorities appear to have inexplicably missed or ignored.
Most of the online chatter referred to the planned gathering at Brasilia's Three Powers Plaza as "Selma's party" — a play on the Portuguese word for "selva," a battle cry used by Brazil's military.
Participants were told to bring their own mask to protect against "pepper pie in the face" — or pepper spray fired by security forces. They also were told to dress in the green and yellow of Brazil's flag — and not the red preferred by Lula's Workers' Party.
"Get ready guests, the party will be a blast," the widely-circulated post said.
"It was all in the open," said David Nemer, a Brazil native and University of Virginia professor who studies social media. "They listed the people responsible for buses, with their full names and contact information. They weren't trying to hide anything."
Still, it's unclear to what extent social media was responsible for the worst attack on Brazil's democracy in decades. Only a handful of far-right activists showed up at gas terminals and refineries that were also pinpointed on the "Beach Trip" map as locations for demonstrations planned for Sunday.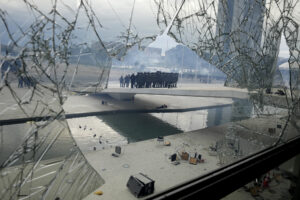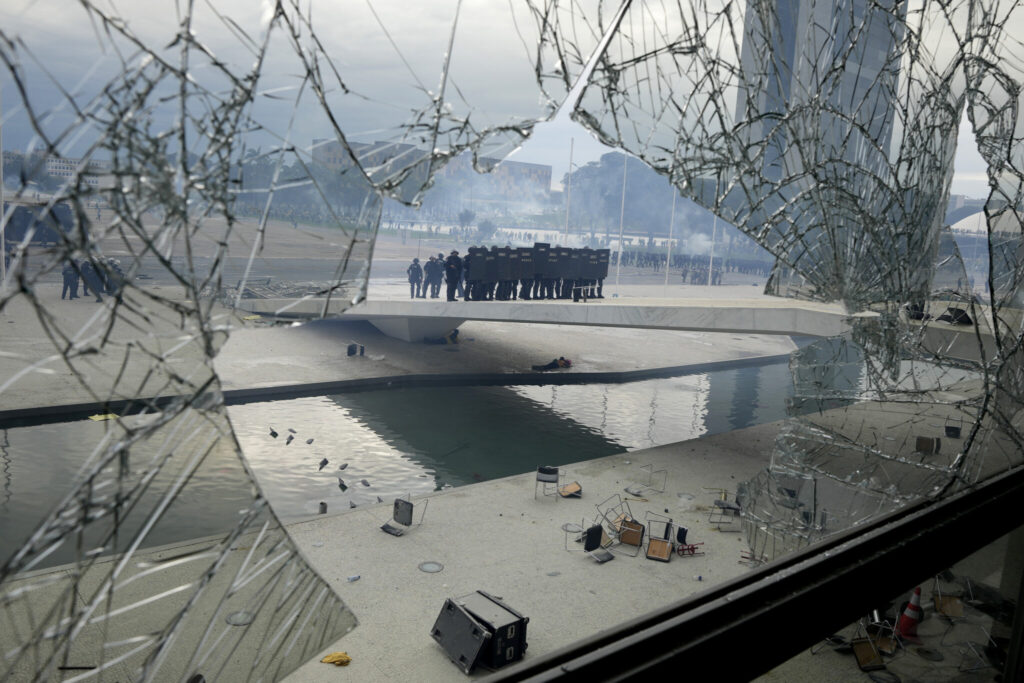 Bruno Fonseca, a journalist for Agencia Publica, a digital investigative journalism outlet, has tracked the online activities of pro-Bolsonaro groups for years. He said the activists live in a state of constant confrontation but sometimes, their frequent calls to mobilize fall flat.
"It's difficult to know when something will jump out from social media and not," said Fonseca, who in a report this week traced the spread of the "Selma's Party" post to users who appear to be bots.
Still, he said, authorities could have paired the online activity with other intelligence-gathering tools to investigate, for example, a surge in bus traffic to the capital before the attacks. He said their inaction may reflect negligence or the deep support for Bolsonaro among security forces.
One gnawing question is why, on the day of the chaos, Anderson Torres, a Bolsonaro ally who had just been named the top security official in Brasilia, was reportedly in Florida — where his former boss was on a retreat. Torres was swiftly fired and Brazil's Supreme Court has ordered his arrest pending an investigation. Torres denied any wrongdoing and said he would return to Brazil and present his defense.
Sunday's violence came after Brazilian voters were bombarded by a flood of false and misleading claims before last fall's vote. Much of the content focused on unfounded concerns about electronic voting, and some featured threats of violent retaliation if Bolsonaro was defeated.
One of the most popular rallying cries used by Bolsonaro's supporters was #BrazilianSpring, a term coined by former Trump aide Steve Bannon in the hours after Bolsonaro's defeat to Lula.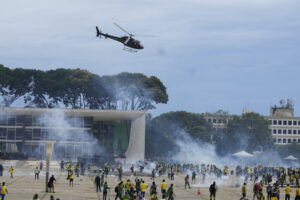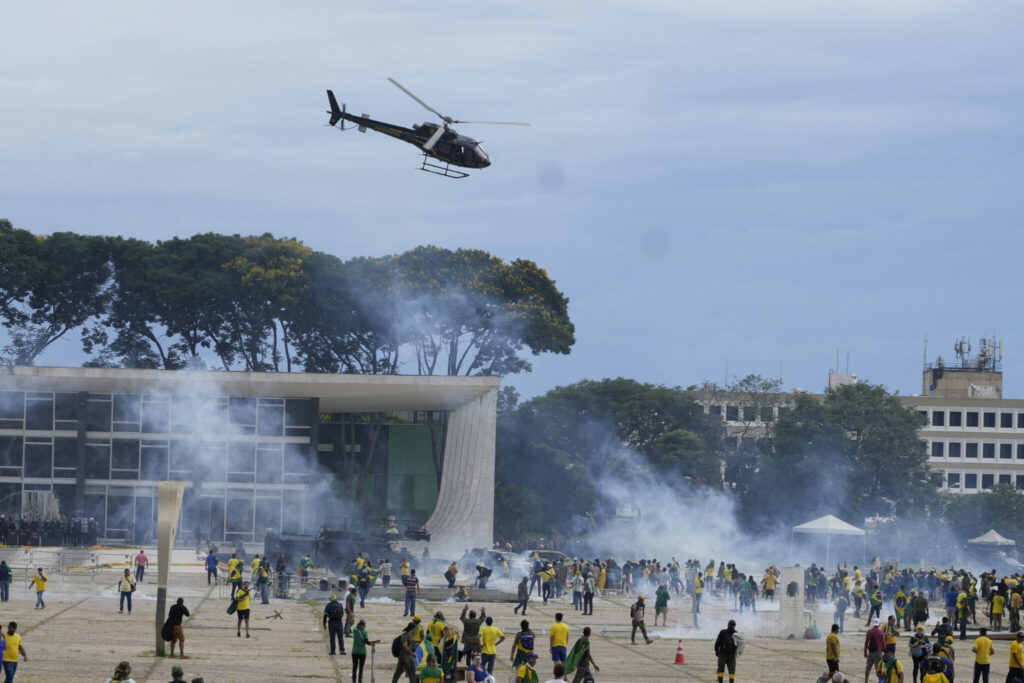 "We all know that this Brazilian election was going to be contentious," said Flora Rebello Arduini, a London-based campaign director with SumOfUs, a nonprofit that tracked extremist content before and after Brazil's election. "Social media platforms played a vital role in amplifying far-right extremist voices and even calls for violent uprising. If we can identify this kind of content, then so can they (the companies). Incompetence is not an excuse."
Brazil's capital city steeled itself Wednesday for the possibility of new attacks fueled by social media posts, including one circulating on Telegram calling for a "mega protest to retake power."
In response to the criticism, spokespeople for Telegram, YouTube and Facebook said their companies were working to remove content urging more violence.
"Telegram is a platform for free speech and peaceful protest," Telegram spokesman Remi Vaughn wrote in a statement to the AP. "Calls to violence are explicitly forbidden and dozens of public communities where such calls were being made have been blocked in Brazil in the past week — both proactively as per our Terms of Service as well as in response to court orders."
A YouTube spokeswoman said the platform has removed more than 2,500 channels and more than 10,000 videos related to the election in Brazil.
Meta, which owns Facebook, Instagram and WhatsApp, has prioritized efforts to combat harmful content about Brazil's election, a company spokesman told The Associated Press.