Turkish President Tayyip Erdogan canceled his scheduled campaign rallies on Wednesday and Thursday for health reasons, weeks before May 14 presidential and parliamentary elections. "Today, I will rest at home with the advice of my doctors," Erdogan wrote on his Twitter account on Wednesday. Later, AK Party deputy chair Erkan Kandemir said Erdogan would attend a ceremony at the Akkuyu nuclear power plant in the southern Mersin province via videolink on Thursday. The Associated Press has the story:
Erdogan skips campaign day over health issue
Newslooks- ANKARA, Turkey (AP)
Turkish President Recep Tayyip Erdogan announced he was canceling a day of election campaigning on Wednesday to rest at home, a day after he was forced to briefly interrupt a television interview over a stomach complaint.
Erdogan was being interviewed live by Turkey's Ulke TV and Kanal 7 stations late on Tuesday when the program was suddenly stopped. When the interview resumed around 20 minutes later, Erdogan, 69, explained that he had developed a serious "stomach flu" while campaigning and apologized for the interruption.
The president, who was scheduled to make a series of appearances in the cities of Kirikkale, Yozgat and Sivas on Wednesday, announced on Twitter that he would rest at home on the advice of his doctors and that Vice President Fuat Oktay would represent him at the events.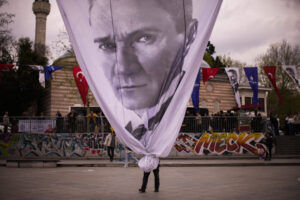 Later on Wednesday, Erkan Kandemir, a deputy chairman of the ruling party announced that Erdogan had also canceled a rally planned in the southern city of Mersin for Thursday but would take part in a ceremony marking the rolling out of Turkey's first nuclear power plant via video conference.
Turkish officials meanwhile, also denied online rumors claiming that Erdogan had suffered a serious illness and was hospitalized.
"We categorically reject such baseless claims regarding President (Erdogan's) health," his communications director, Fahrettin Altun tweeted.
Omer Celik, another senior ruling party member wrote: "our president remains on top of his duties. After a short rest, he will continue with his program."
Erdogan, who is seeking a third term in office as president, has been campaigning hard in the run up to the May 14 presidential and parliamentary elections, sometimes attending three or more events per day.
He is facing his toughest electoral test of his 20-years in office as prime minister and president, with opinion surveys showing a slight lead for his main challenger, center-left opposition party leader Kemal Kilicdaroglu.
In 2011, Erdogan underwent what his doctors said was a successful surgery on his digestive system.