EU Parliament & The Suppression of Press in Algeria
On Thursday, the Algerian National Assembly approved a new media law that tightens control over the work of journalists and imposes new restrictions and penalties for violations.
Among the main provisions of the text approved on March 28 by the National People's Assembly, the first chamber of parliament, is to prevent the Algerian media from receiving any funding or material assistance, direct or indirect, from any "foreign party."
The law stipulates that the journalist has the right to "protect his sources" but obliges him to disclose them to the judiciary if requested.
The new law de facto excludes dual nationals from the right to own or contribute to the ownership of a media outlet in Algeria.
However, members of the National Assembly "reserved" Article 22 of the text related to the conditions for obtaining "accreditation" to work in Algeria in foreign media.
The senators considered, in particular, that the thirty days needed to be revised to obtain the accreditation mentioned above from the application's submission date.
The new law stipulates a fine of up to one million dinars (about seven thousand euros) for anyone who works for a foreign media outlet without obtaining accreditation.
Many members of the Council pointed out during the discussions that no executive texts accompany the draft law.
Algeria ranks 134th out of 180 countries in the World Press Freedom Index, compiled by Reporters Without Borders in 2022.
On April 2, a court ruled a five-year sentence, three of which were enforceable, against the Algerian journalist, Ihsan al-Qadi, arrested since December on charges of receiving funds from abroad.
In a remarkable development, the European People's Party succeeded, with the support of New Europe and the Social Democrats, in deleting the special draft resolution condemning Algeria for the lack of freedom of the press from the agenda of the European Parliament.
Spanish journalist Ignacio Cembrero announced on Twitter that the "Macron-Friends" of Reño changed their minds within 24 hours. Indeed, the agenda of the European Parliament's plenary session, from 17 to April 20, does not include any text on Algeria.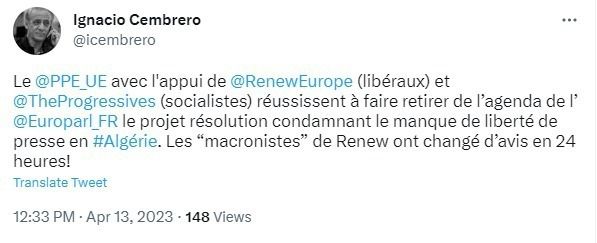 Many observers were surprised by this step, considering that the European Parliament has become subject in one way or another to political pressures and preferential dictates controlled by material interests linked to the foreign relations of some European countries.
As a reminder, on November 26, 2020, the European Parliament, in its entirety, adopted a resolution condemning the deterioration of freedoms in Algeria by 699 votes against only three votes.