Excitement was building in Liverpool on Saturday for the Grand Final of Eurovision 2023, a spectacular that will walk a tightrope between reflecting the situation in Ukraine and steering clear of overt politics. The city in northern England is hosting the annual song contest on behalf of 2022 winner Ukraine, which was not able to stage, as is customary, because of Russia's invasion. The Associated Press has the story:
Eurovision Contest: Sweden, Ukraine favored
Newslooks- LIVERPOOL, England (AP) —
What includes a Swedish diva, a Finnish rapper who loves pina coladas, a band of Croatian agit-rockers and an Austrian duo possessed by a long-dead writer? It could only be the Eurovision Song Contest.
The grand final of the pan-continental pop music competition takes place Saturday in Liverpool. This year's theme is "united by music," and the event fuses the soul of English port city that birthed The Beatles with the spirit of war-battered Ukraine. Britain is hosting the event on behalf of Ukraine, which won last year's competition.
"I've never seen a city embrace Eurovision as much as Liverpool," said Steve Holden, host of the official Eurovision Song Contest podcast. "It runs through the whole of the city. Every pub, every shop, every bar has the Ukrainian flag. … There's a buzz, there's a party atmosphere."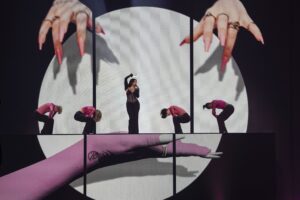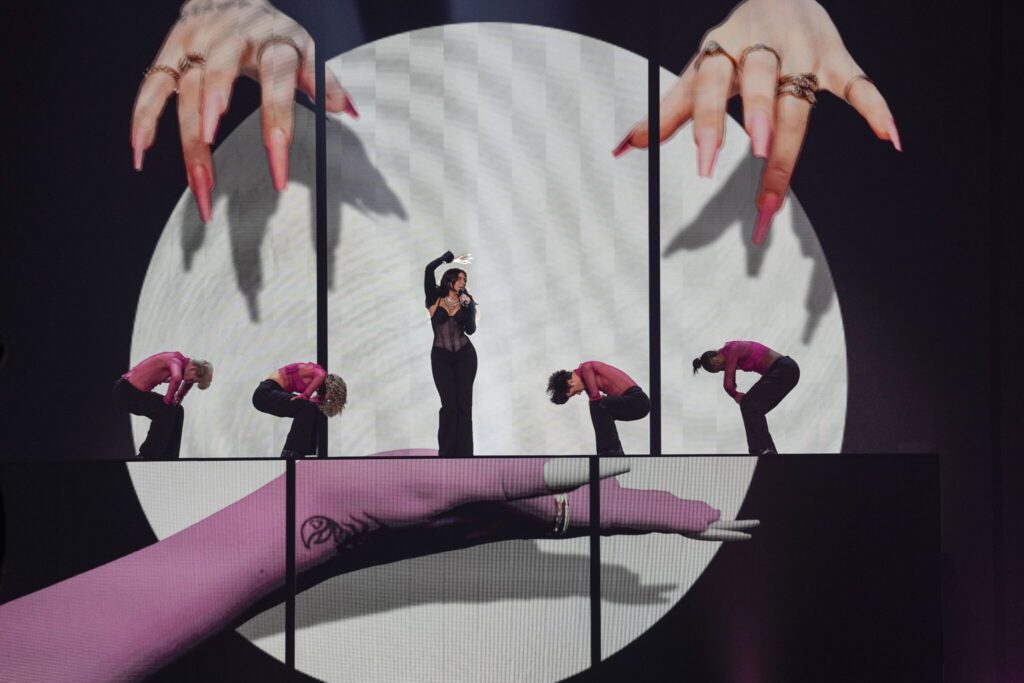 Under spring sunshine, fans flocked in their thousands to city's dockside area — now a vast party zone — near the Liverpool Arena contest venue. Many were draped in flags of their favored nations or dressed as their favorite acts. A large number of British fans wore red, white and blue Union Jack dresses or jackets.
"Just to come down and see people from all different nationalities, all different cultures — it's good fun," said Australia fan Martin Troedel, sporting a kangaroo on his hat. "Frankly there's some quite odd acts, which is what I love about it. You never know what to expect."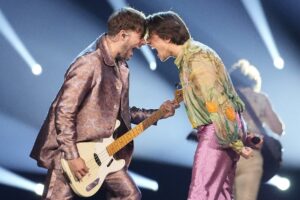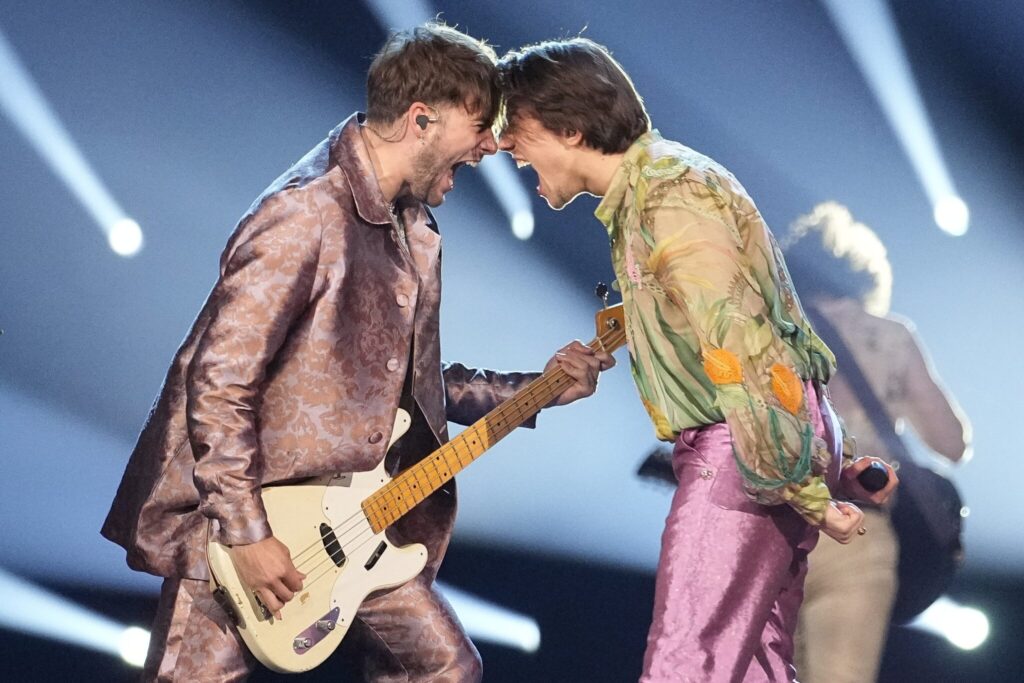 The show is set to open with a performance by Kalush Orchestra, the Ukrainian folk-rap band that took the 2022 trophy with its lyrical and defiant song "Stefania."
As contestants from finalist nations enter in an Olympics-style flag parade, there will be live performances from Ukrainian acts including Jamala, Tina Karol and Verka Serduchka — all past Eurovision competitors. Britain's Sam Ryder, who came in second place last year, is also scheduled to perform, and a clutch of past Eurovision greats will perform a set of classic Liverpool songs.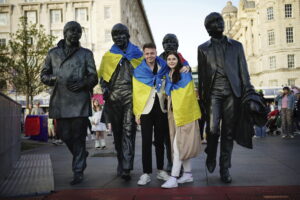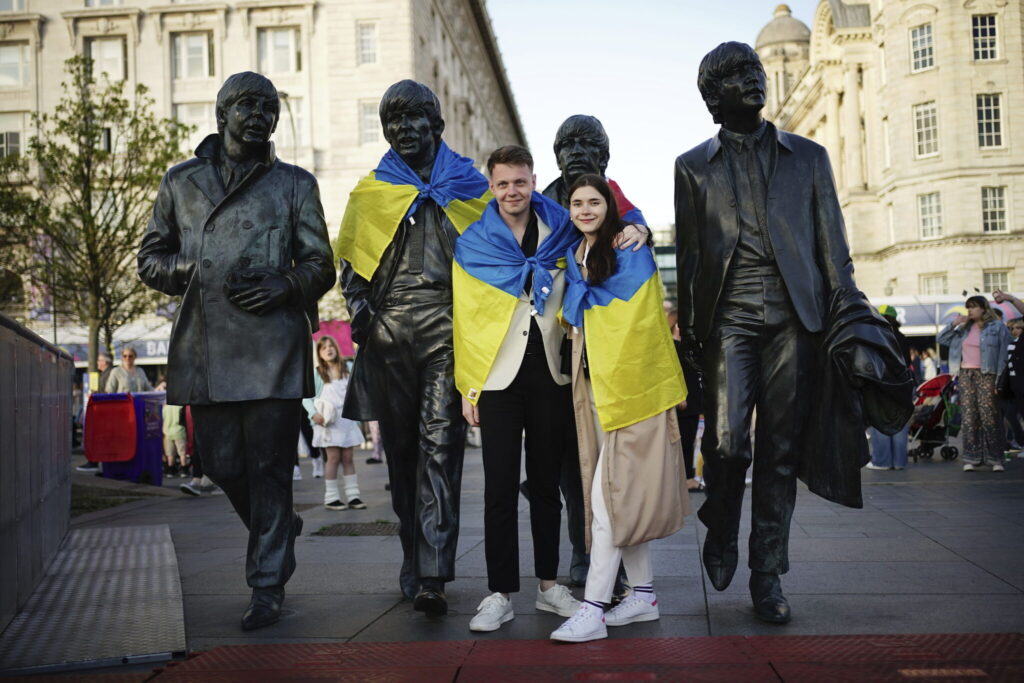 Then, 26 acts will have three minutes each to fuse catchy tunes and eye-popping spectacle into performances capable of winning the hearts of millions of viewers. The favorites include Swedish singer Loreen – the 2012 Eurovision winner, tipped by the bookies to take the title again with her power ballad "Tattoo" – and Finland's Käärijä, a performer with Energizer bunny energy and a lurid green bolero top who goes from metal growler to sweet crooner on party anthem "Cha Cha Cha."
At the offbeat end of the scale are antiwar rock opera "Mama ŠČ!" by Croatia's Let 3, who have a penchant for stripping down to their underwear onstage, and Austrian duo Teya & Salena's "Who the Hell is Edgar?" — a satirical ode to Edgar Allen Poe that also slams the meagre royalties musicians earn from streaming services.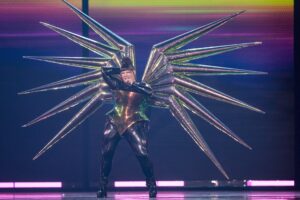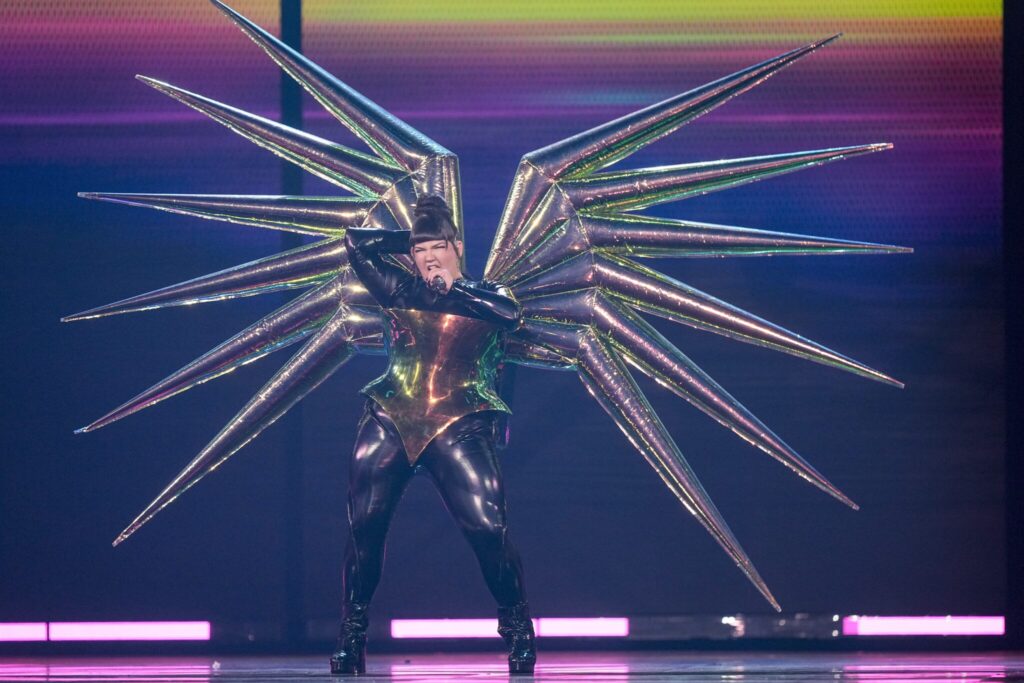 Rock is unusually well represented at a contest that tends to favor perky pop. Slovenia's Joker Out, Germany's Lord of the Lost and Australia's Voyager are all guitar-crunching entries.
Reigning champion Ukraine is represented by Tvorchi, an electronica duo who pay tribute to the country's resilience on "Heart of Steel." Britain's entrant is Mae Muller, with her jaunty breakup anthem "I Wrote a Song."
About 6,000 fans will watch the show inside the arena, and tens of thousands more at a Liverpool fan zone and at big-screen events across the U.K. The global television audience has been estimated at 160 million.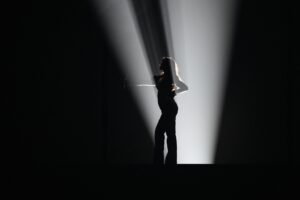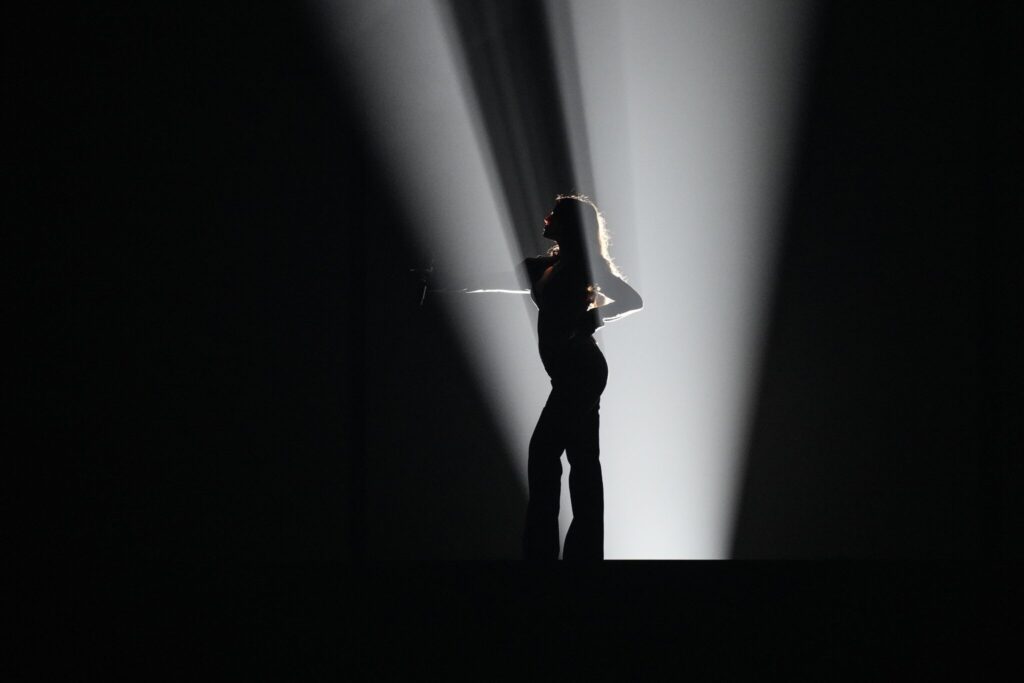 Amid the musical celebration, viewers will be reminded of the brutal cost of Russia's invasion of Ukraine, though organizers say they turned down a request by President Volodymyr Zelenskyy to make a video address. The European Broadcasting Union said that would breach "the nonpolitical nature of the event."
The winner will be decided by Eurovision's famously complex system of jury and public votes, with each act hoping to escape the humiliation of getting "nul points" — zero points.
Founded in 1956, Eurovision is a European cultural institution that has produced breakout stars — ABBA and Celine Dion are both past winners – alongside performers whose careers sank without a trace.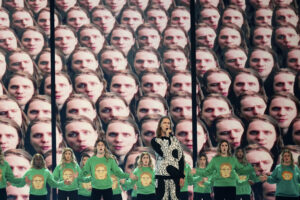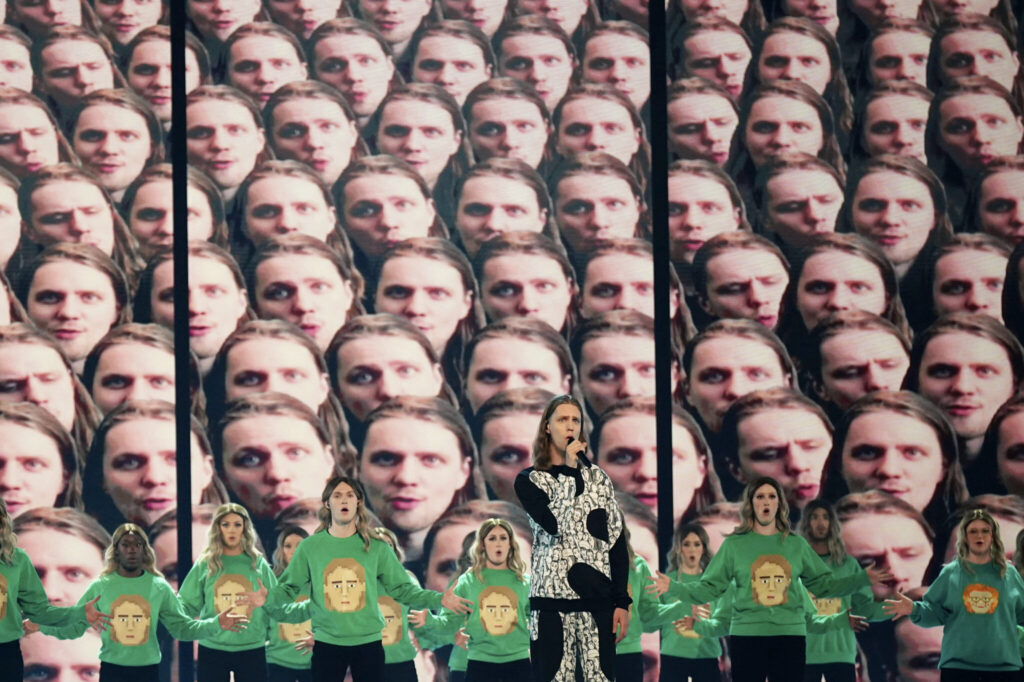 In recent years, it has once again become a platform that can launch careers. Italian rock band Måneskin, who won in 2021, have played major U.S. festivals and opened for the Rolling Stones on tour. Ryder has had a No. 1 album and performed at the Glastonbury festival.
"People know the value of stepping on that stage to 160 million people, knowing that they could go huge," Holden said. "ABBA did it in the 1970s, then it went quiet and it wasn't quite seen as the launchpad it is now. Now, the music industry, the world, knows that if you appear at Eurovision, you could be in for a great thing."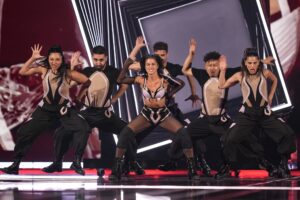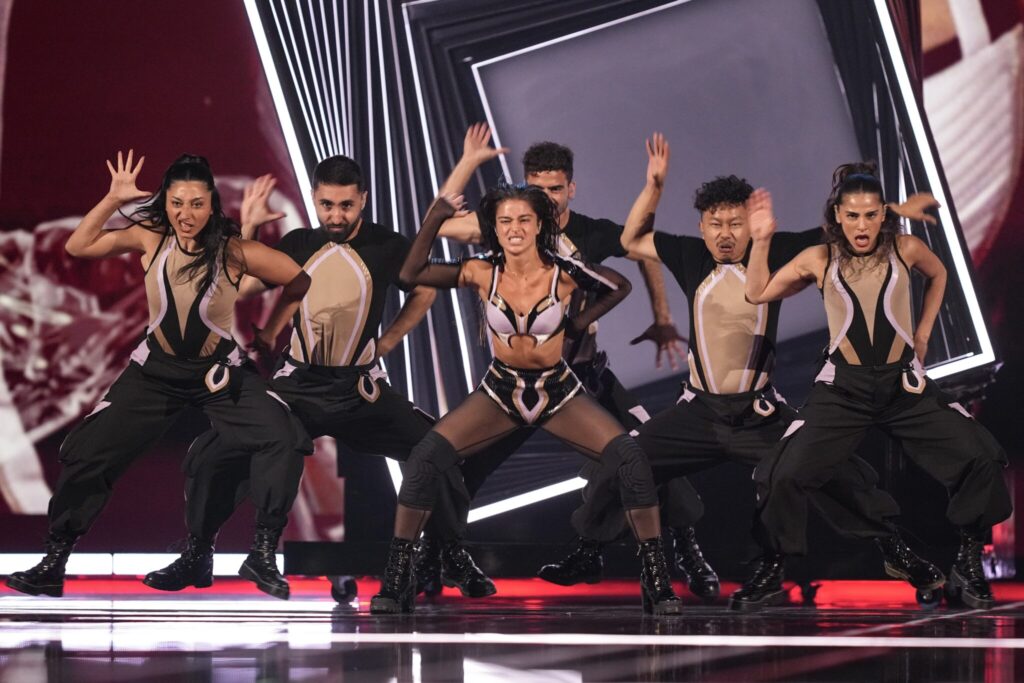 For many, Eurovision was long viewed as a guilty pleasure — especially in the U.K., where years of bad results were blamed on geopolitics and Brexit, rather than the poor quality of the British contenders. But Ryder's second-place finish in 2022 has helped restore Eurovision's credibility in this year's host country.
BBC Eurovision host Graham Norton, who will present the final alongside "Ted Lasso" star Hannah Waddingham, British singer Alesha Dixon and Ukrainian rock star Julia Sanina, said the days of poking fun at Eurovision are over.
"You can't laugh at the acts anymore, because they're so good," he said.