Former President Donald Trump took to Truth Social to blast Republican Florida Gov. Ron DeSantis in a bizarre post that immediately sparked confusion. "'Rob,' My Red Button is bigger, better, stronger, and is working (TRUTH!), yours does not! (per my conversation with Kim Jung Un, of North Korea, soon to become my friend!)," Trump said in the post. The comment came after DeSantis formally announced his presidential campaign on the Twitter "Spaces" platform. However, the announcement was marred by a series of technical difficulties that caused the event to be delayed by at least 30 minutes. The Associated Press has the story:
Friends to foes: Trump, DeSantis' rivalry soars
Newslooks- (AP)
Before Donald Trump and Ron DeSantis were leading rivals for the 2024 Republican presidential nomination, they were allies.
Trump gave DeSantis' gubernatorial bid an early boost by tweeting his support even before DeSantis formally entered the race. In his 2018 victory speech, DeSantis made sure to thank the president, saying, "I think we'll have a great partnership."
Here's how DeSantis and Trump's relationship has evolved — and broken down — as the two face off to take on Democrat Joe Biden:
'UNITE BEHIND THE REPUBLICAN TICKET'
During the 2016 presidential campaign, then-congressman DeSantis said he wouldn't make an endorsement in the crowded field but would support the eventual nominee.
When that ended up being Trump, DeSantis issued a statement calling on fellow Republicans to back the celebrity businessman.
"It is now clear that Donald Trump will accumulate the delegates necessary to be nominated by the Republican Party," DeSantis said in a statement, according to NPR.
"If we want to defeat Hillary Clinton and have a chance to change the trajectory of our country, we need to unite behind the Republican ticket this November."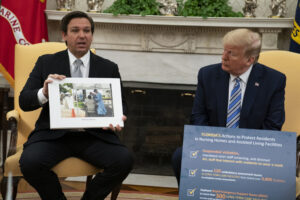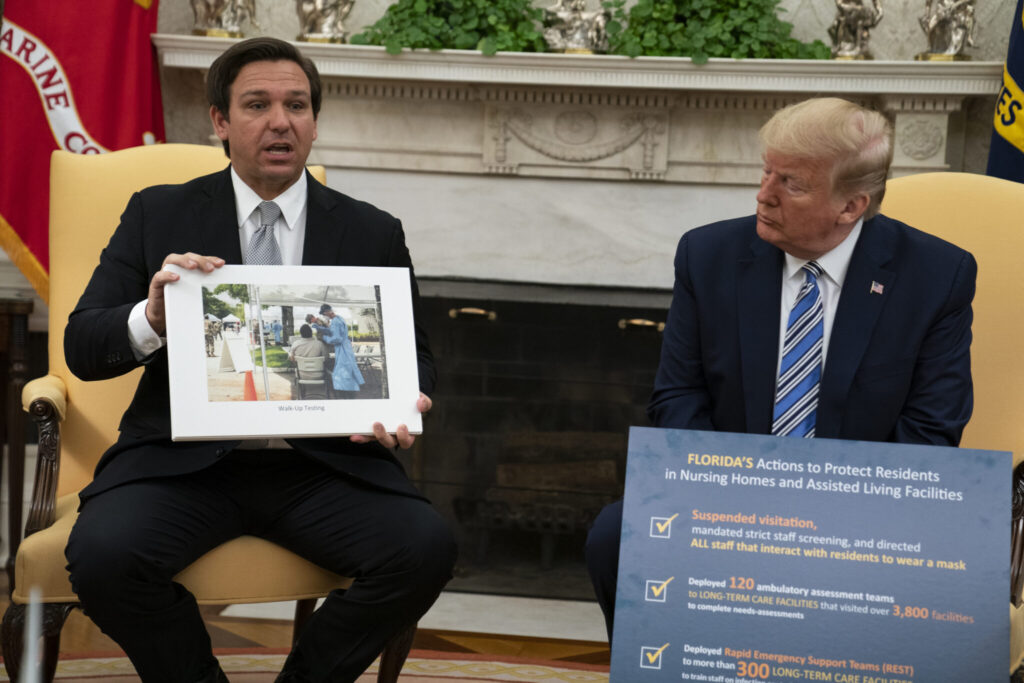 THE RUSSIA PROBE
Early in special counsel Robert Mueller's investigation into potential ties between Trump's 2016 campaign and Russia, then-congressman DeSantis stepped up to the president's defense to offer his support.
"Whatever (Mueller) ends up doing, it does not have legitimacy, when you have all this evidence of tainted and political bias and the disparate treatment between Hillary Clinton and then how they are treating Trump associates," DeSantis told Fox News commentator Lou Dobbs in one such TV hit in December 2017.
TWEET OF SUPPORT BEFORE GUBERNATORIAL CAMPAIGN
Before DeSantis entered the Florida governor's race in 2018, he asked Trump to send out a tweet touting him as a good candidate.
Trump obliged.
"Congressman Ron DeSantis is a brilliant young leader, Yale and then Harvard Law, who would make a GREAT Governor of Florida. He loves our Country and is a true FIGHTER!" Trump tweeted in December 2017.
THAT AD WITH DESANTIS BUILDING A WALL OUT OF HIS KIDS' BLOCKS
One of the most memorable moments of DeSantis' gubernatorial campaign was an ad with his children in which he shows voters just how devoted he is to Trump.
"Build the wall," he says to daughter Madison as she stacks cardboard brick blocks.
Holding son Mason in his lap, DeSantis pretend-reads to him from Trump's "The Art of the Deal": "Then Mr. Trump said, 'You're fired.' I love that part."
Another scene shows DeSantis holding a Trump campaign sign in front of Madison in a high chair: "Make America Great Again," DeSantis reads.
DESANTIS THANKS TRUMP IN VICTORY SPEECH
After narrowly winning his 2018 race, DeSantis singled out Trump in his victory speech as he recognized the many people who had supported his campaign.
"I'd like to thank our president for standing by me when it wasn't necessarily the smart thing to do," DeSantis said. "Mr. President, I look forward to working with you to advance Florida's priorities. I think you're going to get tired of me calling you asking you for things for Florida, but I look forward to that, and I think we'll have a great partnership."
WELCOME TO FLORIDA, MR. PRESIDENT
In 2019, Trump changed his residency from Trump Tower in New York City to Mar-a-Lago in Palm Beach, Florida, and held a "homecoming rally" with Gov. DeSantis near Miami.
"Welcome home to Florida," DeSantis told him.
Trump quipped that DeSantis "better not be more popular in Florida than me" after extended cheers for the governor. He went on to suggest to the crowd that DeSantis should wear jackets less frequently so people know he's not fat.
EARLY COVID-19 RESPONSE
In the first weeks of the coronavirus pandemic, Trump applauded DeSantis for how he had handled governing the response to the virus.
"He's done a lot of things right. And he's been truly — I mean, he cares so much about health care. He cares so much about the cost of prescription drugs. He's been a fantastic governor for Florida. They're very happy with him," Trump said at a press conference.
DeSantis initially resisted issuing a statewide stay-at-home order but reversed course and issued it after facing pressure from Trump and White House advisers.
TRUMP JOKES ABOUT FIRING DESANTIS IF HE LOSES FLORIDA
At a campaign event ahead of the 2020 election, Trump praised DeSantis and called him a friend but also joked that he would blame the governor if he did not win Florida.
"I'll fire him somehow. I'm going to fire him. I will find a way," he said.
Trump ended up winning Florida in 2020 by 3.4 percentage points — a bigger margin of victory than in 2016.
A TRUMP-DESANTIS TICKET?
Trump and DeSantis remained publicly supportive of each other in early 2021 — so much so that Trump even floated the Florida governor as a possible 2024 running mate.
"A lot of people like that," Trump told Fox Business host Maria Bartiromo in April 2021. "You know, I'm just saying what I read and what you read. They love that ticket. But certainly Ron would be considered. He is a great guy."
DESANTIS BECOMES DESANCTIMONIOUS
As DeSantis' national profile began to rise, so did chatter about his potential as a 2024 presidential prospect — and the former president noticed.
"If I faced him, I'd beat him like I would beat everyone else," Trump said of DeSantis in October 2021, while saying that he didn't expect the governor to challenge him.
Days before the 2022 midterm election, Trump unveiled his new nickname for the governor: Ron DeSanctimonious. He then visited Miami for a rally to support U.S. Sen. Marco Rubio — but not DeSantis, who was holding a separate campaign event that same day for his own reelection.
In the days following DeSantis' reelection victory, Trump put out a statement knocking him as an "average REPUBLICAN governor with great Public Relations" and criticizing him for not ruling out a 2024 presidential bid.
"He says, 'I'm only focused on the governor's race, I'm not looking into the future.' Well, in terms of loyalty and class, that's really not the right answer," Trump said.
DeSantis, asked to comment on Trump's remarks at a press conference, said being the target of attacks was simply part of the job.
"What you learn is all that's just noise," DeSantis said.
THE ATTACKS ESCALATE
In recent months, Trump has dramatically intensified his criticism of DeSantis, taking particular umbrage as what he sees as the governor's ungratefulness.
"DeSantis got elected because of me. You remember he had nothing. He was dead. He was leaving the race. He came over and he begged me, begged me for an endorsement," Trump told conservative radio host Hugh Hewitt in February. "He said, 'If you endorse me, I'll win.' And there were tears coming down from his eyes."
Trump's campaign resurrected the 2018 DeSantis ad to remind viewers of Trump's help in the governor's political rise.
"Isn't it time DeSantis remembers how he got to where he is?" the ad says.
Trump has also shared a photo suggesting impropriety when DeSantis was a teacher two decades ago, despite no evidence of that; said DeSantis needed a personality transplant; and aired an ad accusing DeSantis of "sticking his fingers where they don't belong" — a reference to a Daily Beast report that the governor once ate chocolate pudding with his fingers.
On Wednesday, after DeSantis' presidential announcement on Twitter Spaces was plagued by glitches, Trump posted a video on Truth Social of a "Ron" rocket falling over and exploding.
DESANTIS FIGHTS BACK — KIND OF
Although the Florida governor has largely avoided confrontation with Trump, he has managed to throw a few jabs back.
As prosecutors prepared an indictment against Donald Trump in New York, DeSantis criticized the investigation but also said, "I don't know what goes into paying hush money to a porn star to secure silence over some type of alleged affair."
In a Piers Morgan interview that aired a few days later, he laughed off a question about the nicknames Trump was using for him.
"I don't know how to spell DeSanctimonious. I don't really know what it means, but I kind of like it. It's long, it's got a lot of vowels. I mean, so we'll go with that. That's fine. You can call me whatever you want, just as long as you also call me a winner," DeSantis said.
On Wednesday, after launching his campaign, DeSantis avoided referencing Trump by name but made a subtle dig at him over national Republican election losses.
"We must end the culture of losing that has infected the Republican Party in recent years," DeSantis said on Twitter Spaces. "The tired dogmas of the past are inadequate for a vibrant future. We must look forward, not backwards."