Neither Russia nor Ukraine committed to respect five principles laid out by International Atomic Energy Agency (IAEA) chief Rafael Grossi on Tuesday to try to safeguard Ukraine's Russian-occupied Zaporizhzhia nuclear power plant. Grossi, who spoke at the U.N. Security Council, has tried for months to craft an agreement to reduce the risk of a catastrophic nuclear accident from military activity like shelling at Europe's biggest nuclear power plant. The Associated Press has the story:
IAEA: Russia, Ukraine fail to protect nuke plant
Newslooks- UNITED NATIONS (AP)
The U.N. nuclear chief stressed Tuesday that the world is fortunate a nuclear accident hasn't happened in Ukraine and asked Moscow and Kyiv to commit to preventing any attack on Europe's largest nuclear power plant and make other pledges "to avoid the danger of a catastrophic incident."
Rafael Grossi reiterated to the U.N. Security Council what he told the International Atomic Energy Agency's board of governors in March: "We are rolling a dice and if this continues then one day our luck will run out."
The IAEA director general said avoiding a nuclear accident is possible if five principles are observed at the Zaporizhzhia nuclear power plant, where fighting on seven occasions, most recently last week, disrupted critical power supplies, "the last line of defense against a nuclear accident."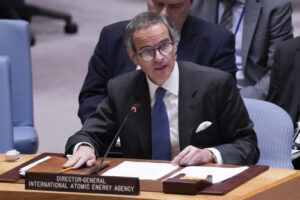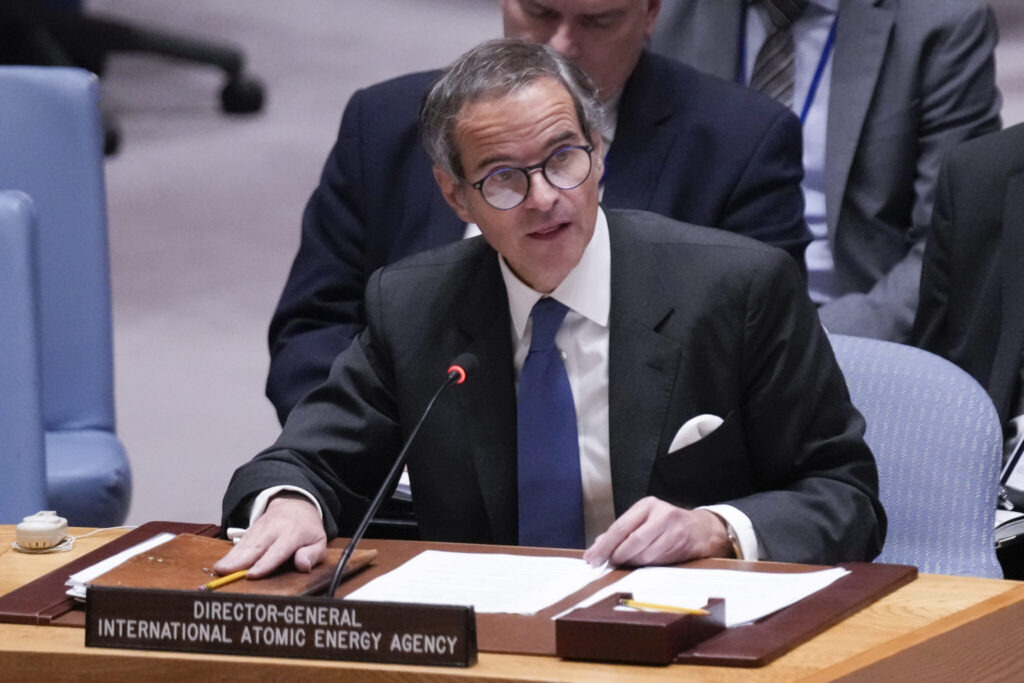 Grossi "respectfully and solemnly" asked Ukraine and Russia to observe the principles, saying IAEA experts at Zaporizhzhia will start monitoring and he will publicly report on any violations:
— Ban attacks from or against the plant, especially targeting reactors and spent fuel storage areas.
— Ban the storage of heavy weapons or presence of military personnel that could be used for an attack.
— Ensure the security of an uninterrupted off-site power supply to the plant.
— Protect "all structures, systems and components" essential to the plant's operation from attacks or acts of sabotage.
— Take no action to undermine these principles.
Grossi asked the 15 Security Council members to support the five principles, stressing that they are "to no one's detriment and to everyone's benefit."
The Kremlin's forces took over the plant after Russia's full-scale invasion of Ukraine in February 2022. Ukrainian President Volodymyr Zelenskyy opposes any proposal that would legitimize Russia's control.
Neither the Russian nor Ukrainian ambassador gave a commitment to support the principles.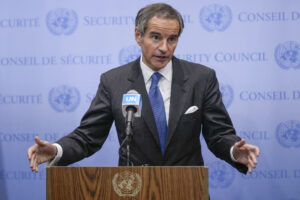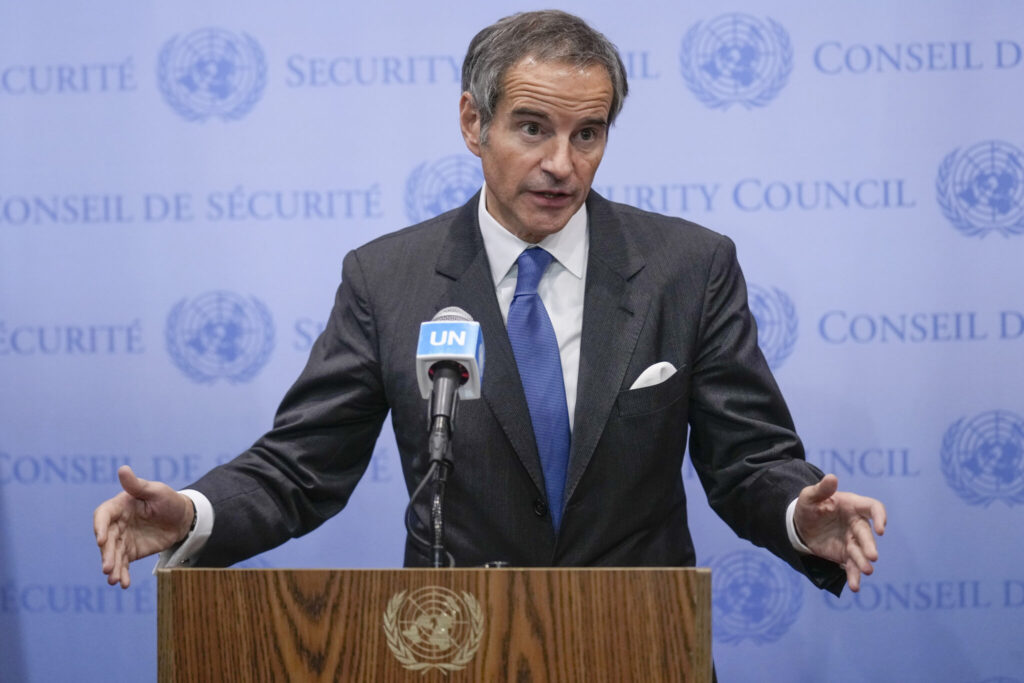 Ukraine's U.N. Ambassador Sergiy Kyslytsya accused Russia of continuing "to actively use the nuclear plant for military purposes." He said Russia has mined its perimeter and is responsible for shelling that has inflicted "serious damage" on parts of the plant, undermining its safety. He claimed 500 Russian military personnel are at the plant along with heavy weapons, munitions and explosives.
"The threat of dangerous accident as a result of these irresponsible and criminal actions hangs over us," he said.
Kyslytsya said Ukraine takes "note" of Grossi's five principles but urges him to add several more, starting with the withdrawal of all Russian personnel from the Zaporizhzhia plant, guarantees of uninterrupted power to the plant from Ukraine, and a humanitarian corridor to ensure that Ukrainian and IAEA personnel at the plant can be rotated safely.
Russia's U.N. Ambassador Vassily Nebenzia denied that Russia has ever attacked the Zaporizhzhia plant, placed heavy weapons there or stationed military personnel at the plant to carry out an attack from its territory.
He accused Ukraine of shelling the plant and said "Russia will take the most severe measures" to respond to any Ukraine attack.
Nebenzia insisted that nuclear safety remains a priority for Russia and urged the IAEA to "openly condemn Ukraine's actions, which have repeatedly brought the world to the brink of a nuclear catastrophe."
Britain's U.N. Ambassador Barbara Woodward said an IAEA report in February confirmed the continuing presence of Russian military troops, equipment and land mines.
"New imagery shows Russian forces have established sandbag fighting positions on the roofs of several of the six reactor buildings," she said. "This indicates that they have integrated the actual reactor buildings of Europe's largest nuclear power plant into tactical defense planning."
U.S. Ambassador Linda Thomas-Greenfield urged council members to support the five principles, but accused Russia of demonstrating "flagrant disregard" for them.
"To make matters worse, recent news reports indicate that Moscow has disconnected Zaporizhzhia's vital radiation monitoring sensors, which means the plant's data is now being sent to the Russian nuclear regulator," she said,
"This is a clear escalation of Russia's efforts to undermine Ukrainian sovereignty and authority over the Zaporizhzhia plant," Thomas-Greenfield said. "And this undermines our ability to have confidence in the level of nuclear safety at the plant."
Grossi, asked whether he felt he had received commitments from Russia and Ukraine to the five principles, replied that the council meeting showed "there is a consensus on the fact that no nuclear accident should happen."
"The important thing is that the minimum common denominator, which are these basic five principles, have been widely supported and there was no voice opposing them," he said. "This indicates that what we are saying is something no one has a contradictory view upon."