Florida's Democrats don't have much to celebrate these days. The once dominant party hasn't elected a governor since 1994. It's more than a decade since a Democratic presidential candidate won the state. Republicans gained a super majority in the Florida House and Senate in 2022, and the GOP made gains in the congressional delegation, too. The state's Democrats are hoping that the arrests of two top party leaders this week, Democratic Chair Nikki Fried and State Sen. Lauren Book, may prove to be a turning point signaling a new fighting spirit. The Associated Press has the story:
In DeSantis' Florida, Dems fight to be relevant
Newslooks- TALLAHASSEE, Fla. (AP)
In Florida state where elections are sometimes decided by a mere percentage point, Republican Gov. Ron DeSantis won a commanding 20-point reelection last year. DeSantis, now moving toward an expected run for president, even carried the longtime Democratic stronghold of Miami-Dade County.
Looking for a spark — any spark — of energy, the state's Democrats are hoping that the arrests of two top party leaders this week may prove to be a turning point signaling a new fighting spirit.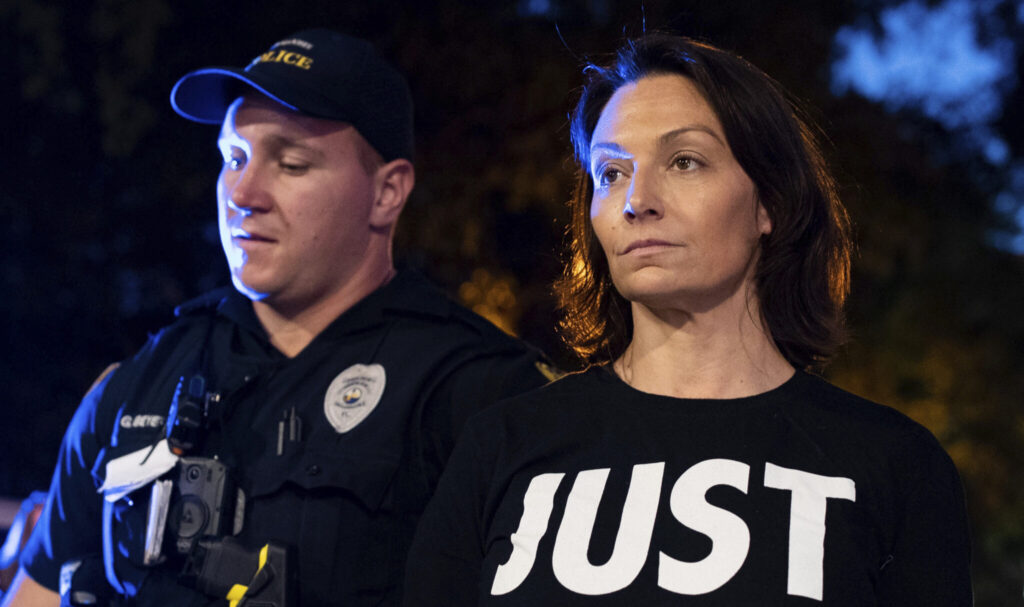 "I have heard this over the last four or five years – where are the Democrats?" state party Chair Nikki Fried said after her arrest. "Where is the fight? So much of the oxygen is taken by Ron DeSantis and the Republican Party, and they're looking for Democrats to stand up and fight back."
Fried along with Lauren Book, the Democratic leader in the state Senate, were arrested at a protest in support of abortion rights.
"We have to show up differently when there are so few of us," Book said. "We can't fight the way we used to fight. That's not going to work."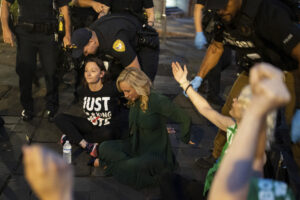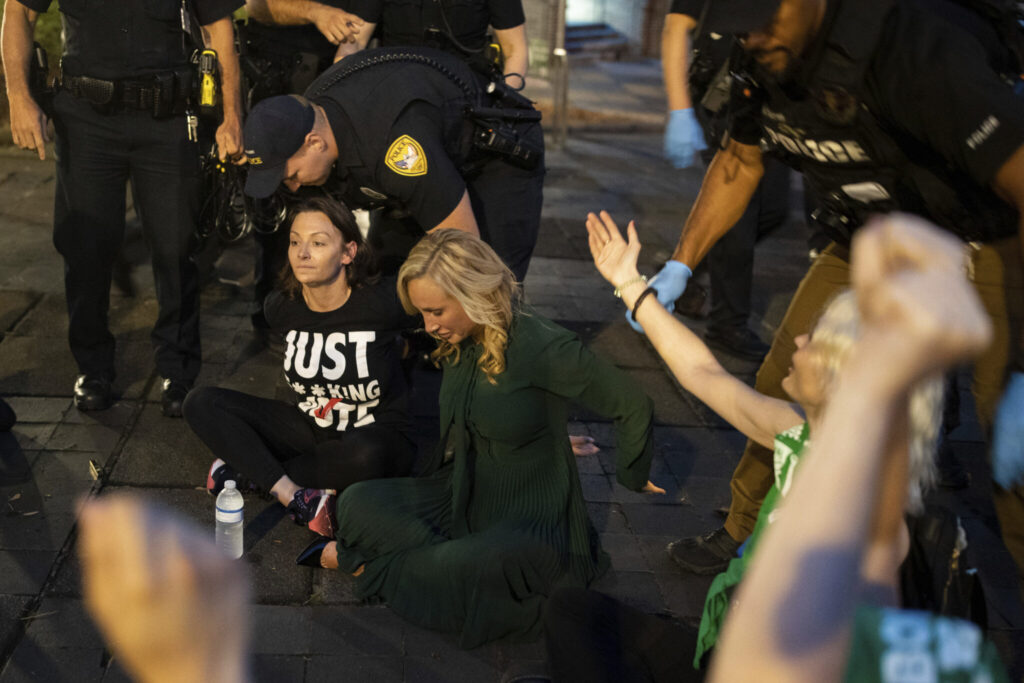 Republicans hold all of Florida's six statewide elected positions — governor, three Cabinet posts and the two U.S. Senate seats. Republicans have passed Democrats in the number of registered voters for the first time. The state's Democrats are now the subject of mocking jokes, less relevant each election cycle.
They aren't alone. Democrats in other states with strong GOP majorities are also facing challenges. Republicans in Tennessee's Legislature took the remarkable step this week of expelling two Democratic lawmakers for their roles in a protest that called for more gun control.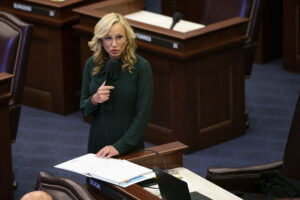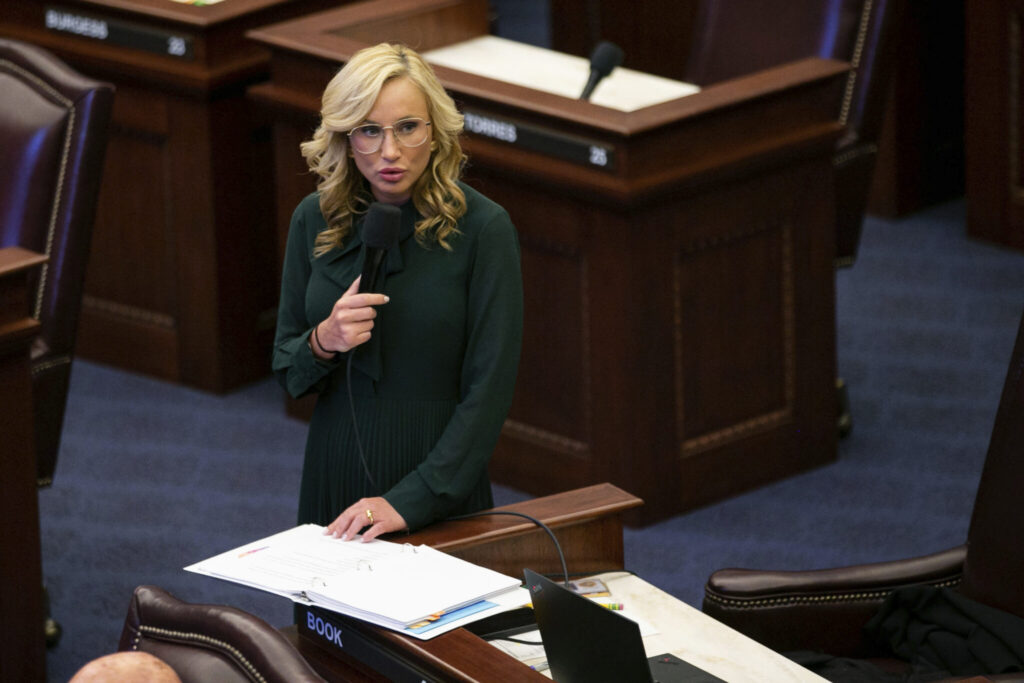 But the arrest of top politicians in Florida is especially notable because DeSantis, now courting voters nationwide, portrays his state as the freest in the nation. While he wasn't involved in the decision to arrest the protesters, the governor signed a bill two years ago targeting Black Lives Matter protests that increases penalties for participating in protests that get out of hand.
"This governor for four years has really done anything possible to restrict protests both on the streets and inside the Capitol," said party Chair Fried. "It makes everybody on edge when there are protests and making people feel that they have to either not participate in protests or at least be on extra guard."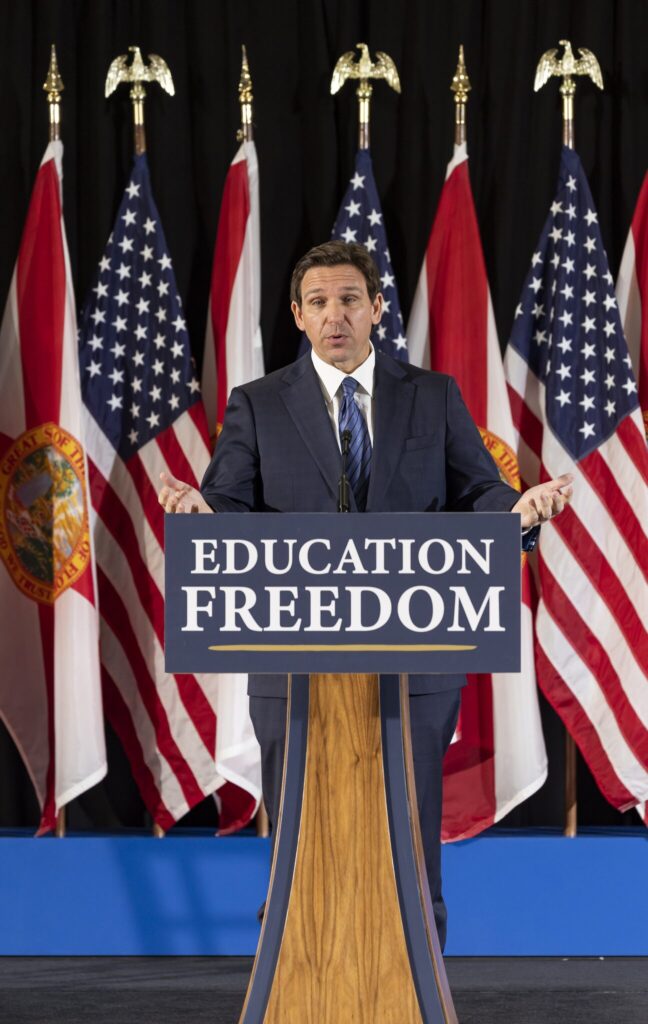 That's one of the reasons the protest was held at City Hall and not the Capitol, she said. The arrests happened when local police said the group couldn't stay on City Hall property after sunset.
"There are more people in front of Clyde's on a Wednesday than what happened yesterday," Book said, referring to a popular political watering hole three doors down from the arrests where crowds often spill outside with cocktails in hand. "This was a group of 11 individuals sitting in a circle singing 'Lean On Me.' This was a peaceful protest."
Ironically, if Book wants to go to Clyde's now, she has to stick to non-alcoholic beverages. As part of their release from jail, she and Fried were ordered not to drink alcohol and are banned from City Hall property, even for personal business.
DeSantis' office and Fried's counterpart at the Republican Party of Florida dismissed the arrests as a stunt and mocked Democrats for making an issue of it.
The governor's office simply sent The Associated Press a link to Press Secretary Bryan Griffin's Twitter account showing a GIF of DeSantis in front of an American flag saying, "This is a stunt. If you want to waste your time on a stunt, that's fine. But I'm not wasting my time on your stunts, Okay?" It's the same response Griffin has provided on a number of issues.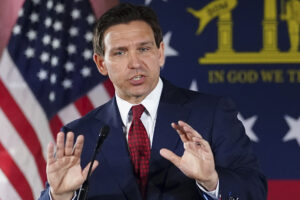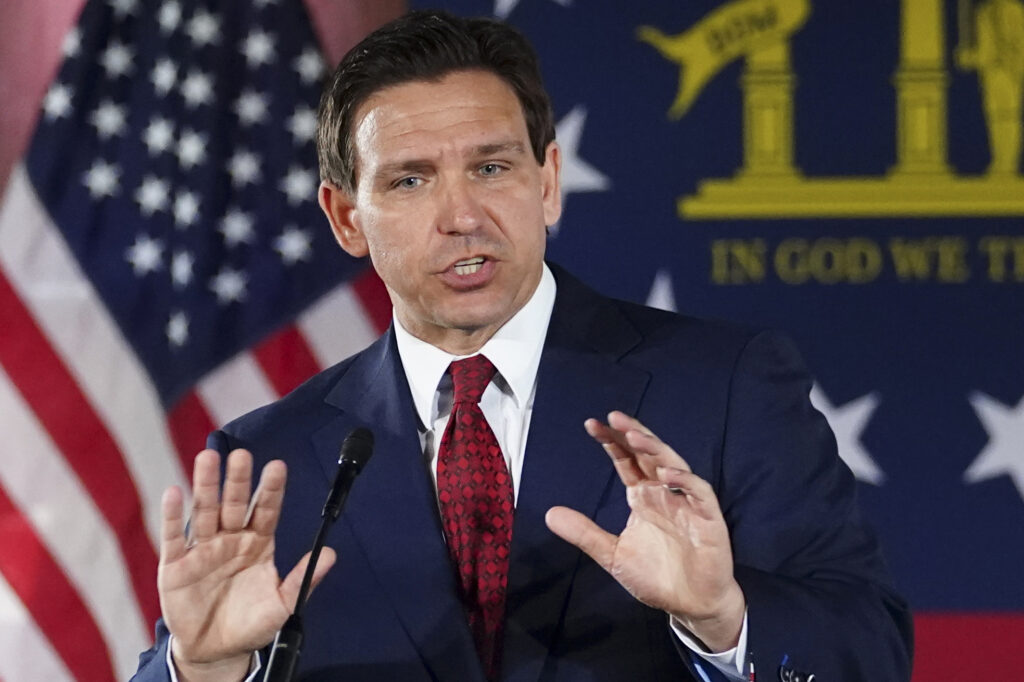 Republican Party of Florida Chairman Christian Ziegler taunted the Democrats and their efforts.
No one is a greater asset to the Florida GOP's production than Nikki Fried," Ziegler said by text. "Every moment she is behind bars is a moment she cannot turnoff voters with her radical agenda, so I'm leading the charge to #FreeNikki."
Fried and Book said the plan wasn't to get arrested.
"For those who have said, 'This is a show,' — no. I can assure you I wouldn't have been arrested in five-inch heels. I wouldn't have done that! That's not the way I would have gone down!" Book said.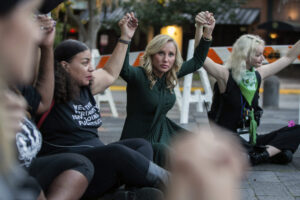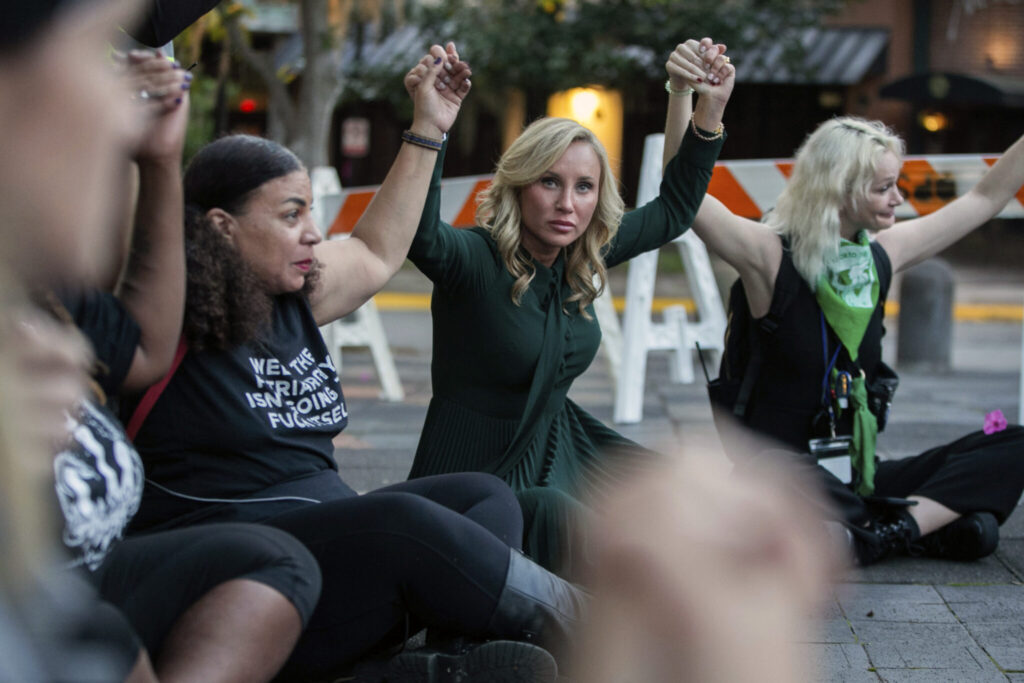 Book, 38, has a years-long reputation as a fighter and someone who's earned the respect of the Republican governors that preceded DeSantis. A victim of childhood sexual abuse, she has spent her adult life working to create laws to punish sexual predators, help victims and raise awareness about the issue.
Even before she could vote, Book stood alongside Republican Gov. Jeb Bush as he signed a bill she pushed to protect rape victims. Before being elected senator, she led walks across Florida bringing attention to sexual assault. She ended one of the 1,500-mile journeys at the Capitol, where Republican Rick Scott, then the governor, stood with her and praised her work.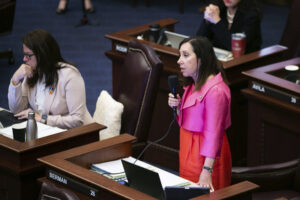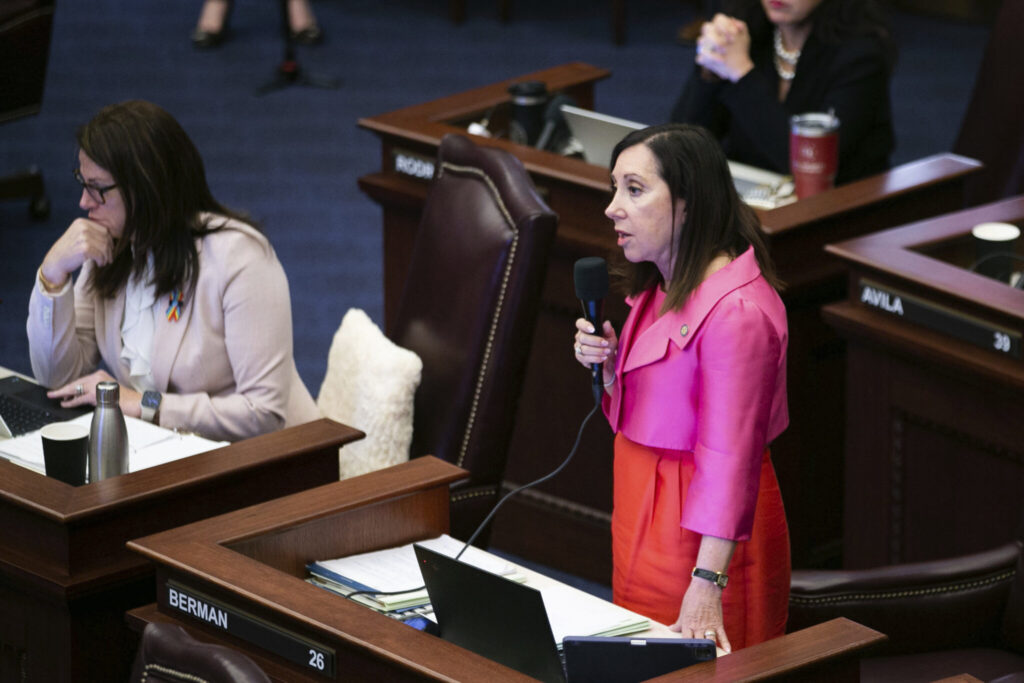 And Book isn't afraid of uncomfortable situations. She once sat face-to-face with a child rapist in Florida's high security facility for the state's most dangerous sexual offenders, intent on learning how to craft legislation to protect others from becoming prey.
"I'm not the person who's going to sit on the other side of the barricade and watch. I'm not that person, never have, never will be, never was," she said.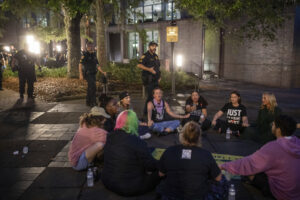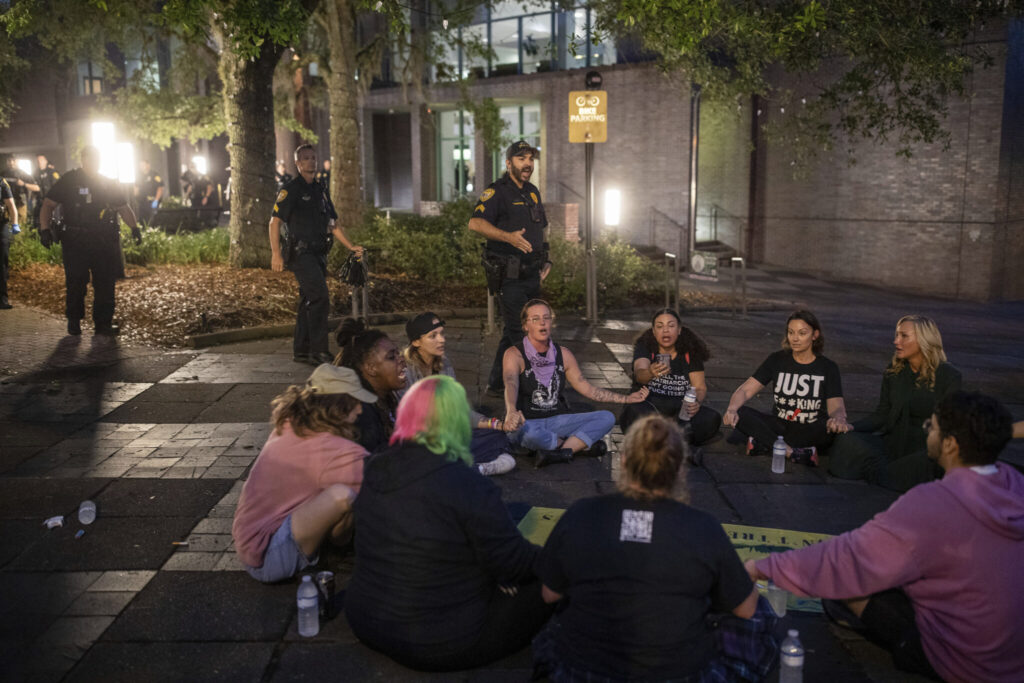 Fried became the new party chair in January. As agriculture commissioner the past four years, she was the only statewide elected Democrat and used her Cabinet position to be a thorn in DeSantis's side. She lost the Democratic Party primary to challenge him for governor last year.
She's showing signs as a party chair of being more visible and combative. As a candidate, she used profanity on social media to describe DeSantis' personality. As party chair, she wore a black T-shirt that read, "JUST F(asterisk)(asterisk)KING VOTE." Photos of her in the shirt with her hands cuffed behind her back have been widely distributed.
"There is a new chair in town. It's very different. It's very clear there's a difference in her leadership," Book said.