NEW DELHI — Indian pharmaceutical company Cipla has been granted emergency use authorization from the country's drugs regulator to import the Moderna vaccine.
Dr. V.K. Paul, the head of India's COVID-19 task force, says the Mumbai-based Cipla must submit a safety assessment of the vaccine before rolling it out for a large-scale immunization program.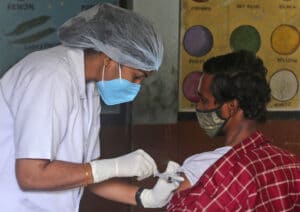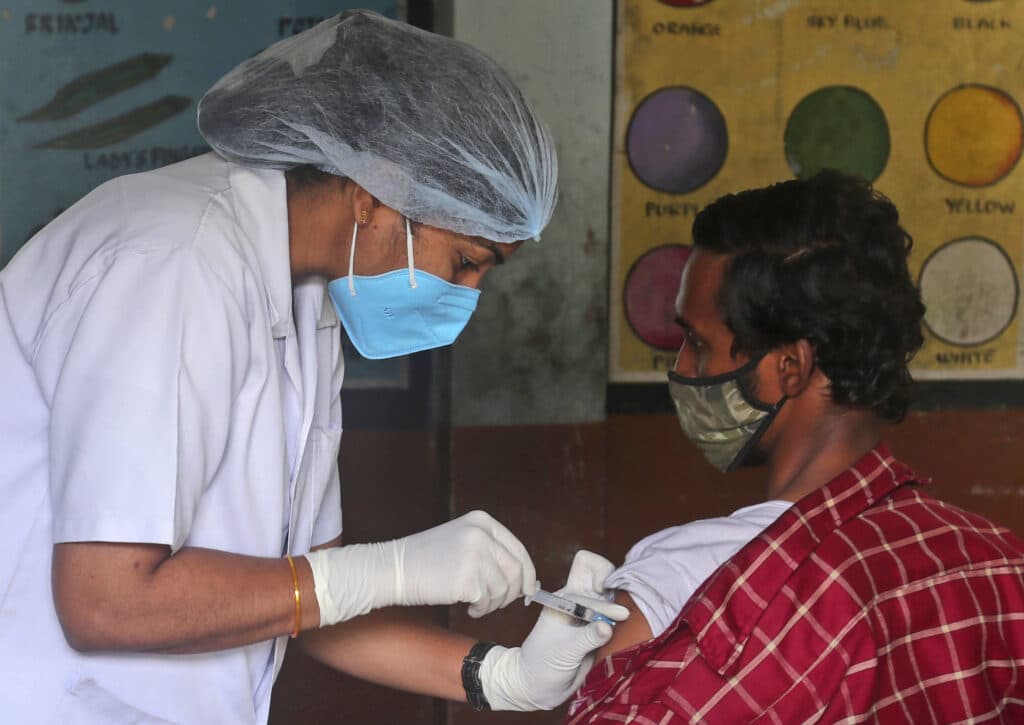 Moderna will be the fourth vaccine administered in India after AstraZeneca's Covishield, Bharat Biotech's Covaxin and Russia's Sputnik V.
Paul says the Indian government is expected to close a deal with Pfizer soon. India, with nearly 1.4 billion people, has administered both doses of vaccines to less than 5% of its population.
The country has experienced a huge surge in cases and deaths in the last few months. India has recorded nearly 30.3 million confirmed cases, with a death toll of more than 397,000.
___
MORE ON THE PANDEMIC
— Russia registers more than 20,000 cases, hits record 652 daily deaths
— Virus outbreak in Fiji batters economy, tests health system
— Fearing COVID, Malawian women forgo prenatal care
— Portugal, Spain and Hong Kong announce new restrictions on travelers from Britain
___
Follow more of AP's pandemic coverage at https://apnews.com/hub/coronavirus-pandemic and https://apnews.com/hub/coronavirus-vaccine
___
HERE'S WHAT ELSE IS HAPPENING:
TOKYO — Some stages of the Tokyo Olympic torch relay may be pulled off the streets of the Japanese capital because of fears about spreading the coronavirus.
Japan's Kyodo news agency reports cited the Tokyo Metropolitan Government. Kyodo says the relay will not appear on public streets from July 9-16. Kyodo says organizers will decide on the format for the relay from July 17 until the opening ceremony on July 23.
The relay began in March in northeastern Japan. It has faced numerous detours, scaled back programs, and has been run at times only in public park spaces to avoid spreading the virus. The relay is heavily sponsored by Coca-Cola and Toyota.
Tokyo is under a quasi-state of emergency until July 11, with infection cases rising again. Tokyo confirmed 476 new cases on Tuesday, up from 435 last Tuesday. It the 10th straight day that cases were higher than seven days earlier.
Japan has attributed about 14,500 deaths to the coronavirus.
___
COLOMBO, Sri Lanka — Sri Lanka announced a 13-day travel ban on passengers from six Gulf countries.
The Civil Aviation Authority of Sri Lanka says passengers with a travel history in the past 14 days to Qatar, United Arab Emirates, Saudi Arabia, Oman, Bahrain, and Kuwait won't be permitted to disembark in Sri Lanka starting Thursday. The restriction will continue until July 13.
Authorities have said they were concerned about the surge of coronavirus-infected passengers who had arrived from that region.
The announcement on travel ban came a week after Sri Lanka ended a 30-day lockdown. But public gatherings are still banned and schools, religious places, bars, hotels and gyms remain closed. Sri Lanka has seen a sharp increase of positive cases and deaths since April because of the celebrations and shopping by the people during the traditional new year festival.
The total number of confirmed cases has reached 253,618 and 2,944 deaths.
___
THE HAGUE, Netherlands — A Dutch health organization is advising the government to make the Pfizer COVID-19 vaccine available to all children age 12-17.
The Health Council of the Netherlands says vaccinating teens would reduce school closures and help rein in the COVID-19 pandemic. The council is an independent panel that advises the government on public health issues.
Health Minister Hugo de Jonge is expected to announce a decision Wednesday on vaccinating that age group.
___
MOSCOW — Russian authorities have reported 652 new coronavirus deaths on Tuesday — the highest daily tally in the pandemic. The new record comes as Russia struggles to cope with a surge in infections and deaths and low vaccine uptake.
Russia's state coronavirus task force has been registering over 20,000 new coronavirus cases and around 600 deaths every day since last Thursday. On Tuesday, 20,616 new contagions were recorded.
Russian officials have blamed the surge, which started in early June, on Russians' lax attitude toward taking necessary precautions, growing prevalence of more infectious variants and laggard vaccination rates. Although Russia was among the first countries to announce and deploy a coronavirus vaccine, only about 14% of the population has received at least one shot.
Russia's coronavirus task force has reported nearly 5.5 million confirmed coronavirus cases in the pandemic and 134,545 deaths.
___
BUDAPEST — Hungary will donate half a million COVID-19 vaccines to other countries in Central and Southeast Europe as its vaccination drive slows and supplies pile up.
An early vaccination leader in the European Union, Hungary has struggled in recent weeks to use up its available stocks of vaccines. With 67% of its adult population having received at least a first dose, until recently Hungary had the second-highest vaccination rate in the 27-member EU.
But other European countries like Belgium and Finland have since caught up as most Hungarians who want a vaccine have already received one. While a daily average of 60,000 first-dose shots were being given in mid-May, on Tuesday that number was scarcely over 9,000.
Speaking to reporters in Poland on Monday, Foreign Minister Peter Szijjarto said that Hungary would provide Bosnia and Montenegro with 200,000 doses each of the Chinese-manufactured Sinopharm vaccine, noting that the jab has been approved for emergency use in both countries.
"The more protected our neighbors are, the safer Hungary will be from a health perspective," Szijjarto said.
The foreign minister said on Sunday that Hungary would donate 100,000 doses of an unspecified vaccine to the Czech Republic, since "there is plenty of vaccine available so the Hungarian government can help those who are less well off."
Hungary — the only EU country to approve the Sinopharm vaccine — purchased 5 million doses of the jab, contributing to the early surge in its vaccination program.
But according to figures from the European Centre for Disease Prevention and Control, more than 3.1 million of the country's Sinopharm doses remain unused.
__
LOS ANGELES — Health officials in Los Angeles County are recommending, but not making mandatory that people wear masks indoors in public places regardless of their vaccination status.
The recommendation in the nation's most populous county is aimed at preventing the spread of the highly transmissible delta variant of the coronavirus.
The county public health department suggests that people wear masks when inside grocery or retail stores as well as at theaters and family entertainment centers and in workplaces when people's vaccination statuses are not known.
The county experienced a surge in cases and deaths over the winter. To date, the county has recorded a total of 1.2 million coronavirus cases and more than 24,000 deaths from COVID-19.
__
CANBERRA, Australia — Australia has removed age restrictions for adults who want the AstraZeneca vaccine as the delta variant of the coronavirus spreads.
Australian health authorities had initially advised against using AstraZeneca for adults under age 50 and then younger than 60 because of the greater risk of rare blood clots in younger people.
The general leading the Australian military's pandemic response told Nine Network on Tuesday that increasing the availability of AstraZeneca is a risk-based judgment. Lt. Gen. John Frewen says supplies of Australian-manufactured AstraZeneca are adequate.
Only 5% of the Australian population is fully vaccinated. The only other vaccine available in Australia is Pfizer, but manufacturers cannot meet demand.
The cities of Sydney, Perth and Darwin are in lockdown.
___
OKLAHOMA CITY — Oklahoma National Guard troops who have been assisting the state's response to the coronavirus pandemic will begin ending their assignment this week.
The State Health Department said that the soldiers will begin transitioning out of the agency beginning Thursday.
Over a 15-month deployment, Guard troops helped sanitize long-term-care facilities, distribute personal protective gear and transport testing specimens and supplies around the state.
Data from Johns Hopkins University shows Oklahoma's seven-day rolling average of newly confirmed coronavirus infections increased over the last two weeks, from 120.29 new cases per day on June 12 to 196.43 per day on June 26. The average for COVID-19 deaths increased from 1.29 per day to 4.29.
___
MOSCOW — Restaurants and cafes in Moscow on Monday began requesting that patrons provide proof of vaccination or a negative coronavirus test as the Russian capital faces a surge of new infections.
According to a decision by city authorities last week, all Moscow restaurants, cafes and bars must only admit customers who have been vaccinated, have recovered from COVID-19 in the past six months or can provide a negative coronavirus test from the previous 72 hours.
As proof of vaccination for entering a restaurant, customers must visit a government website and get a QR code, a digital pattern designed to be read by a scanner.
In one concession to desperate restaurant owners, the city officials agreed that the QR codes aren't needed for the next two weeks at establishments with outdoor terraces. Underage customers won't have to provide documentation if accompanied by their parents.
The new restrictions come as Moscow has registered infection levels on par with last winter and recorded all-time high daily numbers of coronavirus deaths.
____
MADRID — Almost 5,000 people are in quarantine after vacationing high school students triggered a major COVID-19 outbreak on the Mediterranean island of Mallorca, a senior official said Monday.
Authorities have confirmed almost 1,200 positive cases from the outbreak, Spain's emergency health response coordinator, Fernando Simón said.
The partying teens celebrating the end of their university entrance exams last week created a "perfect breeding ground" for the virus as they mixed with others from around Spain and abroad, Simón told a news conference.
Mallorca health authorities carried out mass testing on hundreds of students after the outbreak became clear. It is believed to have spread as hundreds of partying students gathered at a concert and street parties.
Officials have so far traced 5,126 travelers to Mallorca. More than 900 COVID-19 cases in eight regions across mainland Spain have been traced back to the outbreak.
___
CAPE CANAVERAL Fla. — Disney Cruise Line is postponing its first test cruise since the pandemic brought the cruise industry to a standstill after a handful of participants had inconsistent test results for COVID-19, the company said Monday.
The Disney Dream had been scheduled to set sail Tuesday from Port Canaveral, Florida, with 300 employees who had volunteered for the "simulation" cruise. But the trip was postponed until next month, pending approvals, because a small number of employees had inconsistent results for COVID-19, "which is considered positive by the CDC," Disney said in a statement.
The Centers for Disease Control and Prevention, or CDC, had approved the cruise line's request to conduct a two-night test cruise.
The federal government is starting to allow cruises to sail again, but only if nearly all passengers and crew are vaccinated against the virus. Republican Florida Gov. Ron DeSantis signed a bill banning business from requiring proof of vaccination, so cruise lines must prove the effectiveness of their COVID-19 safety protocols on test cruises.
Last weekend, Celebrity Edge departed Fort Lauderdale, Florida, becoming the first cruise ship to leave a U.S. port in 15 months. Saturday's sailing kicked off the cruise lines' return to business with Carnival vessels already scheduled to depart from other ports next month.
___
DUBAI, United Arab Emirates — Abu Dhabi, the oil-rich capital of the United Arab Emirates, has announced that a wide range of public places will soon be accessible only to those vaccinated against the coronavirus in a bid to encourage more people to get shots.
The Emirati government on Monday said that starting August 20, authorities will begin restricting access to shopping malls, restaurants, cafes, sporting activities, museums, gyms, schools and universities. The unvaccinated will effectively be barred from entering any business in the city except for supermarkets and pharmacies.
Abu Dhabi has already rolled out a "green pass" system that limits public access to those who have either received the shot or can show a negative virus test.
It comes as the country increasingly bets its economic reopening on its speedy vaccination campaign. The government says at least 93% of Abu Dhabi's population has received at least one dose of the vaccine.
The neighboring travel hub of Dubai, home to long-haul carrier Emirates, also has introduced some vaccination restrictions on mass entertainment and sporting events. However, malls and other businesses remain open to the unvaccinated.
The UAE boasts one of the world's fastest inoculation campaigns, with 15.1 million doses administered to its population of some 9 million. The country has relied heavily on the Chinese state-backed Sinopharm shot. Read more COVID-19 news