First lady Jill Biden presents her Inauguration Day ensembles at the Smithsonian's National Museum of American History on Wednesday, the White House announced, as part of the museum's First Ladies Collection exhibition. Biden wore two separate outfits on Inauguration Day 2021. For the inauguration ceremony, she wore a blue tweed coat with velvet cuffs and a dress embellished with Swarovski crystals with a matching face mask, from Colorado-born Alexandra O'Neill of American label Markarian. The Associated Press has the story:
Jill Biden donates inaugural wear to Smithsonian
Newslooks- WASHINGTON (AP)
First ladies typically donate their inaugural ball gowns to the Smithsonian Institution for its collection. Jill Biden on Wednesday gave up two clothing ensembles.
The first lady parted with the ocean blue tweed dress and matching coat that she wore to her husband's presidential inauguration at the Capitol on Jan. 20, 2021, along with the ivory silk wool dress and cashmere coat ensemble she wore at the White House later that evening.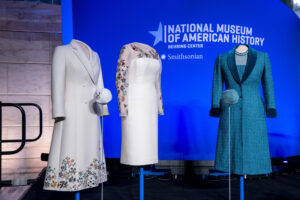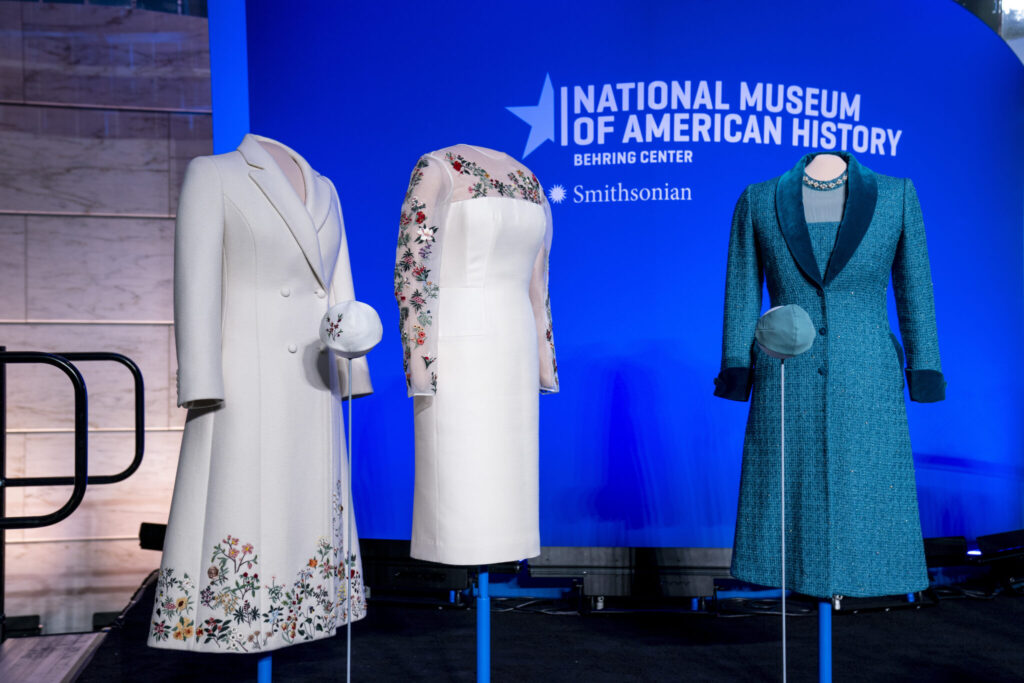 "This day is so much more emotional than I ever imagined it to be," Biden said during her first public appearance since Jan. 11, when doctors removed a cancerous lesion from her face and another from her chest. "These two ensembles were a voice for me in one of the most important days of my life."
First ladies usually donate the gown they danced in at inaugural balls following the oath-taking ceremony, but there were no such celebrations for President Joe Biden. He took office at the height of the COVID-19 pandemic, when large indoor gatherings were discouraged.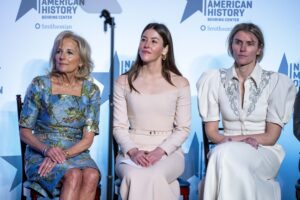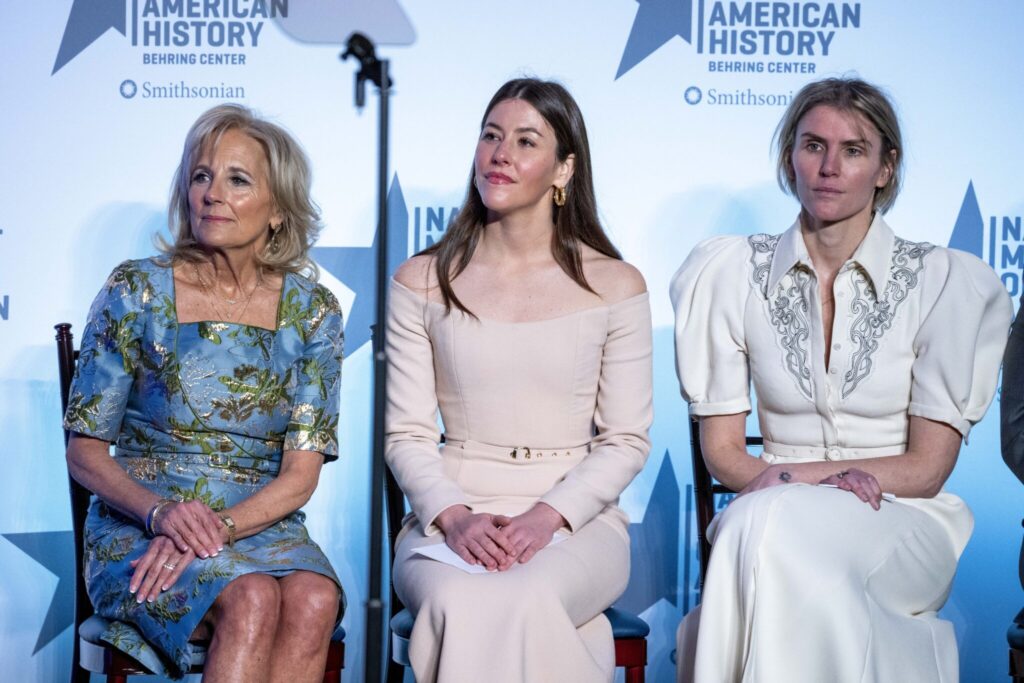 In a nod to the historic nature of Joe Biden's swearing-in, Jill Biden's matching face masks will also become part of The First Ladies Collection at the National Museum of American History.
The first lady said Wednesday that having the masks on exhibit will "represent the enormity of what we all faced at the time. A pandemic that has changed our world forever,"
Mannequins dressed in her designs were quickly installed in the museum collection, which features inaugural gowns worn by her predecessors, including Jacqueline Kennedy, Laura Bush, Michelle Obama, Melania Trump and others. The museum will reopen to the public on Thursday.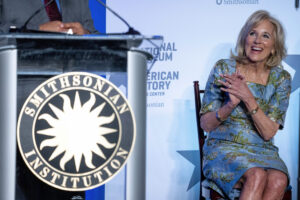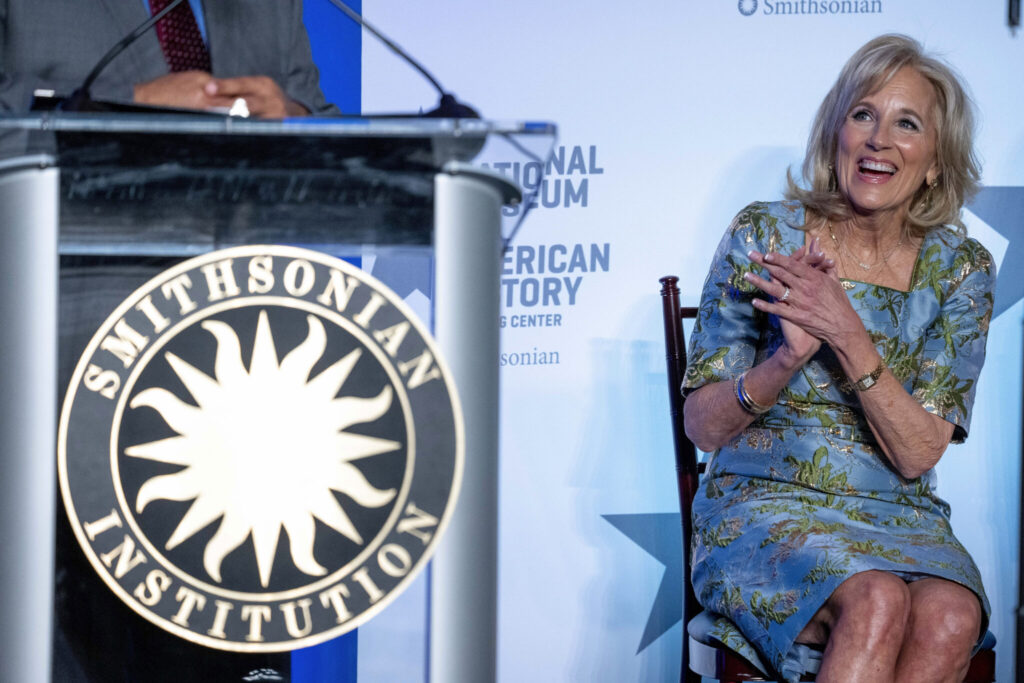 "Since Helen Taft in 1912, every first lady who has been approached and has an inaugural gown has donated it," said Lisa Kathleen Graddy, a curator of American political history at the museum.
The museum is "always interested" in having both the day and evening outfits, if possible, because "it allows us to show a different aspect of the day and the first lady's participation" in the inauguration, she said Tuesday in a telephone interview.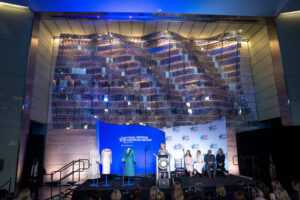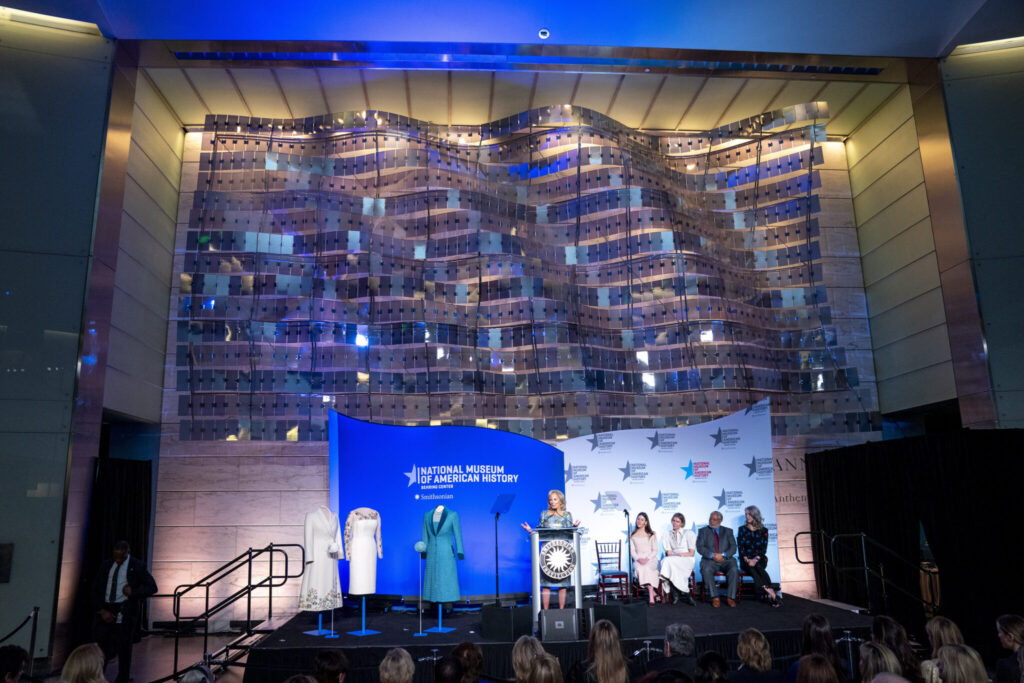 "We are very lucky that we have the space in this particular case to be able to display both of them," Graddy said.
First ladies typically donate the inaugural gown, but Joe Biden's inaugural festivities were altered by the pandemic. People were not allowed to gather on the National Mall to watch him take the oath of office. A traditional lunch inside the Capitol afterward was scrapped, and the customary parade down Pennsylvania Avenue was replaced by a virtual one.
Instead of dancing the night away at balls, Biden and his family watched fireworks from a White House balcony.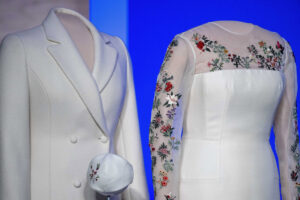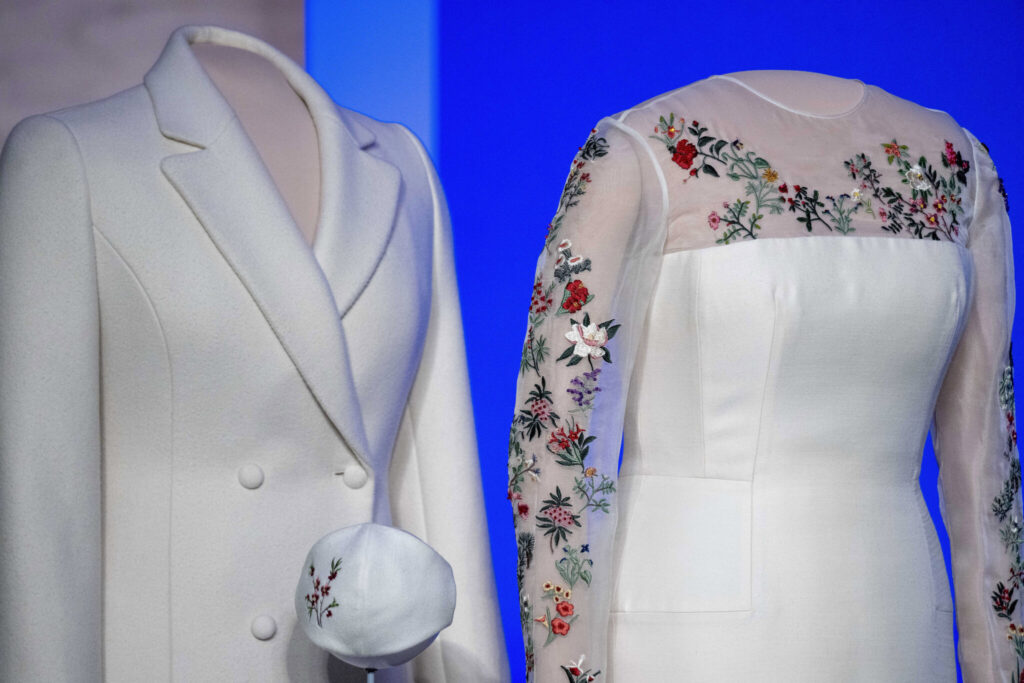 For the ceremony at the Capitol, Jill Biden chose an ocean blue wool tapered tweed dress embellished with pearls and crystals, a matching overcoat with a dark blue velvet collar and cuffs, and a face mask. They were designed by Alexandra O'Neill, founder and designer of Markarian.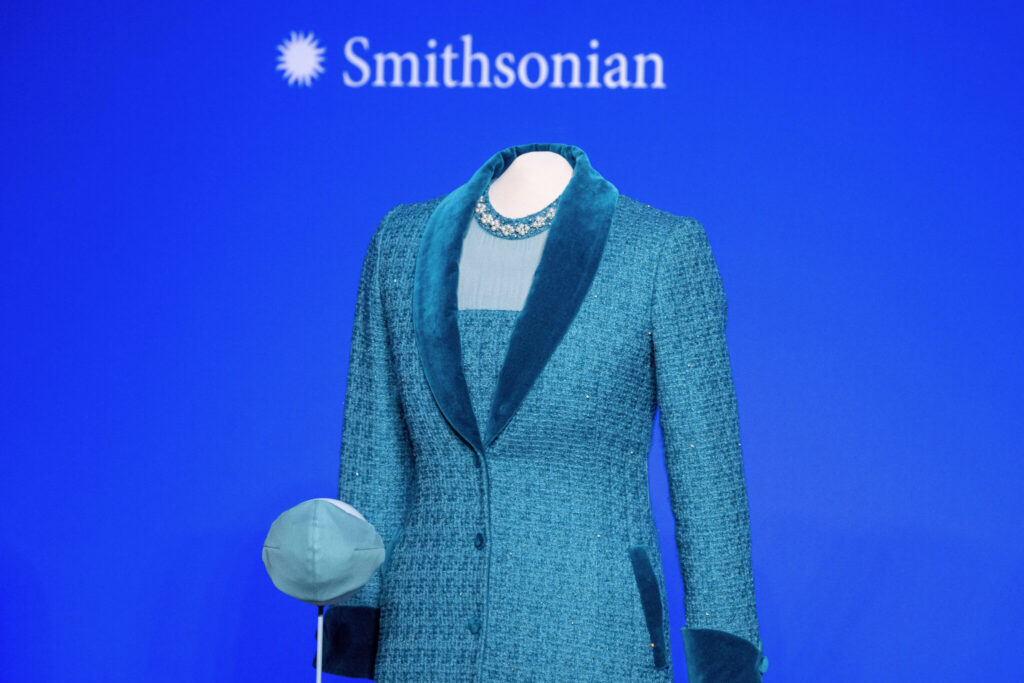 In the evening, she slipped on an ivory silk wool dress, an ivory double-breasted cashmere coat and a face mask, all embroidered with the flowers of every U.S. state and territory. They were designed by Gabriela Hearst, founder and creative director of Gabriela Hearst.
The Smithsonian says its exhibit about first ladies is among its most popular attractions.