Important: To be able to understand the course of the events of this story, we advise our readers to read the previous parts
Life In the Iron Box, Part 3: In Love with that Woman's Glow
I lost contact with my brother. I no longer see his account activated. I tried several times to request to see him on the HLC– -Hologram Live Chat, to no avail. I was very worried about his health, especially after I was informed that he refused to receive the forty thousand Units I sent him more than a month ago.
"To my crazy brother, I don't want Units from you, because I know you give up your life for them. You were the only person who still reminded me of something called family. And in the blink of an eye you killed all our dreams of getting out of these boxes and search for our grandmother, Rekia, as we have promised our mother. You sold it all for some temporary benefits. You know well that your million Units are not endless, and your expiration date started the day you accepted to be a Rat Man. They will throw you out on the streets of this city after your body becomes useless for their experiments.
When you receive this message, I will have left this city in search of my freedom. Please do not try to contact me on my Box, you know where to find me I love you brother"
I listened to his message and for the first time I felt that I had really become alone within the walls of this metal city. My brother's presence in New York was a source of safety and reassurance for me, even though I had not met him since 2086, when we met at our mother's home before her death.
I tried to occupy myself exploring my new home- – a class B Iron Box, quite different from the hole I was in. Here, I have a large rectangular screen that enables me, just by looking at it, to reach out to all the information I need, from live videos to images, smells and sounds. It is simple. Just by looking at the screen, think of something and confirm my desire to see it, and it is in front of me in less than a second.
I looked at the map and focused my eyes on the western Atlantic region or what was called in the past the American continent. I know my brother is somewhere there between Pennsylvania and West Virginia. There between these mountains and barren plains. My mother used to say that grandma, Rekia, told her exciting stories about these areas that were all covered by forests, fruit trees, valleys full of water, birds, animals and fish. I can't believe how today they have become just barren lands, except for some dry trees and few agricultural lands covered with some green… Oh my God, how much I love the green color.
I put on Multi D Glasses, a breathing mask and decided to take a tour over there, but I remembered that one-minute costs more than five thousand Units… There is no need for such expense. I must keep my savings in Units so as not to lose them all. I decided instead to enjoy ordering an entertainment session with a beautiful female, as it does not cost more than a hundred and fifty Units.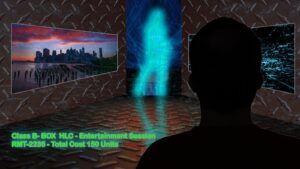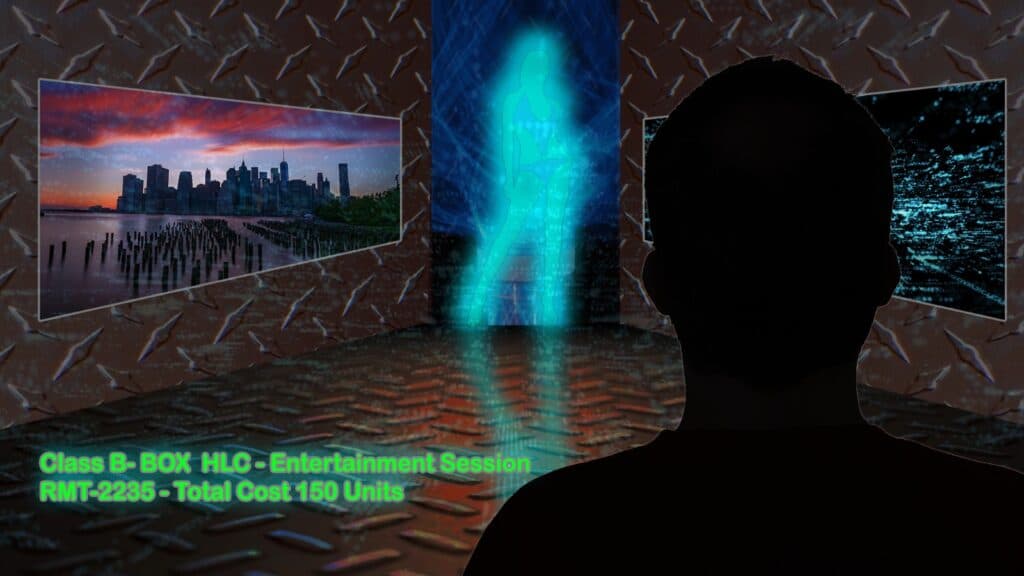 Oh yes, I never tried that before…I did not hesitate and I pointed my eye to the entertainment sign on the screen, and in less than one second a very beautiful female stood before me.
Welcome, Mr. RMT 2235 to your first visit to the entertainment center, I'm Julie, how can I help you.
She asked me with a great tempting tone so, I muttered scattered meaningless words as I tried to push her to help me complete my order
– I don't understand, Mr. RMT 2235… Do you want to spend some good time with…?
– No… Yes…Yes …via HLC technology
The words came out of my mouth scattered as if I was revealing a great secret.
– How many minutes do you want, Mr. RMT 2235
– 120 minutes
She smiled, looking surprised
– 120 minutes ?!! Are you sure?
– Yes… Yes… Why? …I s this a long time? I mean I have never had this experience.
– No, you have the right to choose the length of time you want. Please specify the required gender, age group, skin color, communication language and whether you agree to send your sperm after the session to the National Laboratory. It appears from your data that there is no reproduction registered under your name.
– What?? Send what!!?? No… I don't understand what do you mean?
– I will explain to you, Mr. RMT 2235. Immediately after the end of your entertainment session you can send your semen to the lab and you will get 100,000 Units.
– 100 thousand Units?! Sure… Is this possible?!!
– Of course, Mr. RTM 2235, the system in the city is in dire need of A-class children.
– Yes… Yes…of course…I will
– Ok, what is the required gender, age group, skin color, communication language and do you agree to donate?
– Uh… ah… yes, I want a female, between twenty and forty years old, of dark skin and speaking English. I agree to donate.
– The total amount that will be deducted from your electronic wallet is 340 units. And if your sample is accepted in the laboratory, you will get 100 thousand Units. Please wear your electronic helmet and after less than 60 seconds, the drone service will bring you a special box to put your sample in. I wish you beautiful moments… Bye
How attractive is her way of talking to me? I felt a heat wave running through my body and an unusual happiness mixed with a strange dread that made me lose the ability to control myself, so I couldn't stop tapping my fingers…. I put my helmet while I saw a small drone landing on the edge of my Iron Box. I picked up the box and didn't bother thinking about what they would do with my sample, I wouldn't have the right to know anyway.
– Hello… I'm Julie…your companion for the next 120 minutes of happy time. Feel free to ask me to do anything for you.
I could not find the right words to respond to her greeting. I got lost in a beautiful virtual world. I plunged into a world of lights, sounds, and sensations that I had never experienced before. And I began to feel the presence of the warmth of another body around me. Millions of questions were racing in my mind. Where am I? I feel her touching my hand… Damn it. What is happening?!!
– Do you like to dance?!! Come dance with me.
She asked me to dance with her in an irresistible tone… My God, she chooses her words carefully and professionally, as if she already knew the impact of her words on me. She started talking to me about old dreams that I had for a long time, then she started changing the colors of the transparent dress she was wearing… These are the colors that I love and even the smells.
– No… I don't dance well…you can dance for me
– With pleasure, my dear. Lie back on your seat and relax. Do you like old music?? I have a song for a very old singer called Michael Jackson who died more than a century ago but is still immortal…
She did not wait for my answer and suddenly I was listening to a beautiful voice from another world and era that I did not know much about.
I think I am in love with this thing
To be continued
Read the previous parts