Another day, another wild brawl in the NBA. This time, the melee came late in the third quarter of Friday's game between the Orlando Magic and Minnesota Timberwolves and resulted in five players being ejected. The beginning of the fight was so sudden that the broadcast had no idea what was going on, but further replay showed Timberwolves guard Austin Rivers had approached the Magic bench over some jawing after he missed a 3-pointer. Magic big man Mo Bamba welcomed him with some fisticuffs. Soon, the two were grappling as several teammates jumped in to either break up the fight or give their side some back-up. The Associated Press has the story:
Magic, Timberwolves fight leads to 5 players ejected
Newslooks- MINNEAPOLIS (AP)
A fight broke out and punches were thrown during the game between the Orlando Magic and Minnesota Timberwolves on Friday night.
Five players were ejected following the brawl, which started in front of the Orlando bench late in the third quarter. Minnesota guard Austin Rivers and Magic center Mo Bamba were the initial players involved, and it spilled over to include several others on the court.
Rivers, Jaden McDaniels and Taurean Prince were ejected from the Timberwolves. Jalen Suggs was tossed along with Bamba for Orlando, which went on to win 127-120.
"This isn't like a cool moment for me," Rivers said after the game. "I feel embarrassed. I'm the oldest on the team. I consider myself the leader of the team, or one of the leaders of the team. It was a weird game, and I don't think that helped at all. If anything right now, I'm just (ticked off) that we lost, and that I had (something) to do with that. It doesn't make me feel good."
Bamba and Suggs were not available for comment after the game.
"You obviously want to have your teammate's back and at the same time, you've got to be a professional," said Orlando center Moritz Wagner, also involved in a skirmish with Detroit in December.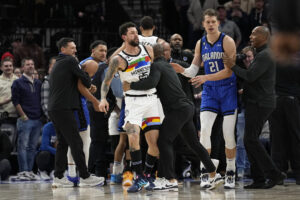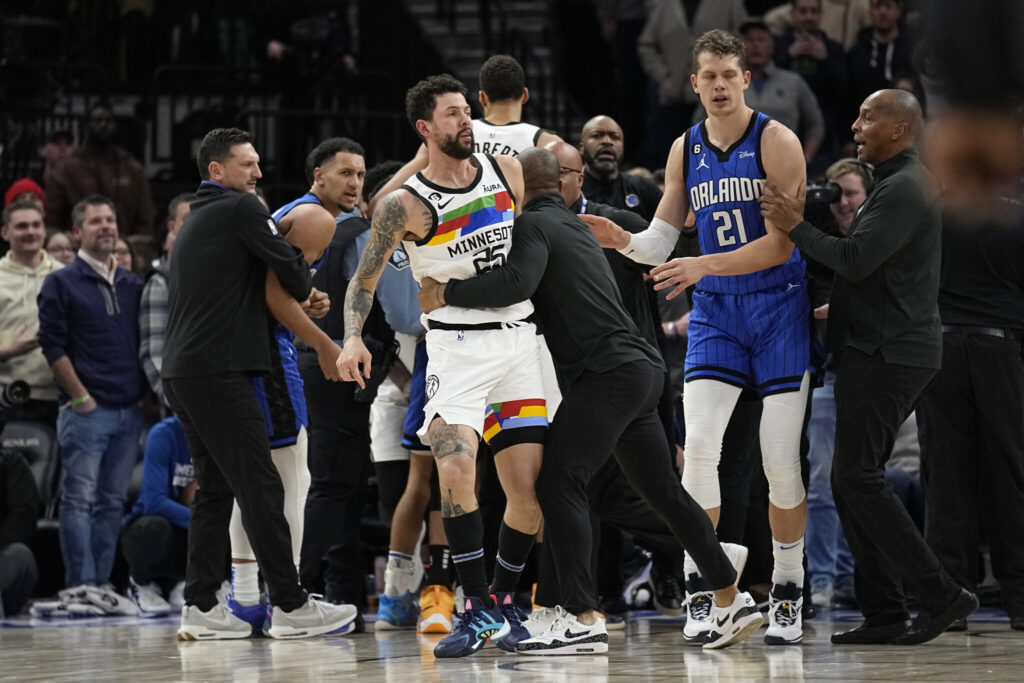 "So, that's a challenge for a young team like us. I think this time around we did a good job compared to last time. So, yeah, I don't really know. It's a weird dynamic. You don't really want to be in those situations and it's not really the best look. You want to be professional. At the same time, there is something in me that appreciates the team sticking together like that."
Wagner appeared to get knocked out in that fight with the Pistons in Detroit. Wagner and Detroit's Killian Hayes and Hamadou Diallo were all ejected.
On this night, the fight began with Rivers right in front of the Magic bench as play was ongoing at the far end of the court. Bamba came off the bench and Rivers threw punches at him. Suggs later pulled Rivers away and swung him to the court. McDaniels and Prince joined the scrum.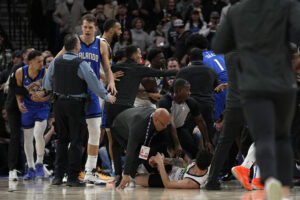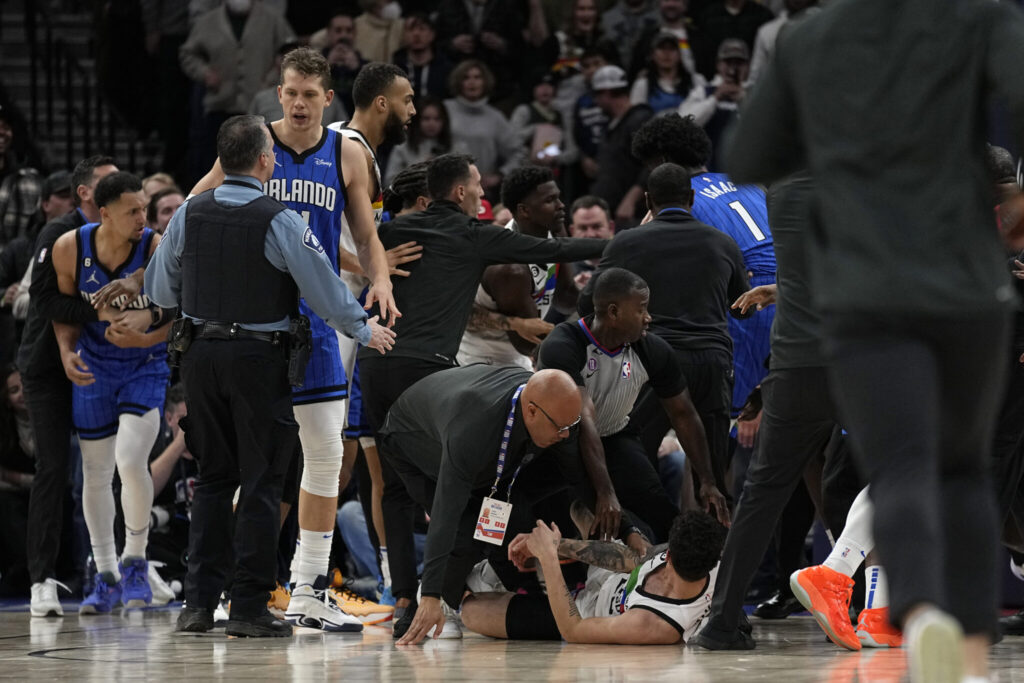 "Their guy came off the bench and threw a punch," Timberwolves coach Chris Finch said. "Pretty egregious. Then it's a melee, and somehow our guys get punished a lot worse. One guy got sent for not being a peacekeeper. I just looked at the film, and I didn't see any difference between what their guys were doing and what our guys were doing."
The altercation seemed to stem from talk from the Magic bench, particularly Bamba. A few moments earlier, Rivers missed a 3-point attempt in front of the Orlando bench, and Bamba and Markelle Fultz could be seen reacting to the miss.
Rivers said he approached the 7-foot, 231-pound Bamba about his comments.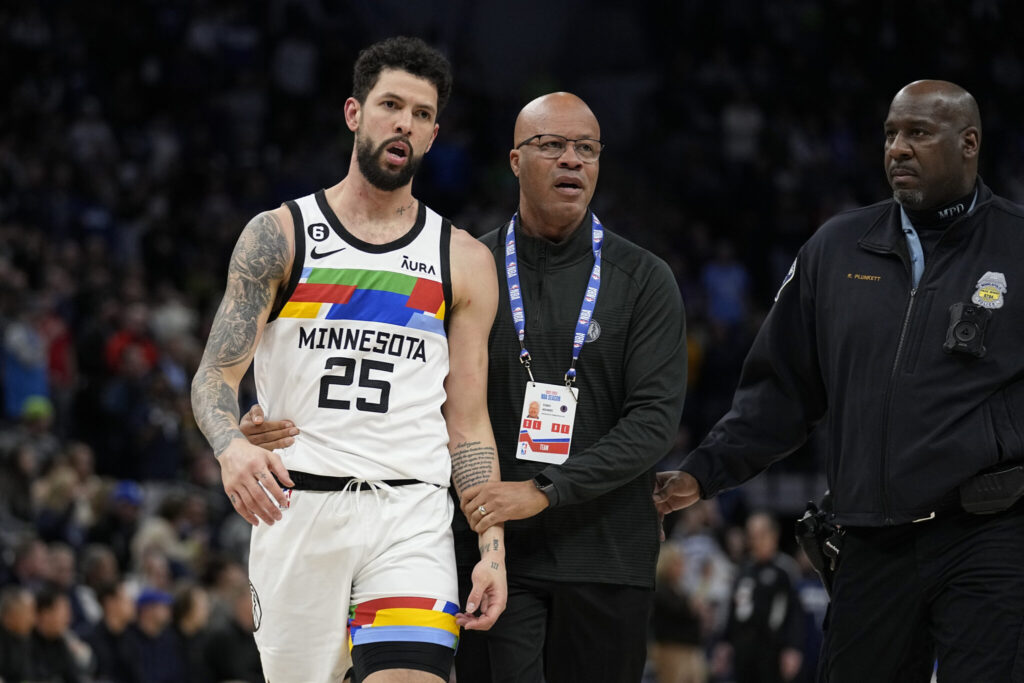 "I'm not gonna snitch on the dude or whatever, but I just didn't like the way he was talking to me," said Rivers, listed at 6-4 and 200 pounds. "For no reason, too. I don't even know that dude. I don't know anything about him. Obviously, I just know he's a player for the Magic. And he proceeded to talk, so that next possession, when I went down there, I just said, pretty much, 'Just keep it respectful, bro.'"
Rivers later added: "I went up to him and I pressed him, and at that point, it can go one of two ways. I didn't think we were going to get in a fight. But when you stand up that fast and put your hands up — he threw a punch and missed, thankfully. At that point, I've got to protect myself. Ain't no one worried about him."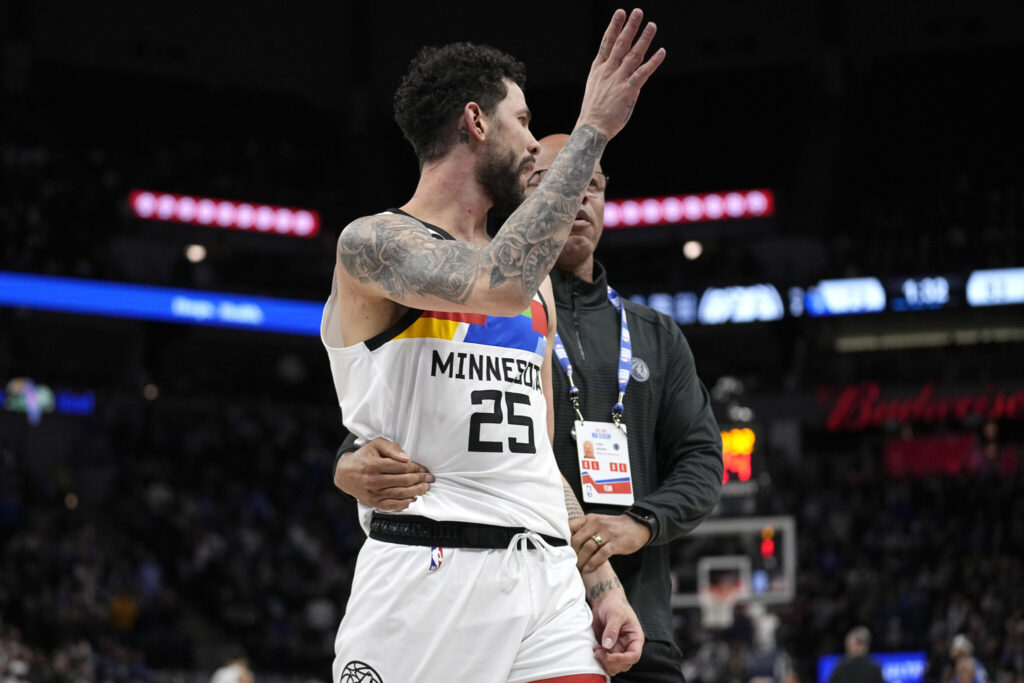 The fight came one night after an on-court altercation between Memphis Grizzlies guard Dillon Brooks and Cleveland Cavaliers guard Donovan Mitchell.
Brooks swung and struck Mitchell in the groin area during the third quarter Thursday after the Grizzlies guard had fallen to the floor. Mitchell retaliated by throwing the ball at Brooks and then shoving him.
Both players were ejected from Cleveland's 128-113 win. Afterward, Mitchell accused Brooks of being a dirty player.
The NBA announced punishments for both players Friday, with Brooks getting suspended one game without pay and Mitchell fined $20,000.