In 'Unprecedented Show of Solidarity,' Major Labor Unions Endorse President Joe Biden for 2024. "The largest labor mobilization in history begins today, supercharged by the excitement and enthusiasm of hundreds of thousands of union volunteers who will work tirelessly to reelect a president they know has our backs," said the AFL-CIO president. The AFL-CIO, which includes 60 unions representing more than 12.5 million workers, endorsed Biden and Vice President Kamala Harris on Friday, the earliest it has ever endorsed in a presidential election, and is hosting Saturday's event. The Associated Press has the story:
Major Labor Unions endorse Biden's reelection
Newslooks- WASHINGTON (AP)
On the eve of a Philadelphia rally hosted by labor leaders, the AFL-CIO and 17 unions on Friday endorsed Democratic U.S. President Joe Biden and Vice President Kamala Harris for reelection in 2024.
During the 2020 campaign and since taking office, Biden has pledged "to be the most pro-union President leading the most pro-union administration in American history." He has won praise for various appointments—including Julie Su for labor secretary, which still lacks U.S. Senate approval—and actions to improve the lives of exploited workers.
Although Biden also has at times angered organized labor—particularly in December when he signed a congressional resolution preventing a nationwide rail strike as industry workers were fighting for paid sick leave—AFL-CIO president Liz Shuler still stressed Friday that "there's absolutely no question that Joe Biden is the most pro-union president in our lifetimes."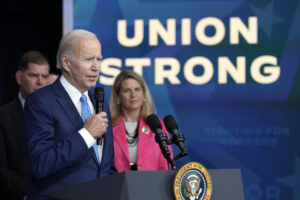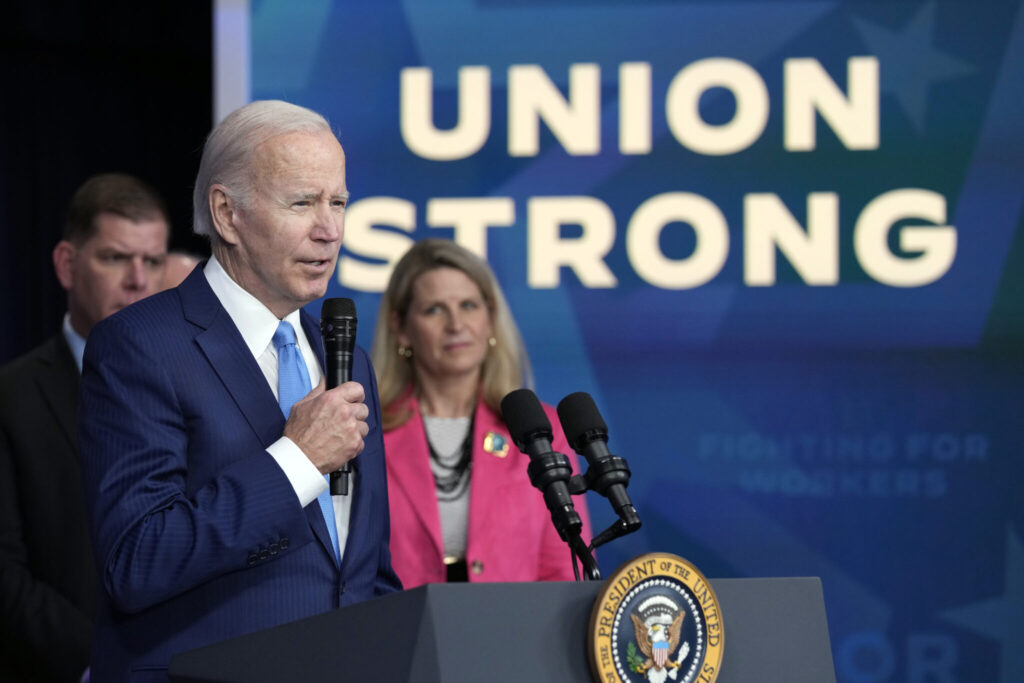 "From bringing manufacturing jobs home to America to protecting our pensions and making historic investments in infrastructure, clean energy, and education, we've never seen a president work so tirelessly to rebuild our economy from the bottom up and middle out," Shuler said. "We've never seen a president more forcefully advocate for workers' fundamental right to join a union."
"Now, it's time to finish the job," she declared. "The largest labor mobilization in history begins today, supercharged by the excitement and enthusiasm of hundreds of thousands of union volunteers who will work tirelessly to reelect a president they know has our backs and will always fight for us."
Coming nearly 17 months before the 2024 election, Friday's announcement is the earliest presidential endorsement in history for the general board of the AFL-CIO—which represents 60 unions and more than 12.5 million workers.
Biden-Harris campaign manager Julie Chávez Rodríguez said that the president—also a former vice president, U.S. senator, and county council member—"has been an unwavering champion of the labor movement his entire career" and the "historic groundswell of support" from the AFL-CIO and unions is "an unprecedented show of solidarity and strength for our campaign."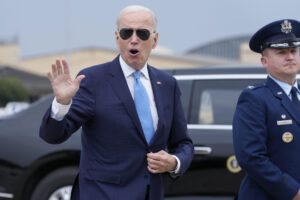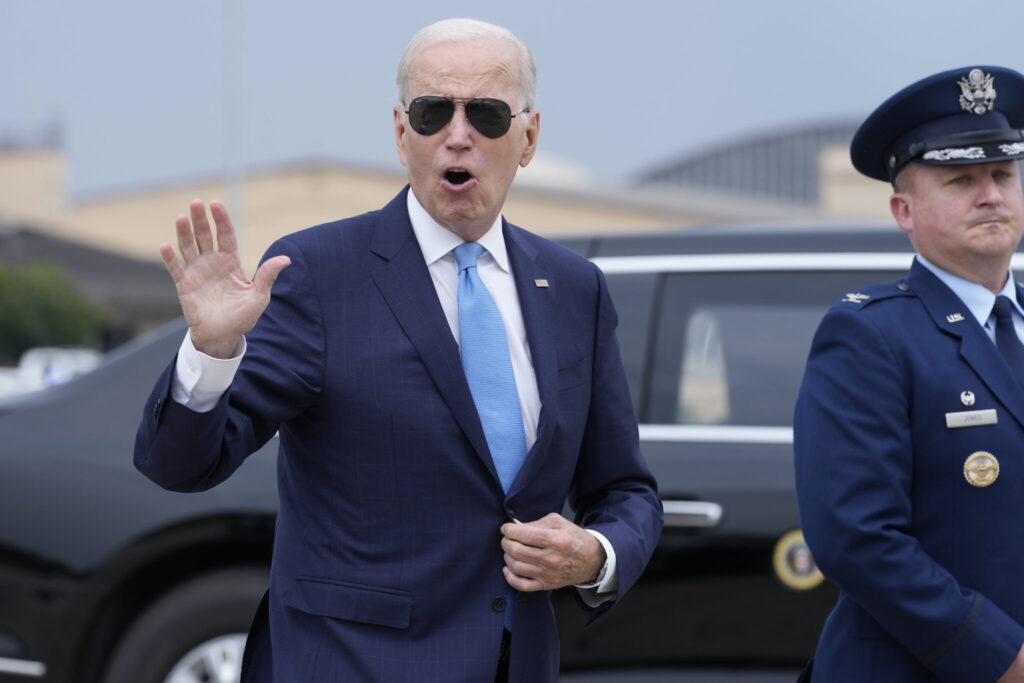 "Joe Biden ran for president four years ago because he knows the way to grow the economy is to grow the middle class, and that starts with strong unions and labor representation," she continued. "With the early support from the labor movement, our campaign can tap into organized labor's incomparable organizing abilities, which allows us to reach deep into communities and talk to voters about the tens of thousands of good-paying union jobs created by President Biden's first-term agenda."
"These endorsements are personal to President Biden and Vice President Harris," added Chávez Rodríguez, the granddaughter of the late United Farm Workers leader César Chávez. "They are proud to be the most pro-labor administration in our country's history, and this campaign will honor that commitment by working to earn each and every vote come November 2024."
Along with the AFL-CIO, unions individually endorsing the Biden-Harris campaign include the Actors' Equity Association; American Federation of Government Employees; American Federation of State, County and Municipal Employees (AFSCME); American Federation of Teachers (AFT); Communications Workers of America; International Brotherhood of Electrical Workers; International Union of Operating Engineers; International Association of Bridge, Structural, Ornamental, and Reinforcing Iron Workers; Laborers' International Union of North America; and National Nurses United (NNU).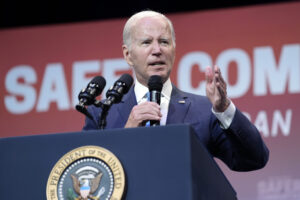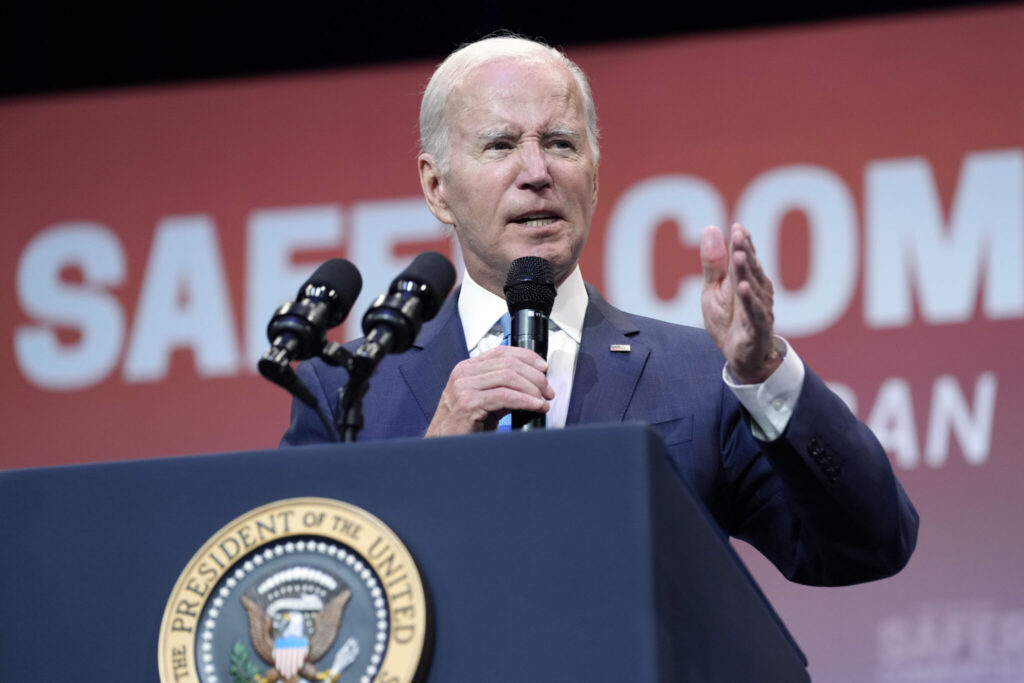 "President Biden and Vice President Harris took decisive, lifesaving action at the very start of their term, when their administration confronted the deadly global pandemic," said NNU president Zenei Triunfo-Cortez. "Nurses have their back in 2024 because, when we look at their track record, we can see that they have ours."
AFSCME similarly noted that "before Joe Biden was sworn in, the pandemic was raging, and our economy was in free fall. Politicians—including the former president—shook hands with frontline public service workers for the cameras, then stabbed them in the back when the cameras were off by doing nothing as essential workers were laid off because of budget shortfalls."
"As political extremists try to roll back all the progress we've made and take away fundamental freedoms," said Saunders, "Joe Biden will work with us to address the top issue for public service workers today: resolving the staffing crisis that is pushing millions of public service workers to exhaustion and leaving our communities unprepared for the next crisis."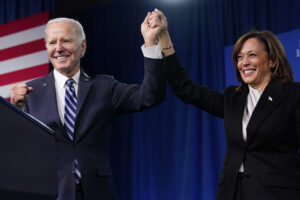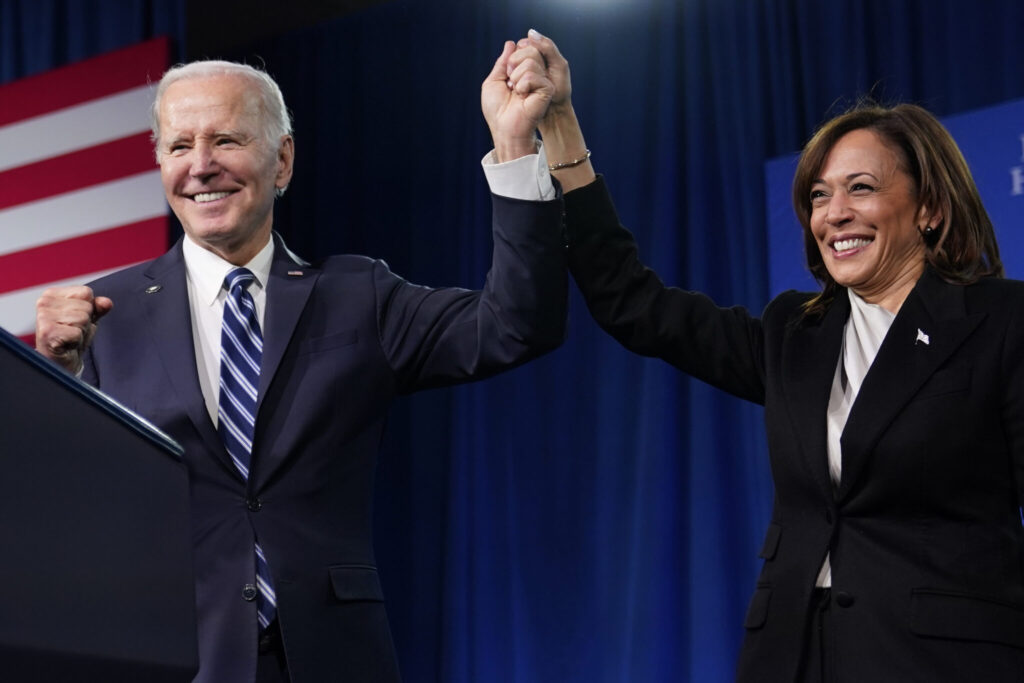 Biden's new labor endorsements were intentionally announced ahead of the Saturday event at the Pennsylvania Convention Center in Philadelphia, which will be the president's first rally since confirming in April that he is seeking a second term.
Harris was in Philly on Tuesday to meet with leaders from the Service Employees International Union. The Philadelphia Inquirerreported that the vice president said during the event, "Joe Biden lives, breathes, and cares so deeply about the importance of strengthening and uplifting working people, through strengthening and uplifting labor unions."
Calling Biden and Harris "the most pro-labor, pro-public education leaders our country has seen in modern history," AFT president Randi Weingarten declared Friday that "this weekend, the entire labor movement is joining together in an unprecedented show of strength and support to harness the collective power of working people determined to move this country in the direction of freedom, justice, and opportunity for all."
Federal Employee Unions endorsed Biden in 2024
Newslooks- WASHINGTON (AP)
Federal employee unions, including the largest in the country, on Friday announced that they are endorsing President Joe Biden for reelection next year. The AFL-CIO, which includes 60 unions representing more than 12.5 million workers, endorsed Biden and Vice President Kamala Harris on Friday, the earliest it has ever endorsed in a presidential election, and is hosting Saturday's event.
The American Federation of Government Employees and the National Air Traffic Controllers Association both announced their unions' respective decisions Friday, in conjunction with their parent labor federation, the AFL-CIO, ahead of a union rally at which Biden is scheduled to appear Saturday in Philadelphia.
In a statement, AFGE National President Everett Kelley said the union conducted multiple polls of its membership, as well as a telephonic town hall with more than 20,000 members. Following those steps, AFGE's national executive council voted unanimously to endorse Biden again.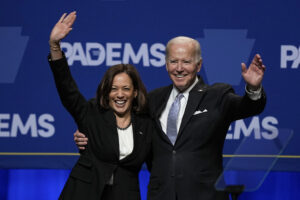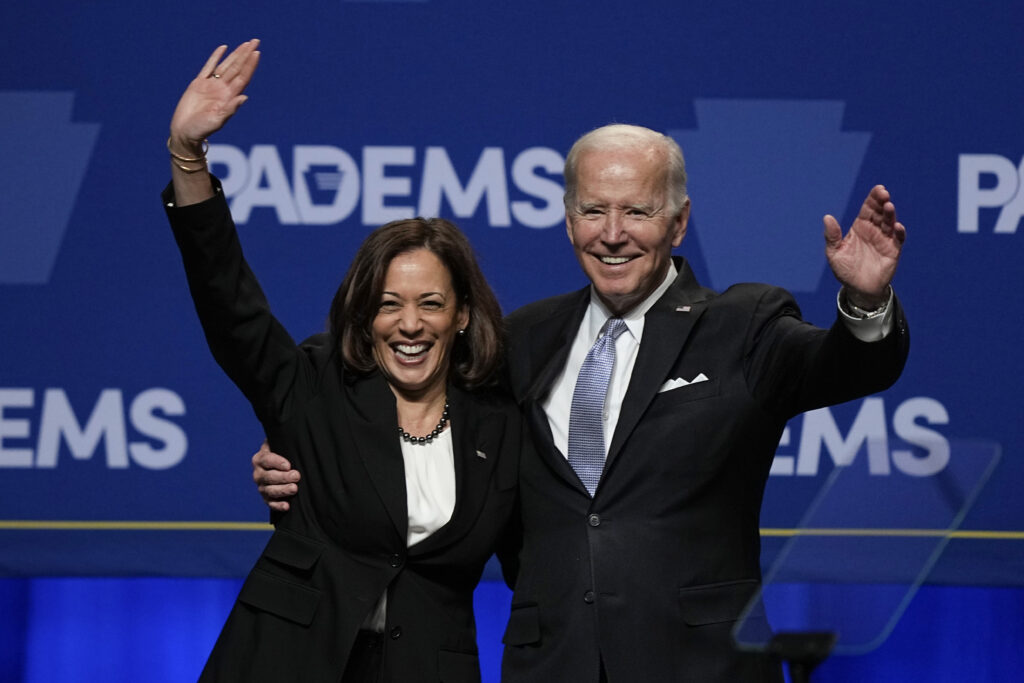 "During his first term, President Biden has proven himself to be the most labor-friendly president in history," Kelley said. "The results of our endorsement process show that he is the overwhelming choice of AFGE members. It's not hard to see why."
With some exceptions, Biden's arrival in the White House was a breath of fresh air for unions and the federal workers they represent, following the tumultuous Trump administration. During his term, Trump at various points sought to freeze federal employees' pay, cut their benefits and evict labor organizations from federal agencies, both literally and in the form of curtailing union officials' access to official time and restricting the scope of what workforce policies over which they can bargain.
And in 2020, Trump signed an executive order aimed at stripping tens of thousands of federal employees in policy-related positions of virtually all of their civil service protections. That initiative, called Schedule F, ultimately went unimplemented before Biden took office, and he quickly rescinded it along with Trump's other labor policies. Conversely, both Trump and his chief rival for the Republican presidential nomination, Florida Gov. Ron DeSantis, have indicated they would revive Schedule F immediately after their inauguration if elected.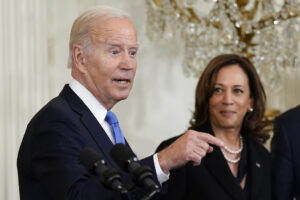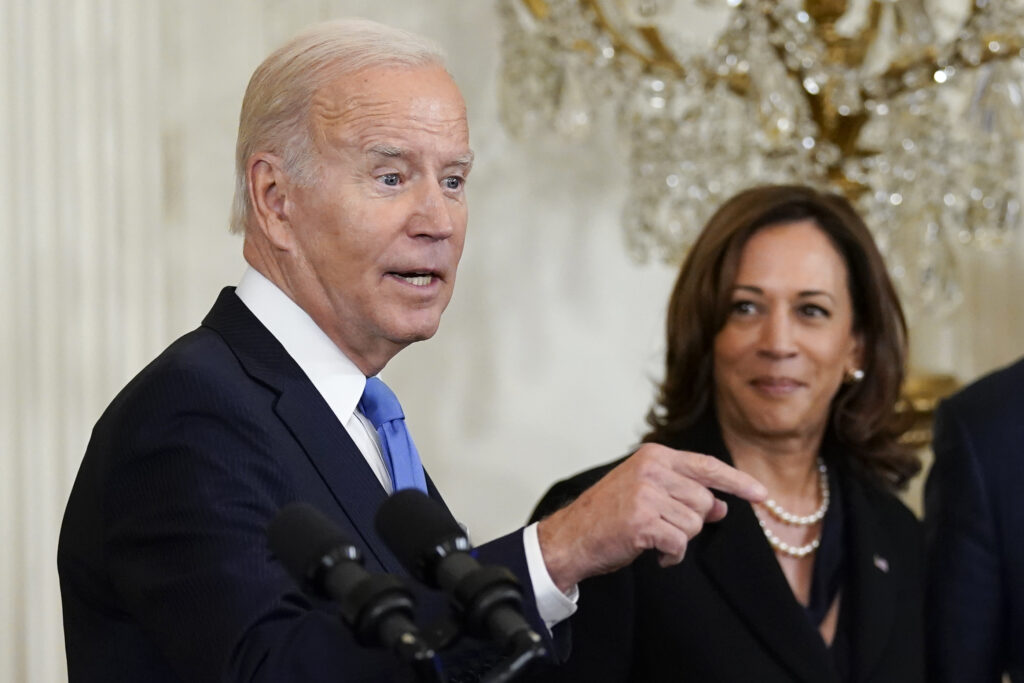 In addition, Biden instituted a new approach to collective bargaining at federal agencies, urging agencies to develop a more collaborative relationship with their labor counterparts and requiring management to negotiate over more topics. And the Office of Personnel Management updated its data platform, FedScope, so that union organizers could see which agencies had large cadres of federal workers who are eligible to join or form a union but had not yet done so.
NATCA President Rich Santa, whose union also voted unanimously in favor of endorsing Biden, touted Biden's work to include $30 billion in upgrades to air traffic control facilities, including $5 billion at facilities owned by the Federal Aviation Administration. And, he noted, the FAA has included his union in the law's implementation process.
"With an administration in the White House that is committed to labor, and the bipartisan relationships our activists have built in Congress, NATCA is making real improvements to the lives of every member of our union," Santa said. "For these reasons, NATCA enthusiastically endorses President Biden and Vice President Harris for reelection in 2024."
Biden reelection bid picks up endorsement from construction workers union
Newslooks- WASHINGTON (AP)
A major construction workers union endorsed President Biden's reelection campaign Thursday, which is a notable nod for the president from big labor.
The Laborers' International Union of North America (LIUNA) said they would back Biden and Vice President Harris after other labor groups, including the United Auto Workers, have said they will hold back from an endorsement just yet.
"Every decision President Biden has made, every policy he has adopted, and every piece of legislation he has pushed for has been done with consideration for and for the betterment of hard-working union laborers and our brothers and sisters in the trades," LIUNA President Brent Booker said in a Thursday statement.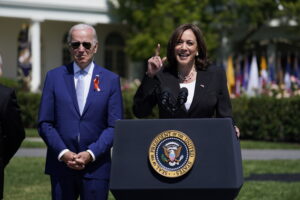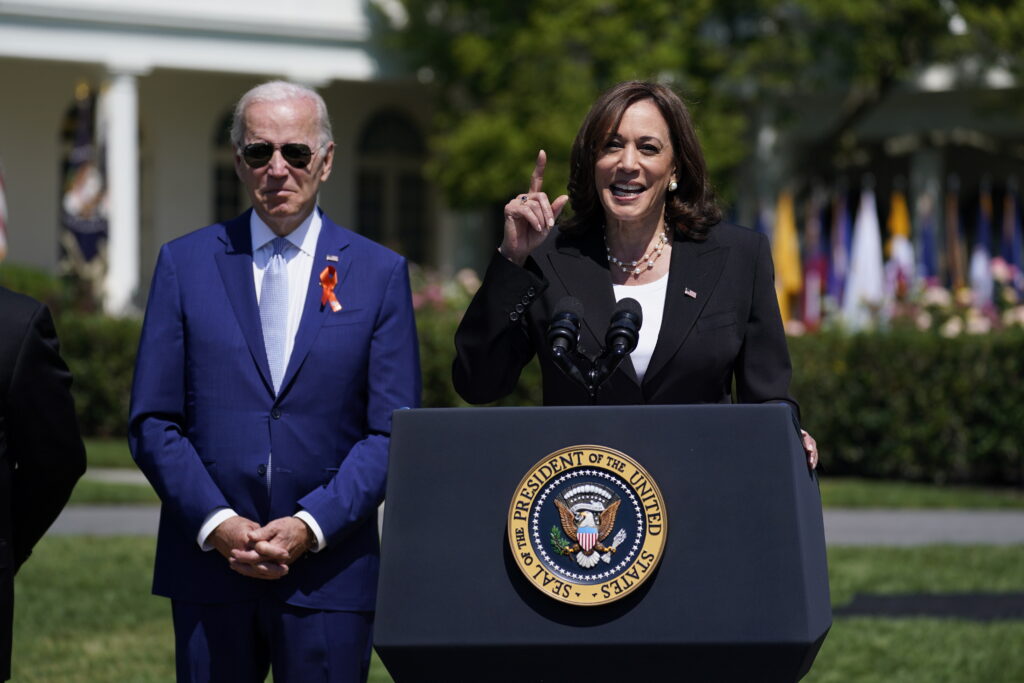 Booker pointed to the bipartisan infrastructure law as an accomplishment of the Biden administration that gave LIUNA members more opportunities to build. Biden visited a LIUNA training center in Deforest, Wis., in February to give remarks on manufacturing, the infrastructure law and job creation under his administration.
"No Administration has demonstrated greater commitment to the men and women who build our nation than the Biden-Harris White House," Booker said in his statement. "With Biden at our backs, LIUNA members have more opportunities to build our infrastructure, better wages and benefits, and more secure futures."
LIUNA also endorsed Biden for president in 2020. The union comprises a half-million members in the construction industry, and the endorsement comes after a national poll of members and a unanimous vote to support Biden, according to the group.
The United Auto Workers last month said they would withhold their endorsement over concerns with the White House's focus on electric vehicles. The group that has historically backed Democrats and endorsed Biden in 2020 said at the time that its support is not going to former President Trump.