Morocco: New Generation Vocational Training Facility \ Newslooks \ MAP
The King Mohamed VI of Morocco inaugurated The City of Trades and Skills for the Rabat-Salé-Kénitra region in the town of Tamesna, a new generation vocational training facility dedicated to excellence and innovation.  
The Rabat-Salé-Kénitra CMC is part of an overall program to build 12 CMCs in different regions of the Kingdom, with an estimated total investment of 4.4 billions dirhams (around 430 Million Dollars). It reflects the sovereign's special interest in the vocational training sector as a strategic lever for economic competitiveness and a promising avenue for the professional integration of young people.
It was carried out by the Office for Vocational Training and Employment Promotion (OFPPT) in accordance with the King's directives and the new roadmap for the development of vocational training, which sets out new material, pedagogical and management criteria to ensure the quality of training and a certain convergence between the training provided and the real needs of the labor market.
In order to fulfill its mission, The City of Trades and Skills is equipped with classrooms and living quarters that guarantee the development of technical and multidisciplinary skills as well as the personal development of the trainees.
In fact, the CMC is home to 6 centers dedicated to the acquisition of business skills, with 6 integrated application platforms for immersive training based on "learning by doing", allowing complex simulations close to business reality to be carried out throughout the learning process.
This is the case of the Industry cluster, designed as an educational factory, which offers the advantage of co-locating around ten different specialties in QHSE, industrial, electrical, mechanical and automotive engineering.
The cluster also includes a mini-manufacturing line for electric vehicle charging stations, a full-scale application platform whose production and maintenance are managed by multidisciplinary teams of trainees from the cluster's various specialties.
The City of Trades and Skills is also home to a Tourism & Hospitality cluster with a training hotel and restaurant adapted to real working conditions, an Agriculture cluster with a training farm, a Management & Commerce cluster with a virtual simulation company, a Personal and Community Services cluster with a training nursery and housing, and a Digital and Artificial Intelligence cluster.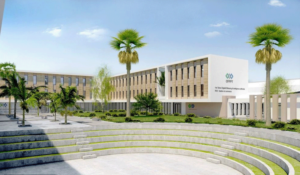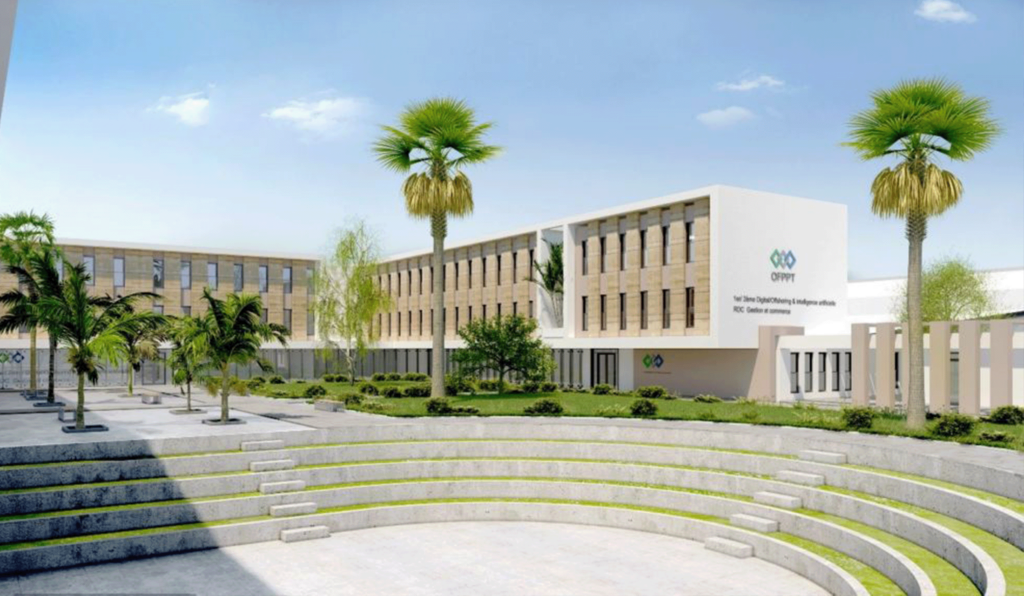 The CMC also features a number of shared structures, including a Language and Soft Skills Center, a Career Guidance Center, an Innovation Chain (Coworking, FabLab, Digital Factory and Incubator), a MOOC Studio to support the integration of digital learning through the production of digital content for training, a Media Library and a Conference Center.
In terms of living spaces, the new City includes an internship campus with a capacity of 700 beds and dormitories, a cafeteria, a foyer, several meeting areas and sports fields (soccer, volleyball, handball and basketball).
Built on a 10-hectare site, the Rabat-Salé-Kenitra CMC will further enrich and strengthen the OFPPT's training facilities in the region, thanks to an annual capacity of 3,560 training places, which will be increased to 4.560 from next year, thanks to the two branches attached to the City, namely the Institut de Formation dans les Métiers de la Santé in Rabat (currently under construction with a capacity of 560 places/year) and the Institut de Formation dans les Métiers de l'Agro-Industrie in Kénitra (a project with a capacity of 440 places/year).
The training offered by The City of Trades and Skills thus covers 8 trades, including 4 new ones, chosen to reflect the specificities of the regional economic fabric. It will offer 105 training courses, including 80 new courses and 25 restructured and updated courses. This diversified offer is aimed at new professions. The main professional categories selected are: Digital & Artificial Intelligence (22 courses), Health (15 courses), Agriculture (14 courses), Tourism & Hospitality (13 courses), Management & Commerce (13 courses), Industry (11 courses), Food & Beverage (11 courses) and Personal & Community Services (6 courses).
In addition to diploma courses at the Specialized Technician, Technician and Qualification levels, the Rabat-Salé-Kenitra CMC training map will also offer short qualification courses, which will enable trainees to acquire or deepen specific skills and obtain a training certificate.
CMC trainees will also benefit from a system of gateways to improve their career prospects.
The result of a partnership between the OFPPT, the Hassan II Fund for Economic and Social Development and the Rabat-SaléKénitra Regional Council, this project required an estimated investment of 380 MDH. This budget does not include the cost of the two institutes specialized in health and agro-industrial trades attached to the new city. The Rabat-Salé-Kenitra CMC is the 4th City of Trades and Skills to open its doors to young people in training, after those in Souss-Massa, Oriental and Laâyoune-Sakia-El Hamra, which will start their training between October and November 2022.
Morocco: New Generation Vocational Training Facility
Morocco: New Generation Vocational Training Facility