GOP presidential candidate and former United Nations Ambassador Nikki Haley said Wednesday she would sign a federal abortion ban into law if she were president, but dismissed the possibility of such a ban materializing, noting it was unlikely to get the necessary 60 votes to pass the Senate. Haley's comments are the clearest answer she has provided her abortion position since she launched her campaign in February, becoming the only woman in the primary field so far. The Associated Press has the story:
Nikki Haley commits to federal abortion ban
Newslooks- MANCHESTER, N.H. (AP)
Republican presidential candidate Nikki Haley on Wednesday pledged to sign a federal ban on abortion but noted that passing one would be highly unlikely without more Republicans in Congress.
Although Haley didn't say how many weeks a federal ban should encompass, her commitment to signing one is the most specific she has been on the issue during her presidential campaign. The former South Carolina governor and U.S. ambassador to the United Nations said "no one has been honest" about how difficult a ban could be to achieve, in a closely divided federal government.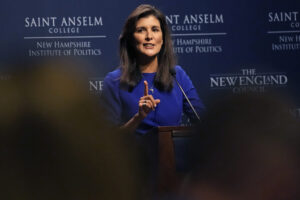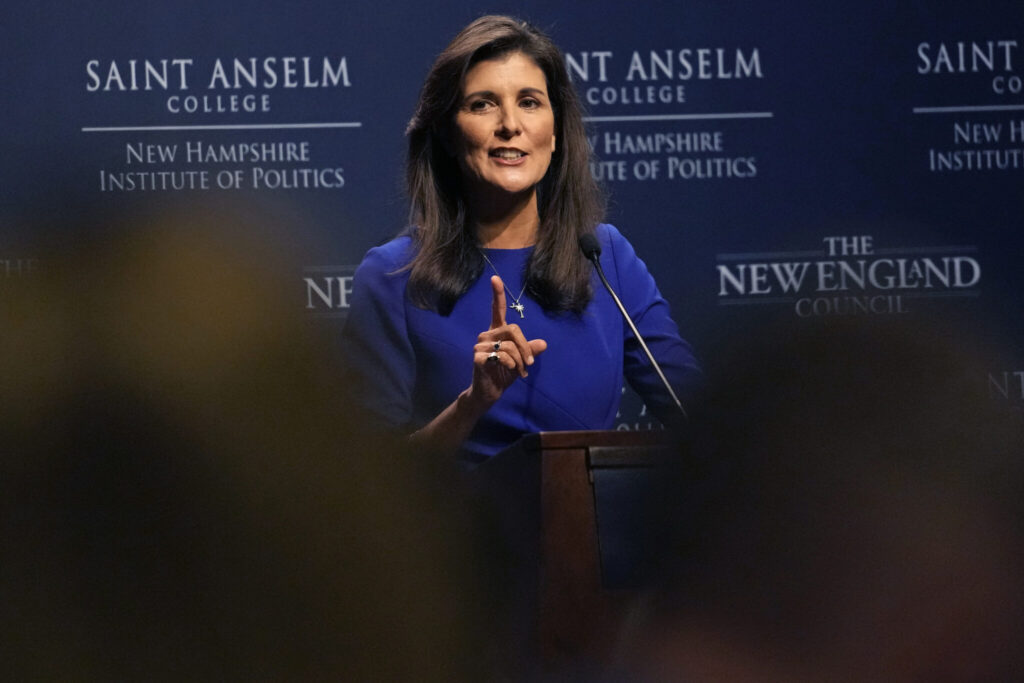 "It would take a majority of the House, 60 senators and a president to sign it," Haley said at St. Anselm College in Manchester, New Hampshire, suggesting that even a few GOP pickups in the 2024 elections wouldn't make the difference in passage. She was referring specifically to the supermajority required for major legislation to clear the 100-member Senate. "We haven't had 60 Republican senators in 100 years," Haley said.
The comments come amid a continuing debate over abortion restrictions among the Republicans seeking their party's presidential nomination. Sen. Tim Scott, Haley's fellow South Carolinian who launched his bid this week, has said he would sign a 15-week ban. Other candidates, like former Arkansas Gov. Asa Hutchinson, have said the issue should stay in the states without a Republican supermajority in Congress.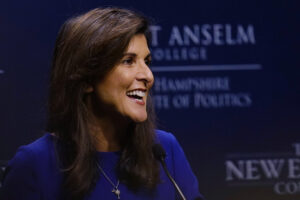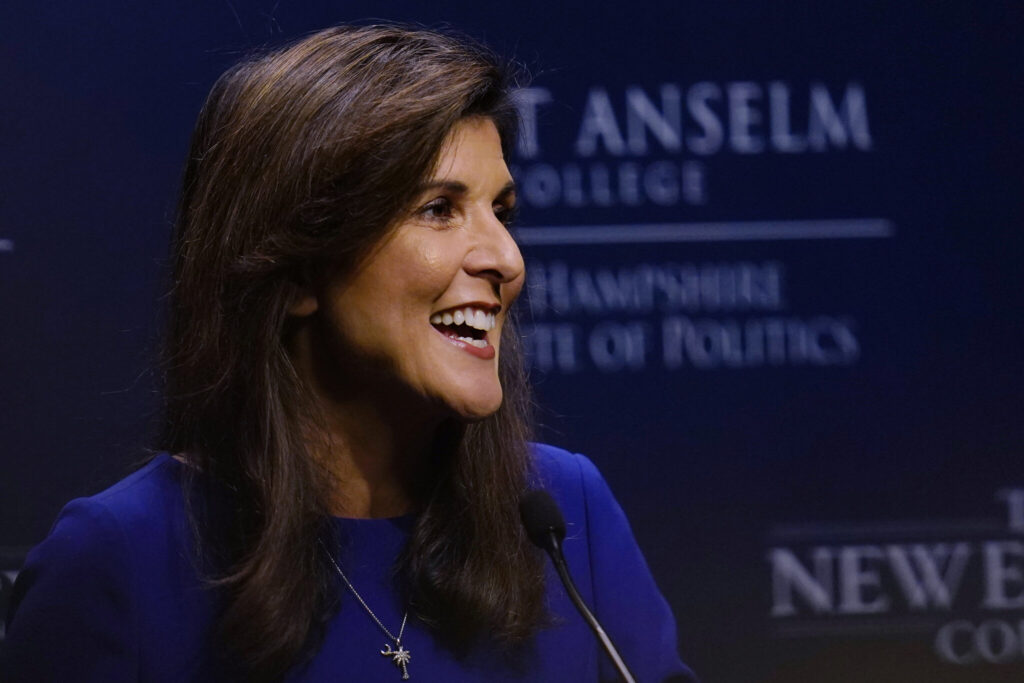 Gov. Ron DeSantis, who is expected to launch his campaign later Wednesday, recently signed a six-week ban in Florida, which former President Donald Trump subsequently implied was "too harsh." Former Vice President Mike Pence, preparing his own campaign, has said he supported Florida's bill and would sign such a measure as president. The six-week threshold comes before many women realize they are pregnant.
Asked by an attendee how she would square her own opposition to abortion to "overwhelmingly pro-choice" states like New Hampshire, Haley said she would not personally compromise.
"I can't suddenly change my pro-life position because I'm campaigning in New Hampshire," Haley said. "It's incredibly personal, and I'm going to treat it with the respect it deserves.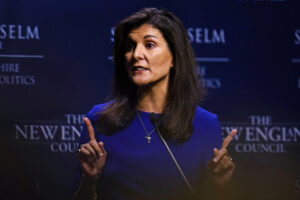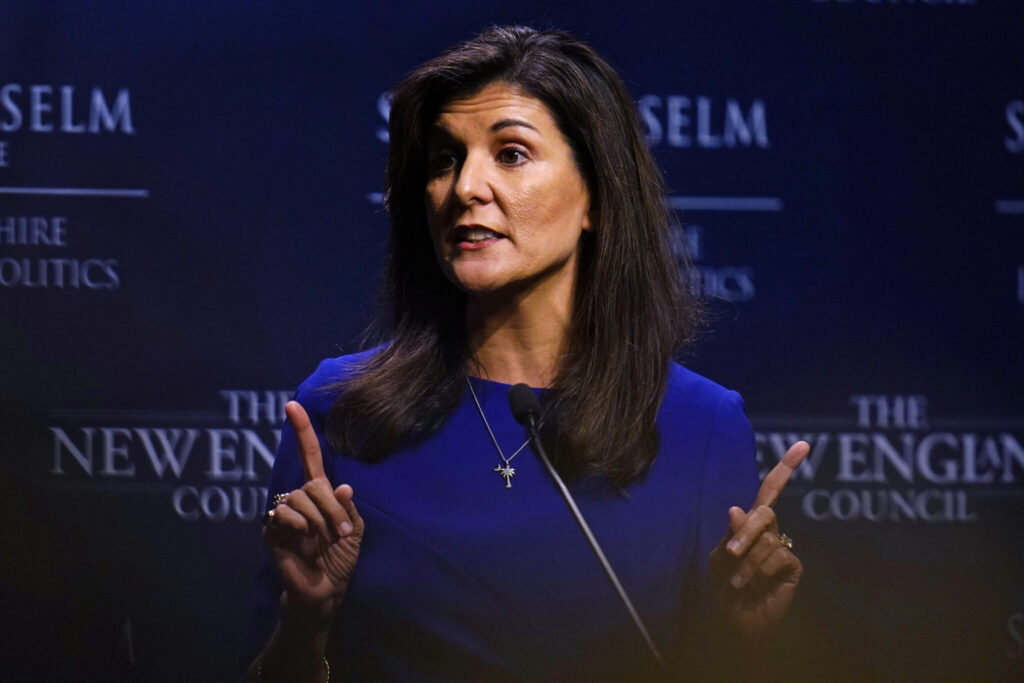 New Hampshire was among the least restrictive states on abortion until 2021, when it enacted a ban on the procedure after 24 weeks of pregnancy. This year, lawmakers have considered more than half a dozen bills on both sides of the issue. With a closely divided Legislature, none have passed.
In South Carolina, Haley signed an abortion ban after around 20 weeks. On Tuesday, South Carolina's Senate passed a ban on the procedure after around six weeks, which the current Republican governor has said he would sign. Abortion rights groups have already pledged to file legal challenges.
"Now it's back in the states where it belongs," Haley said Wednesday, referencing last year's U.S. Supreme Court decision overturning Roe v. Wade.
Haley referenced national consensus in her speech last month at the headquarters of a major anti-abortion group, which has said it wouldn't back any White House candidate who did not at a minimum support a 15-week federal abortion ban. During those remarks at the Susan B. Anthony Pro-Life America headquarters, Haley said she saw a federal role on the issue but stopped short of endorsing a federal ban.
Introducing Haley at a "Women for Nikki" event later Wednesday, the co-chair her women's coalition in New Hampshire sought to shift the focus away from abortion.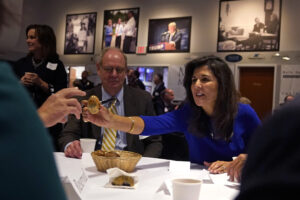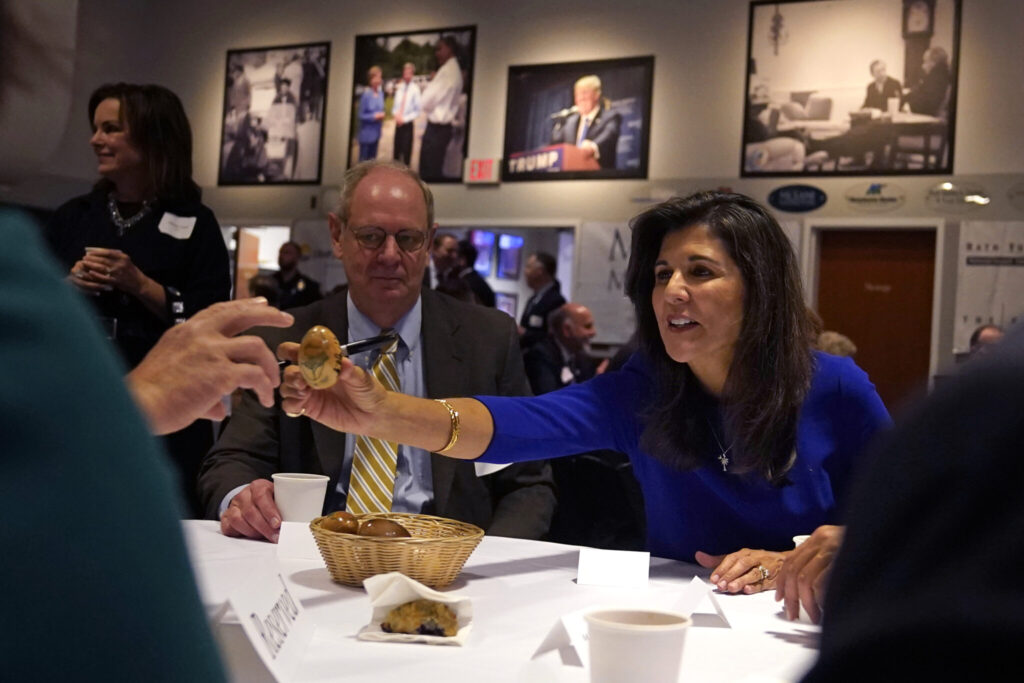 "It's time to put a woman in the White House to lead the charge on some important issues other than our reproductive rights," said Sharon Bolduc, whose husband unsuccessfully challenged Democratic U.S. Sen. Maggie Hassan in New Hampshire last year.
"We as women voters have so much more to offer the American people than just talking about our uteruses," she said in an interview afterward. "Let's get over that already."
Haley on Wednesday again referenced her call in 2015 for the removal of a Confederate battle flag from the South Carolina Statehouse as evidence of her consensus-building ability. She had previously dismissed a Democratic challenger's call for removal of the flag, calling it a stunt. But Haley later sought its removal after the racist killings of nine Black churchgoers in Charleston, South Carolina, by a white supremacist.
"It starts at the top, when you go and you govern or lead, without judgment of your people," Haley said. "But with getting them to see the best of themselves to go to a better place, that's the key."