Nvidia Corp (NVDA.O) was the most traded stock by retail investors, J.P.Morgan data showed on Thursday, as the chip designer inched closer to a $1 trillion market capitalization following a stellar forecast. The company's outlook indicated that Wall Street has yet to price in the game-changing potential of artificial intelligence spending. The Associated Press has the story:
Nvidia stuns markets, signals AI reshaping Tech
Newslooks- WASHINGTON (AP)
Shares of Nvidia, already one of the world's most valuable companies, skyrocketed Thursday after the chipmaker forecast a huge jump in revenue, signaling how vastly the broadening use of artificial intelligence could reshape the tech sector.
The California company is close to joining the exclusive club of $1 trillion companies like Alphabet, Apple and Microsoft, after shares jumped 25% in early trading.
Late Wednesday the maker of graphics chips for gaming and artificial intelligence reported a quarterly profit of more than $2 billion and revenue of $7 billion, both exceeding Wall Street expectations.
Yet its projections for sales of $11 billion this quarter is what caught Wall Street off guard. It's a 64% jump from last year during the same period, and well above the $7.2 billion industry analysts were forecasting.
"It looks like the new gold rush is upon us, and NVIDIA is selling all the picks and shovels," Susquehanna Financial Group's Christopher Rolland and Matt Myers wrote Thursday.
Chipmakers around the globe were pulled along. Shares of Taiwan Semiconductor rose 3.5%, while South Korea's SK Hynix gained 5%. ASML based in the Netherlands added 4.8%.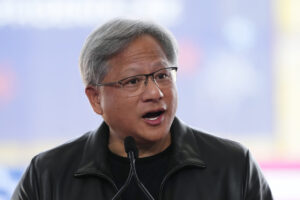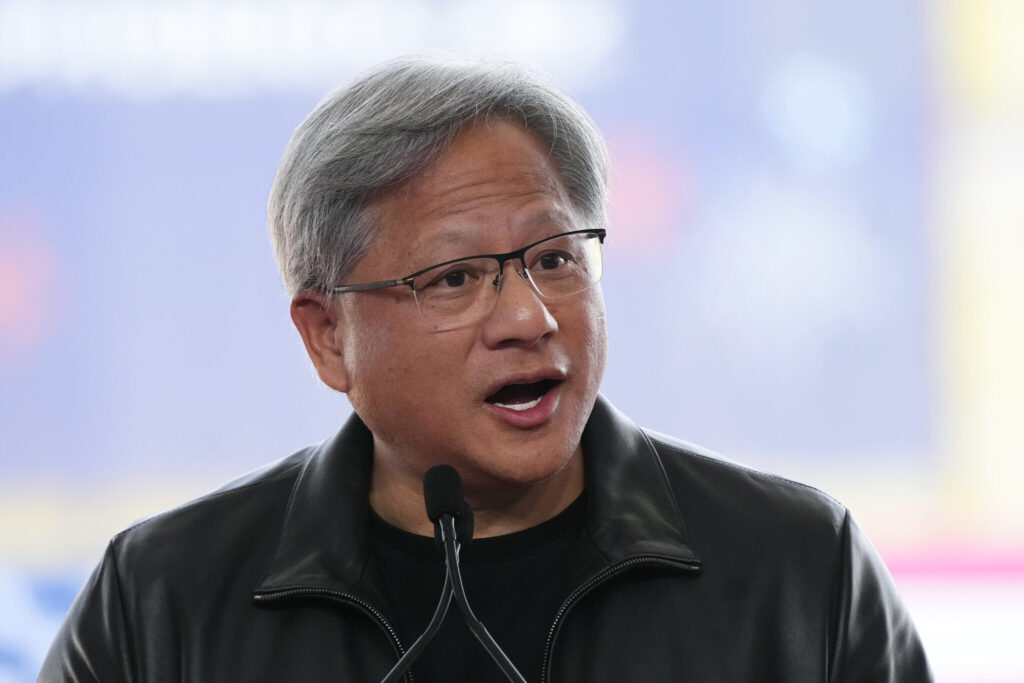 Nvidia founder and CEO of Jensen Huang said the world's data centers are in need of a makeover given the transformation that will come with AI technology.
"The world's $1 trillion data center is nearly populated entirely by CPUs today," Huang said. "And $1 trillion, $250 billion a year, it's growing of course but over the last four years, call it $1 trillion worth of infrastructure installed, and it's all completely based on CPUs and dumb NICs. It's basically unaccelerated."
Analysts say Nvidia could be an early look at how AI may reshape the tech sector.
"Last night Nvidia gave jaw dropping robust guidance that will be heard around the world and shows the historical demand for AI happening now in the enterprise and consumer landscape," Wedbush's Dan Ives wrote. "For any investor calling this an AI bubble… we would point them to this Nvidia quarter and especially guidance which cements our bullish thesis around AI and speaks to the 4th Industrial Revolution now on the doorstep with AI."