Follow all updates on former President Donald Trump, who announced on social media that he's been summoned to appear in court Tuesday afternoon in Miami. He said he has been indicted on charges of mishandling classified documents at his Florida estate. The Justice Department did not immediately publicly confirm the indictment. What to know, according to the Associated Press:
Trump classified docs indictment. What to know
Newslooks- MIAMI (AP)
EXTRA SECURITY, MEDIA AT MIAMI COURTHOUSE
A few extra security guards and a dozen media tents were the only signs of anything out of the ordinary Friday outside the Wilkie D. Ferguson federal courthouse in Miami as the world awaited details of the criminal indictment against Trump.
Towering palm trees line the breezeway where criminal defendants normally walk on their way into the sleek, high-rise courthouse.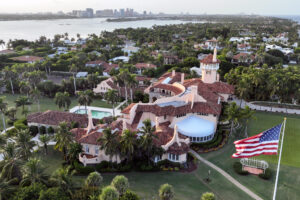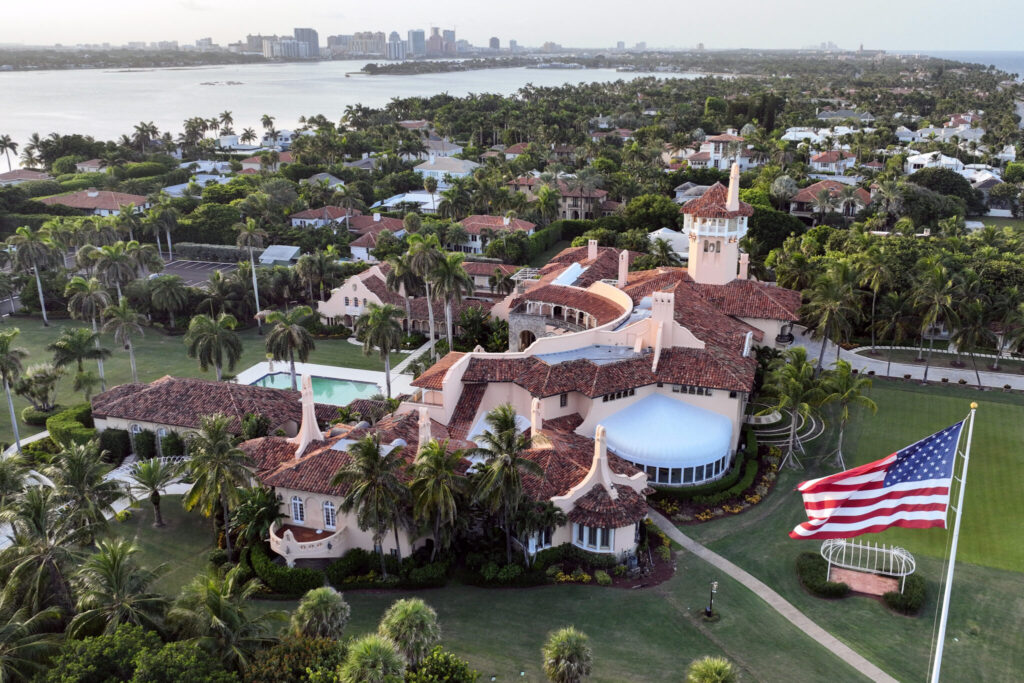 But it remains unclear whether the former president — if he arrives here to be charged — will run into the pack of a few dozen journalists stationed just beyond the outdoor walkway or be allowed to enter the secure building through a garage normally reserved for judges.
___
ALL QUIET AT DEPARTMENT OF JUSTICE HEADQUARTERS
Attorney General Merrick Garland is believed to have arrived at his office at Department of Justice headquarters in Washington — but avoided a crush of media waiting to see if there's an indication when the indictment against Trump will be unsealed.
Garland arrived out of view of cameras and the Justice Department remained publicly silent Friday morning. The scene was similar throughout the night Thursday, even amid the political storm unleashed by news of the indictment.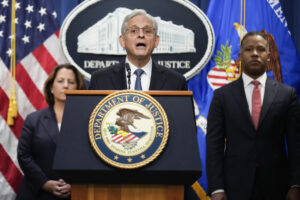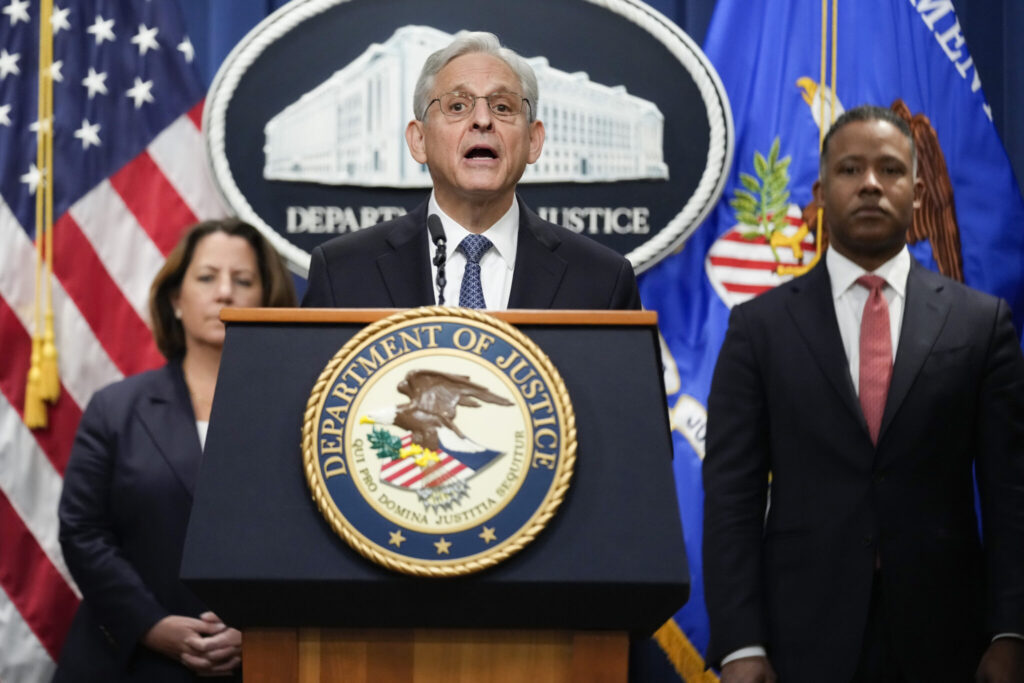 ___
TRUMP'S LAWYER SAYS HE'LL SHOW UP IN COURT
Trump's attorney says the former president will appear in court next week.
"He will appear in court on Tuesday, no doubt," attorney James Trusty told NBC's "Today" show Friday morning. "He's not afraid of this thing. It's a ridiculous criminalization of a noncriminal dispute, so he'll be there."
Trusty called the indictment an "overreach," saying that something that wasn't criminal for previous presidents has been "weaponized" by the Department of Justice.
And he says Trump is resilient.
"He was upset for the country, but in terms of him, he's a fighter and he's gonna come out swinging and he'll be fine," Trusty said.
Trusty told ABC's "Good Morning America" that the special counsel was "hell bent" on criminalizing something that lacks a criminal basis under the Presidential Records Act, putting "a stamp of reality on something that really is unreal."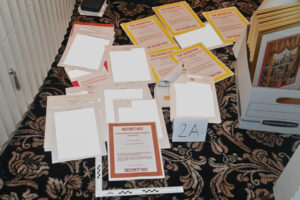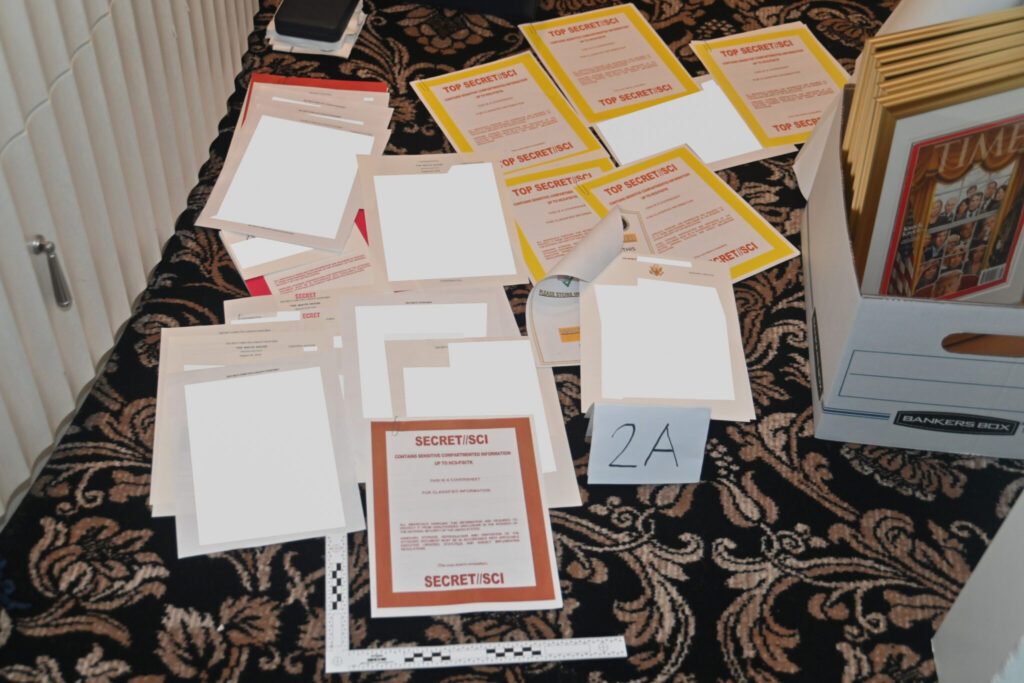 ___
DEMOCRATS SAY INDICTMENT SHOWS TRUMP ISN'T ABOVE THE LAW
While Republicans accuse the federal government of political persecution, House Democrats say Trump's indictment is an affirmation of America's justice system.
"For four years, he acted like he was above the law. But he should be treated like any other lawbreaker. And today, he has been," tweeted Rep. Adam Schiff of California, who rose to national prominence as the lead prosecutor in Trump's first impeachment trial.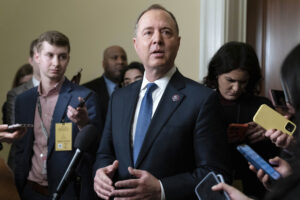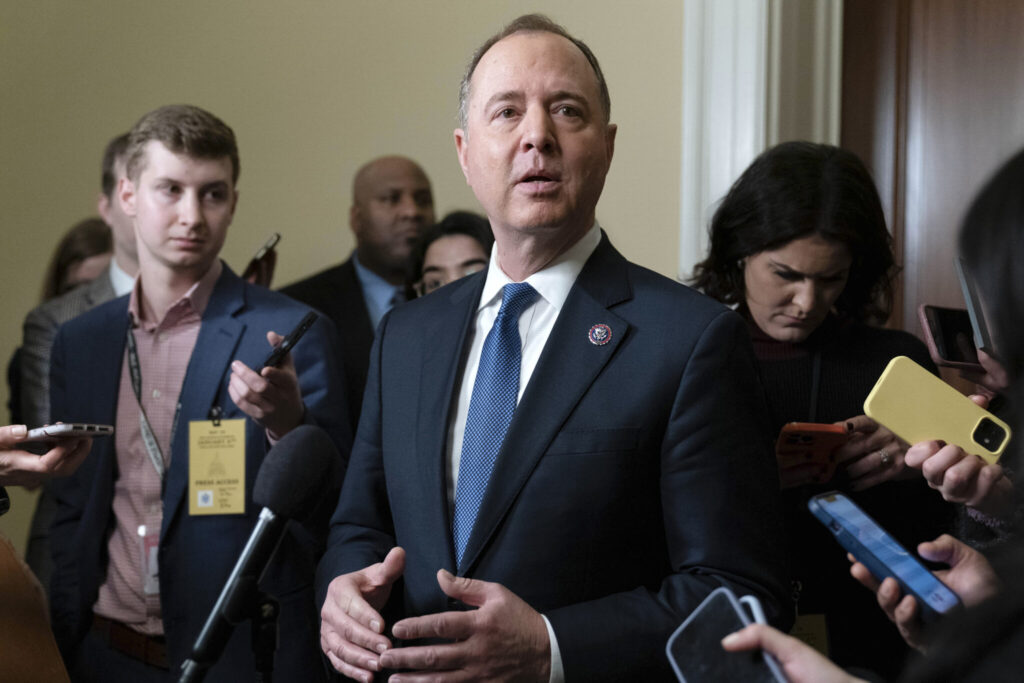 "Today's federal grand jury indictment tells us that former President Donald Trump put our national security in grave danger as he pursued yet another lawless personal agenda by pilfering and hoarding government documents," said a statement from Rep. Jamie Raskin of Maryland, who was House manager for Trump's second impeachment and is the ranking member of the Committee on Oversight and Accountability.
He accused Republicans of "trying to divide the country and undercut our legal system."
"He will have his day in court, in Miami and Manhattan and Atlanta too if it comes to it," tweeted Rep. Jerry Nadler of New York, also referencing a New York indictment in a hush money case and an investigation in Georgia. "But I am grateful to live in a nation where no man is above the law."
___
DESANTIS SAYS HIS RIVAL IS VICTIM OF POLITICAL 'WEAPONIZATION'
Florida Gov. Ron DeSantis is condemning the indictment of Trump, his chief rival for the Republican presidential nomination, as a political hatchet job.
"The weaponization of federal law enforcement represents a mortal threat to a free society. We have for years witnessed an uneven application of the law depending upon political affiliation," DeSantis tweeted.
"Why so zealous in pursuing Trump yet so passive about Hillary or Hunter?" he adds.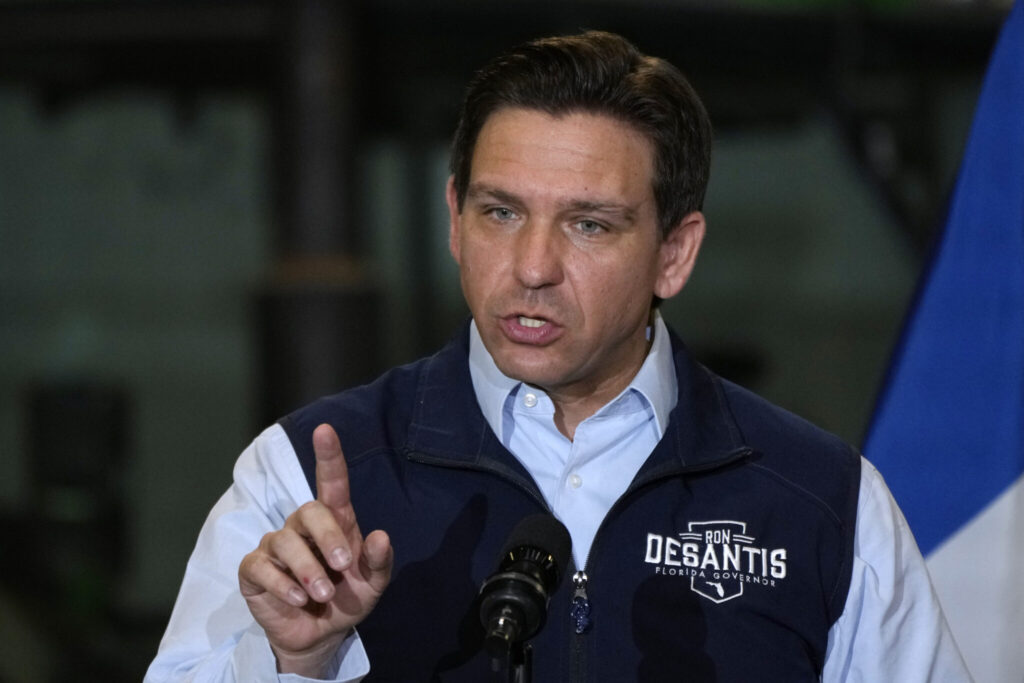 DeSantis also promised to end what he called political bias and to "bring accountability" to the Department of Justice if elected.
Other high-ranking Republicans have used similar language in their responses to the indictment, which they are portraying as political persecution.
____
MCCARTHY SAYS INDICTMENT IS 'UNCONSCIONABLE'
House Speaker Kevin McCarthy tweeted that "it is unconscionable for a President to indict the leading candidate opposing him."
The Republican added, "I, and every American who believes in the rule of law, stand with President Trump against this grave injustice."
McCarthy said the House GOP "will hold this brazen weaponization of power accountable."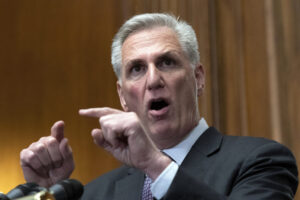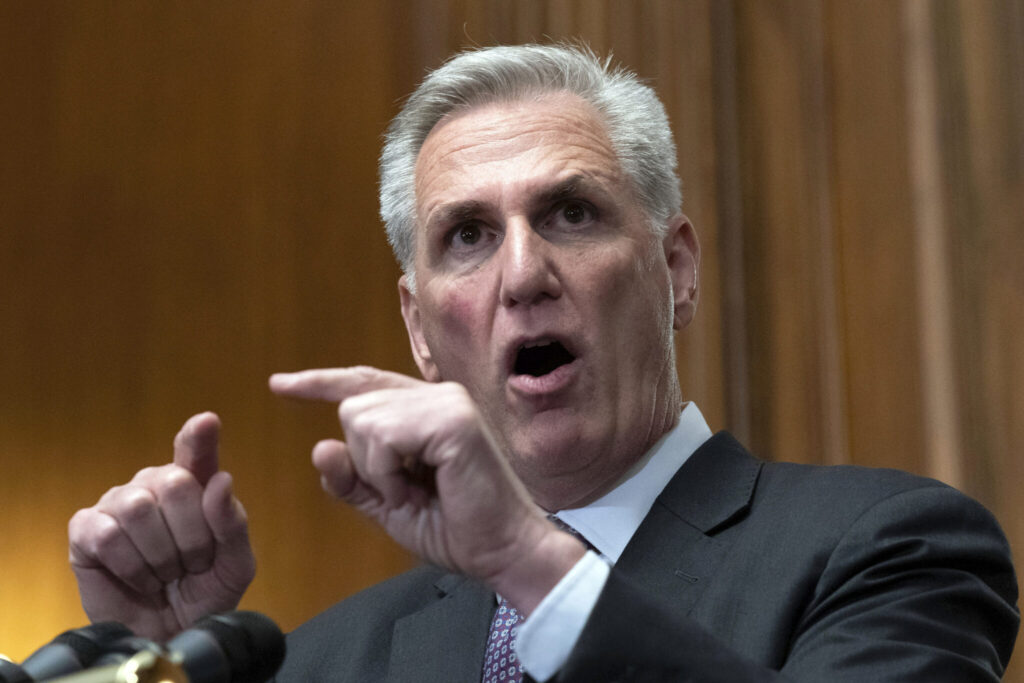 House Majority Leader Steve Scalise, meanwhile, said the indictment was a "sham" and "the continuation of the endless political persecution of Donald Trump."
"Let's be clear about what's happening: Joe Biden is weaponizing his Department of Justice against his own political rival," Scalise tweeted.
___
FEDERAL AGENTS HEADED TO MIAMI
The Justice Department and Homeland Security are sending additional federal agents to Miami ahead of Trump's expected court appearance in the coming days, a person familiar with the matter told the AP. The person spoke on condition of anonymity in order to discuss the sensitive security plans.
Trump said he is due in court Tuesday afternoon there.
Meanwhile, the Department of Justice headquarters in Washington were quiet late Thursday, with few people in the hallways and no public sign of Attorney General Merrick Garland.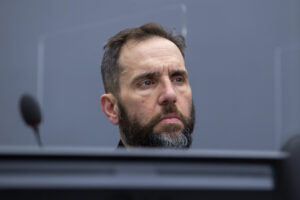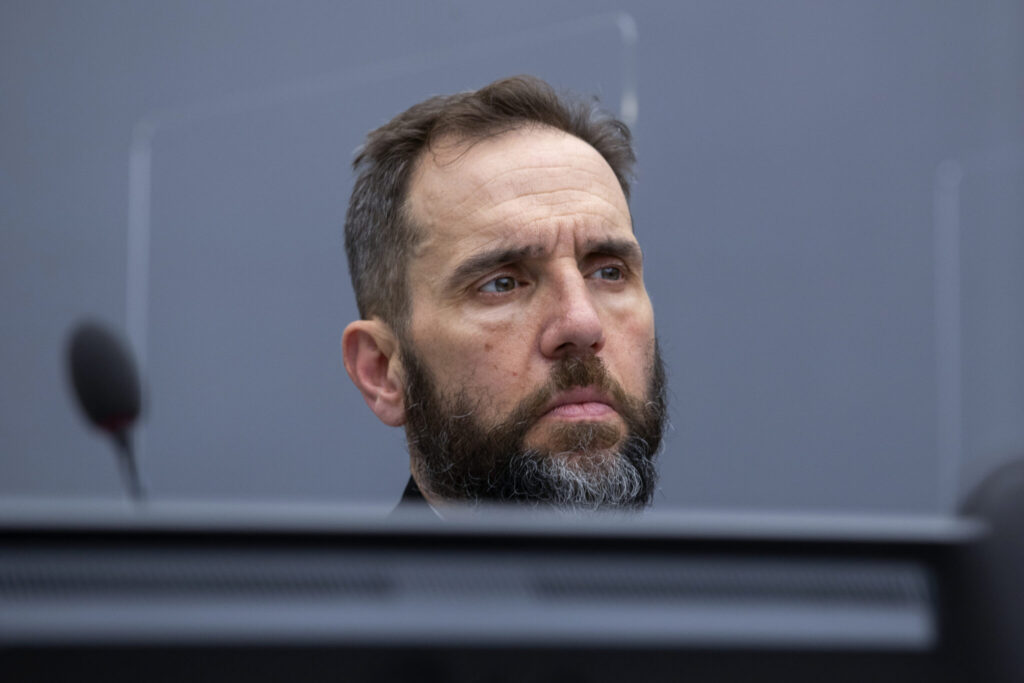 ___
TRUMP ALLIES DENOUNCE INDICTMENT
Supporters of former President Donald Trump reacted with anger Thursday to the news of the federal indictment and criticized the Biden administration. The White House declined to comment and referred questions to the Department of Justice.
"The Biden Regime, which is realizing they can't beat or cheat their way to another victory, has taken the unprecedented step to indict President Trump," said Karoline Leavitt, a spokesperson for Make America Great Again Inc., a super PAC backing Trump's bid for a return to the White House.
A White House official said it had no foreknowledge of the indictment and learned of it from news reports.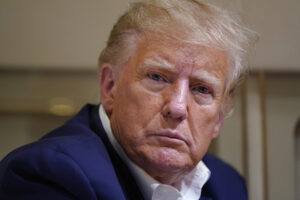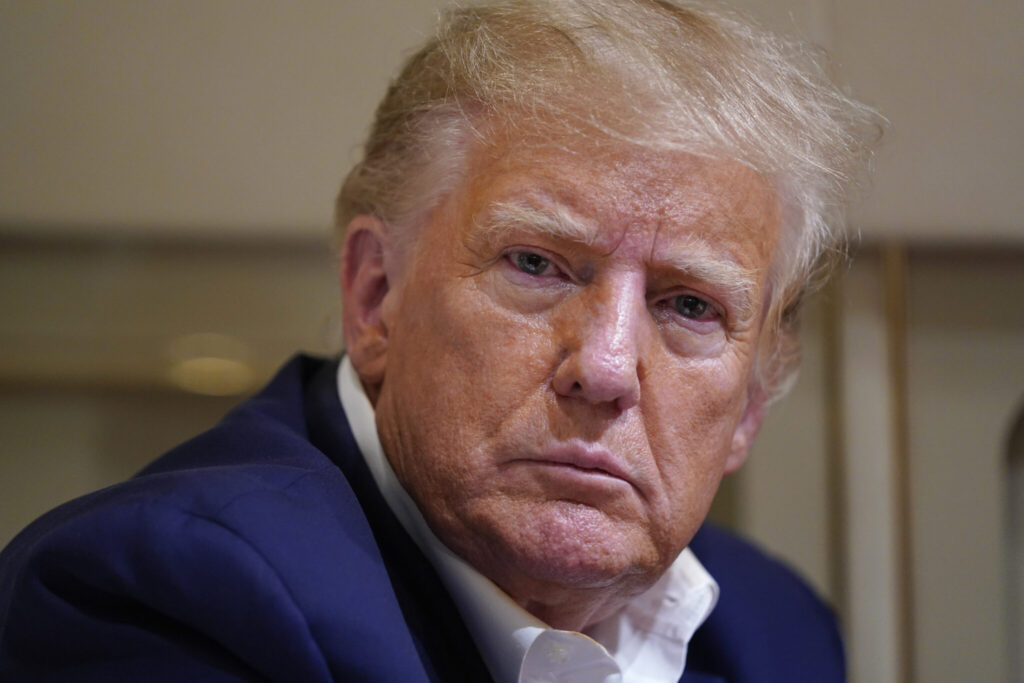 In an interview Thursday night on Fox News, Sen. Tim Scott said he felt the justice system's "scales are weighted" based on politics.
"In America, every single person is presumed innocent, not guilty," Scott said, decrying "the weaponization of the Department of Justice against the former president."
Scott said he had not spoken to Trump and would "continue to pray for our nation and continue to pray that justice prevails."
___
AP SOURCES CONFIRM INDICTMENT
Two people familiar with the matter who were not authorized to discuss it publicly said Trump's team had been informed that he's been indicted on seven counts and that prosecutors had contacted lawyers to advise them of the indictment shortly before Trump announced it himself on his Truth Social platform.
"This is indeed a DARK DAY for the United States of America," Trump posted. "We are a Country in serious and rapid Decline, but together we will Make America Great Again!"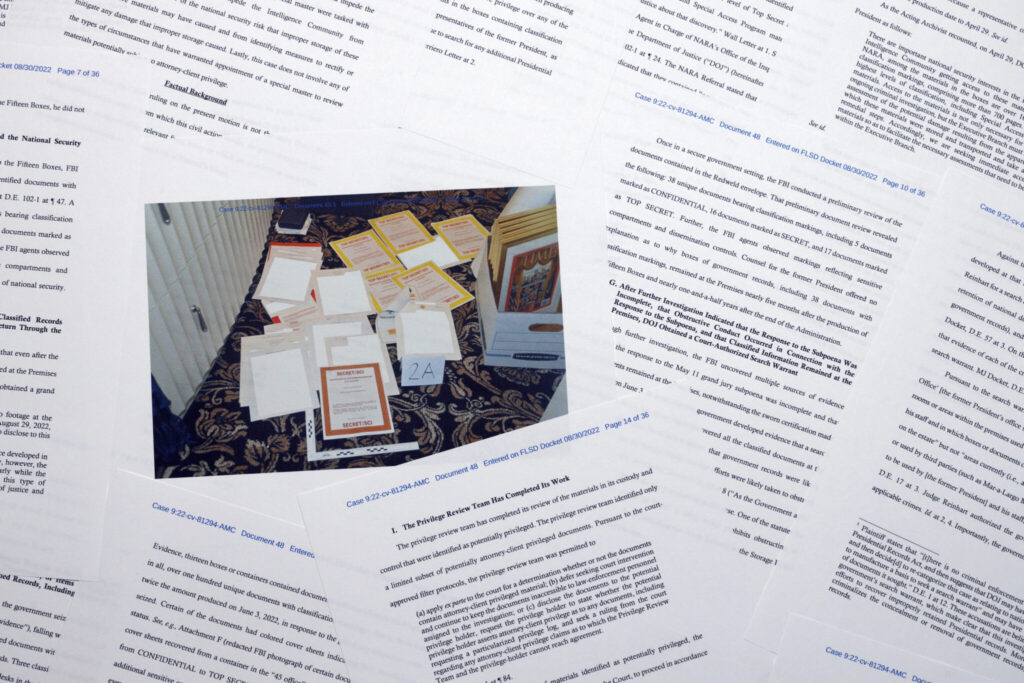 Within 20 minutes of his announcement, Trump, who said he was due in court Tuesday afternoon in Miami, had begun fundraising off it for his 2024 presidential campaign.
Prosecutors have said that Trump took roughly 300 classified documents to Mar-a-Lago after leaving the White House, including some 100 that were seized by the FBI last August in a search of the home that underscored the gravity of the Justice Department's investigation.
—-
Other developments:
— Trump faces a string of inquiries in various states and venues as he campaigns for a return to the White House
— Trump's case differs from those of other politicians known to have been in possession of classified documents
— Signs that Trump could face criminal charges began to pile up this month
— Who is Jack Smith, the special counsel probing Trump's role in the retention of classified documents and efforts to overturn the 2020 election?
— In spite of legal woes and a crowded GOP field, Trump has remained Republicans' frontrunner for 2024