Donald Trump's Republican rivals will face off on Wednesday at their second presidential primary debate, with everyone on stage hoping for a breakout moment that could change the trajectory of the lopsided primary contest dominated by the former president.
The Associated Press has the story:
Trump's rivals seek breakout moment at GOP 2nd debate
Newslooks- SIMI VALLEY, California, (AP)
Donald Trump's Republican rivals will face off on Wednesday at their second presidential primary debate, with everyone on stage hoping for a breakout moment that could change the trajectory of the lopsided primary contest dominated by the former president.
Seven Republican candidates – but not frontrunner Trump – will be on stage for the debate that begins at 9 p.m. ET (0100 GMT on Thursday) at the Ronald Reagan Presidential Foundation & Institute in Simi Valley, California.
The candidates are vying with Trump to become their party's nominee to face President Joe Biden, the presumptive Democratic Party nominee, in the November 2024 election.
Trump, who leads his nearest rival for the nomination by 37 percentage points, according to the most recent poll, is shunning the debate, as he did the first one in Wisconsin last month.
Instead, Trump plans to give a speech at 8 p.m. ET to workers in Detroit, inserting himself into a national dispute between striking workers and the country's leading automakers a day after Biden joined a union picket line.
Trump has made serious inroads with unionized automotive workers, though many workers remain wary. One video released by the United Auto Workers union on Wednesday juxtaposed pledges Trump made in 2017 to bring back blue-collar jobs with the plant closures that occurred under his watch as president.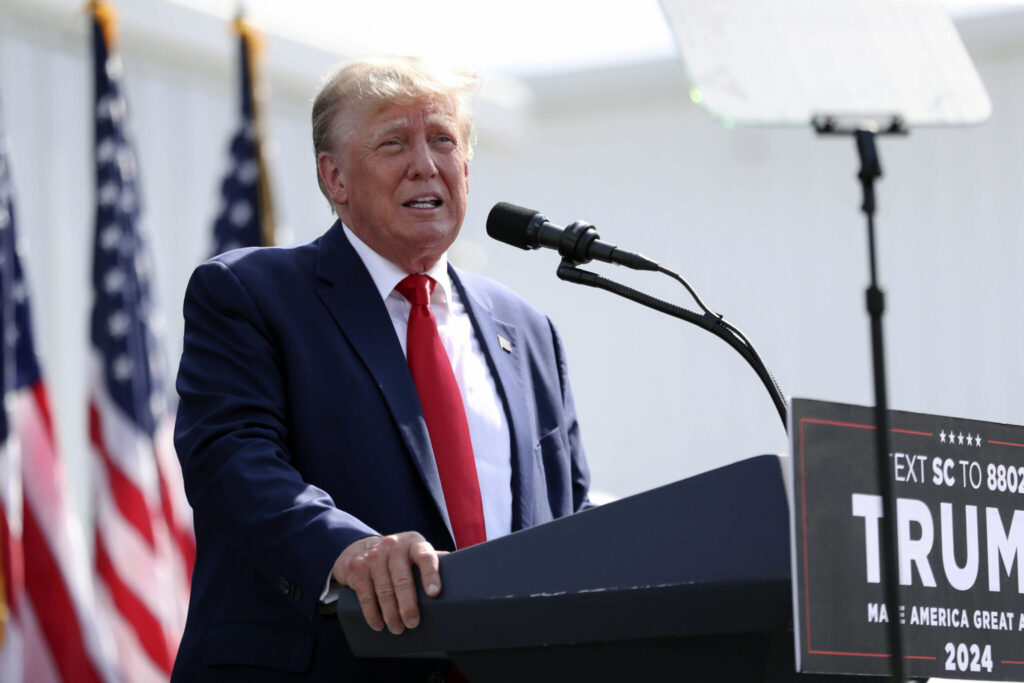 Trump's Republican rivals need to change the trajectory with less than four months until voting begins in Iowa, which holds the first Republican nominating contest, strategists say.
"None of the polling looks good for anybody else and time is running out," said John Feehery, a Republican strategist unaffiliated with any of the candidates.
"The issue now is Trump's seeming inevitability… One of these candidates has to make the case that they are best situated to upset Trump in one of the early states, including Iowa."
The Republican National Committee, which organizes the debates, has picked the Fox Business Network to host the event, alongside Univision, the U.S.-based Spanish-language TV channel, and Rumble, an online video platform popular with conservatives.
Stuart Varney, a Fox Business Network anchor and one of the debate moderators, said the candidates will be questioned on a range of issues, including immigration, inflation, crime and foreign policy.
'MAKE-OR-BREAK' FOR DESANTIS
Mary Anna Mancuso, a Florida-based Republican strategist, said the prime-time debates – another is planned for November – are rare occasions for candidates to make their case to a national audience, including voters in crucial early nominating states such as Iowa, New Hampshire and South Carolina.
Mancuso said Wednesday's debate was especially important for Florida Governor Ron DeSantis. She called it potentially "make-or-break" for his candidacy.
DeSantis, 45, who was seen in January as the most likely candidate to topple Trump, has faced sinking poll numbers and two staff shake-ups.
The Florida governor made his name nationally by opposing many U.S. government policies to prevent the spread of COVID-19. He has since become a leading figure fighting what he argues are overly progressive policies favored by educators and corporations.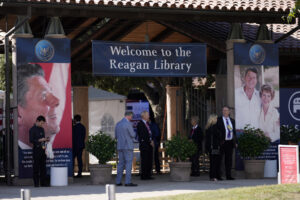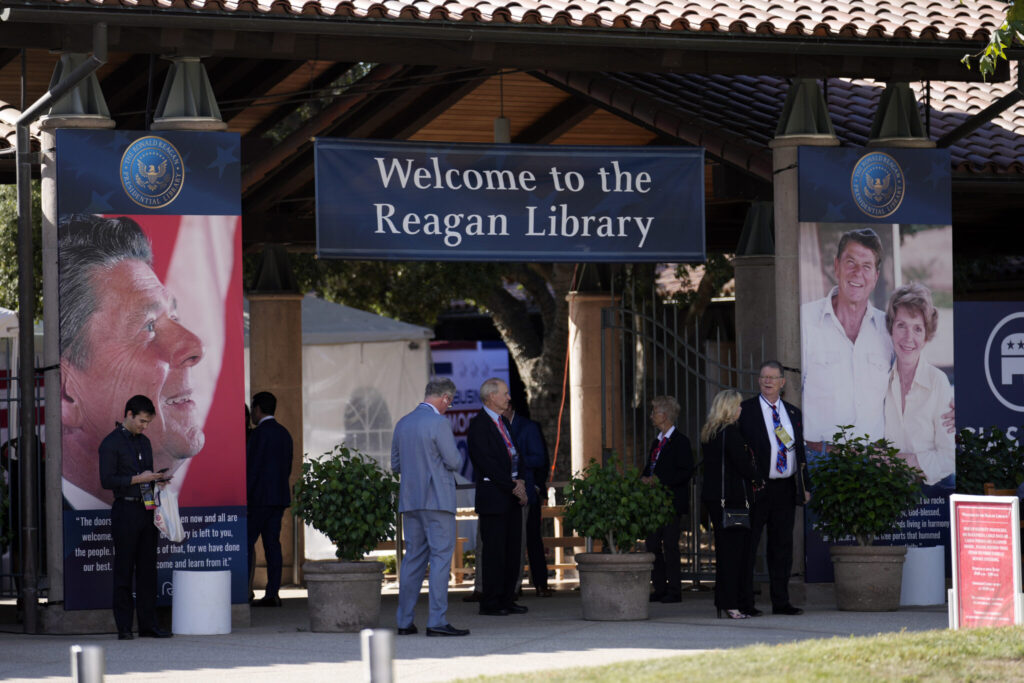 Trump himself, 77, faces myriad legal problems, having been indicted in criminal cases four times this year, but his opinion poll lead in the primary race has only grown.
In the first debate, on Aug. 23, DeSantis gave a steady, but not flashy, performance. Former South Carolina Governor Nikki Haley, biotech investor Vivek Ramaswamy and former Vice President Mike Pence all had strong outings, but failed to cut into Trump's lead.
Haley did manage to close the gap with DeSantis for second place, particularly in some crucial states. Donors weighing where to put their money will be looking at whether she can duplicate that performance on Wednesday night.
All four candidates will be on stage again, along with Senator Tim Scott of South Carolina, former New Jersey Governor Chris Christie and North Dakota Governor Doug Burgum.
To the extent any of the candidates have commented on debate strategy, none have signaled a major tactical shift.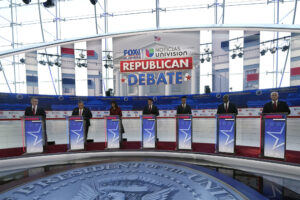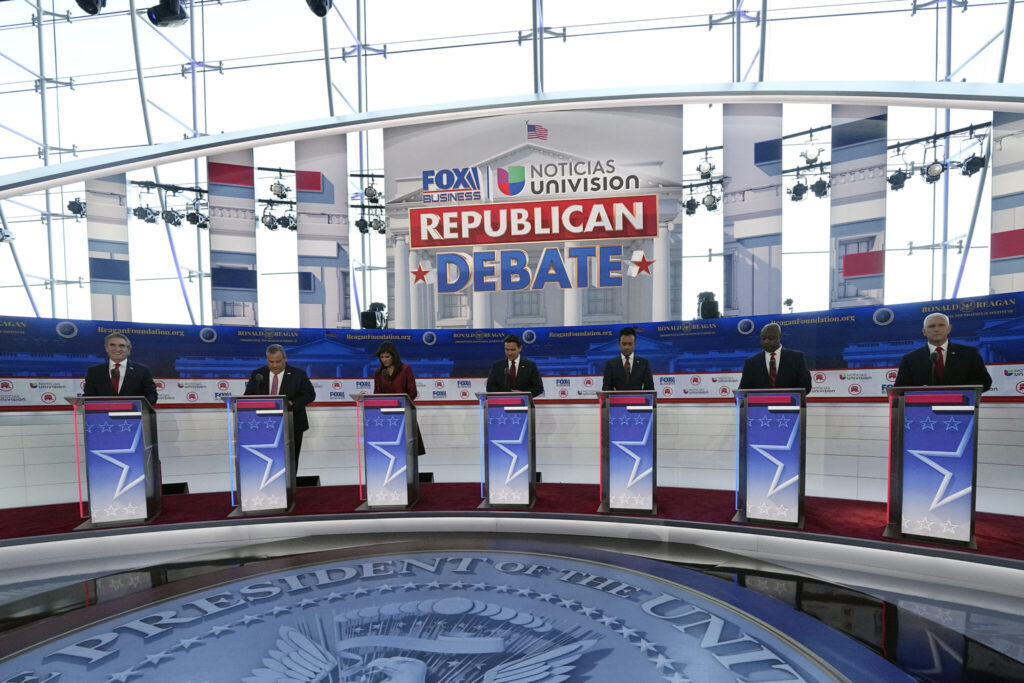 In a Wednesday post on X, the social media platform formerly known as Twitter, Haley wrote that "America deserves a choice, not an echo," a lightly veiled jab at Ramaswamy and DeSantis for standing behind Trump.
DeSantis has generally shied away from criticizing Trump, though his remarks have been more pointed in recent weeks.
In a pre-debate memo to supporters, DeSantis campaign manager James Uthmeier criticized the former president, saying Trump had "admitted his intent to capitulate to Democrats on key issues" if he is elected.
Trump's decision to skip the debate makes it a potential sideshow, said Kyle Kondik, a non-partisan analyst at the University of Virginia Center for Politics.
"It's hard to present it as having great stakes for the race. The guy who has so much support isn't even there," Kondik said.