Brittney Griner returned to the WNBA hardwood on Friday night in Los Angeles to cheers from a raucous crowd that included U.S. Vice President Kamala Harris. The mood was celebratory as Griner, who was released from a Russian penal colony in a high profile prisoner exchange with the U.S. late last year, was embraced by Harris on the court before the game. Griner looked emotional when she was introduced and despite her Phoenix Mercury being the visiting team, saw the crowd erupt when she hit a 17-foot jumper on her first attempt of the contest. The Associated Press has the story:
VP Harris greeted Brittney Griner in her debut
Newslooks- LOS ANGELES (AP)
Brittney Griner stood for the national anthem before her first regular-season WNBA game since being jailed in Russia.
Griner was outspoken for social justice in 2020 and didn't take the court during the pregame anthem. But nearly a year behind bars in Russia changed her.
"I was literally in a cage and could not stand the way I wanted to," she said. "Just being able to hear my national anthem and see my flag, I definitely want to stand."
Griner had 18 points, six rebounds and four blocked shots Friday night for the Phoenix Mercury in a 94-71 loss to the Los Angeles Sparks.
"Not good enough, didn't get the dub," said Griner, who nevertheless couldn't be down in defeat.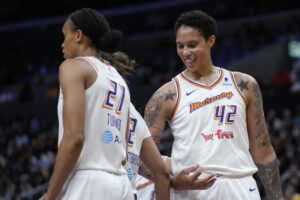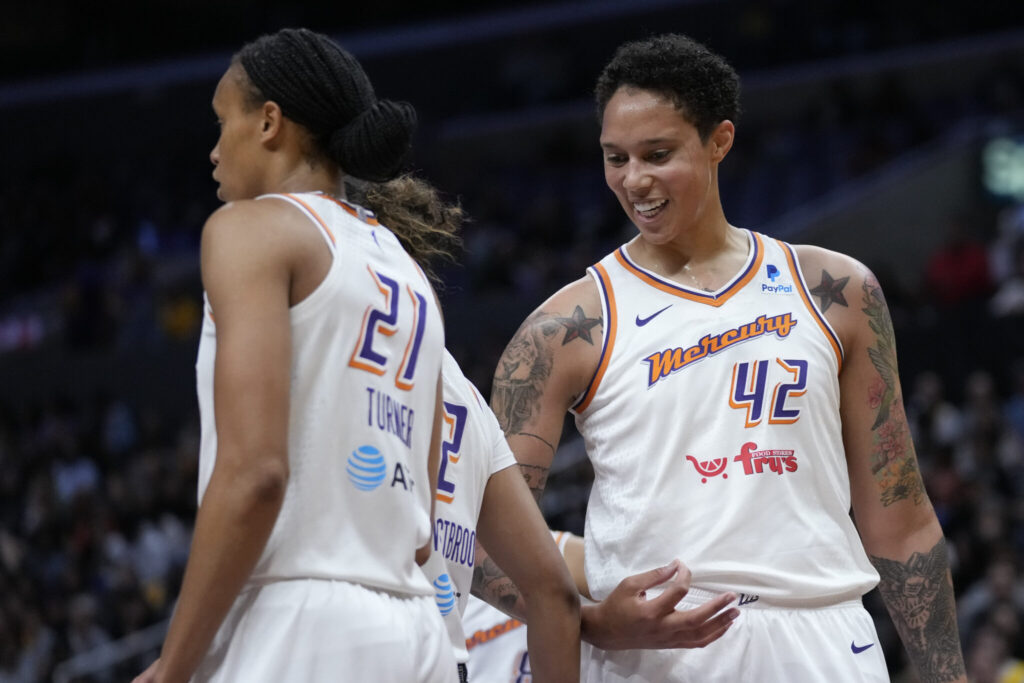 "I appreciate everything a little bit more, all of the small moments, like, 'Oh, I'm so tired I don't want to go to practice today,' that has changed, honestly," she said. "Tomorrow is not guaranteed, you don't know what it's going to look like. I feel a lot older somehow, too."
The 32-year-old center's immediate goal is to play an entire game by the All-Star break in mid-July. She played 25 minutes Friday.
"I hope to be exactly where I want to be," Griner said. "Just getting back to how I was before all this happened."
Griner made an immediate impact against the Sparks. She fired a pass to Moriah Jefferson, who hit a 3-pointer for Phoenix's first basket. Griner grabbed a couple of rebounds and scored twice in helping the Mercury to an early lead.
"How good did she just look? Unbelievable," WNBA commissioner Cathy Engelbert told reporters at halftime.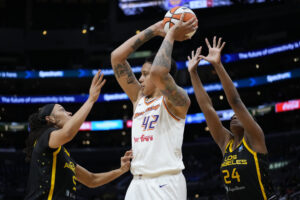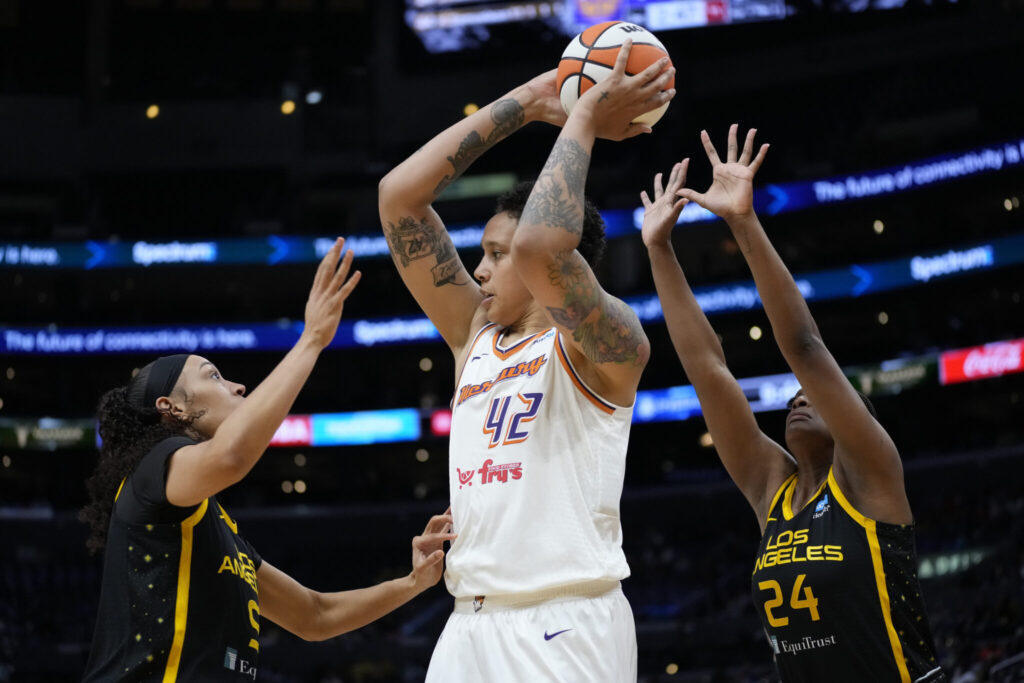 For the first time since last season, Phoenix coach Vanessa Nygaard opened her pregame comments without announcing how many days Griner had been jailed. Griner has been free since December when she was part of a high-profile prisoner swap.
"Until the day we got the news in the morning that she was on her way home, no one thought that it was going to happen," Nygaard said. "We did our jobs probably with less joy than professional athletes do. It was heavy every day."
Not anymore.
"Today is a day of joy," Nygaard said. "An amazing, amazing thing has happened."
Griner and the Mercury were greeted with a standing ovation when they came on court for pregame warmups, although the biggest cheers were reserved for the Sparks.
"Just taking it in but staying focused because at the end of the day I'm at work," Griner said. "Can't get caught up in the moment. Kind of feel it, but put it to the side and feel it a little bit later."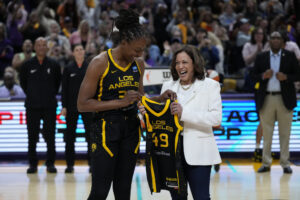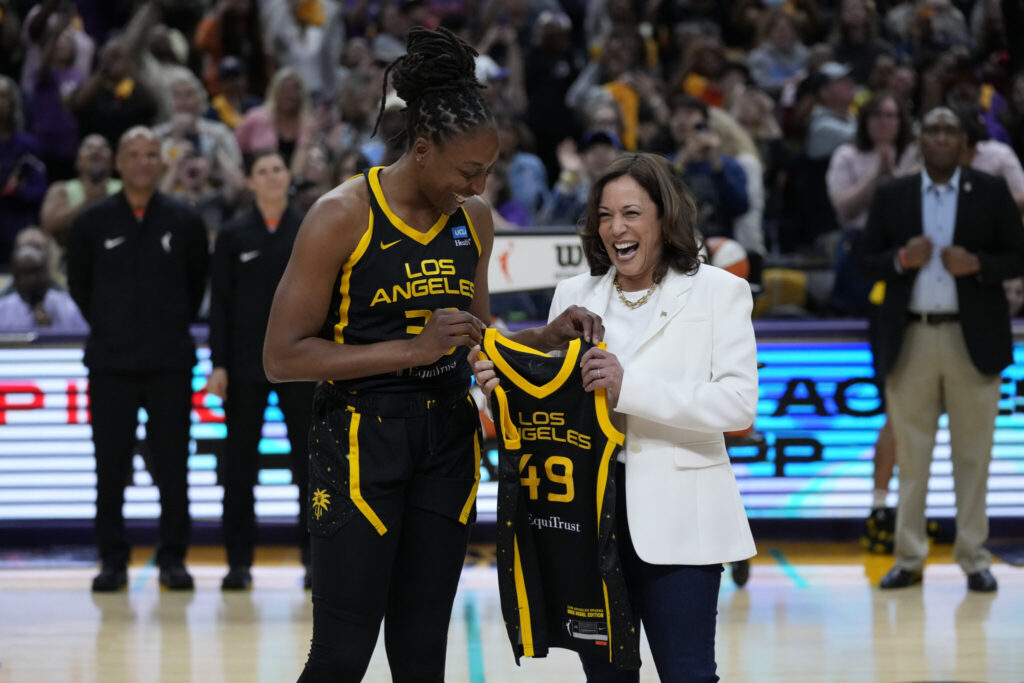 Griner hugged Vice President Kamala Harris and first gentleman Doug Emhoff as they left the court after Harris was presented with a No. 49 Sparks jersey. Earlier, Harris posed for photos in the Mercury's locker room.
"It was nice to be able to see her face-to-face and thank her for everything," Griner said.
She patted her heart and applauded in return during a brief video welcoming her back to the WNBA.
"It was nice to be back on the court for a real game," she said. "The love from the fans when we came out was amazing. I definitely feel it."
Griner scored 10 points in 17 minutes in an exhibition loss to the Sparks last week. It was her first game action since she was arrested at a Moscow airport in February 2022 after Russian authorities said a search of her luggage revealed vape cartridges containing cannabis oil.
"We brought back this Black, gay woman from a Russian jail and America did that because they valued her and she's a female athlete and they valued her," Nygaard said.
"Just to be part of a group that values people at that level, it makes me very proud to be an American. Maybe there's other people that that doesn't make them proud, but for me, I see BG and I see hope and I see the future and I have young children and it makes me really hopeful about our country," the coach said.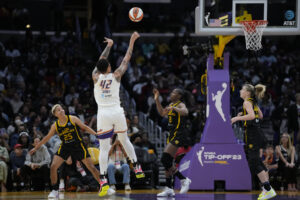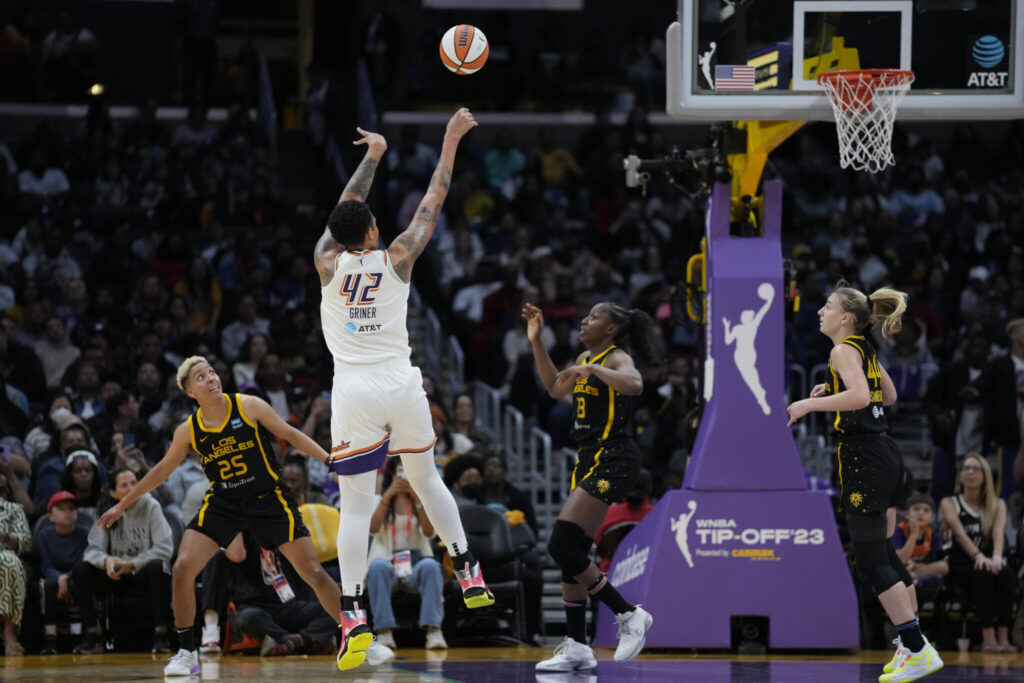 Fans arriving early to Crypto.com Arena wore T-shirts with Griner's name and jersey number on them. The 6-foot-9 Griner stopped to photo-bomb a group of young girls posing courtside before the game.
Billie Jean King and wife Ilana Kloss, who are part-owners of the Sparks, were on hand for the opener, as was Magic Johnson, Pau Gasol, Byron Scott, Robert Horry, Los Angeles Lakers coach Darvin Ham and South Carolina women's coach Dawn Staley.
Since her release, Griner has used her platform to advocate for other Americans being detained abroad. She was already an LGBTQ+ activist since publicly coming out in 2013.
"She stands for so many people, so many different kind of people who can be undervalued in our society," Nygaard said. "She stands with pride and confidence and has never once has shied away from who she is."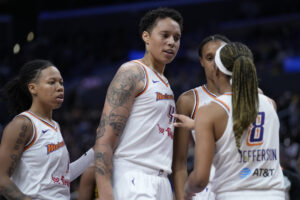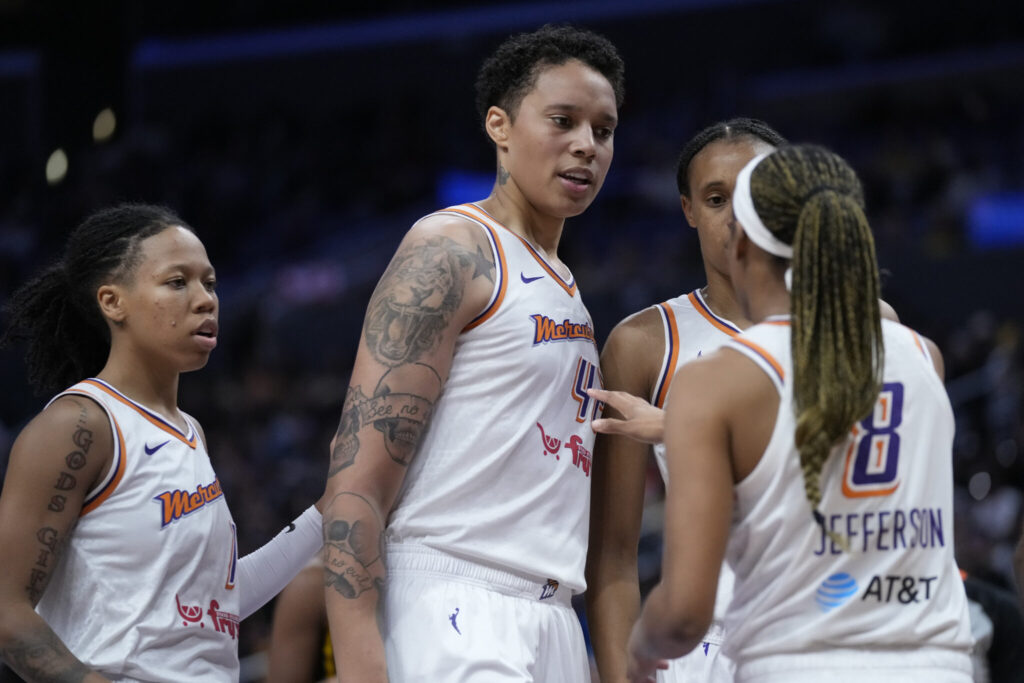 Griner announced in April that she is working with Bring Our Families Home, a campaign formed last year by the family members of American hostages and wrongful detainees held overseas. She said her team has been in contact with the family of Wall Street Journal reporter Evan Gershkovich, who is being detained in Russia on espionage charges.
"She's an amazing person on and off the court," Phoenix teammate Jefferson said. "I think her energy just inspires everybody every single day to show up and be the best version of themselves."