Ahmad Al-Yassin, When hard work turns into a success story
Mr. Ahmad Al-Yasin is a Jordanian businessman and one of the pioneering Arab investors in the stock market sector in the United States of America. His career started from scratch, and after a long journey of diligence and work, he turned into one of the largest businessmen in Texas. In 1994, Ahmad Al-Yasin decided to forge into the world of finance after having many successful ventures. He invested $4 million to hire an ex-CEO of a large financial company and others to partner with him in the venture, which he named Optima Global Financial. Today, Al-Yasin continues the IPO business and only deals with companies that earn mega-profits each month. Optima Global Financial now has offices in various parts of the world. It assists clients with large-scale buyouts, recapitalization, reverse mergers, and private equity funding. With locations all around the world, Optima Global Financial is now in London, Zurich, Hong Kong, Dubai, Jordan, and Brazil. Mr. Ahmad Al-Yasin is a Jordanian American closely linked to his culture of origin, but he has never been late in serving his second homeland, the United States of America.



Newslooks magazine met with Mr. Al-Yasin in his Houston office.

Q.1
We know who Ahmad Al-Yasin is today. Can you tell the readers about the other Ahmad Al-Yasin, that young man who immigrated to the United States to achieve his dreams, and how was that beginning?
A. 
On Dec. 5, 1977, I arrived in the U.S. I came from a small town north of Jordan, where there was no electricity, no running water just a well, and no TV. I was one of 11 children, and my parents don't speak English or read and write. I finished high school there, then moved to the U.S. I rode the donkey on our farm, took cows to the feed every morning. Dad was a farmer, we had land and made our own food, like yogurt from the cows. My parents used to depend on me. When I arrived in the U.S., I had no money except 40 Jordanian dinars that we borrowed, worth just $340. We sold one of our cows to pay for my airline ticket.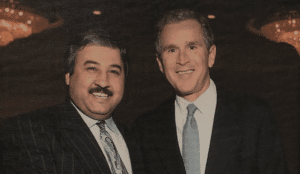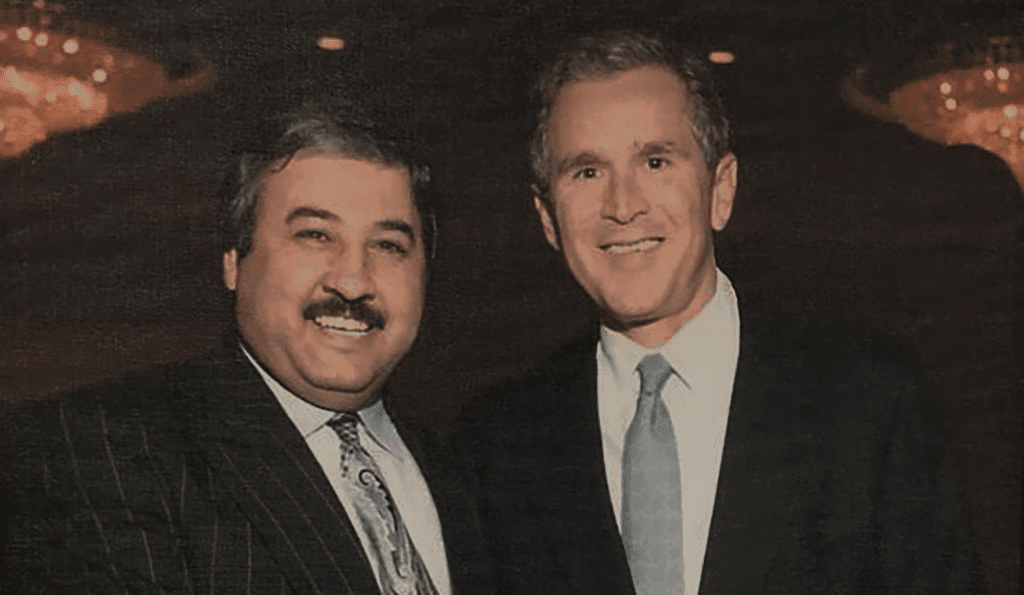 Q. 2
You entered the field of the stock market at an early age, and it is known that this field is fraught with risks. What did you bet on and was luck a factor in your success?
A.
I am a gutsy person. I had no knowledge about stocks. When I got to them, of course, I had knowledge of business in general. I started my own first business eight months after I arrived here, in August of 1978. I met my ex-wife, a Cajun from Louisiana, and I got a partnership with someone in a small sandwich shop. I acquired several businesses, including one of the largest limousine companies in Texas. I owned convenience stores, gas stations — it was good experience, but I worked so many hours a week. I did a study of the top businesses where you can make good money without working hard, so many hours a day and week. Working smart is what makes you the money, not working harder. I found the top businesses were in the health and financial areas. I decided I wanted the top business in the financial business. They were IPOs and venture capital. I had no knowledge at that time even what an IPO was. My mother passed away, after she'd prayed to send me to America and open doors. Because of mom's blessing, and when she died saying these things to me, I have never had any difficulties in my life thanks to God. He directs me and sends the right people to me. I signed a contract for a $4 million business. It's been a blessing ever since, now over 28 years later.

Q. 3
It is known that the financial and business sector is one of the areas most affected by the COVID-19 pandemic and the Russian-Ukrainian war, in addition to the significant rise in gasoline prices. How do you deal with these shocks and what do you advise investors?
A.
I have a lot of investments overseas. A lot of people view those things as negative, but for me as an investor, but the good investors know that it's an opportunity to make a lot of money. For example, look at the stock market. A lot of people need extra cash — you have a lot of bargaining opportunities. I grab the opportunities. Yes, my stock market portfolio is down, a lot of things are down, but at the end of the year it's an opportunity for all investors to make money. Stock market — you lose when you sell, otherwise losses are just on paper. Eventually no matter what, it's going to come back to normal. Opportunity is not for everyone, it's for investors. 

Q. 4
We know that you are an activist in the Arab American community in Texas and that you are one of the largest donors in the Republican Party's campaigns. Do you think about politics and do you think about running for public office?
A.
I've been asked to run. I wouldn't say I'm the largest Republican donor although I am a Republican and contribute, including to the Muslim community as a Muslim. I enjoy being part of the Republican Party. I've been Republican almost all my life in the U.S. I contribute to Republicans because in my opinion, if you're new to this country, you've got to get involved. It's the only way you can be visible and be noticed. You cannot come and demand things, expect people to do things for you. We are American, we work hard, we pay taxes. I ask everyone to get involved. I rejected the offer to be honorary general consul of Jordan in Texas; I'm here to help and will always help my community on a daily basis, but I like to do it on my own, I'm a businessman. I have been asked to run as a Muslim Republican for Congress. I've been involved in my community all my life practically. I support a lot of politicians here. 

Q. 5
You faced financial obstacles in your career, which is normal for an adventurer like you. You lost your building and part of your assets in the early 2000s, but you did not give up and continued the struggle. Tell me about that period and how you received the betrayal of those who stabbed you in the back?
A.
This is how it is with me: In order to be successful, you have to fail, go up and down, go through pain and financial difficulties. Some people are born with a silver plate, they look at business differently. I make the money; money doesn't make me. There were very hard difficulties financially, like anybody else. But the key is I jump higher and higher up. I don't let things get to me and keep me down. If someone took advantage of me, I'll show them that I'll do better. When I lost my building, it was because when the market went down I borrowed against a loan on my building, and I trusted the person. 90 days later, the guy came in and bought me out. We went through a dispute, the guy was from Palestine and he just took advantage. We went to court, and I signed. it was all based on trust, I never thought he would take my building. I didn't let it get to me. With God's blessing and my mom and dad's blessing, I came through stronger. My stockbroker called me and asked me what I was doing, he told me the shares from one of the companies I'd invested in had jumped way up, from 11 cents to $1.73. I had over a million shares. 

Q. 6
On the family side, I learned that you lost your eldest son. I am sorry for this great loss and we wish him to rest in peace. Has your view of life and money changed after this heartbreak? I know this is a difficult question, but it will certainly benefit readers, especially young people who are rising in their life project.
A.
It definitely has changed a lot of my views. I woke up last night at 4 a.m. in the morning, I saw my son in my dream. He was wearing glasses, and I woke up. When I lost my son, it was shocking, it was Wednesday evening, Ramadan, on vacation, we traveled Friday with his girlfriend and went out to dinner. He was my right-hand side of the business. When I got to the office the next day, they told me my son was in the hospital. I said that's impossible. We left the vacation, left Milan for Houston. When my son died, and we went to the cemetery, putting my son down in the grave, that's when I realized money is great, success is good, but it doesn't mean that with them you are going to forget where you come from, forget who you need to help. My son didn't need anything. But I thought you are going to face your God, he's not going to ask you how much money you had, he's going to ask you who you helped. And after I buried my son, I helped a lot of people with kindness. I am humble, down to earth, I deal with the poor before the rich. I treat everybody with respect and dignity, I don't discriminate against anyone. I help the needy, not try to be close to the rich and famous people for financial benefits. Sometimes I admit I've thought of changing my phone number. But I still don't give up. I do it, it's between me and God.

Q. 7
We know that most businessmen and financiers prefer New York City. Why did you choose to stay in Houston and what does Texas mean to you?
A.
Houston has been my home since 1977, almost 45 years. I know a lot of people here, Houston is my town, Texas is my state. Houston has been good to me. The city has been kind and gives me what I want.

Q. 8
If you were young, what are the things you wish you hadn't done?
A.
In my life, I don't know that I can. Knowing my situation, where I come from, there are a lot of things I didn't know about, I didn't do them because I didn't have the knowledge. I didn't do anything bad. I respect the law no matter how much money you have. Respect the homeless, respect the politician as a politician, respect the businessman as a businessman. Experience is so important, and that's when you learn all these things in life. I made a lot of mistakes in my life, but not mistakes that put me in trouble legally. I always wish I was more careful, more cautious with who I trust and do business with. At the end of the day, it's their loss, not your loss. They're going to face God. They have no clear conscience whether it is right or wrong. At the end of the day, I put my head on the pillow clear and peaceful, no hard feelings. 

Q. 9
Many are proud of their university degrees, and some see that life and experience are the greatest schools, what do you think?
A.
Yes, it's good to have a degree, and it's a must, but if you are going to make a bigger life, be successful, you need that experience. If you don't have experience, you're going to have difficulties. Right now we are facing two things in life: experience and social media. You finish from your school, you have your diploma, but you have no experience. When I hire people, first thing I ask is about experience. A woman came to me asking for a job, and when I asked her how much experience she had, she said none, she would learn. I did not hire her. 

Thank you for the time you have given us and I wish you and your companies more success. 
Disclaimer: The views and opinions expressed in this article are those of the authors and do not necessarily reflect the official policy or position of Newslooks.com