Appearing Wednesday on Republican Gov. Ron DeSantis' turf, California Gov. Gavin Newsom decried what he called a backward-looking conservative attempt to reshape education in the U.S. — most notably at progressive institutions like New College of Florida. The Associated Press has the story:
Newsom decries DeSantis' education strategy
Newslooks- SARASOTA, Fla. (AP)
California Gov. Gavin Newsom, a Democrat, met with more than a dozen students and faculty at a library near the New College campus in Sarasota, Florida, as part of a tour of Republican-led states — aimed at boosting fellow Democrats and criticizing what he said are GOP efforts to ban abortion, tread on LGBTQ+ rights, weaken civil and voting rights, and marginalize people of color.
"I can't believe what you're dealing with. It's just an unbelievable assault," Newsom said. "It's common with everything he's doing, bullying and intimidating vulnerable communities. Weakness, Ron DeSantis, weakness masquerading as strength across the board."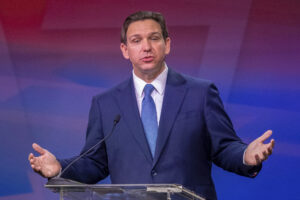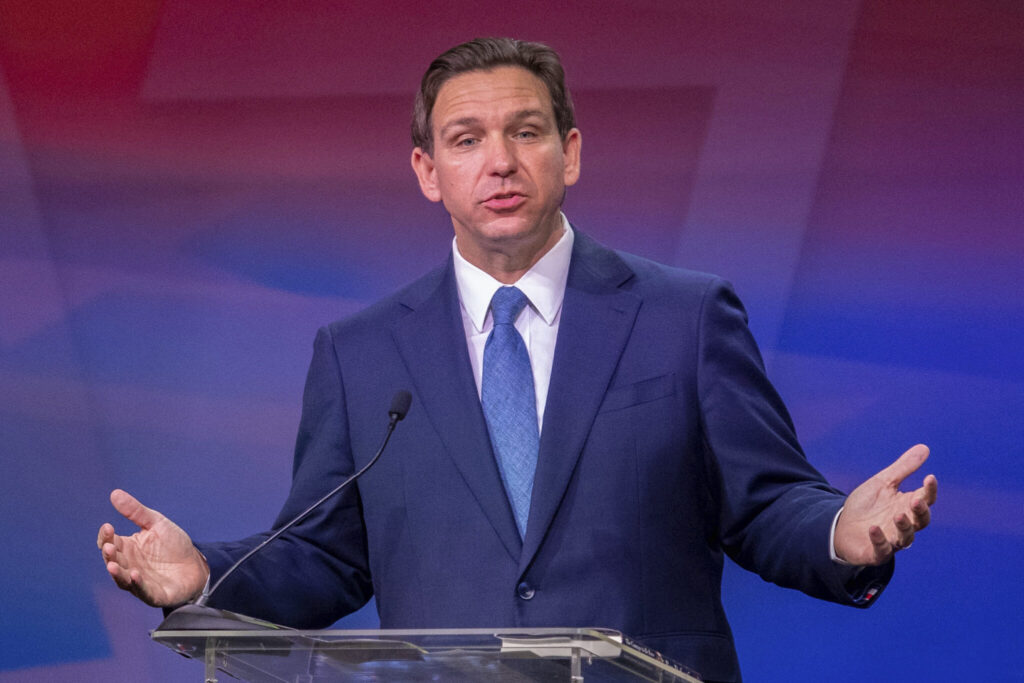 Newsom has frequently criticized DeSantis, even using some unspent campaign money for a television ad in Florida that urged people to move to California "where we still believe in freedom." DeSantis once quipped that the carefully coiffed Newsom's "hair gel is interfering with his brain function."
Newsom also is mentioned as a potential future Democratic presidential candidate, a campaign that DeSantis is widely expected to launch on the GOP side for 2024 in the coming months. Newsom has said he won't run for president in 2024, when President Joe Biden will seek reelection. His term for governor ends in 2026, so he could run for president in 2028.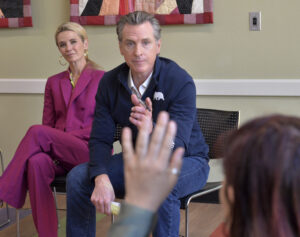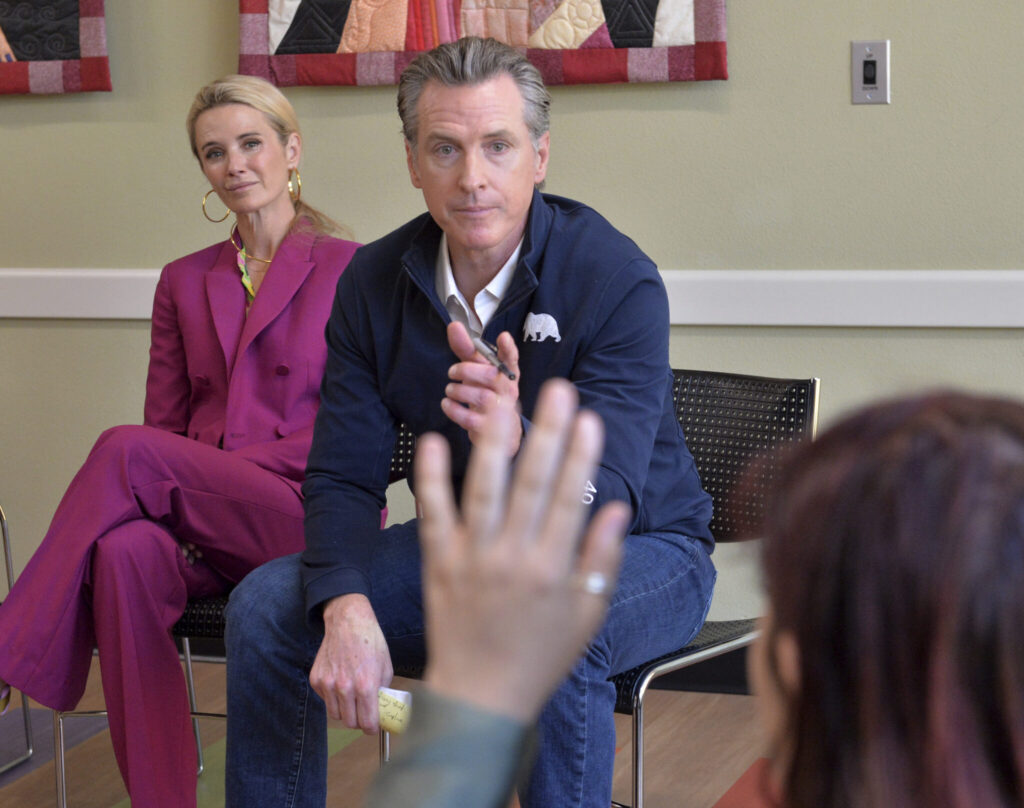 Asked to comment on Wednesday's visit, DeSantis spokesperson Bryan Griffin said in an email that the Florida governor "is focused on getting Florida's public institutions of higher learning refocused on academics and truth. Stunts from political opponents don't matter and have no effect."
The overhaul of New College, a liberal arts school with about 700 students, began when DeSantis appointed a conservative majority to its board of trustees. The board replaced the school president with a DeSantis ally, former GOP House Speaker Richard Corcoran, and abolished its small office focused on diversity, equity and inclusion programs. More changes are expected to come.
This is part of a broader effort led by DeSantis and a compliant GOP-majority Legislature to reshape education at various levels, including getting rid of university DEI programs, encouraging private school attendance by offering taxpayer-funded vouchers regardless of income, restricting and banning books, and limiting discussion of LGBTQ+ topics in class. DeSantis lumps all these and other issues into a category he has labeled "woke" that must be eliminated in what he calls the "Free State of Florida."
This week, Newsom and his family also visited a Black church in Mississippi, met with Democrats in Arkansas and toured a museum on the history of slavery in Alabama. The tour is part of Newsom's goal to reshape the Democratic party's message, which he believes has been too soft on Republicans in recent years.
"There's a word: freedom. Not coercion. Academic freedom," Newsom said. "I'm just trying to wake people up."
The New College students and faculty who attended the meeting talked about the fear and anxiety many feel about the conservative changes. Mitzi Escalante, a second-year sociology and psychology major, said students never expected to become part of a fierce political debate that would directly affect them.
"It just feels like we are a pawn," Escalante said. "I just don't think education is something we should be weaponizing. It's just like a personal attack."
Walter Gilbert, former head of the Sarasota NAACP branch, urged the students to continue protesting and making their voices heard as the trustees attempt to push through more changes.
"Sometimes you've got to go out there and hold a protest sign," said Gilbert, noting how long it took for Black people in once-segregated Sarasota to have the right to access local beaches. "You've got to do it."