In surprise vote, Texas House committee advances bill to raise minimum age to buy assault rifles. The bill was passed out of committee 8-5. Two Republicans, Reps. Sam Harless of Spring and Justin Holland of Rockwall voted with Democrats on the measure. Rep. Harless said lawmakers did the right thing. "All of our kids have a right to go to school and they have the right to feel safe and so do their parents. The shootings right now are just happening too often," Harless said. "So, if this is something we can do to stop it, then I'm all for it." The associated Press has the story:
Rare TX GOP votes for Gun bill after shootings
Newslooks- AUSTIN, Texas (AP)
As a Republican in the Texas Capitol, Sam Harless turned heads: He voted in favor of a stricter gun law. In doing so, the Houston state representative helped advance a bill in the Texas House that would raise the purchase age for AR-style rifles like the kind used by an 18-year-old gunman in Uvalde last year. The vote came just days after eight people at an outdoor mall in Dallas were killed by a 33-year-old gunman, who President Biden said used an AR-15-style weapon.
The bill has little chance of becoming law, but that did not stop powerful gun rights groups Tuesday from springing into action to stamp out the rare glimpse of momentum for supporters of tougher restrictions as mass killings continue to spread anguish in Texas.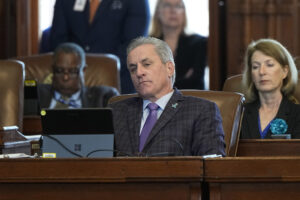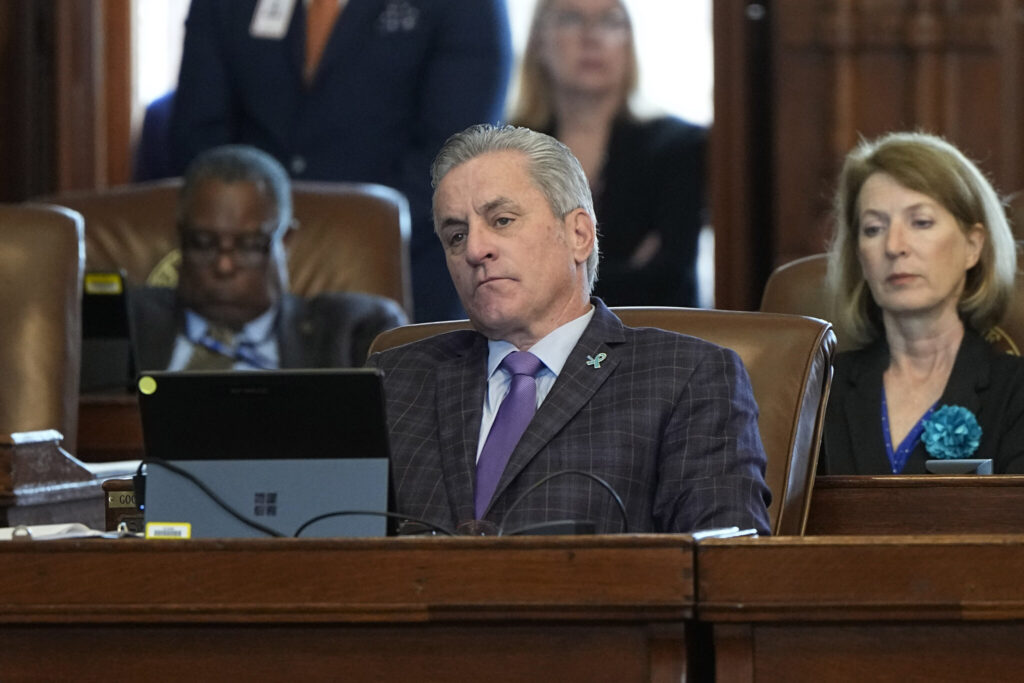 It underlined how almost any attempt to tighten gun laws in Texas is off the table in the state's GOP-controlled Legislature, which in recent years has made gun access easier following other mass shootings and shows no appetite for reversing course. That includes Republican Gov. Greg Abbott, who — since Saturday shooting in Allen — has called mental health the root of the problem.
That made Harless' vote Monday all the more notable.
"Every kid has a right to go to school and feel safe, and every parent has a right for the kid to feel safe at school," Harless said in an interview.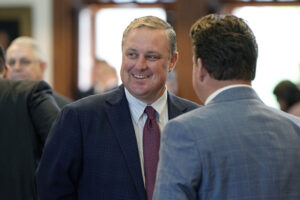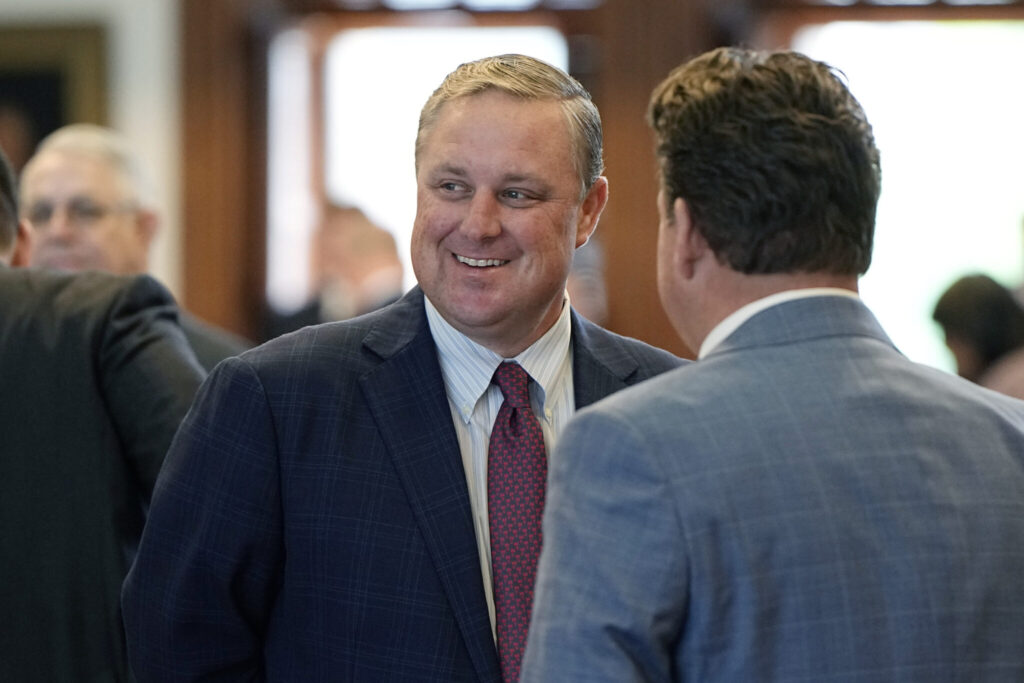 Another Republican, state Rep. Justin Holland, also joined Democrats on the House Select Committee on Community Safety in voting 8-5 to advance the measure that would raise the purchase age of certain semiautomatic weapons from 18 to 21. The bill has been the priority all year of several Uvalde families whose children were among the 19 students and two teachers killed by a gunman nearly a year ago at Robb Elementary School.
The vote Monday came unexpectedly. For weeks the bill had stalled in the committee, but as protesters filled the Capitol and shouted "Do Something!" two days after the shooting in Allen, the committee gathered to vote the bill out.
In a statement defending his vote, Holland said, "I do not believe in gun control," and he noted that he previously voted in support of Texas removing training and background checks to carry a handgun. He also said he has earned three consecutive "A" ratings from the National Rifle Association — but acknowledged he has "no idea" if they will rate him so highly going forward.
He said testimony given to the committee convinced him that a law raising the purchase age might serve as a "significant roadblock" to a young person acquiring certain semiautomatic weapons and causing harm.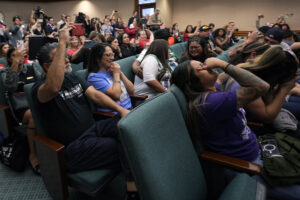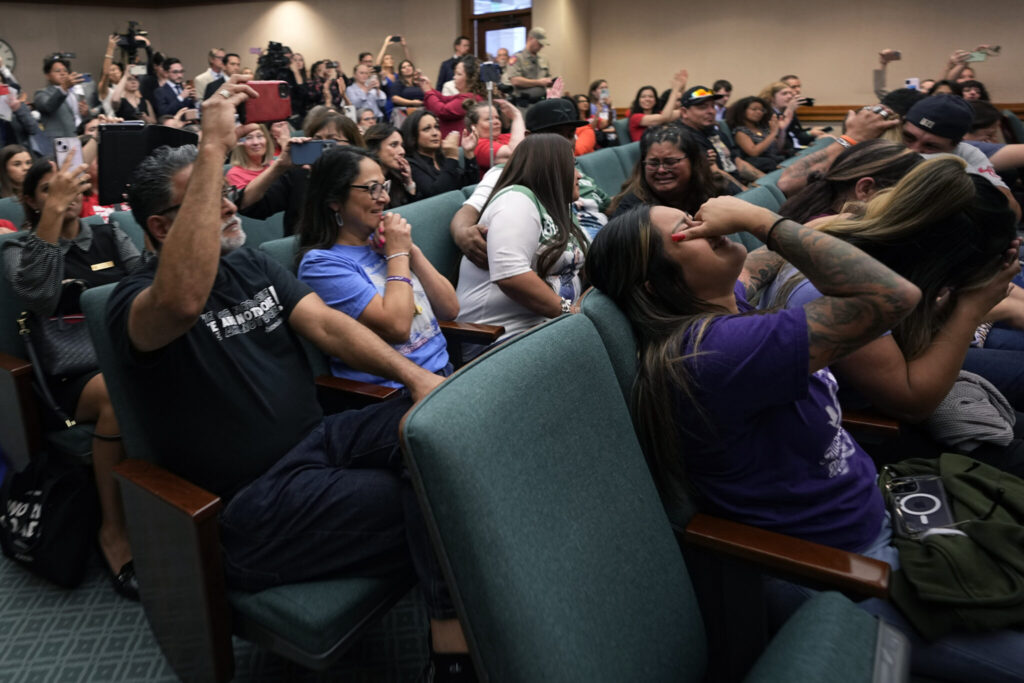 Gun rights groups, which are rarely forced to aggressively play defense in the Texas Capitol, responded to the bill advancing by urging its members to call lawmakers. Texas Gun Rights, one of the most outspoken groups, said Tuesday that Kyle Rittenhouse, who shot three people during a Wisconsin protest in 2020 and was later acquitted of murder, had joined them in opposition to the bill.
Harless, who represents a solidly GOP-leaning district in the Houston suburbs, said he has received no pushback from other House Republicans.
"I just voted my heart and my constituents are likely not the gun groups," Harless said.
For a decade, Nicole Golden has been a mainstay in the Texas Capitol in pushing for stricter gun laws, only to see Republicans instead gradually keep removing the ones that are in place. She called Monday's vote "unprecedented" given the attention that had surrounded the bill.
Golden, the executive director of the group Texas Gun Sense, said the Legislature has let wither far less contentious bills over guns this year, including one to promote education about gun storage safety. She could not recall a previous time that Republicans took a vote like the one Monday.
"We've gone to their offices to thank them," she said. "And I think that thanks are due."