A scene like one right out of "Ted Lasso" unfolded at Monday's White House press briefing as actor Jason Sudeikis, who plays the show's namesake soccer coach, fielded a question from the fictitious sports critic Trent Crimm. The light-hearted exchange came as several cast members made an appearance at the daily press briefing to talk about mental health, a popular theme on the hit hit AppleTV+ show. The Associated Press has the story:
'Ted Lasso' at WH, promotes mental health care
Newslooks- WASHINGTON (AP)
Fictional soccer coach Ted Lasso used a White House visit Monday to encourage people, even in politically divided Washington, to make it a point to check in often with friends, family and co-workers to "ask how they're doing, and listen, sincerely,"
Comedian Jason Sudeikis, who plays the title character — an American coaching a soccer team in London — and other cast members were meeting with President Joe Biden and first lady Jill Biden to talk about how mental health contributes to overall well-being.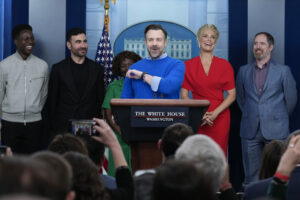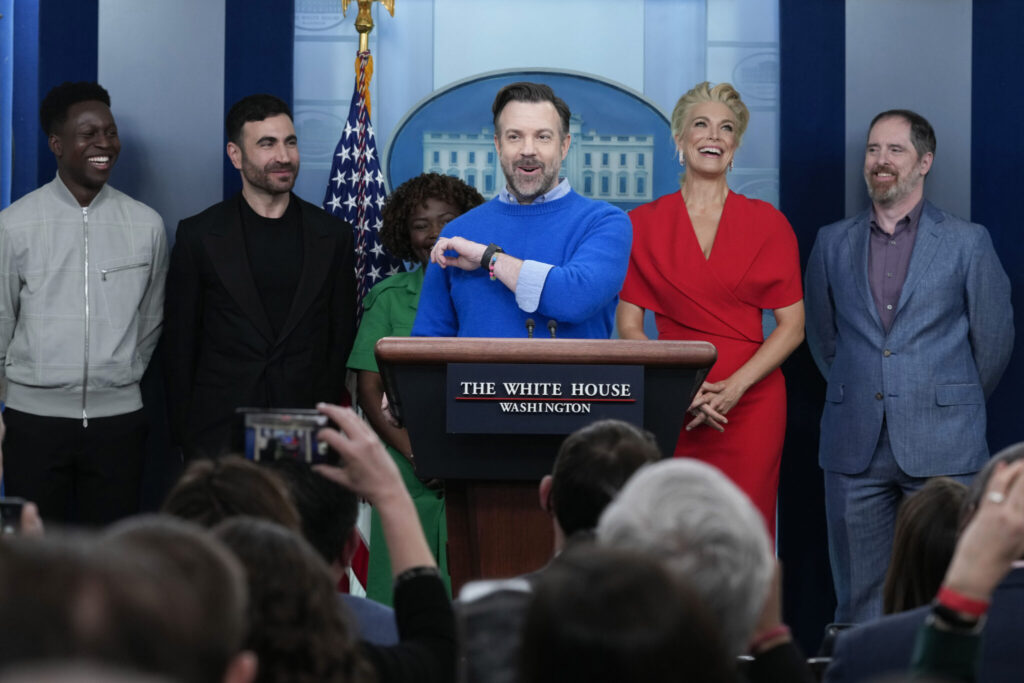 Mental health and looking after one another is a theme of the show, Sudeikis told reporters from behind the lectern as he helped press secretary Karine Jean-Pierre open her daily White House briefing. The Emmy-winning, feel-good show on Apple TV+ just opened its third season.
"While it's easier said than done, we also have to know that we shouldn't be afraid to ask for help ourselves," said Sudeikis. "That does take a lot, especially when it's something that has such a negative stigma to it, such as mental health and it doesn't need to be that way.
"And if you can ask for that help from a professional, fantastic," he continued. "If it needs to be a loved one, equally as good, in a lot of ways."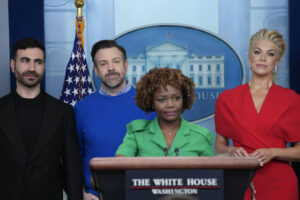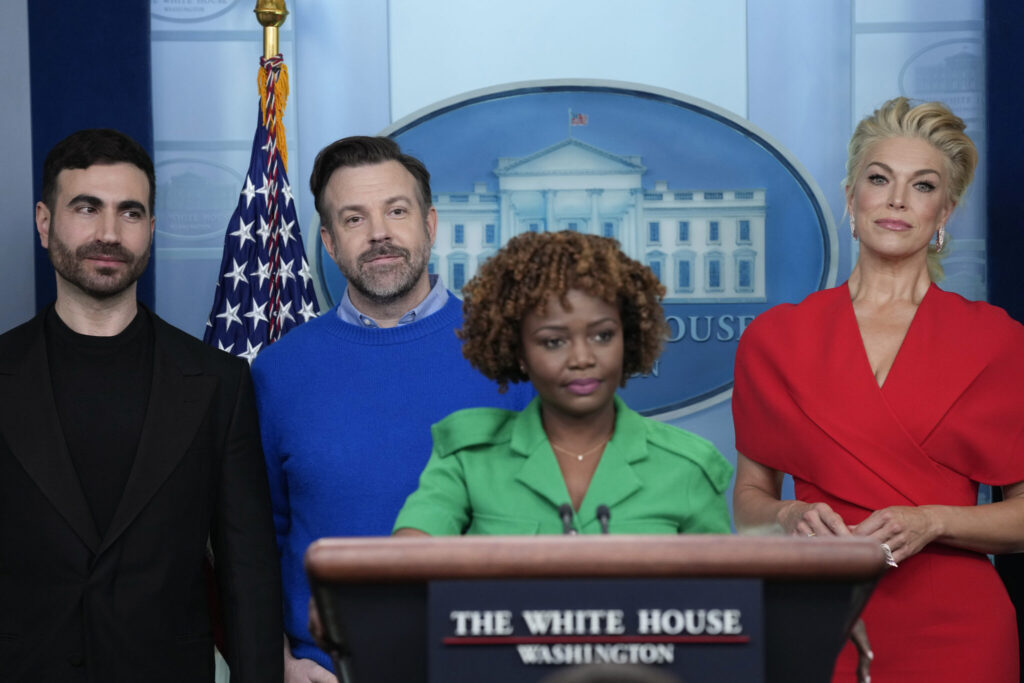 Mental health is part of Biden's bipartisan "unity agenda." He also has called on lawmakers to direct more resources toward fighting what some say is a crisis. The administration also has surged funding to bolster a new 988 suicide and crisis line, and to put more mental-health professionals in schools.
Sudeikis said there should be no stigma attached to reaching out for help because everyone knows someone who has needed someone to lean on, or has been that person themselves.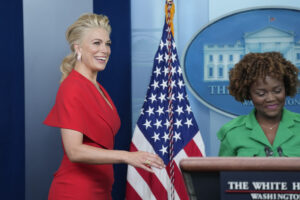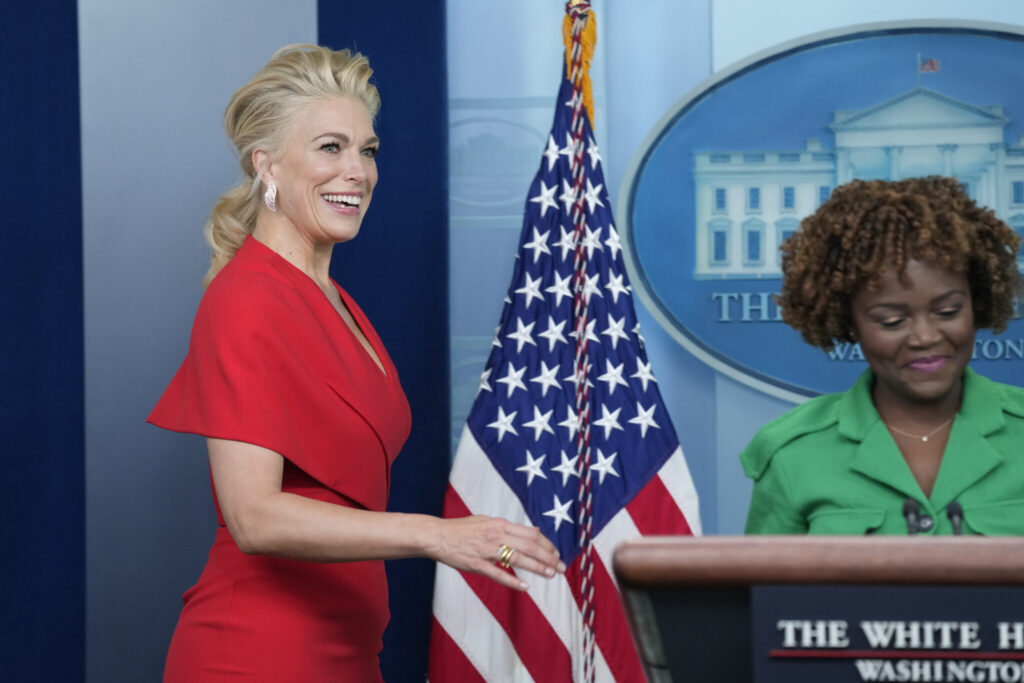 "No matter who you are, no matter where you live, no matter who you voted for, we all probably, I assume, we all know someone who has, or have been that someone ourselves actually, that's struggled, that's felt isolated, that's felt anxious, that has felt alone," he said.
"It's actually one of the many things, believe it or not, that we all have in common as human beings," Sudeikis continued. "That means it's something that we can all, you know, and should, talk about with one another when we're feeling that way or when we recognize that in someone feeling that way."
He issued a special appeal for folks in the nation's capital.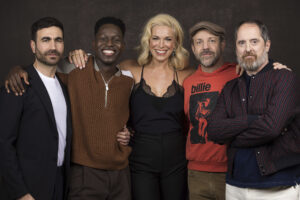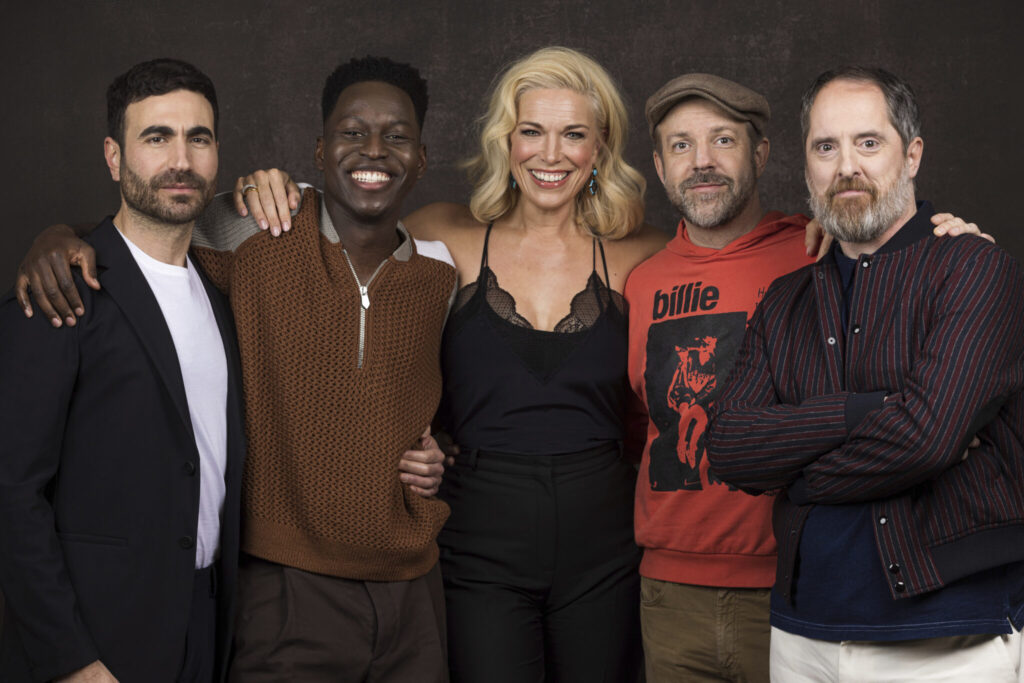 "I know in this town a lot of folks don't always agree, right, and don't always feel heard, seen, listened to," Sudeikis said. "But I truly believe we should all do our best to help take care of each other. That's my own personal belief. I think that's something that everyone up here on stage believes in."
The Bidens have seen some of "Ted Lasso" and are familiar with its messages of hope and kindness, according to the White House.
Joining Sudeikis at the daily briefing were cast members Hannah Waddingham, Brett Goldstein, Brendan Hunt and Toheeb Jimoh.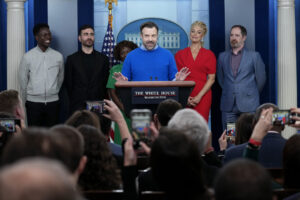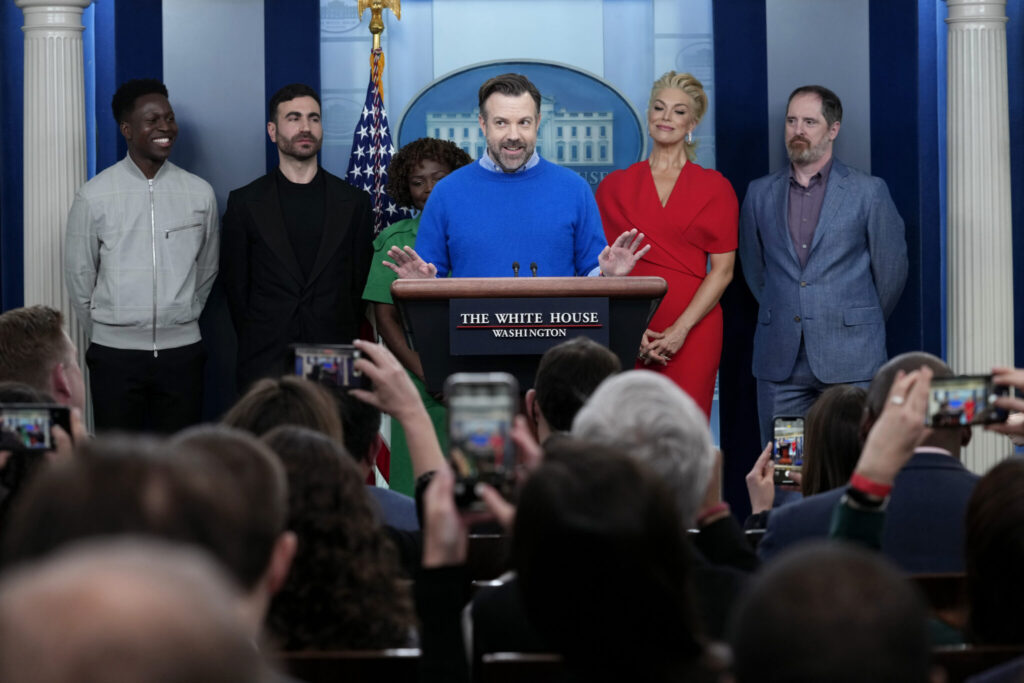 Sudeikis and his cast members were the latest entertainers to visit the White House and associate themselves with issues the Democratic president and first lady are raising awareness about.
Singer Olivia Rodrigo visited during the pandemic to help encourage young people like herself to get vaccinated against COVID-19. BTS, the popular Korean boy band, helped promote Asian inclusion and combat bias against Asian Americans.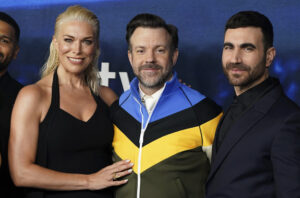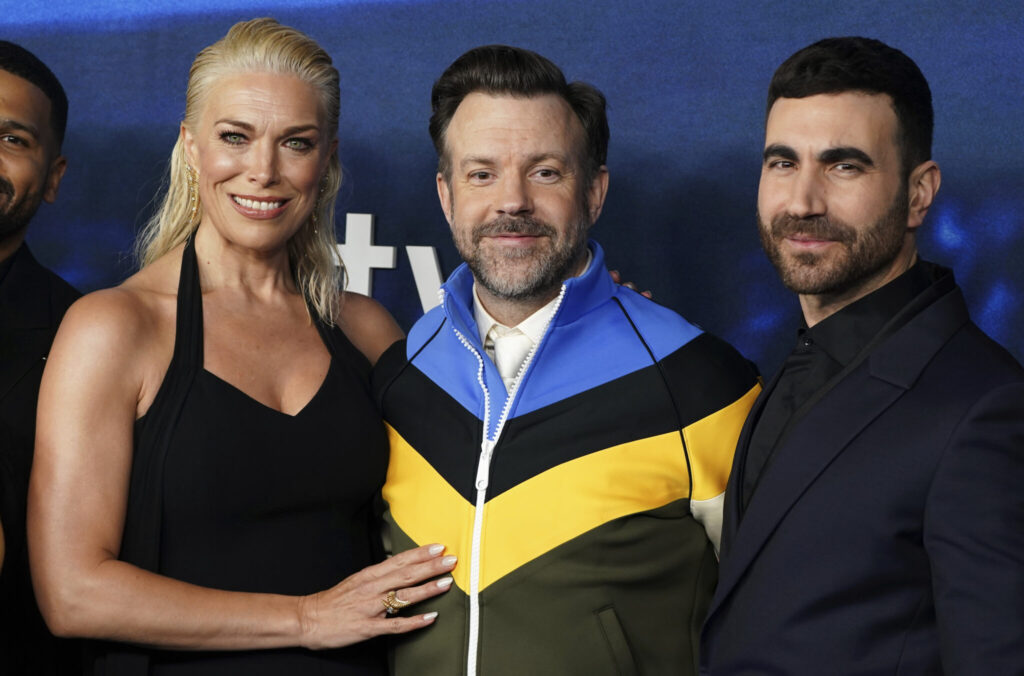 Actor Matthew McConaughey delivered a passionate appeal for tighter gun laws last year after the shooting at an elementary school in Uvalde, Texas, that killed 19 children and two teachers.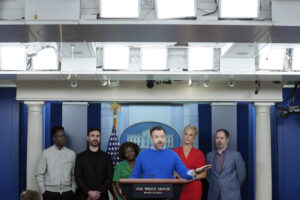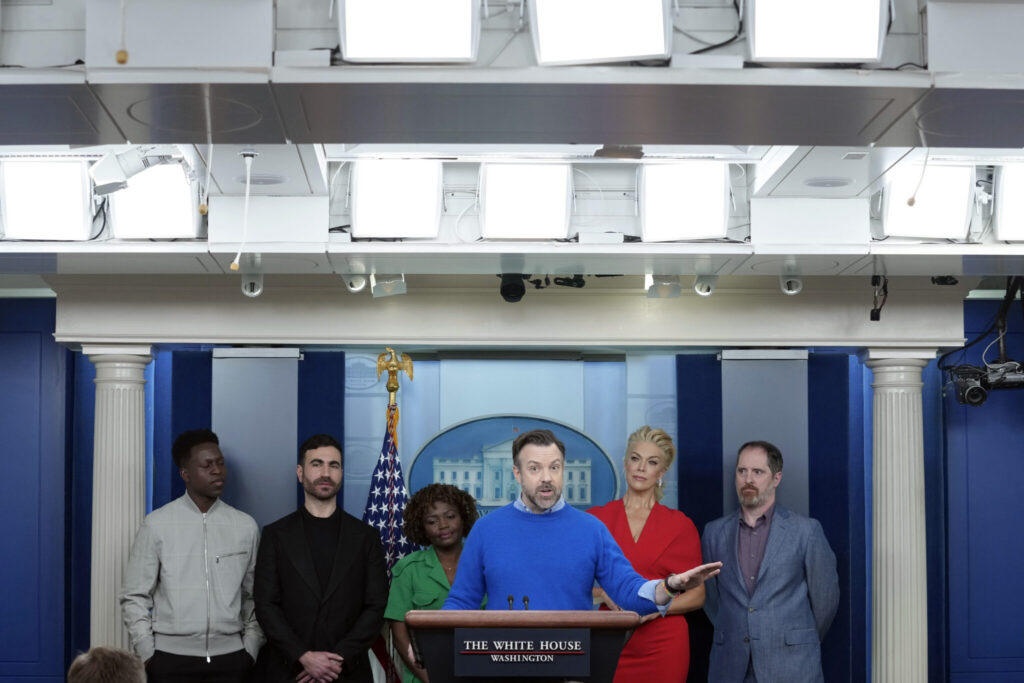 Singer/actors Mary J. Blige and Selena Gomez participated in separate events with Jill Biden focused on cancer awareness and youth mental health, respectively.