Morocco Israel: Defense Cooperation and Strategic Alliance
Today in Rabat, the ministers of defense of Morocco and Israel signed a bilateral defense cooperation Memorandum of Understanding (MOU), the first of its kind between an Arab country and the Jewish state.
The MOU sets a new security cooperation framework between the two countries, which will include increased cooperation in intelligence, defense industries, defense procurement and military exercises, as well as launching joint projects, possibly paving the way to work together in the future to deal with developing threats in the Middle East and North Africa region.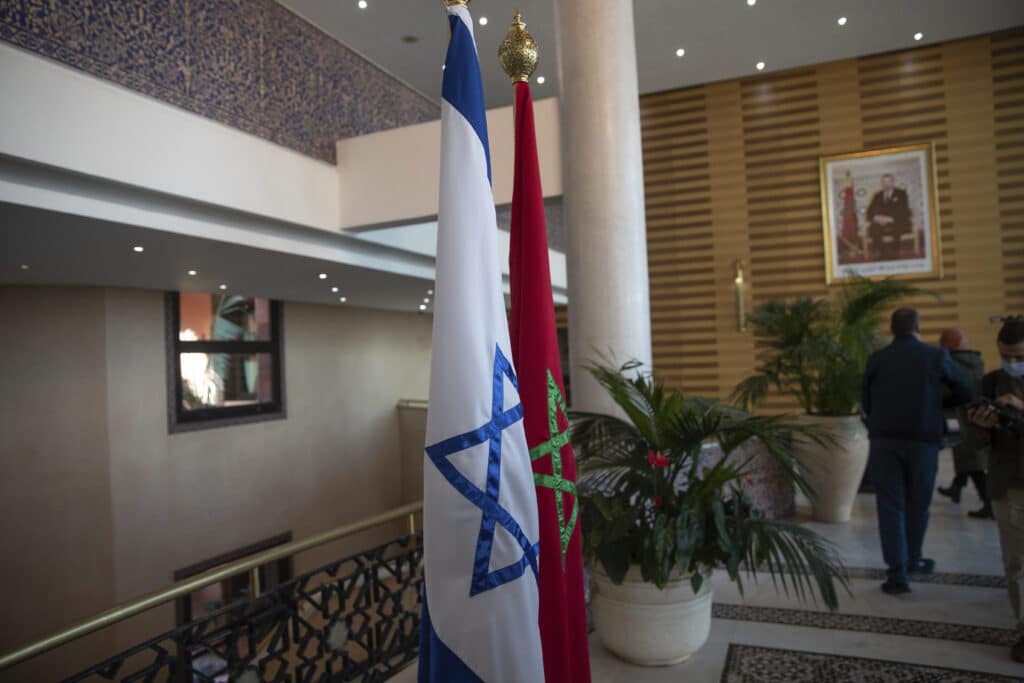 The defense agreement comes a year after Morocco and Israel signed a bilateral normalization agreement, becoming part of the Abraham Accords, reestablishing diplomatic relations, opening embassies, and appointing ambassadors, enhancing economic ties and trade relations, as well as launching direct flights, tourism and people-to-people exchanges.
The defense MOU further consolidates and strengthens the Moroccan-Israeli relationship, potentially serving as a model for other Arab countries which are part of the Abraham Accords, like the UAE and Bahrain, to follow in the coming years. The timing of the signing of the MOU was carefully planned, exactly on the first anniversary of the Moroccan-Israeli normalization deal and as Israeli Minister of Defense Lieutenant General (Ret.) Benny Gantz arrived in Rabat for his first official visit to Morocco (being the first senior Israeli defense official to formally visit Morocco).
At the signing ceremony, Gantz and his Moroccan counterpart Abdellatif Loudiyi, spoke of the importance of bilateral ties and the need to further expand and advance them for the benefit of both countries. Gantz also met during his visit with the Moroccan Army's Chief of Staff. Zohar Palti, the Head of the Military-Political Bureau in the Israeli Ministry of Defense, who accompanied Gantz on his trip, briefed journalists in Rabat and stated the agreement will allow Israel to cooperate with Morocco in exercises and information and assist Morocco in every area it may need, in accordance with Israeli interests, emphasizing the two countries have created a "strategic alliance of knowledge". Palti added it will allow the beginning of official cooperation between the two countries and the formalizing of intelligence sharing, noting the MOU will make it easier and smoother for the two defense establishments to maintain regular contacts. Other security officials who spoke under the condition of anonymity, stressed Morocco and Israel will not engage in weapon sales but rather will focus on building a long-term connection.
As Morocco and Israel look at the region, they face different threats. Morocco's main challenge has been the Western Sahara and the Polisario Front, amid growing tensions with Algeria. Israel has been focused on the Iran nuclear issue and the Islamic Republic's malign activities in the region, including Iran's ballistic missile program, support for proxies (such as Hisbollah in Lebanon and Hamas in Gaza) and the undermining of moderate Arab regimes. Both countries have been investing great efforts in the fight against terrorist organizations operating in the region. Iran and Hezbollah are believed to be involved in the widening Moroccan-Algerian conflict. Undoubtedly, Morocco and Israel have taken a great leap forward in their relationship, going beyond what other normalization agreements have achieved. The MOU clearly provides advantages to both sides, and if implemented successfully, may serve as a model for others to follow. The Moroccan leadership's decision in this context is bold, considering the opposition to normalization with Israel in Moroccan public opinion. More By Dan Arbel
Disclaimer: The views and opinions expressed in this article are those of the authors and do not necessarily reflect the official policy or position of Newslooks.com