U.S. Opposes Nord Stream 2 Russian Gas Pipeline
U.S. Secretary of State Antony Blinken told his German counterpart that sanctions against the Nord Stream 2 natural gas Russian pipeline were a real possibility and American opposition to its construction is clear. The United States and eastern European Union countries contend that Nord Stream 2 is part of Russian economic and political measures to manipulate European countries and could undermine transatlantic ties. NewsLooks discussed this thorny issue with Norman Roule, a former senior Central Intelligence Agency official who managed numerous political, economic, and energy programs in the Middle East.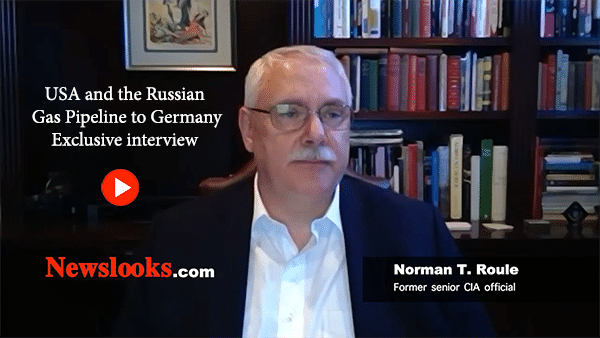 NewsLooks: During his meeting with German foreign minister Heiko Mass, Secretary of State Antony Blinken emphasized US opposition to Nord stream 2 Russian natural gas pipeline.
What do you make of that?
Roule: During the Biden and trump administrations, the United states consistently stressed its opposition to the completion of the Nord stream 2 pipeline. The completion of this pipeline and its use by Germany will allow the Russians to bypass Ukraine which not only denies Kiev revenue but maintains Russia's influence over the German energy sector. The pipeline makes Germany dependent upon Russia during frigid weather and gives Russia the ability to influence the German economy in a crisis.
NewsLooks: Do you think the Russians are trying to influence the Europeans because of their need for gas supplies? and what about the rest of bad Russian behavior?
Roule: The United States and Europe have traditionally been in complete agreement on the malign activities of Russia's intelligence service and its military and that these activities have been directed by Russia's senior most leader to include Vladimir Putin. However, the United States and Europe occasionally differ as to how we believe we can best respond to these efforts.
The United States and Europe have traditionally agreed on the malign nature of activities of Russia's intelligence services as well as its military. We also agree that these activies have been directed by Vladimir Putin. However, the United States and Europe occasionally differ as to how we believe we can best respond to these efforts. Europe sometimes believes that the best strategy involves a blend of frank conversations and trade which shows Russia how proper state behavior can produce positive economic relations. The United States believes that this route is sometimes useful, but it is not always successful. Sometimes, the strategy creates and architecture in which European investments in Russia become hostage to Moscow's behavior.
Russia's covert and military activity in recent years has been aggressive. Moscow's assassination operations are being conducted at a pace that was last seen in the 1950s or and 1930s. Russia's engagement in the Middle East has been, at best, unhelpful and, at worst, disruptive. Russia seems to follow a strategy in which it protects its regional partners, offers military sales to other partners, and seeks to ensure that any regional architecture minimizes American influence and ties down American military power. All of this is done at the expense of the region's population. In short, Russia is akin to an athlete who – deciding that he cannot win the race on his own skill – attempts to trip other runners to obtain an edge.
NewsLooks: Do you think Russia has succeeded in poisoning US – German relations? If so, is this a threat to NATO unity and effectiveness?
Roule: The Nord stream 2 pipeline is unlikely to significantly disrupt the NATO alliance, but it does introduce some negative complications. As I mentioned, it provides Russia with an avenue to influence German policy should Moscow become a major source of energy to Berlin. Moscow relies heavily on energy exports to sustain its budget and these sales will offer significant hard currency. However, the deal inevitably offers the potential to create complications in NATO policymaking with Washington.  Thus, any deal becomes a double win for the Russians.
NewsLooks: Is there a realistic alternative to Russian gas for Europeans?
 Roule: In recent years, there have been several efforts to develop alternative sources of energy to Western Europe in order to reduce the latter's reliance on Russia.  As you mentioned, this included looking at Qatar as a source of liquid natural gas (LNG).  Israel has sought to develop its own resources, and the East Mediterranean Gas Forum represents a promising effort by a number of countries in the Eastern Mediterranean. An African source would be important, and Morocco is precisely the sort of stable economic and political partner who could lead an effort from this region.  The United States will continue to encourage these efforts, but we must recognize that all of these initiatives will involve a tremendous amount of investment and political effort. Thus, they are unlikely to produce the needed results in the near future. This brings us back to the potential of Europe using American-sources natural gas which can be more expensive due to shipping costs. However, the U.S. is a reliable source and can be counted on to both support alternatives.
NewsLooks: There was an old Nigerian – Algerian project to transport African gas to Europe. How realistic for this project to be a viable alternative?
 Roule: Algeria certainly remains a potentially important energy source for Western Europe and the Algerian government recognizes it must enhance the efficiency and exports of its energy sector. However, security instability in the sub-saharan region is both troubling and unlikely to improve in the near term. ISIS-associated groups are likely to view energy facilities and pipelines as attractive targets and perhaps sources of revenue by holding these same facilities hostages. Algeria's position would improve if it improved security and economic relations with Morocco and worked with the United States and Europe to enhance security conditions in the region's energy sector.
NewsLooks: What should the Biden administration do to prevent further deterioration in US-European relations due to Russian gas sales?
 Roule: The Biden administration has made relations with Europe a priority and can be counted on to re-establish and energize this partnership. Your readers can be assured that the Biden administration will do whatever it believes possible to ensure close and productive relations with Germany and Europe. But this doesn't mean there won't be serious disagreements. The gas issue will be a priority for Washington, but I don't see any easy solutions. It may well be that the U.S, will need to deal with this problem until alternative sources of energy can be developed.