In his first interview since the Dec. 31 death of retired Pope Benedict XVI, Pope Francis addressed his health, his critics and the next phase of his pontificate, which marks its 10th anniversary in March without Benedict's shadow in the background. This is Pope Francis' exclusive interview with The Associated Press:
Pope speaks about health, critics and future Papacy
Newslooks- VATICAN CITY (AP)
Pope Francis says he hasn't even considered issuing norms to regulate future papal resignations and plans to continue for as long as he can as bishop of Rome, despite a wave of attacks by some top-ranking cardinals and bishops.
In his first interview since the Dec. 31 death of retired Pope Benedict XVI, Francis addressed his health, his critics and the next phase of his pontificate, which marks its 10th anniversary in March without Benedict's shadow in the background.
"I'm in good health. For my age, I'm normal," the 86-year-old pontiff said Tuesday, though he revealed that diverticulosis, or bulges in his intestinal wall, had "returned." Francis had 33 centimeters (13 inches) of his large intestine removed in 2021 because of what the Vatican said was inflammation that caused a narrowing of his colon.
He added that a slight bone fracture in his knee from a fall had healed without surgery after laser and magnet therapy.
"I might die tomorrow, but it's under control. I'm in good health," he told The Associated Press with his typical wry sense of humor.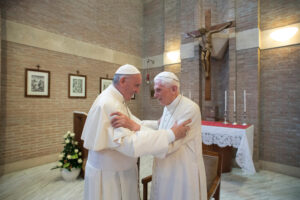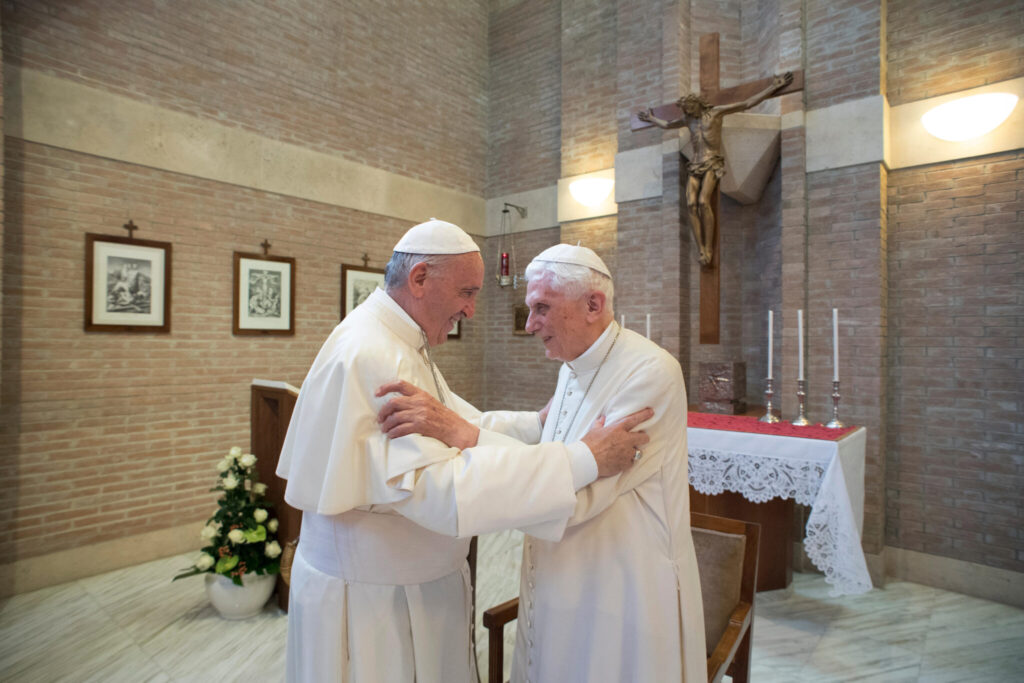 Speculation about Francis' health and the future of his pontificate has only risen following the death of Benedict, whose 2013 resignation marked a turning point for the Catholic Church since he was the first pontiff in six centuries to retire.
Some commentators believe Francis might be freer to maneuver now that Benedict, who lived out his 10-year retirement in the Vatican, is gone. Others suggest that any sort of ecclesial peace that had reigned was over and that Francis is now more exposed to critics, deprived of the moderating influence Benedict played in keeping the conservative Catholic fringe at bay.
Francis acknowledged the knives were out, but seemed almost sanguine about it.
"I wouldn't relate it to Benedict, but because of the wear-and-tear of a government of 10 years," Francis said of his papacy. At first, his election was greeted with a sense of "surprise" about a South American pope, then came discomfort "when they started to see my flaws and didn't like them," he said.
"The only thing I ask is that they do it to my face because that's how we all grow, right?" he added.
Francis praised Benedict as a "gentleman," and said of his death: "I lost a dad."
"For me, he was a security. In the face of a doubt, I would ask for the car and go to the monastery and ask," he said of his visits to Benedict's retirement home for counsel. "I lost a good companion."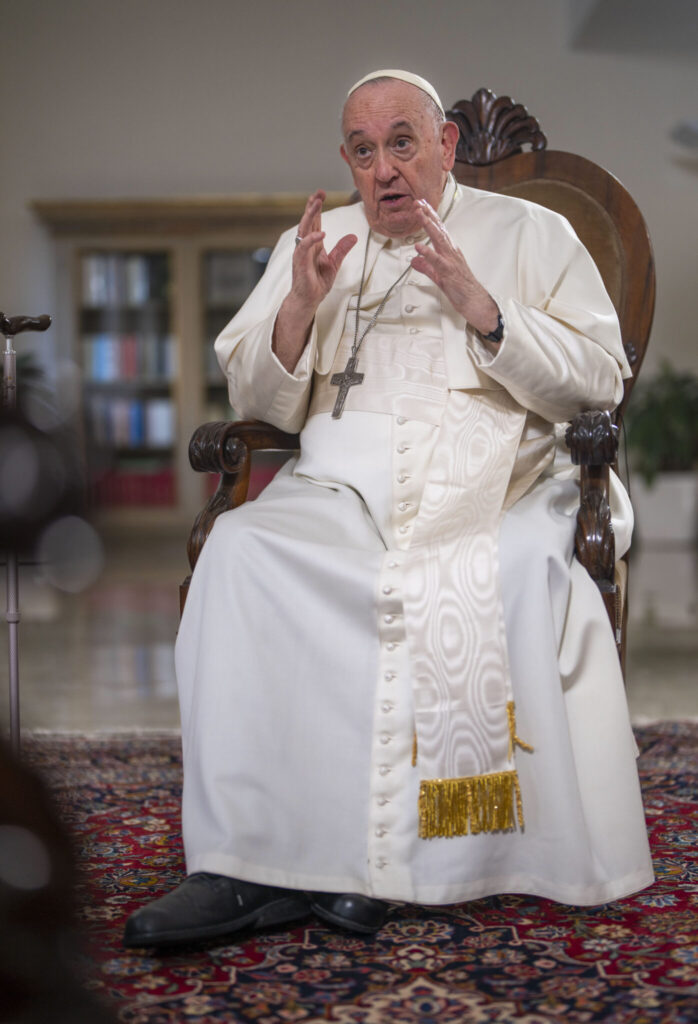 Some cardinals and canon lawyers have said the Vatican must issue norms to regulate future papal retirements to prevent the few hiccups that occurred during Benedict's unexpectedly long retirement, during which he remained a point of reference for some conservatives and traditionalists who refused to recognize Francis' legitimacy.
From the name Benedict chose (pope emeritus) to the (white) cassock he wore to his occasional public remarks (on priestly celibacy and sex abuse), these commentators said norms must make clear there is only one reigning pope for the sake of the unity of the church.
Francis said issuing such norms hadn't even occurred to him.
"I'm telling you the truth," he said, adding that the Vatican needed more experience with papal retirements before setting out to "regularize or regulate" them.
Francis has said Benedict "opened the door" to future resignations, and that he too would consider stepping down. He repeated Tuesday that if he were to resign he'd be called the bishop emeritus of Rome and would live in the residence for retired priests in the diocese of Rome.
Francis said Benedict's decision to live in a converted monastery in the Vatican Gardens was a "good intermediate solution," but that future retired popes might want to do things differently.
"He was still 'enslaved' as a pope, no?" Francis said. "Of the vision of a pope, of a system. 'Slave' in the good sense of the word: In that he wasn't completely free, as he would have liked to have returned to his Germany and continued studying theology."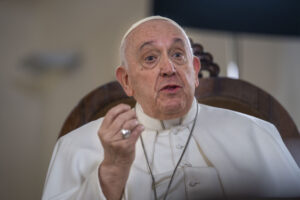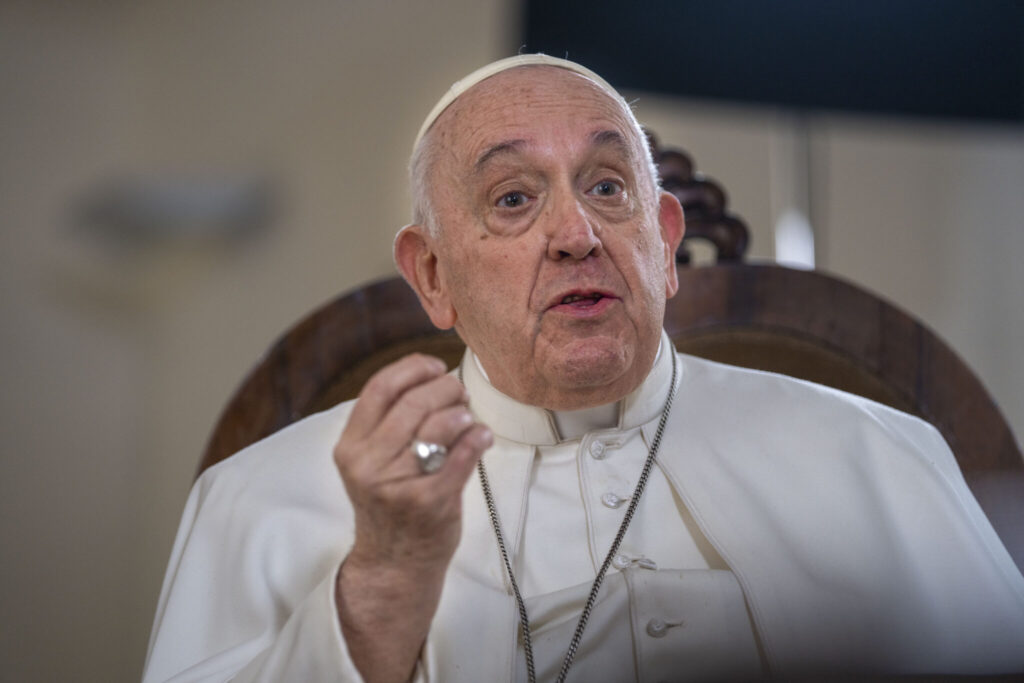 By one calculation, Benedict's death removes the main obstacle to Francis resigning, since the prospect of two pensioner popes was never an option. But Francis said Benedict's death hadn't altered his calculations. "It didn't even occur to me to write a will," he said.
As for his own near-term future, Francis emphasized his role as "bishop of Rome" as opposed to pontiff and said of his plans: "Continue being bishop, bishop of Rome in communion with all the bishops of the world." He said he wanted to put to rest the concept of the papacy as a power player or papal "court."
Francis also addressed the criticism from cardinals and bishops that burst into public in the weeks since Benedict's death, saying it's unpleasant — "like a rash that bothers you a bit" — but that is better than keeping it under wraps.
"You prefer that they don't criticize, for the sake of tranquility," Francis said. "But I prefer that they do it because that means there's freedom to speak."
"If it's not like this, there would be a dictatorship of distance, as I call it, where the emperor is there and no one can tell him anything. No, let them speak because … criticism helps you to grow and improve things."
The first salvo in the wave of attacks came from Benedict's longtime secretary, Archbishop Georg Gaenswein, who revealed the bad blood that accumulated over the last 10 years in a tell-all memoir published in the days after Benedict's funeral.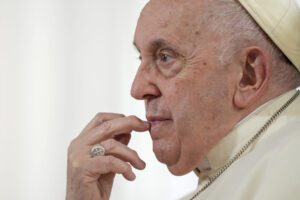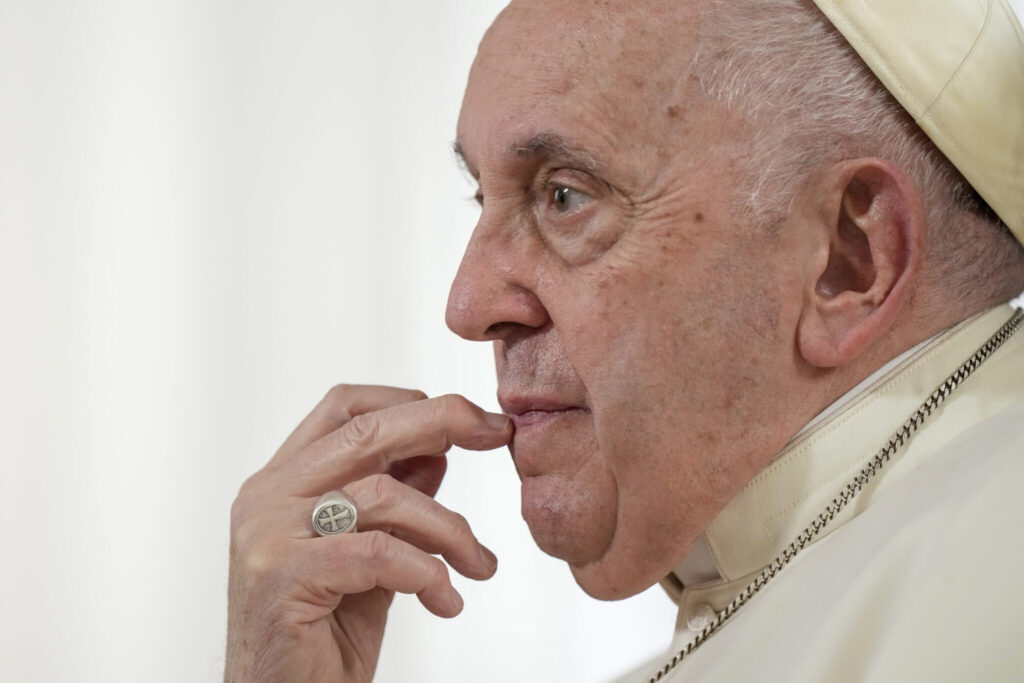 In one of the most explosive sections, Gaenswein revealed that Benedict learned by reading the Vatican daily newspaper L'Osservatore Romano that Francis had reversed one of the former pope's most significant liturgical decisions and re-imposed restrictions on celebrating the Old Latin Mass.
A few days later, the Vatican was rattled anew by the death of another conservative stalwart, Cardinal George Pell, and revelations that Pell was the author of a devastating memorandum that circulated last year that called the Francis pontificate a "disaster" and a "catastrophe."
The memo, which was initially published under the pseudonym "Demos," listed all the problems in the Vatican under Francis, from its precarious finances to the pontiff's preaching style, and issued bullet points for what a future pope should do to fix them.
Francis acknowledged Pell's criticism but still sang his praises for having been his "right-hand man" on reforming the Vatican's finances as his first economy minister.
"Even though they say he criticized me, fine, he has the right. Criticism is a human right," Francis said. But he added: "He was a great guy. Great."
Pope Francis criticized laws that criminalize homosexuality as "unjust," saying God loves all his children just as they are and called on Catholic bishops who support the laws to welcome LGBTQ people into the church.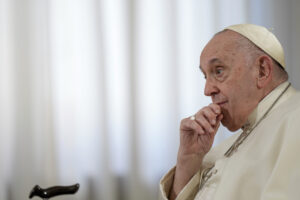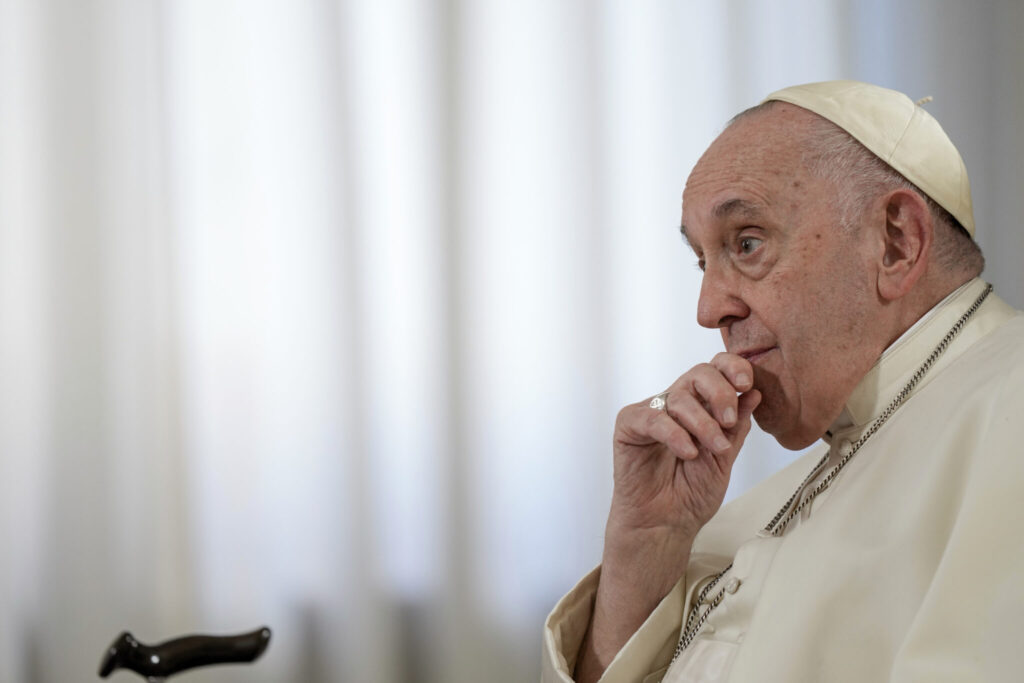 "Being homosexual isn't a crime," Francis said during an interview Tuesday with The Associated Press.
Francis acknowledged that Catholic bishops in some parts of the world support laws that criminalize homosexuality or discriminate against the LGBTQ community, and he himself referred to the issue in terms of "sin." But he attributed such attitudes to cultural backgrounds, and said bishops in particular need to undergo a process of change to recognize the dignity of everyone.
"These bishops have to have a process of conversion," he said, adding that they should apply "tenderness, please, as God has for each one of us."
Some 67 countries or jurisdictions worldwide criminalize consensual same-sex sexual activity, 11 of which can or do impose the death penalty, according to The Human Dignity Trust, which works to end such laws. Experts say even where the laws are not enforced, they contribute to harassment, stigmatization and violence against LGBTQ people.
In the U.S., more than a dozen states still have anti-sodomy laws on the books, despite a 2003 Supreme Court ruling declaring them unconstitutional. Gay rights advocates say the antiquated laws are used to harass homosexuals, and point to new legislation, such as the "Don't say gay" law in Florida, which forbids instruction on sexual orientation and gender identity in kindergarten through third grade, as evidence of continued efforts to marginalize LGBTQ people.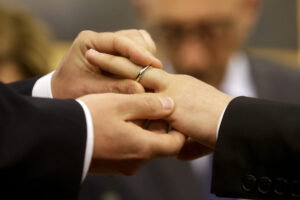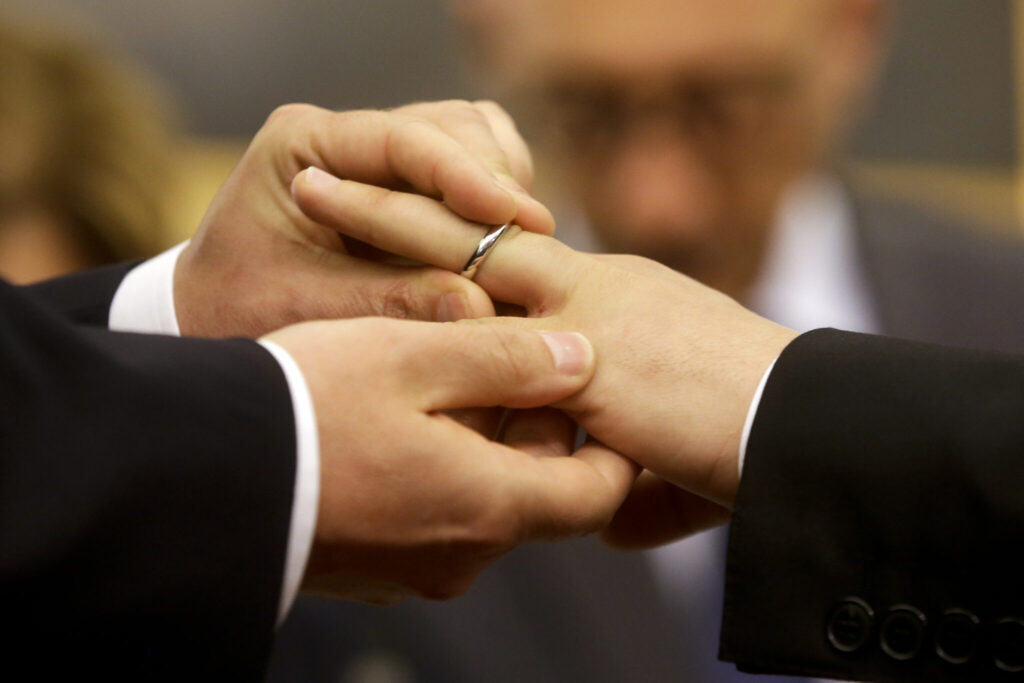 The United Nations has repeatedly called for an end to laws criminalizing homosexuality outright, saying they violate rights to privacy and freedom from discrimination and are a breach of countries' obligations under international law to protect the human rights of all people, regardless of their sexual orientation or gender identity.
Declaring such laws "unjust," Francis said the Catholic Church can and should work to put an end to them. "It must do this. It must do this," he said.
Francis quoted the Catechism of the Catholic Church in saying gay people must be welcomed and respected, and should not be marginalized or discriminated against.
"We are all children of God, and God loves us as we are and for the strength that each of us fights for our dignity," Francis said, speaking to the AP in the Vatican hotel where he lives.
Such laws are common in Africa and the Middle East and date from British colonial times or are inspired by Islamic law. Some Catholic bishops have strongly upheld them as consistent with Vatican teaching that considers homosexual activity "intrinsically disordered," while others have called for them to be overturned as a violation of basic human dignity.
In 2019, Francis had been expected to issue a statement opposing criminalization of homosexuality during a meeting with human rights groups that conducted research into the effects of such laws and so-called "conversion therapies."
In the end, the pope did not meet with the groups, which instead met with the Vatican No. 2, who reaffirmed "the dignity of every human person and against every form of violence."
On Tuesday, Francis said there needed to be a distinction between a crime and a sin with regard to homosexuality.
"Being homosexual is not a crime," he said. "It's not a crime. Yes, but it's a sin. Fine, but first let's distinguish between a sin and a crime."
"It's also a sin to lack charity with one another," he added.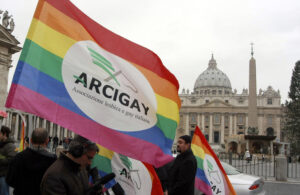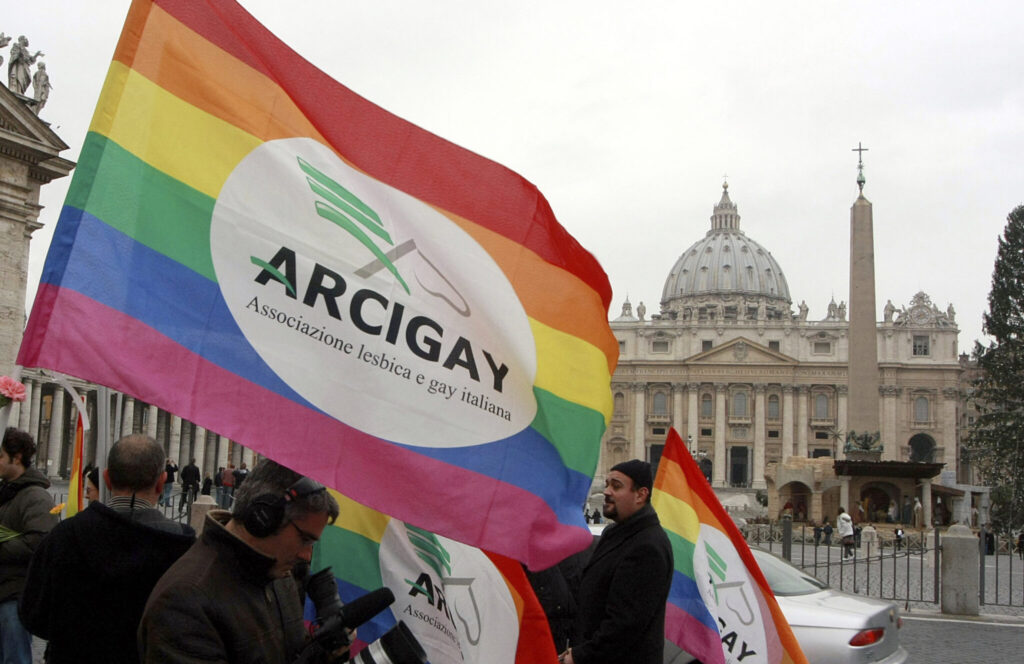 Catholic teaching holds that while gay people must be treated with respect, homosexual acts are "intrinsically disordered." Francis has not changed that teaching, but he has made reaching out to the LGBTQ community a hallmark of his papacy.
Starting with his famous 2013 declaration, "Who am I to judge?" when he was asked about a purportedly gay priest, Francis has gone on to minister repeatedly and publicly to the gay and trans community. As archbishop of Buenos Aires, he favored granting legal protections to same-sex couples as an alternative to endorsing gay marriage, which Catholic doctrine forbids.
Despite such outreach, Francis was criticized by the Catholic LGBTQ community for a 2021 decree from the Vatican's doctrine office that the church cannot bless same-sex unions "because God cannot bless sin."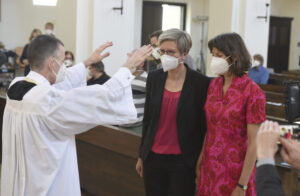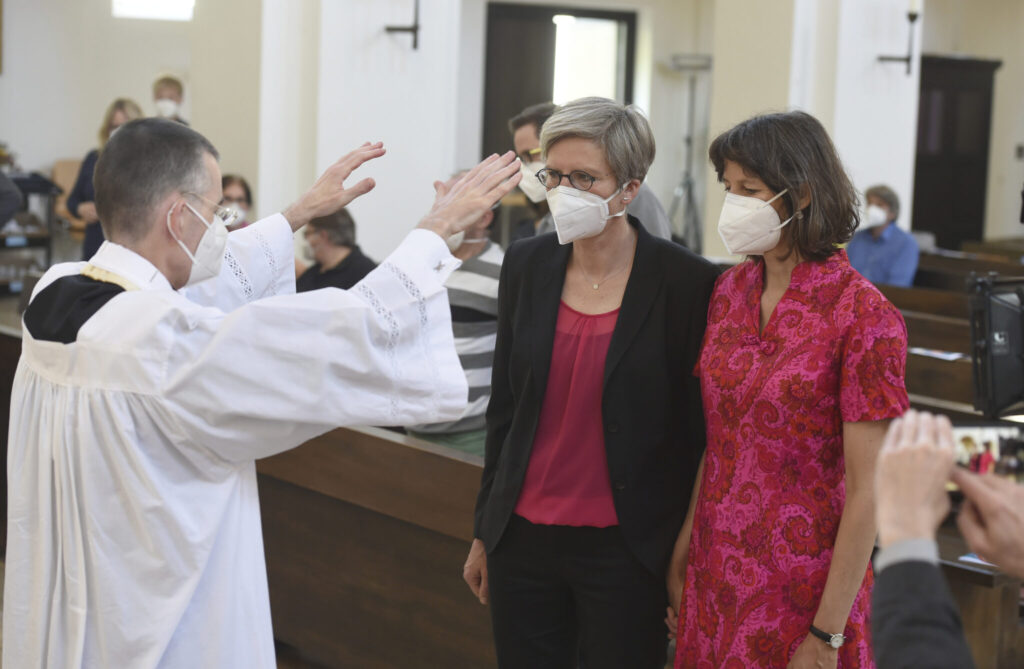 The Vatican in 2008 declined to sign onto a U.N. declaration that called for the decriminalization of homosexuality, complaining the text went beyond the original scope and also included language about "sexual orientation" and "gender identity" it found problematic. In a statement at the time, the Vatican urged countries to avoid "unjust discrimination" against gay people and end penalties against them.
Pope Francis lamented that the use of guns by civilians to defend themselves is becoming a "habit."
In an exclusive interview on Tuesday with The Associated Press, the pontiff, who has frequently criticized the arms industry, was asked about the large number of guns in civilian hands and frequent massacres in the United States. Francis expressed concern about how recourse to guns has become "habit."
"I say when you have to defend yourself, all that's left is to have the elements to defend yourself. Another thing is how that need to defend oneself lengthens, lengthens, and becomes a habit,'' Francis said. "Instead of making the effort to help us live, we make the effort to help us kill."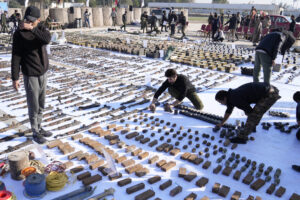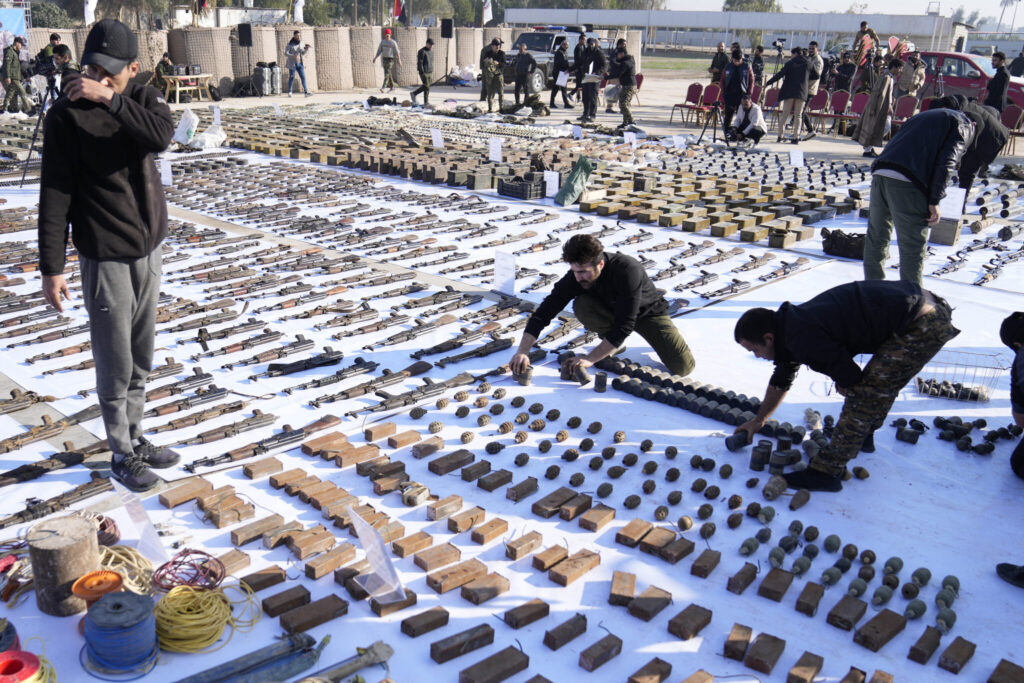 Francis has denounced the arms industry as trafficking in death. Francis said he wants to draw attention to the problem by saying: "Please, let's say something that will stop this."
The AP asked the question about the proliferation of guns among civilians after recent days saw several shootings, including in California.
Here are some other key takeaways from the interview.
ON 'PATIENCE' WITH CHINA
Saying "we must walk patiently in China," Pope Francis views continued dialogue with Beijing as the guiding principle in his efforts to safeguard his flock, who are a small minority in the Asian nation.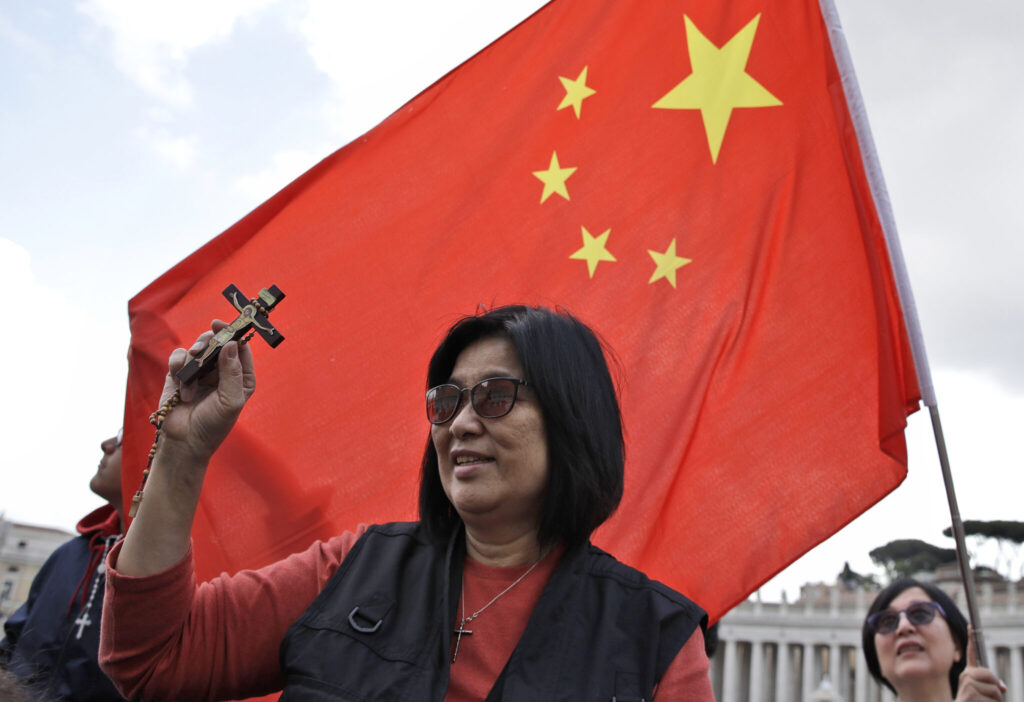 The AP asked what comes next in the diplomatic overtures between the countries.
"We are taking steps," Francis replied. "Each case (of a bishop's nomination) is looked at with a magnifying lens." The pontiff added that "that's the main thing, the dialogue doesn't break."
As for Chinese authorities, "sometimes they are a little closed, sometimes not," Francis said.
The pope sidestepped a question about how the Vatican's relationship with Taiwan affects the dialogue. The Holy See is one of the few states to maintain formal ties with Taiwan instead of with China.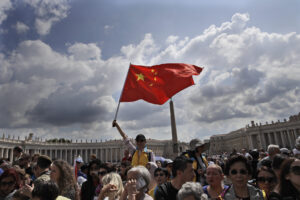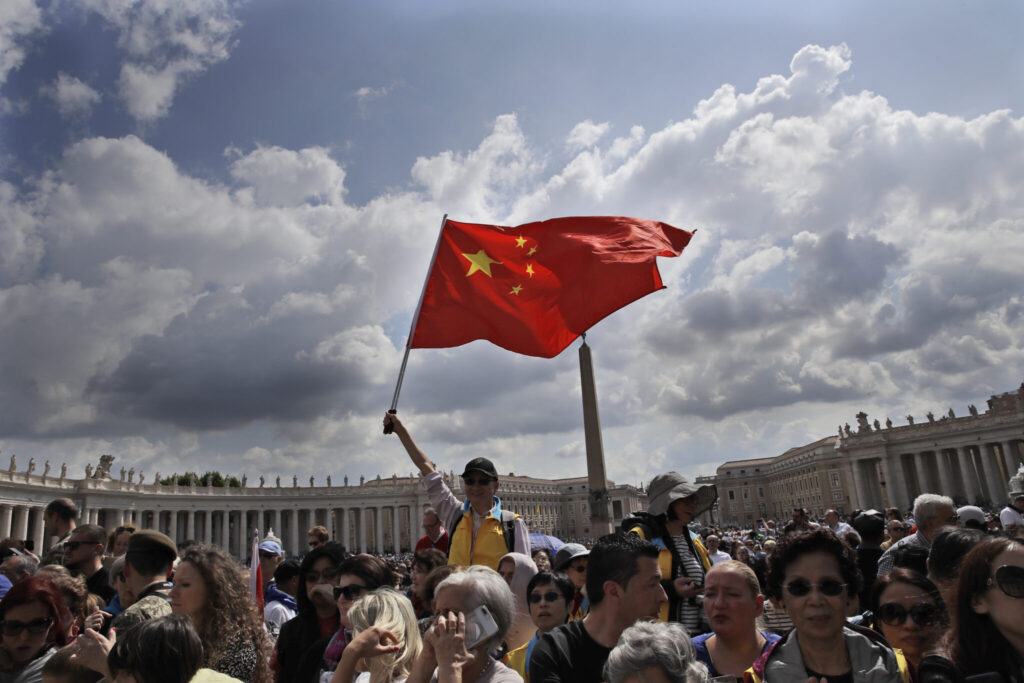 Francis has been criticized by more conservative factions of the Catholic Church for a 2018 agreement with Beijing over the appointment of bishops in China, given how that country's Communist authorities have at times imprisoned priests. Among his harshest critics is Cardinal Joseph Zen, the bishop emeritus of Hong Kong.
In the interview, Francis called Zen, who is 91, a "charming old man," and a "tender soul." He recounted how, when the cardinal came to Rome this month for the funeral of Pope Benedict XVI, the pontiff invited him to the Vatican hotel where Francis lives. In front of the pope's private study is a statue depicting Our Lady of Sheshan. Francis said when the cardinal saw it, "he began to cry, like a child."
Zen was arrested last year after he fell afoul of Hong Kong authorities over his participation in a now-silenced democracy movement.